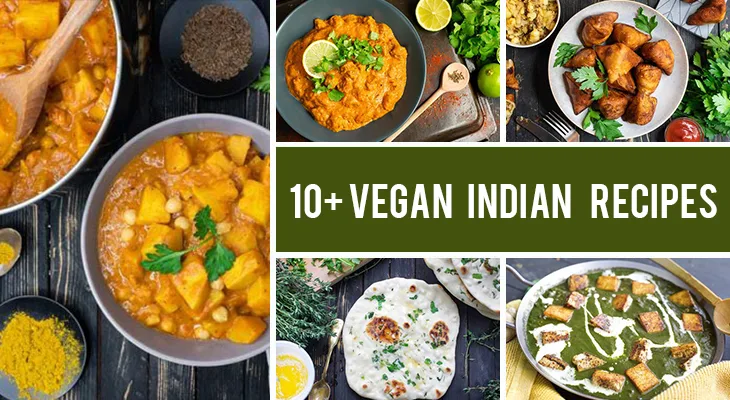 Are you looking for some recipe inspiration? In this list, you will find 10 vegan Indian recipes for Indian food lovers – yummy, super easy, and quick to make! Give them a try!
I've always loved Indian cuisine. Its aromas, unique ingredients, spices, sauces, spiciness, and everything else in-between. If you know exactly what I'm talking about, get ready to be amazed by the following list of recipes, my friends. But first, let me tell you a couple of words about the exquisite yet simple and comforting culinary gem called Indian cuisine.
If you ask me, Indian cuisine is all about spices – and I think that's a general truth, not just my opinion. Complex spice combinations, to be more precise. Some of them have such a special taste it might seem impossible to replicate at home. But that's just not true!
Another amazing thing about this type of cuisine is that it uses vegetables. A lot. And in wise ways. Spinach-based creamy dishes. Curries made of all the natural goodies you can think of, from potatoes to tofu and eggplant. Spicy vegetable stews served over a hot portion of Basmati rice. Salads. Crunchy vegan pastries filled with veggies. Do I need to say more?
Oh, and I want to mention an important thing: Indian food isn't just chicken tikka masala and rice. It's so much more than that! If I think about it, maybe people get intimidated by the names of famous Indian dishes and this makes them avoid them. Which is such a shame. Heh, let's put that aside and keep an open mind – trust me, Indian dishes are, in fact, SO simple and natural!
Popular Indian dishes include butter chicken, tandoori chicken, lamb curry, meatballs, palak paneer, crunchy samosas, dhaals (lentil stews), and, of course, the world-famous naan bread. I know that most of these recipes include some type of meat, be it chicken or lamb, and that might turn you off if you're following a vegan diet.
But let me tell you two things: there are, in fact, lots of Indian recipes that are naturally vegan. Let's take a lentil stew for example. Or some chickpea tikka masala. Or all those creamy dishes made with coconut milk by default. Don't lose hope, as Indian cuisine is one of the most vegetarian-friendly ones in the world! Second of all, most Indian recipes with meat can be easily 'veganized'. Just replace the meat with chickpeas, lentils, tofu, TSP (textured soy protein), and others.
If you feel a bit lost, don't worry. That's the exact reason why I created the list of recipes below. It's no wonder that my love for Indian dishes made me create LOTS of vegan alternatives to famous Indian recipes over the years. Because yes, it's that easy. And the time has come to create a list with all my vegan Indian recipes. Which is one scroll below!
This being said, I'm pretty sure you're already eager to try some amazing vegan Indian recipes as soon as possible! You'll find 10+ of my favorite vegan Indian recipes below – all of them are my own creations and I wholeheartedly recommend you try them as soon as possible. From a fluffy vegan naan bread to lots of creamy stews, samosas, chana masala, and green curry, you'll find everything you need on my list below – and more!
Click on the buttons (or titles) in order to access these amazingly delicious vegan Indian recipes. Give them a try!
Here we go:
10+ Vegan Indian Recipes for Indian Food Lovers
Are you looking for some recipe inspiration? In this list, you will find 10 vegan Indian recipes for Indian food lovers – yummy, super easy, and quick to make! Give them a try!