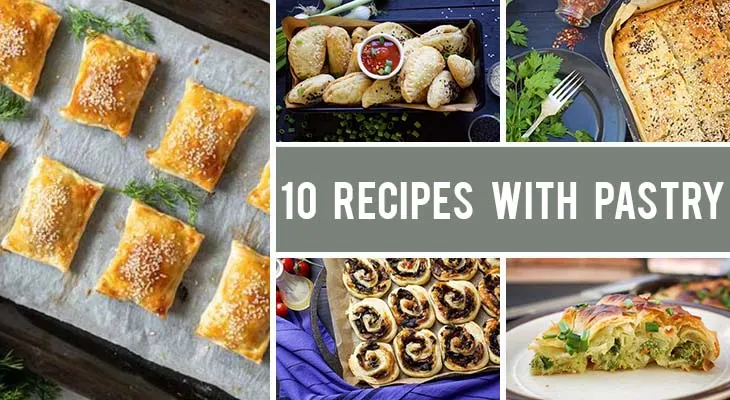 Are you looking for some recipe inspiration? In this list, you will find 10 vegan recipes with pastry, both sweet and savory – yummy, super easy, and quick to make! Give them a try!
If you have some type of pastry (such as puff pastry) laying around in your freezer with no idea how to use it, I got you! This is definitely the right article for you. I have gathered here 10+ vegan recipes with pastry below, both sweet and savory, to appeal to all tastes and preferences.
But first, let's talk about pastry and its magic for a bit. Cooking with pastry is one of the best ideas if you're short on time and if you want to make something that's both easy and delicious at the same time. And healthy!
There are so many amazing vegan recipes with pastry – from fluffy hot pockets to pizza made with a pastry base, countless types of tarts, pot pies, pinwheels, sweet or savory pies… do I need to add more?
Learning how to use pastry in your day-to-day cooking can open a world of new flavors and it's a perfect idea for all of us that don't have a lot of time to waste in the kitchen… myself included! Baking some quick hot pockets for breakfast or for a special occasion when you have guests over is a lifesaver. No more panic! Plus, I'm pretty sure everyone loves pastry-based foods and everyone will take more than one piece. There's something about pastry that's simply addictive, I'm not sure what!
Why am I saying that cooking with pastry is a great way to save time? Because you have tons of pastry options in supermarkets. I'm talking about frozen, ready-made pastry that you can use. All you need to do is take it out of the freezer and wait for it to naturally unfreeze for a bit. Meanwhile, you can choose your filling ingredients, which can be anything from fruit jams to chocolate, tofu, vegan cheese with herbs (dill works wonderfully in combination in pastries), mushrooms, spinach, and everything in-between.
And did you know that most puff pastry in supermarkets is naturally vegan? Yes, I know, it's surprising! Shortcrust pastry too. In case you're not sure about it, you can always check the labels. The "enemy" you must be looking for is butter. If the puff pastry you found doesn't contain butter, it's good to go!
Of course, you can also learn how to make puff pastry from scratch in your own kitchen, which I think it's an art itself. It's not hard, it's very satisfying but it requires a bit of skill and patience. This is why all 10+ vegan recipes with pastry before are made with store-bought pastry, which is absolutely delicious and healthy too.
What more can you wish for?!
I'm always up for trying new, exciting vegan recipes with pastry and, if you've been looking for some inspiration yourself, you'll be pleased to scroll through my list below. I tried to include various recipes there for all tastes – from some intensely flavored breakfast hot pockets to spinach pies and a perfectly crunchy apple strudel, I'm sure you'll find something for your cravings below!
You'll find 10+ of my favorite vegan recipes with pastry below – all of them are my own creations and I wholeheartedly recommend you try them as soon as possible. Click on the buttons or titles in order to access these amazingly healthy recipes below. Let's go:
10+ Vegan Recipes with Pastry - Both Sweet and Savory