Here's how to make an a-m-a-z-i-n-g vegan Wellington at home – easy and healthy! Enjoy a delicious beef-like filling wrapped in buttery puff pastry and baked with love!
In the traditional recipe, the meat is coated with pâté and duxelles, while other recipes ask for wrapping the whole thing in a crêpe before adding the pastry in order to prevent the latter from turning soggy. Beef Wellington contains many spices in order to enhance the flavour, some of the most popular being allspice and ginger. This is a seriously amazing and decadent meal, which comes as no surprise if you consider the fact that it was inspired by the French boeuf en croute.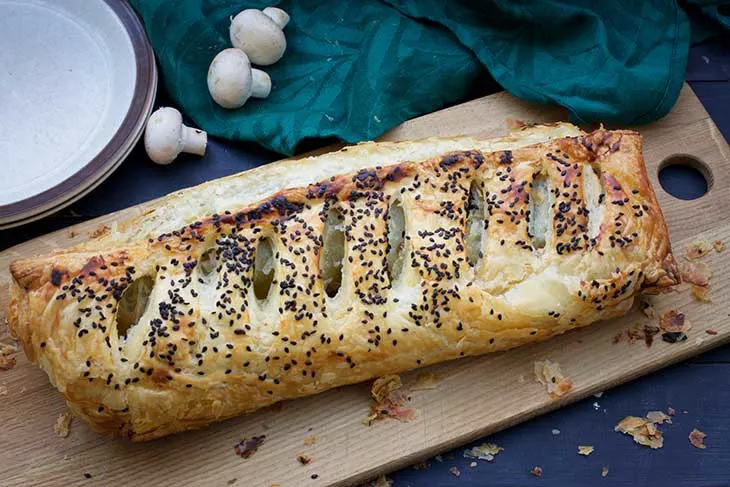 This dish is not your typical put-together Tuesday dinner, as it has a more festive and fancy touch to it. Beef Wellington is usually served during the Christmas dinner or a special party, but you can definitely make it for a special family gathering or even your Sunday dinner with family when you feel you have more time and can really enjoy it.
The myth saying that this dish was named after the Duke of Wellington seems to be just that – a myth. The origin of the name remains unclear; according to some, it has to do with a civic reception in Wellington, New Zealand.
The first written reference of this delicious dish to ever appear in the Oxford English Dictionary dates back to 1939, where a New York food guide contained "Tenderloin of Beef Wellington" – cooked, left to cool and rolled in a pie crust. Prior to that, the Beef Wellington can be found in a 1903 number of the Los Angeles Times, as well as an 1899 menu from the Hamburg-America line.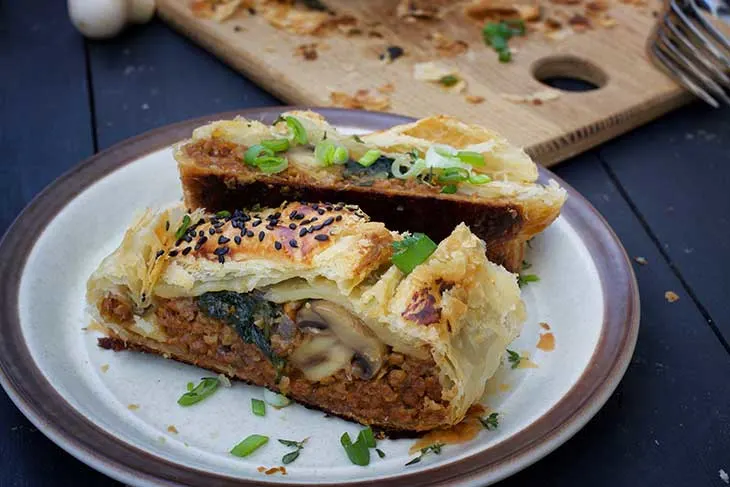 Most people are afraid to even attempt to make a Beef Wellington, as it looks so neat and fancy, and, let's be frank, has a reputation of being quite difficult to prep. I believe that it doesn't have to be this hard! 🙂
The classic (and perfect) way to do a Beef Wellington is, of course, by making your own puff pastry from scratch. However, we know that some people are intimidated by this, or simply don't have the skill or time to try it. Thankfully, there are some pretty good alternatives available on the market! With the slightest of effort, you can find high-quality puff pastry in the supermarket, frozen or chilled and ready to use by busier people. However, if you want to make the classic recipe, make sure you choose a pastry made with butter instead of vegetable fat, as it will add tons of flavour and it will make this dish ten times better.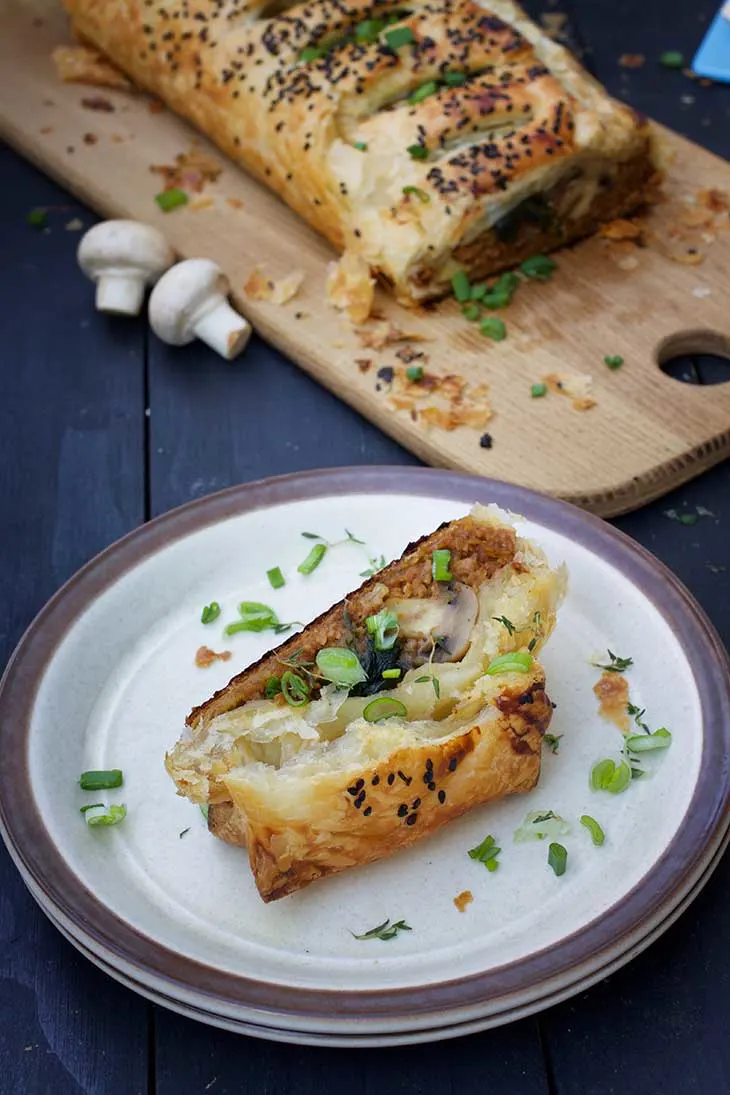 The singular role of pastry is to keep the delicious juices of the meat. As I previously said, if you don't want the crust to get soggy (which some people actually like) you can roll the meat in a crepe first. A good Wellington always involves mushrooms, period. Amazing mushroom types are chestnut mushrooms, porcini and girolles, among many others. You'll want to cook them in butter until they're soft and creamy. You can also add a bit of wine for a tangy and amazing taste. As for the pâté, some people like it, some think it's too heavy and covers up the flavour of the steak. It's really up to you.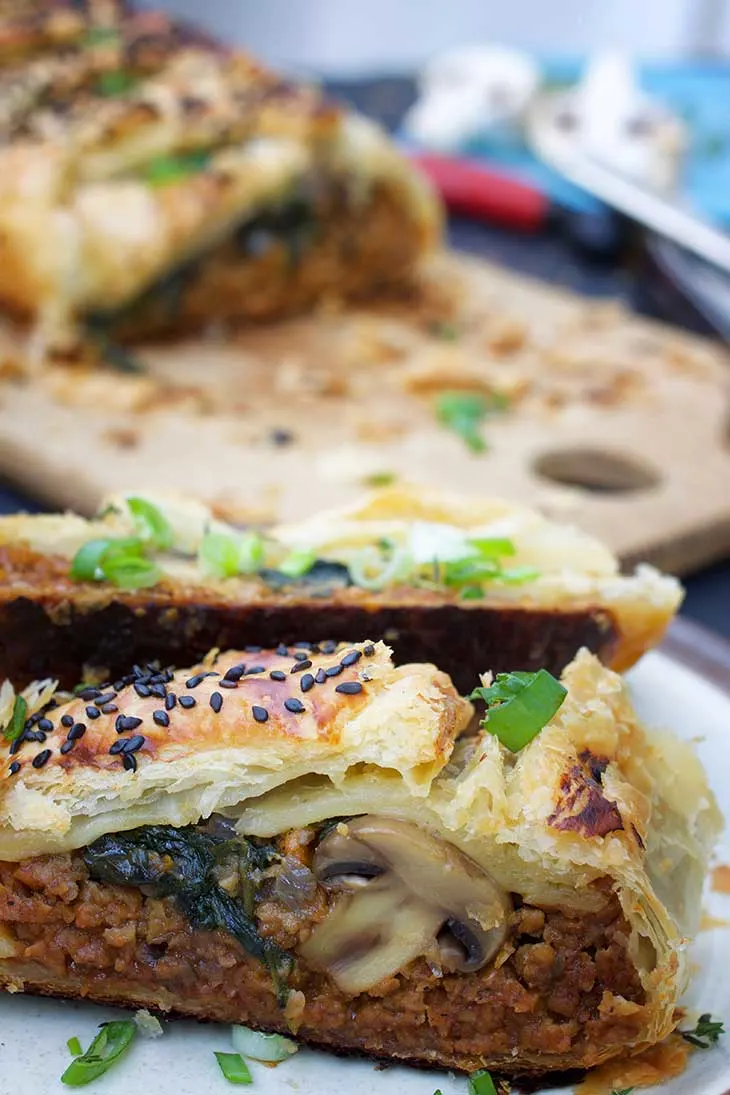 You don't have to wait until Christmas to try Beef Wellington. You can do this whenever you have a spare evening and want to treat yourself to something new. The best part? This recipe will teach you how to create the most delicious vegan Wellington using soy mince and many other healthy, heavenly ingredients! Its taste is extremely similar to the real deal and if you don't believe me… just try it and you will see for yourself! It's so easy! 🙂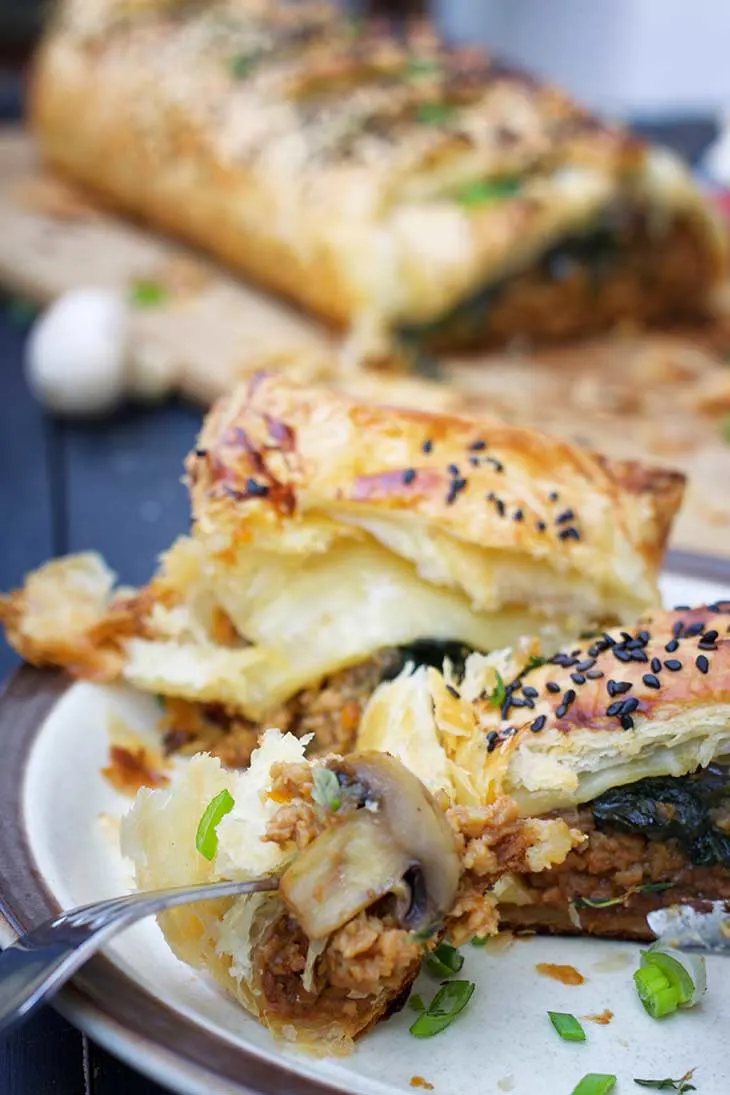 Yield: 4+
Vegan Wellington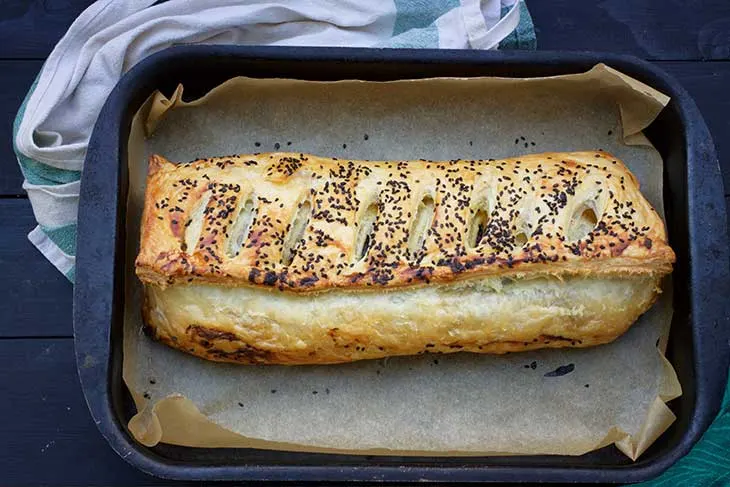 Here's how to make an a-m-a-z-i-n-g vegan Wellington at home - easy and healthy! Enjoy a delicious beef-like filling wrapped in buttery puff pastry and baked with love!
Ingredients
For the vegetable soup:
750ml (3 glasses) of water
1 small red onion
1 clove garlic
1 Tbsp dill
2 mushrooms
1 bay leaf
1 parsley root
1 small carrot
1 tsp of smoked paprika
½ bunch of parsley
1 tsp of thyme
½ tsp caraway
½ tsp cumin
1 chili pepper
salt and pepper to taste
For the mushrooms:
250g (2 ½ cups) Champignon mushrooms, washed
1 tsp vegan butter
1 Tbsp olive oil
3 Tbsp white wine
1 tsp white pepper
1 tsp garlic, chopped
1 fresh spring thyme
½ tsp salt
For the spinach:
60g (2 cups) fresh spinach
1 red onion, sliced
1 Tbsp olive oil
2 Tbsp vegetable soup
salt and pepper to taste
For the soy mince:
100g (1 cup) textured soy protein granules
3 Tbsp olive oil
1 garlic clove
1 large carrot, finely grated
1 medium red onion, finely chopped
For the assembly:
1 sheet puff pastry
1 Tbsp soy milk
1 tsp black sesame
Instructions
For the soup:
In a pot on medium heat, add all the ingredients for the soup. After it boils, turn the heat to low and let it boil for about 30 more minutes.
Set aside.
For the soy mince:
In a bowl, add the soy granules. Pour the hot soup over the TSP granules and let them soak for about 20 minutes. Discard the excess liquid.
Heat a pan with oil on medium heat and add the onion, garlic, and carrot and fry for about 5 minutes. Add the soy granules. Cook for 10 minutes until all the flavors are mixed and the color turns brownish. Remove from the heat and set aside.
For the mushrooms:
In a pan on medium heat, add oil and vegan butter.
When the butter melts, add the mushrooms and saute them for 5-7 minutes.
Add the garlic and saute for another 2 minutes.
Add the wine and the rest of the spices.
Cook the mushrooms for 10 minutes until they become soft and tender.
Remove from heat and put aside.
For the spinach:
Heat a pan with oil over medium heat, add the onion and sautee for 2 minutes until translucent. Add the spinach and cook for another minute. Add soup, salt, and pepper and cook the spinach until all the liquid evaporates. Set aside.
Heat the oven to 200°C
For the assembly:
Lay a sheet of baking paper on a clean surface. Lay your puff pastry sheet on it. In the middle of the sheet put the cooked soy mince in a long line, then add the cooked mushrooms and top everything with the spinach.
Wrap your puff pastry around the filling, starting with the sides and then the middle. Brush it with soy milk and sprinkle with black sesame.
Transfer it to a baking pan and put it into the oven.
Cook for about 20 minutes or until golden.
Nutrition Information
Yield
4
Amount Per Serving
Calories

416
Total Fat

22.2g
Carbohydrates

36.2g
Protein

17.7g