Smörgåstårta is a delicious Swedish sandwich cake that will surely amaze your guests at your next party! Learn how to make the healthiest and easiest vegan sandwich cake using this recipe!
Smörgåstårta (translating into a sandwich cake) is yet another festive Nordic dish. Quite popular in countries such as Sweden, Estonia (võileivatort), Finland (voileipäkakku) and Iceland (brauðterta), this dish is something in between a cake and a sandwich and is served on special occasions such as Christmas, baptisteries and even funerals.
Its origins appear to be Swedish, and although it goes against the Swedes' principles of healthy eating, you can see why they love it so much. This dish is made to be extra. It's basically a huge sandwich with everything, the kind you'd make when you can't decide what you want to eat and want a bit of all the ingredients. The bread used in Smörgåstårta is usually of a lighter rye kind, and it just exists to hold everything together. In between the layers of bread, you will find heaps of creamy fillings, such as cream cheese and liver pâté.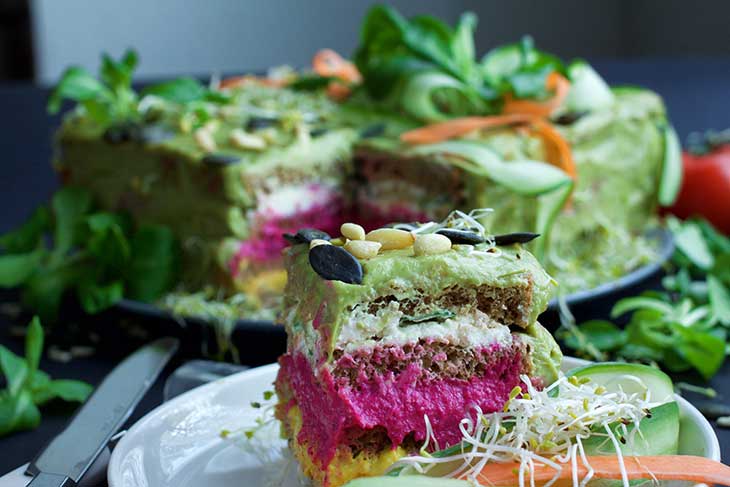 The concept comes from the 1960-70s, and traditionally it would be filled with creamy spreads and other ingredients which are more salad-appropriate, such as salmon salad, shrimps and vegetables.
Given the fact that Smörgåstårta is so extra, the ingredients used for the filling may vary a lot and you can use pretty much whatever you like in whatever combinations you want. However, some common examples include cold cuts, liver pâté, cream cheese, olives, shrimp, fish, ham, tomatoes, cucumbers, grapes, lemon slices, smoked salmon, dill so on and so forth. Including large amounts of mayonnaise is sort of a rule though.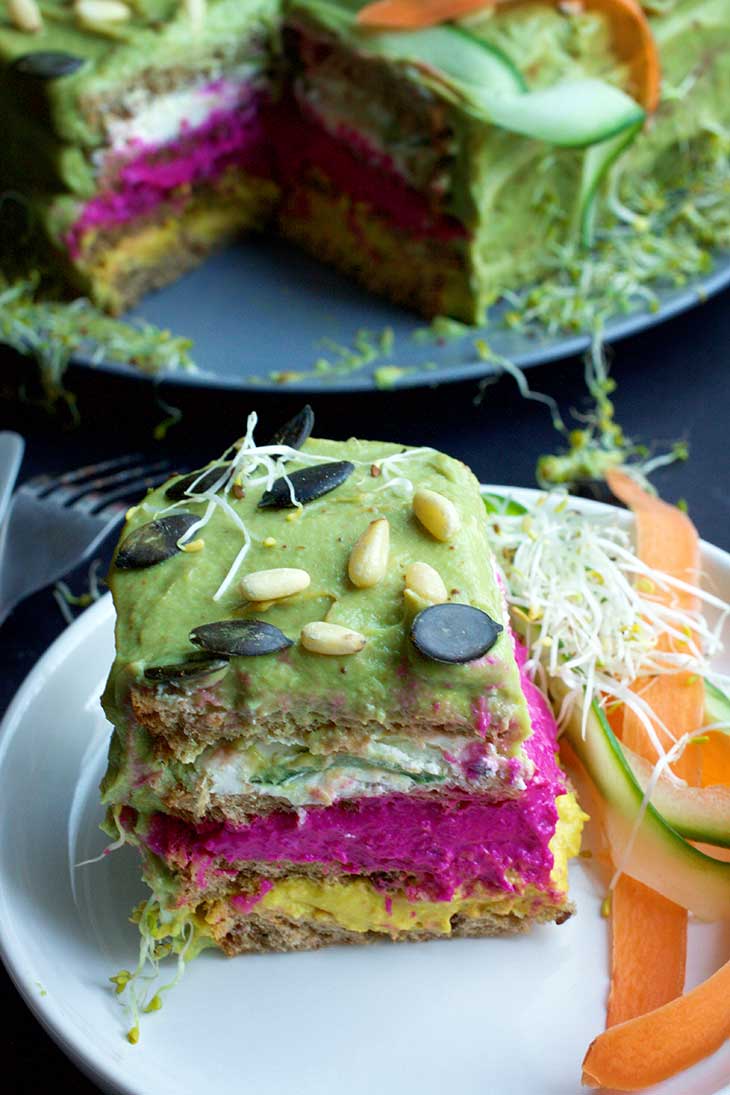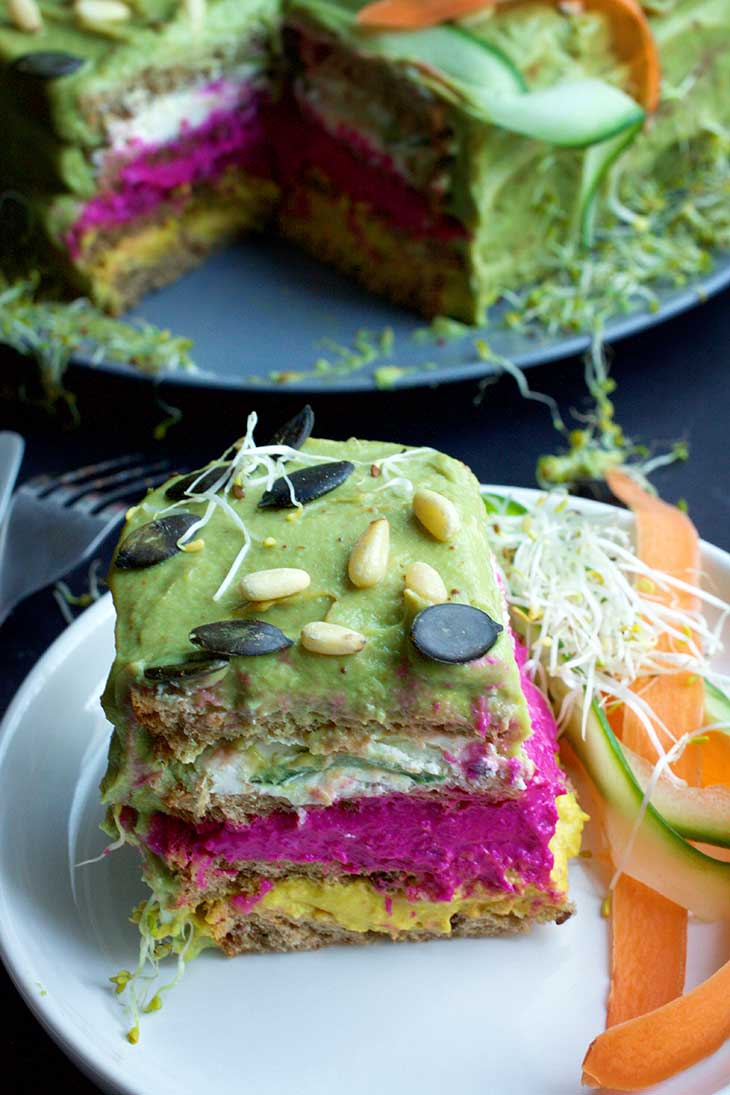 As easy as it sounds, it's just as easy to ruin it. You have to be careful with the consistency, for the last thing you want is a mushy Smörgåstårta. Ideally, this dish should have various textures and invite you to explore them all. And Smörgåstårta is so versatile that some Swede grannies have been certainly known for using terrible combinations: six types of meat in a sandwich sounds a little bit heavy, right?
If that sounds gross to you, rest assured that you can make your own combination and it can turn out quite delicious. Just use things that go amazing together, such as seafood and fish with vegetables. You can make the recipe as light or as heavy as you want, and you can even leave the meat out entirely and make a vegetarian/vegan sandwich cake. Just focus on spreads and tasty vegetables.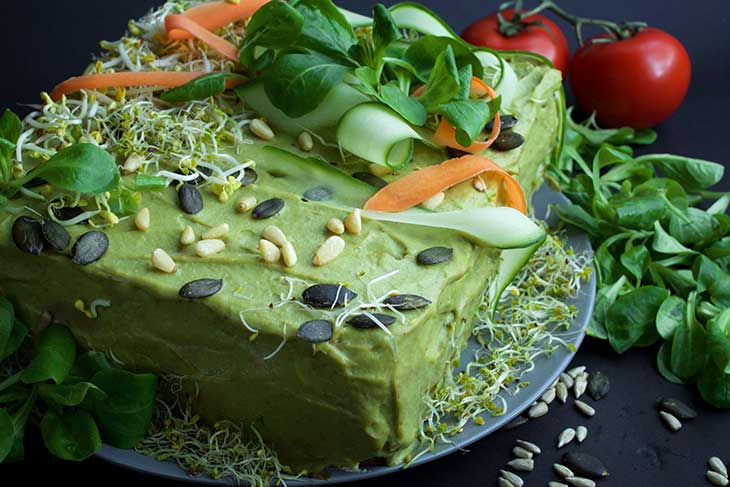 Another important part of this gorgeous sandwich-cake is the decoration, and at this point, you can really go wild and let your creativity flow. Traditionally, the Swedes use rose-shaped radishes, swirls of cucumber and rolls of cold cuts – anything to make it look pretty, just like you would with a princess chocolate cake.
Smörgåstårta is the perfect food for brunches, parties and special gatherings with your family, such as holidays and birthdays. When the sandwich is ready, it is cut up like a cake and eaten with a fork. Everyone gets a slice. However, this should be served as a main dish, and not after one, as you would with a normal cake because it's quite filling.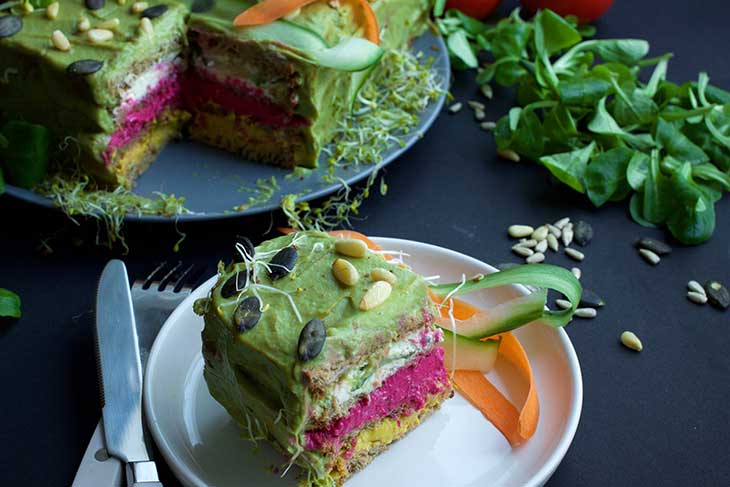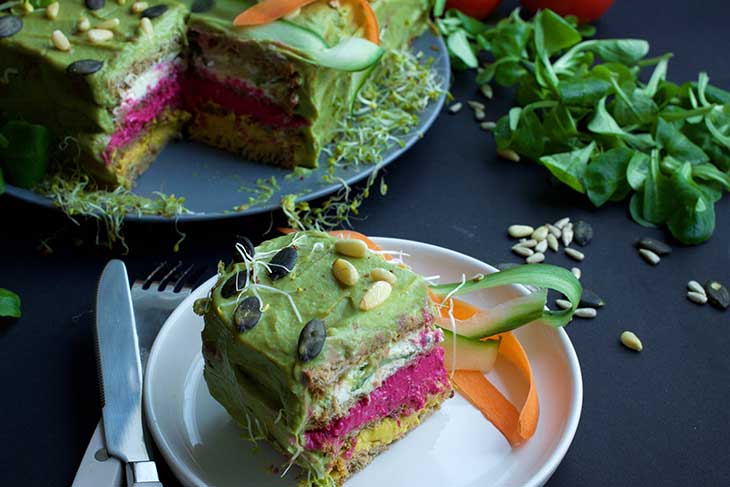 Once you get the hang of this, once you get better at mixing ingredients and knowing what goes well with what, you'll be rewarded with the centerpiece of your next party. Your taste buds will probably thank you as well.
This recipe will teach you how to create the best, easiest and healthiest vegan sandwich cake! I promise that you will absolutely adore the combination of ingredients and if you won't – just feel free to mix things up using your own preferences! Bon appetit!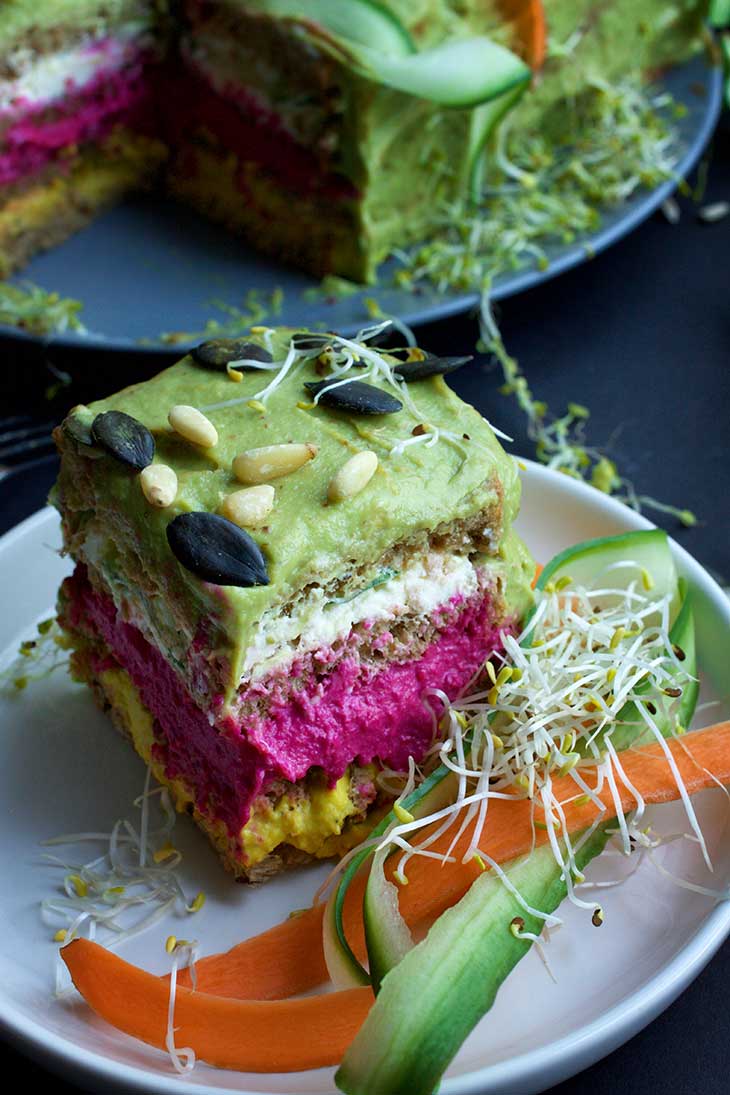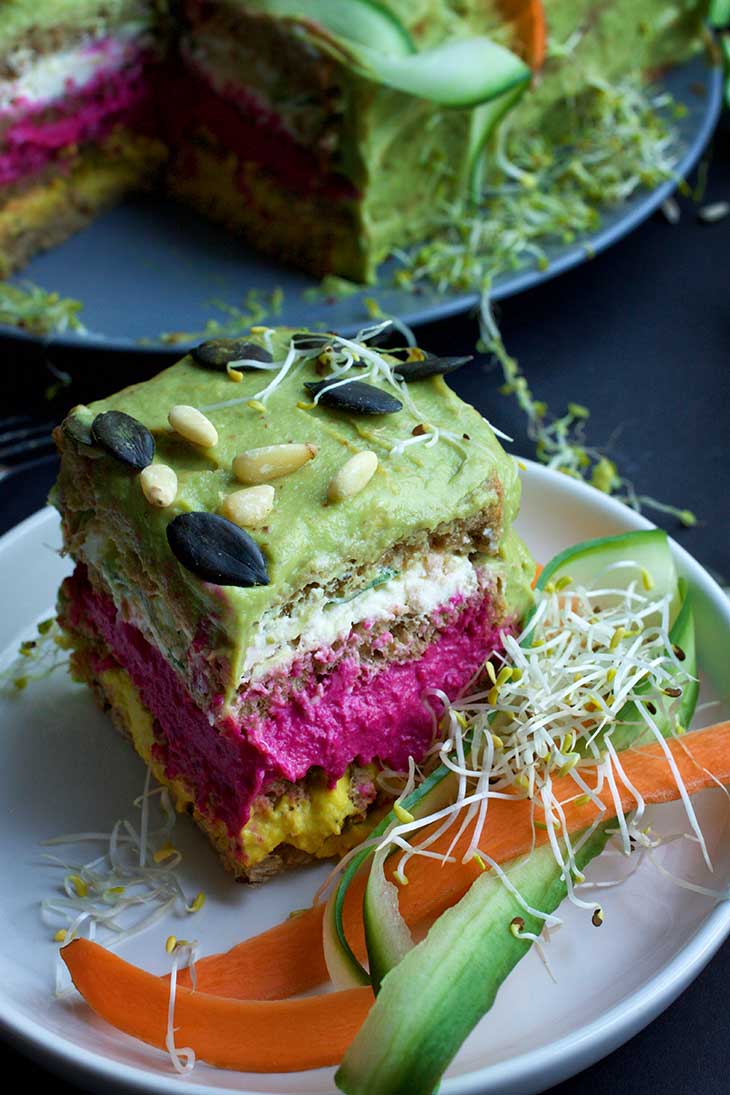 Yield: 8
Vegan Sandwich Cake - SMÖRGÅSTÅRTA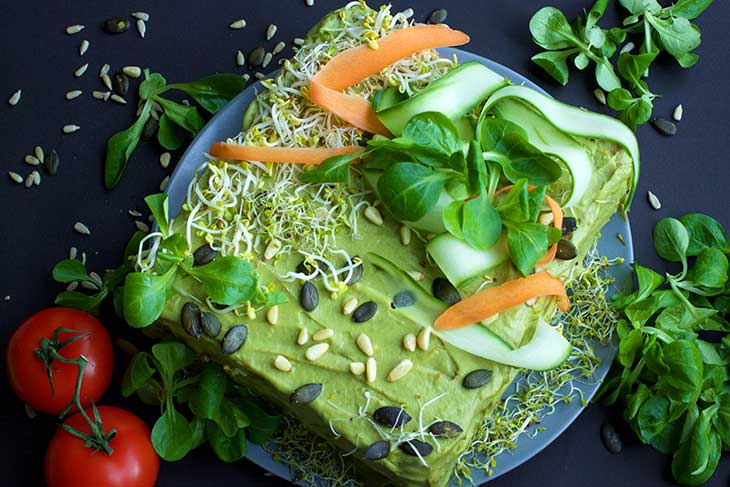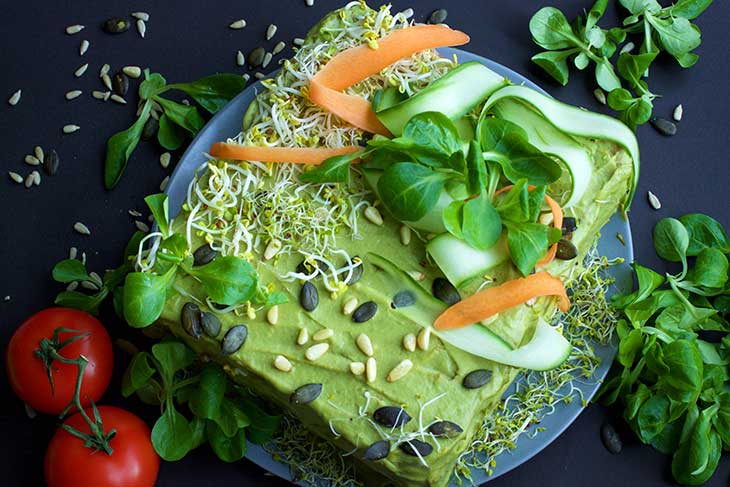 Smörgåstårta is a delicious Swedish sandwich cake that will surely amaze your guests at your next party! Learn how to make the healthiest and easiest vegan sandwich cake using this recipe!
Ingredients
16 slices whole grain bread
200g (¾ cup) beetroot hummus
1 Tbsp pickled cucumber, finely chopped
50g (⅓ cup) yellow bell pepper, finely chopped
3 Tbsp vegan mayo
200g (¾ cup) classic hummus
½ cucumber, sliced
225g (1 cup) cashew cream cheese
4 ripe avocados, peeled, pitted
½ tsp onion powder
½ tsp ground cumin
1 tsp turmeric powder
1 tbsp lemon juice
1 tsp garlic powder
2 Tbsp seeds and nuts for topping
100g (½ cup) greens of choice, for topping
Instructions
In a small bowl mix the classic hummus, a few drops lemon juice, finely chopped yellow bell pepper, ½ tsp onion powder, 1 tsp ground turmeric. Mix until well incorporated.
In another bowl mix together the beetroot hummus, finely chopped pickled cucumber, salt, and pepper to taste until well incorporated.
In another bowl mash the avocados, add garlic powder, salt, and pepper to taste.
Lay 4 slices of bread in a single layer, on a serving plate.
Cover up with 1 Tbsp vegan mayo, then spread the turmeric humus mix evenly on the bread layer. Cover up with another 4 slices of bread, spread another Tbsp of mayo and cover with beetroot hummus mix.
Layer on another 4 slices of bread, covering with one more Tbsp mayo, a layer of sliced cucumbers and cashew cream cheese.
Lay on the remaining bread slices and cover the cake with avocado paste on all sides. Give it a splash of lemon juice and start decorating with your favorite greens and seeds.
Nutrition Information
Yield
8
Amount Per Serving
Calories

624
Total Fat

13.3g
Carbohydrates

103.7g
Protein

19.7g