Learn how to make gluten-free gnocchi using this easy, step by step method. You'll get perfect vegan gluten-free gnocchi every time!
I just discovered a new passion – gluten-free pasta making. I never thought making homemade pasta could be so fun and relaxing! I can't wait to buy myself a pasta machine so I can try other kinds of pasta as well. Until then, I will make pasta recipes which don't require owning a pasta machine, like these gluten-free gnocchi for example!
Gnocchi are small pasta dumplings made of flour and potatoes. The basic Italian recipe doesn't contain any eggs, so it is naturally vegan. If you choose the right type of potatoes, you won't need any eggs. Russet potatoes are best. I get really annoyed when I see gnocchi recipes using eggs. Eggs are not used in the original recipe, nor are they needed. Adding them into the gnocchi dough is completely useless.
Also, don't add salt in gnocchi. This is not needed at all. Add salt only in the water in which they boil and of course, in the pasta sauce, you'll serve them with. It's more than enough.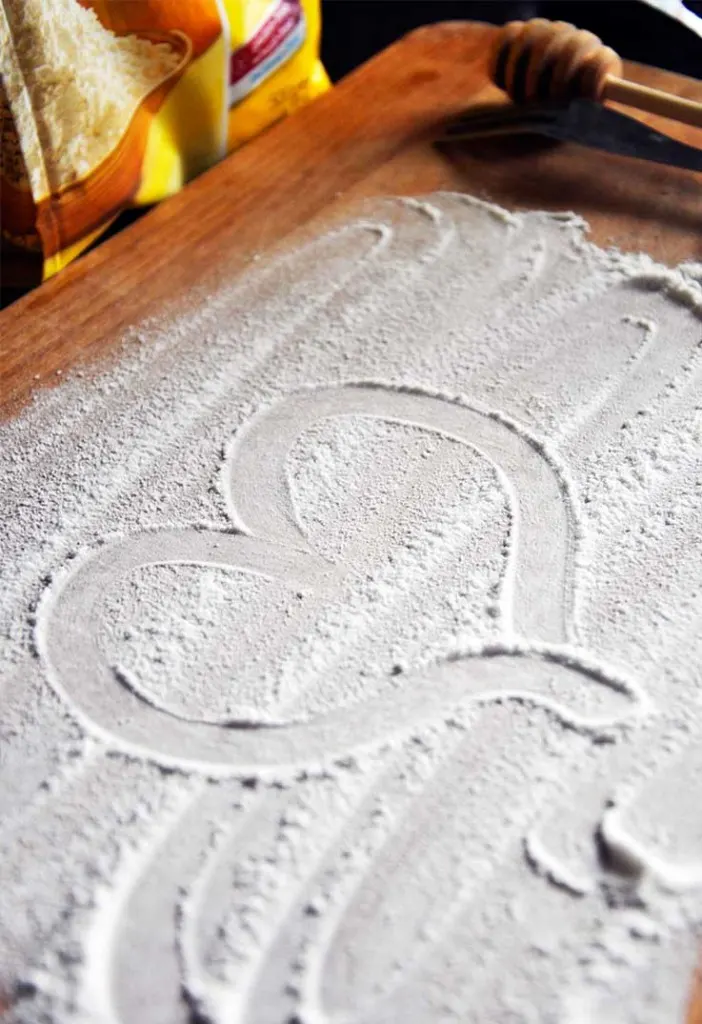 In this gluten-free gnocchi recipe, I also added wild garlic which made them taste absolutely incredible even without a sauce! I highly recommend you to try it! I am a huge wild garlic fan and I am sure you'll love it too. Plus, look at their color! Lovely!
Making gnocchi is super easy. The dough is ready really fast and from that point on, it's a child's play!
After you have the gnocchi dough ready, dust your working space with some gluten-free flour and shape the dough like in the image above.
Cut the loaf-shaped piece of dough into smaller pieces – about 2-3cm each.
Roll each dough slice into long, thin, sausage-shaped pieces of dough. Cut them in 2cm long pieces. These are the gnocchi.
Form the gnocchi using a fork or a honey dipper. I recommend using a honey dipper because they will look a lot better. See above. 🙂
Check out the full instructions below and the gnocchi sauce recipe I used, here.
Yield: 4+
How to make gluten-free gnocchi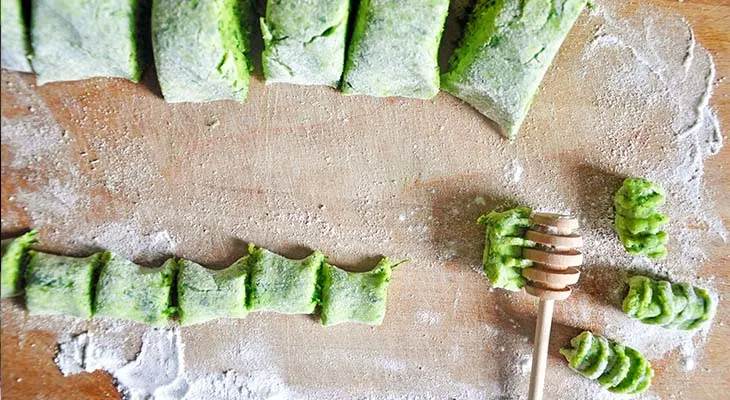 Learn how to make gluten-free gnocchi using this easy, step by step method. You'll get perfect vegan gluten-free gnocchi every time!
Ingredients
3 medium Old Russet potatoes
250g (2 cups) gluten-free flour universal mix, I used Dr. Schar MixIt Universal
3 medium-sized wild garlic bunches, chopped (optional - if you want to make simple gnocchi, skip this)
water
salt
Instructions
Gnocchi dough:
Put potatoes just as they are in a large pot. Cover them with water. Boil them for about 25 minutes,
Drain potatoes and fill the pot with cold water. Peel potatoes under cold water.
Grate potatoes or mash them using a potato ricer.
Put grated potatoes in a large bowl and add flour.
Separately, put chopped wild garlic leaves in a blender and puree them.
Pour wild garlic puree in the bowl.
Start mixing using a wooden spoon.
When the dough starts forming, use your hands and knead for 5 more minutes.
Form the gnocchi:
Dust your working area with gluten-free flour. Dust your hands too.
Roll the dough in the form of a bread loaf, like in image Step 1.
Cut dough in 3 cm thick slices, like in Step 2.
Take a dough slice and roll it into a long and thin sausage-shaped piece of dough.
Slice it in small gnocchi pieces, about 2 cm long, like in image Step 3.
Shape gnocchi by either using a fork or a honey dipper. Dust the fork/honey dipper in flour before using.
Place gnocchi on a tray,
How to cook gnocchi:
Fill a large pot with water.
Add salt.
Bring water to a boil.
Add gnocchi.
When ready, they will start rising to the surface. Get them out and serve them right away with a sauce on top.
Nutrition Information
Yield
4
Amount Per Serving
Calories

294
Total Fat

5g
Carbohydrates

53.8g
Protein

8g