Here's how you can make a delicious vegan blueberry clafoutis recipe quickly and easily. It's also gluten-free!
Clafoutis is a world-known French dessert which is basically a simple baked fruit dessert with a flan-like batter. This dessert is traditionally made with black cherries, but other fruits such as berries, apples, red and sour cherries, plums, and pears can be used. It is served warm, with cream and then dusted with sugar.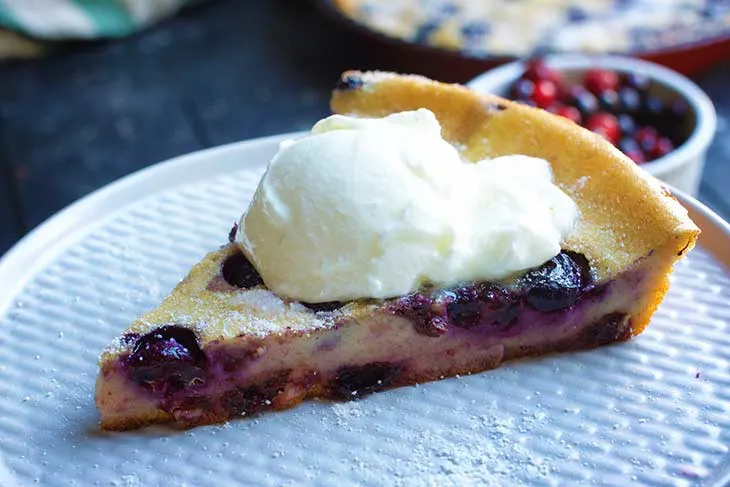 The clafoutis or clafouti recipe originates from the Limousin region in France and even though its name sounds fancy, like most other French recipes, it is quite an easy recipe to make. The traditional recipe uses eggs and dairy products but you can easily veganize this delicious dessert using some silken tofu, dairy-free milk and coconut oil.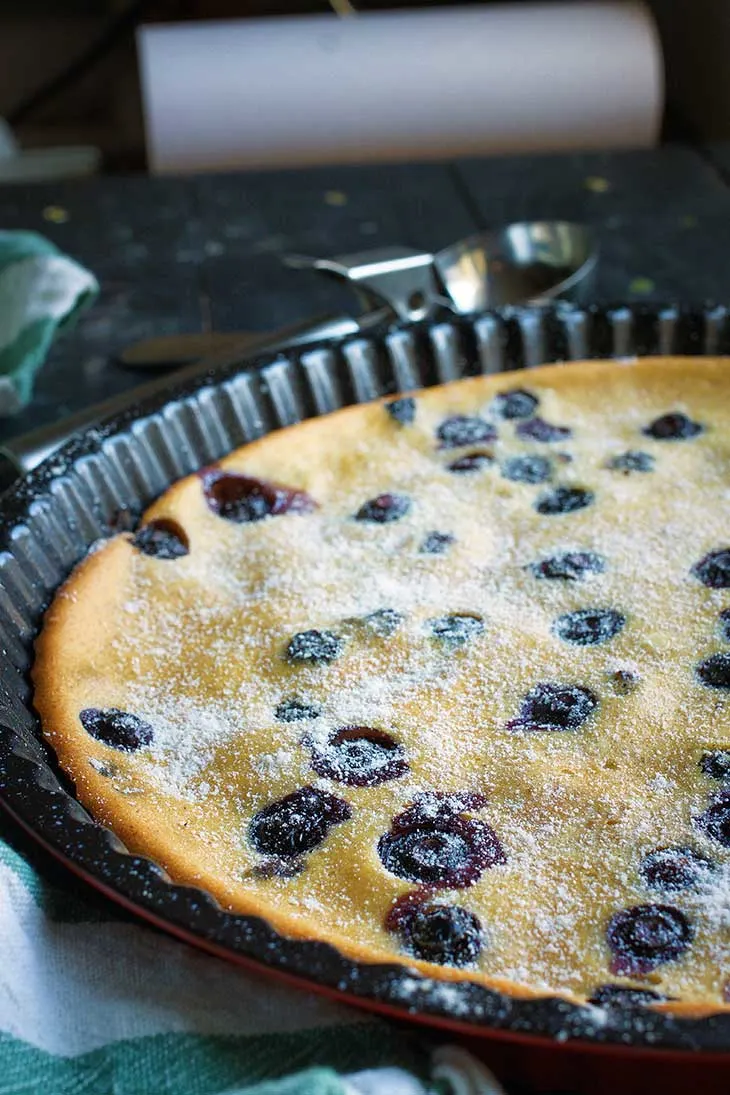 I've recently written a guide about the French cuisine and its most popular recipes. So if you're looking for more amazing French recipe, check out my French Cuisine Guide. You'll also find some links to my French recipes.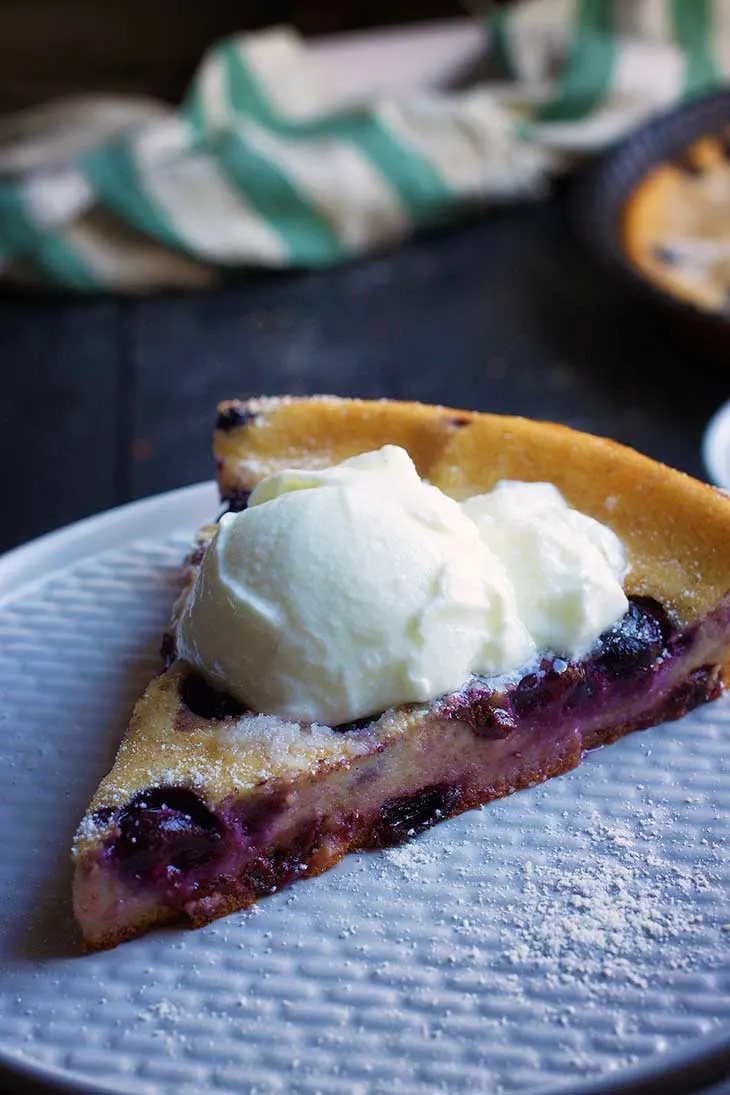 Even if your baking skills are not that developed, this is a recipe even a beginner cook can successfully make. The blender/food processor will pretty much do all the work for you.
You can serve this yummy, refined-sugar-free dessert with some vegan yogurt, cream or vanilla ice-cream on top! 🙂 Enjoy!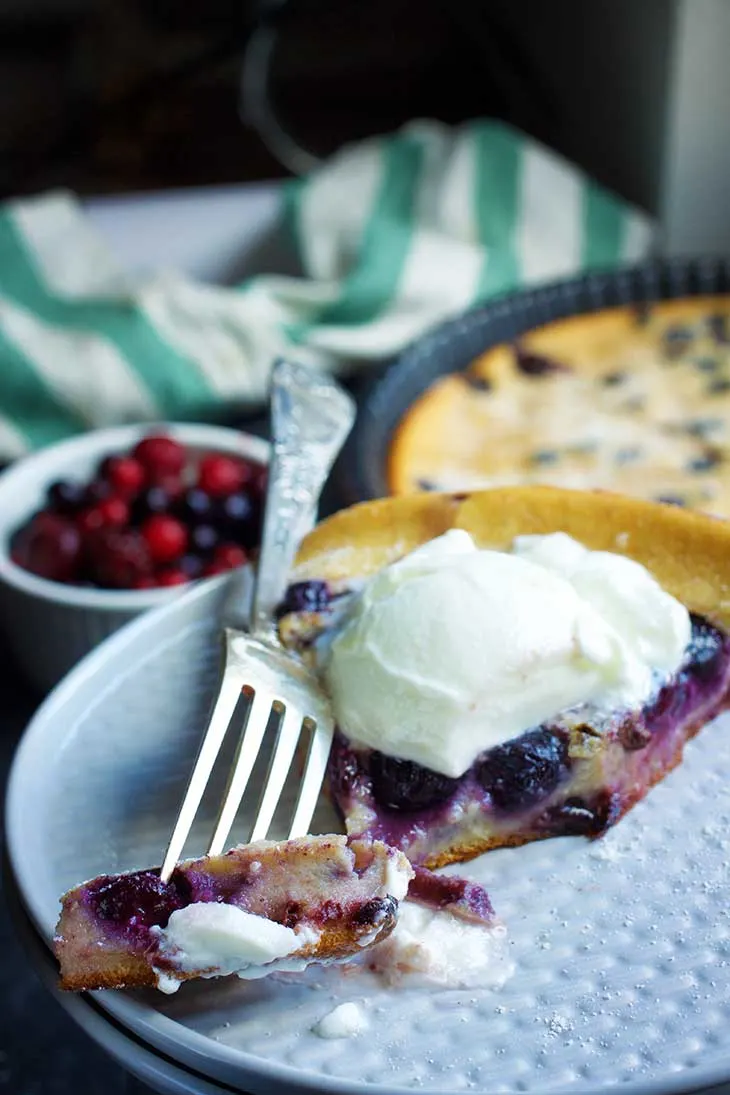 Yield: 6+
Vegan Blueberry Clafoutis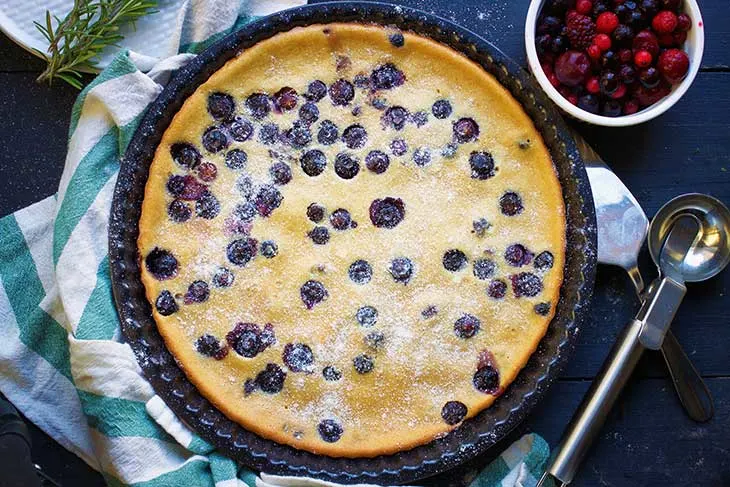 Here's how you can make a delicious vegan blueberry clafoutis recipe quickly and easily. It's also gluten-free!
Ingredients
85g (½ cup) blueberries, I used frozen
85g (½ cup) sour cherries, I used frozen
300g (10.5 oz) silken tofu
150g (1 cup) white rice flour, or regular all-purpose flour
1 Tbsp tapioca flour
4 Tbsps coconut sugar, or any other sweetener of choice
5 Tbsps almond milk
1 tsp pure vanilla extract
1 Tbsp coconut oil + extra for greasing
a pinch of salt
dairy-free yogurt or vanilla ice cream, for serving (optional)
Instructions
Preheat the oven to 180C.
Grease your baking dish with oil. Add the blueberries and cherries, in a single layer, on the bottom.
In a food processor or blender, add silken tofu and almond milk and blend until smooth. Add the flour, tapioca, sugar, coconut oil, vanilla, and salt. Mix well.
Blend until the batter is smooth.
Pour the batter into prepared baking dish. Bake in a preheated oven for about 45 minutes.
Serve with a scoop of yogurt on top.
Nutrition Information
Yield
6
Amount Per Serving
Calories

309
Total Fat

6.8g
Carbohydrates

56g
Protein

5.9g