Get ready to spice up your vegetarian dinner game with this mouth-watering Japanese curry recipe! Packed with flavor and plant-based goodness, this dish will leave your taste buds begging for more. Say goodbye to boring veggie meals and hello to a delicious new obsession.
Today, I'm excited to share with you my love for Japanese curry, a newly discovered recipe I absolutely love. This comforting dish has been a staple in Japanese households for over a hundred years and has become a popular choice all over the world.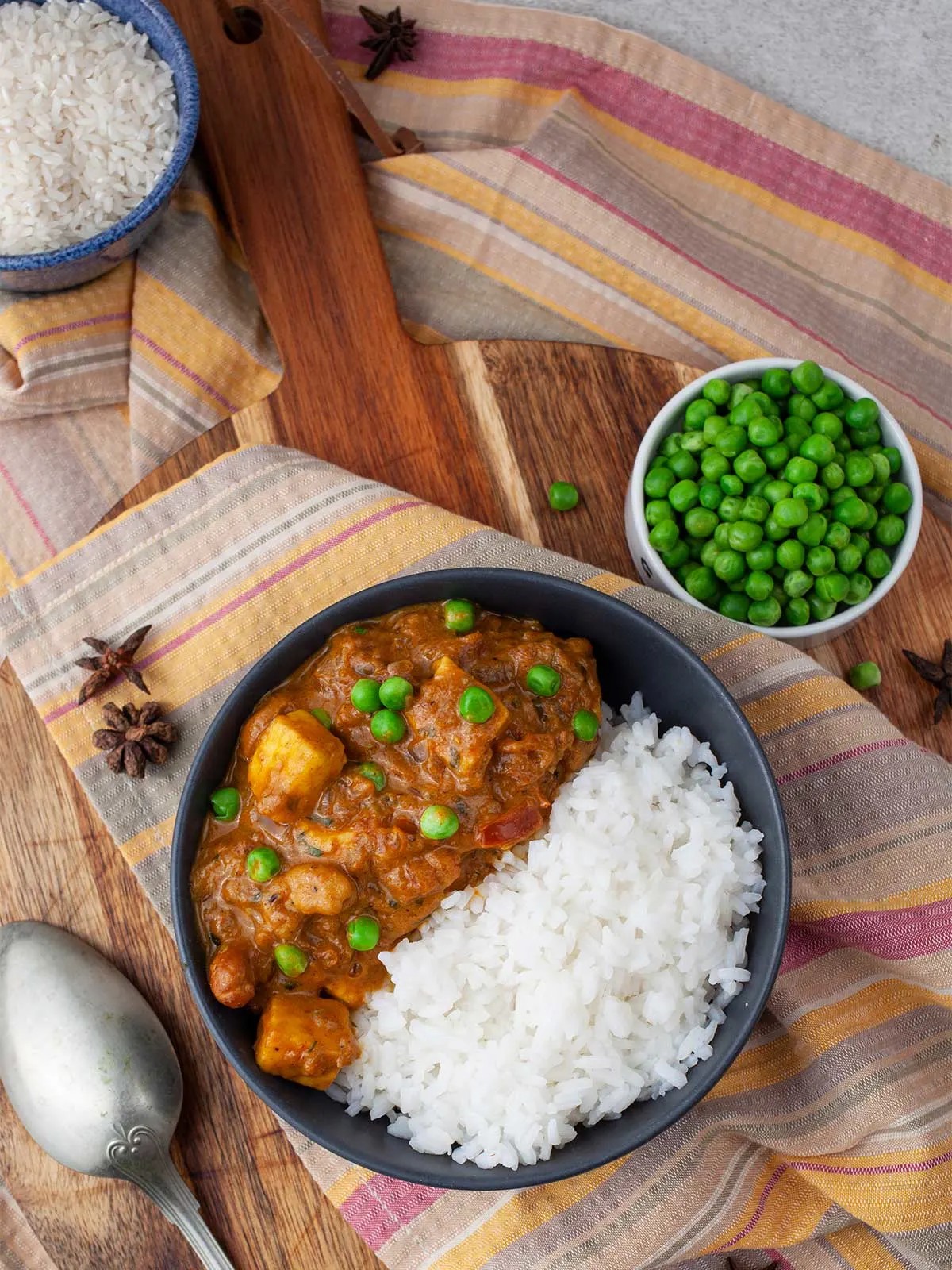 Japanese curry, also known as kare, is a dish that originated in India and was introduced to Japan in the late 19th century by the British. Over time, it has been adapted and became a staple in Japanese cuisine, with its own unique flavors and ingredients.
The base of the curry typically consists of a mixture of vegetables such as onions, carrots, and potatoes, simmered in a sauce made from a blend of spices and a roux. The sauce is then poured over rice and served with meat or vegetables.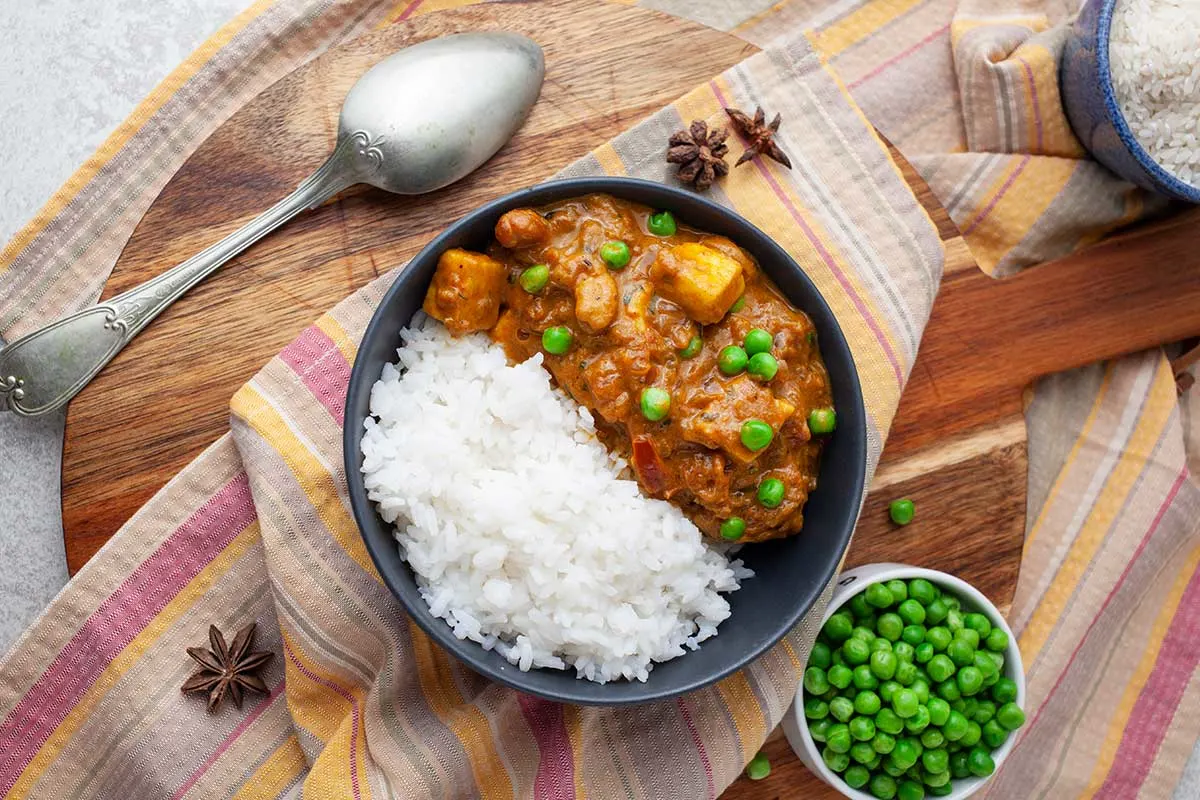 Tips for making the best Japanese curry
Use a high-quality curry roux: There are many different brands and varieties of curry roux available, so find one that you like and that has a good balance of flavor and heat.
Experiment with different vegetables: This curry is a great way to use up any vegetables you have on hand. Try adding eggplant, bell peppers, or mushrooms for a more hearty and flavorful dish.
Serve with rice: This curry recipe is traditionally served over rice, which helps to balance out the flavors and make the dish more filling.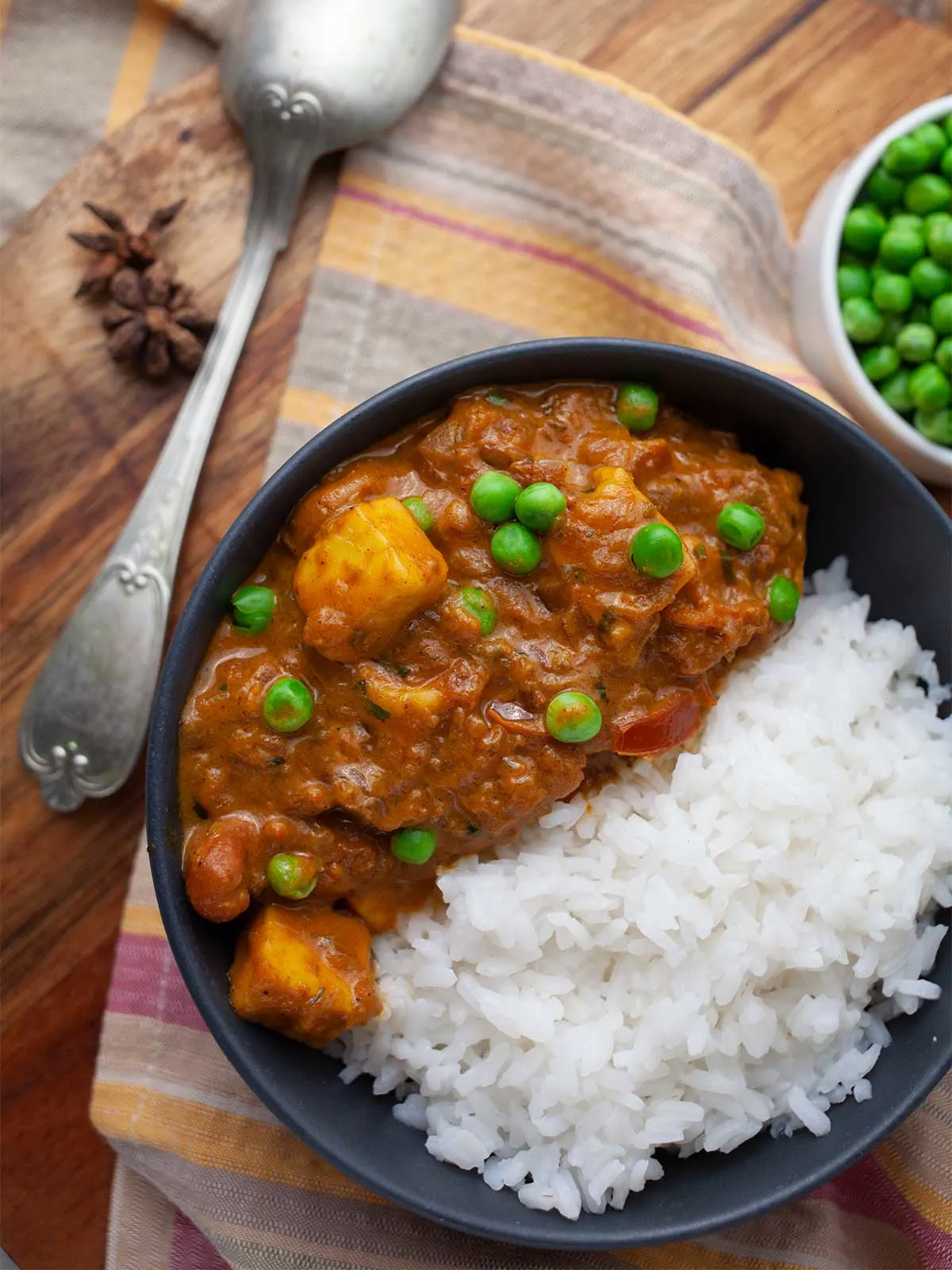 The authentic Japanese recipe traditionally contains meat, but I made the vegetarian / vegan Japanese curry. I used tofu but there are other protein sources you can choose from, such as tempeh, textured soy protein, or seitan and also use a vegetable broth instead of chicken or beef broth. Additionally, you can use coconut milk instead of cream to make the sauce richer and creamier.
Some variations of Japanese curry include adding different types of herbs and spices, such as cinnamon, nutmeg, or cardamom, for a more unique flavor. You can also add different types of cheese, such as cheddar or mozzarella, to create a cheesy curry.
So there you have it, a guide to making the best vegetarian Japanese curry. I hope you'll give it a try and enjoy the comforting and delicious flavors as much as I do!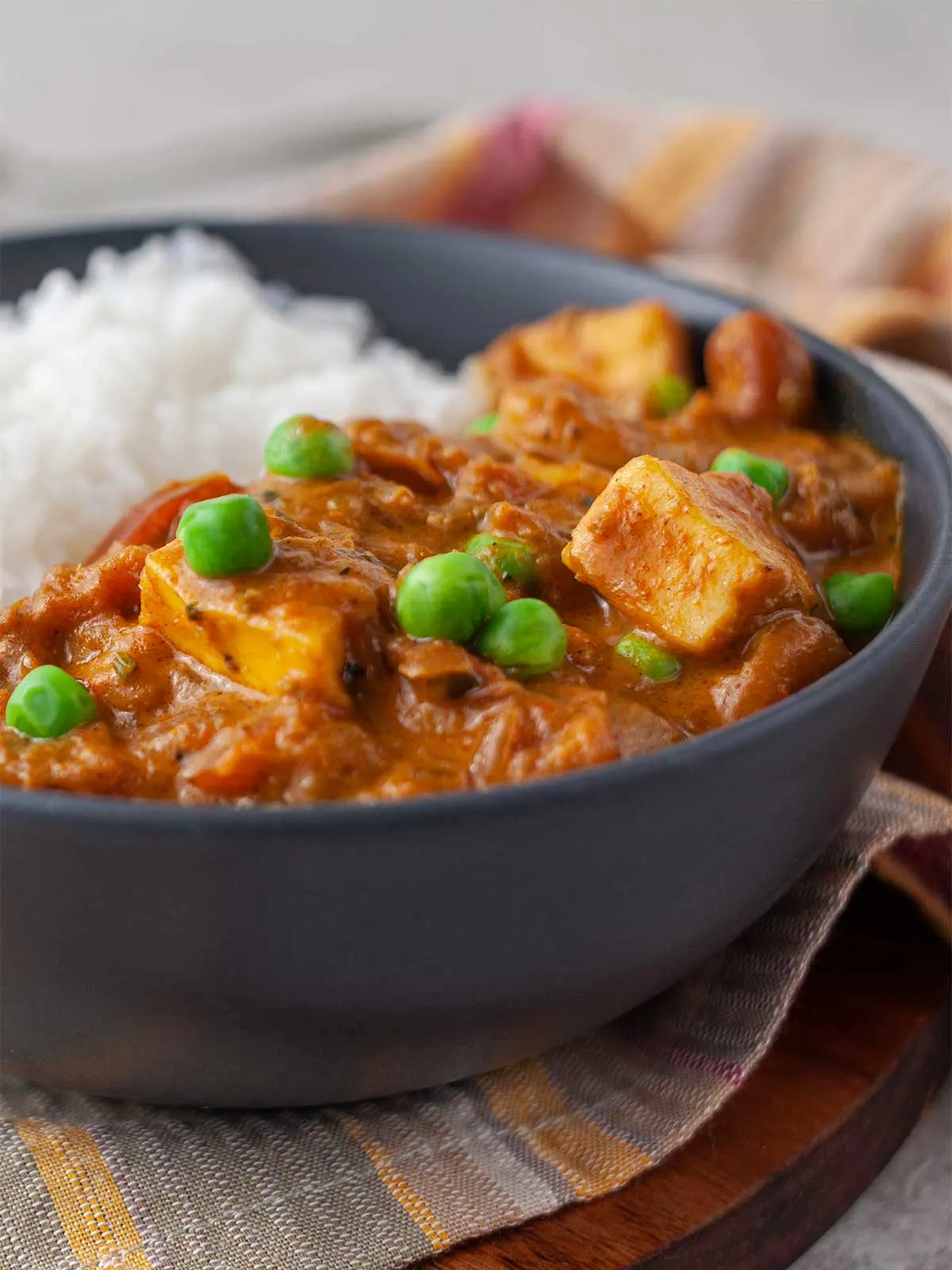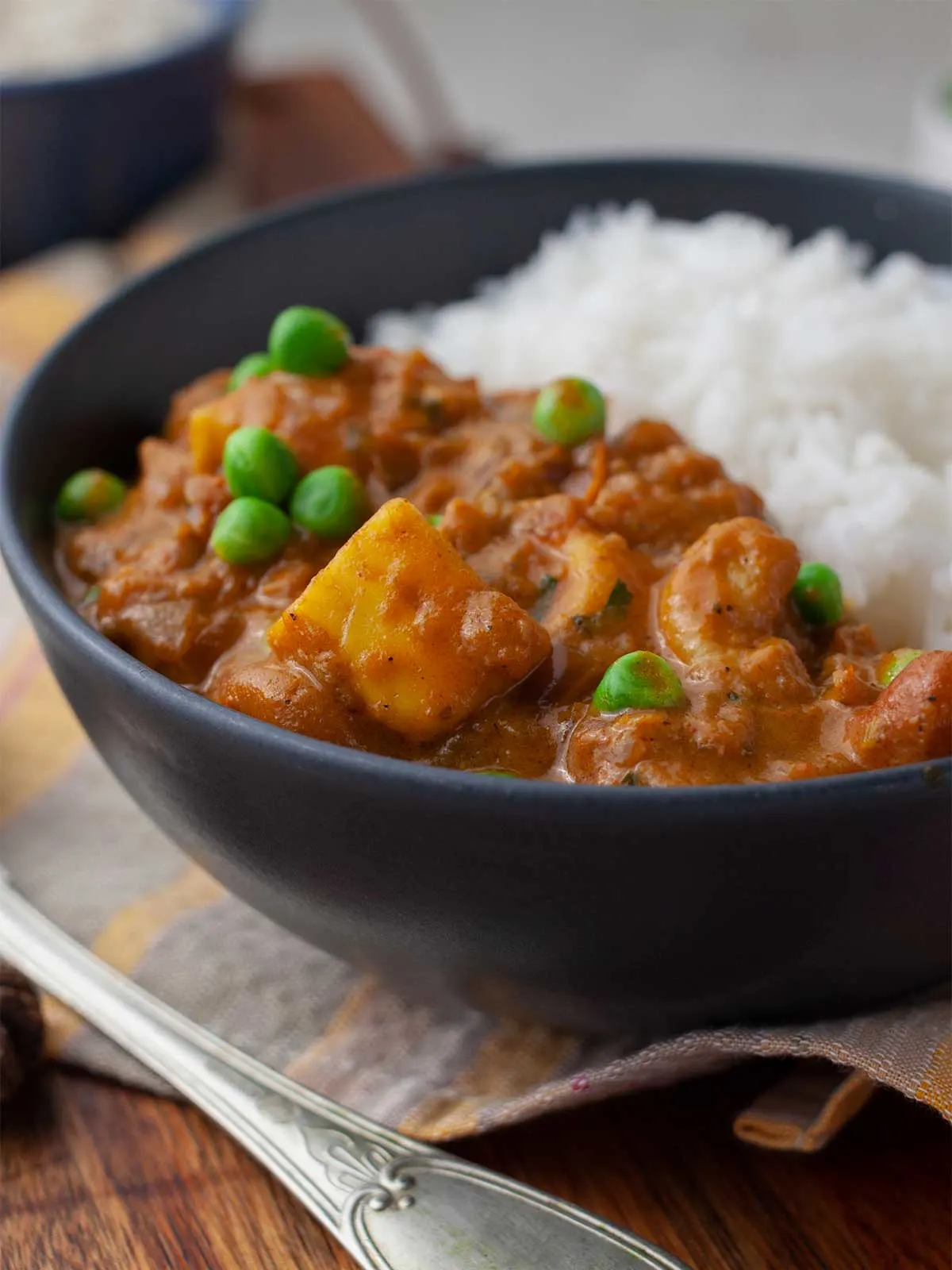 Yield: 6-8
Japanese Curry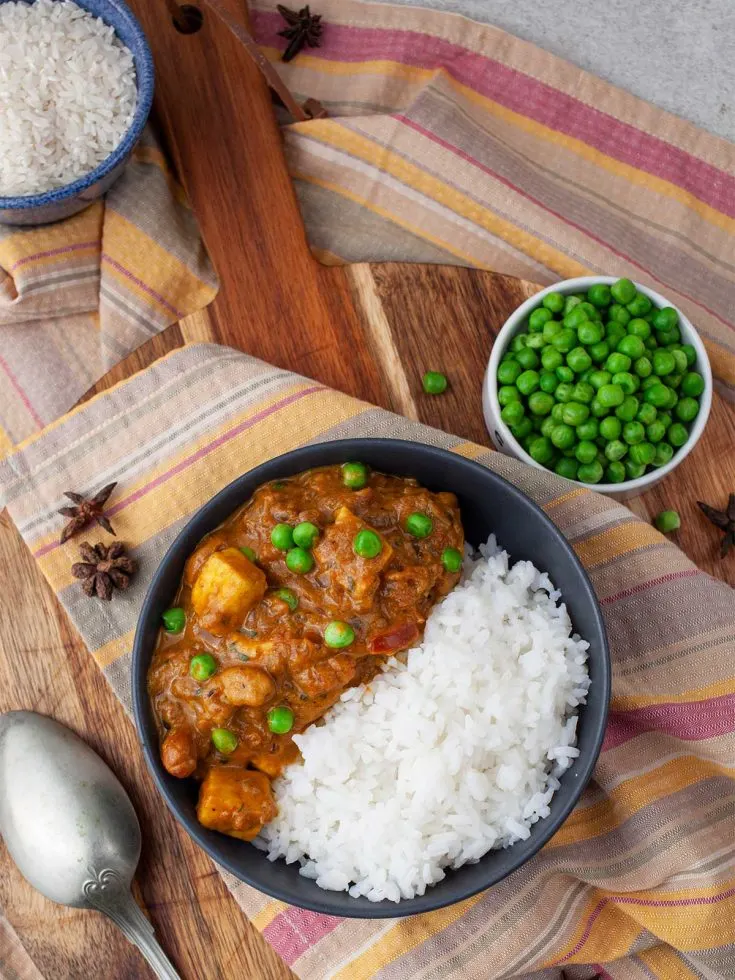 Get ready to spice up your vegetarian dinner game with this mouth-watering Japanese curry recipe! Packed with flavor and plant-based goodness, this dish will leave your taste buds begging for more.
Total Time
1 hour
10 minutes
Ingredients
Spice mix step 1:
2 tablespoons of coriander seeds
1 tablespoon cumin seeds
1 tablespoon of fenugreek seeds
2 ½ teaspoons cardamom seeds
2 teaspoons of black peppercorns
½ teaspoon of fennel seeds
Spice mix step 2:
1 cinnamon stick
3 cloves
½ pod of star anise
½ teaspoon of dehydrated orange peel
2 tablespoons ground turmeric
¼ teaspoon ground chili powder
a sprinkle of ground nutmeg
For the Stew:
400 g smoked tofu, cut into cubes
2 tablespoons of coconut oil
1 large onion, chopped
3 medium carrots, chopped
2 liters of vegetable soup/stock or water
1 tablespoon of miso paste
400g potatoes, cut into cubes
1 medium apple, finely grated
1 tomato, sliced
½ cup vegan butter
½ cup white flour
½ spoon of fresh ginger, grated
1 cup frozen peas
salt and pepper, to taste
white rice for serving
Instructions
Prepare the spice mix:
Heat a dry pan on medium heat, add all the spices from step 1.
Fry the spices until the flavors become strong.
Add the spices in a mortar or grinder.
Add the spices from step two, and grind.
When ready, transfer the spice mixture to a storage jar.
Prepare the stew:
In a pan heated with coconut oil, add the tofu cubes. Fry the tofu until it is browned on all sides. Transfer the tofu cubes to a bowl and set aside.
In a double-bottomed pot, on medium-low heat, add a spoonful of coconut oil and chopped onion. Saute the onion until it becomes soft, around 7 minutes, add the carrots and saute for another 5 minutes.
Add the vegetable stock or water over the onion and carrot. Add the sliced tomato.
Increase the heat until it boils, then reduce the heat to low and let it cook.
Add tofu, potatoes and apple. Boil for around 15 minutes, until the potatoes become soft.
Meanwhile, in a small pot, over medium heat, melt the butter. When the butter is completely melted, add the flour. Cook the butter and flour over medium heat, stirring continuously, for around 15 minutes, until the mixture takes on a golden-brown color. Add the grated ginger and 3 tablespoons of the curry spice mix. Stir for about a minute, then remove from the heat and transfer the composition to the pot with the stew.
Add the ingredients and continue to cook the stew until the liquid becomes thicker and creamier. Add salt and pepper to taste, peas, mix until incorporated and serve with white rice.
Nutrition Information
Yield
8
Serving Size
1
Amount Per Serving
Calories

443
Total Fat

21g
Saturated Fat

6g
Trans Fat

2g
Unsaturated Fat

14g
Cholesterol

3mg
Sodium

810mg
Carbohydrates

53g
Fiber

8g
Sugar

9g
Protein

14g
I strive to keep the information as accurate as possible but make no warranties regarding its accuracy. I encourage you to make your own calculations using your preferred nutrition calculator.