Bored of the plain, old hummus? Here's how to make an incredibly creamy and flavorful pumpkin hummus. Perfect for an autumn appetizer plate!
By now, I'm assuming everyone knows what hummus is. Moreover, I'm assuming everyone loves the thing. So today, we're going to take something everyone loves and make a better, tastier version out of it – yep, you've heard me right.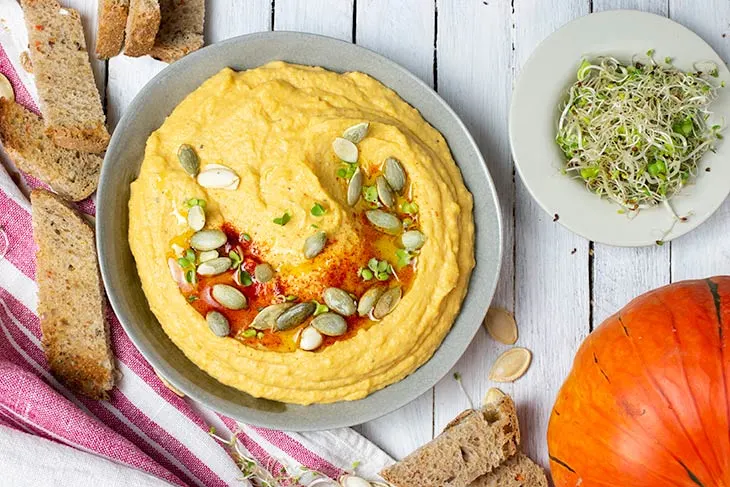 But first, let's chat a bit about the history of this delicious dip.
As we all know, hummus is a delicious dip made out of cooked and mashed chickpeas. But that is only the base. Hummus is not hummus without its star ingredient: tahini, a paste made out of toasted sesame seeds. A bunch of other ingredients is also added: lemon juice, salt, garlic, and even onion, sometimes.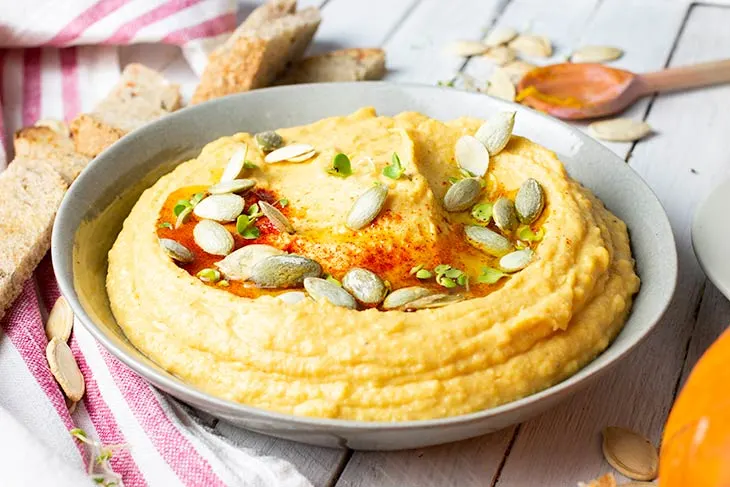 As it is with most well-known, delicious recipes, the origins of hummus are not set in stone. We don't have enough evidence to determine the precise location or time of the invention of this dish. However, most clues do point towards the Middle East. The earliest known written recipe for something that resembles hummus (as we know it today) comes from 13th century Cairo.
There are a bunch of recipes coming from that time. All of them involve mashed chickpeas as the meal's base, though other ingredients vary. For instance, when it comes to the acidity part, some recipes used lemon juice, while others used vinegar. Also, tahini was not considered a must in all of these recipes, so I think it's safe to say that 13th century Cairo was still pretty far from knowing hummus as we know it today.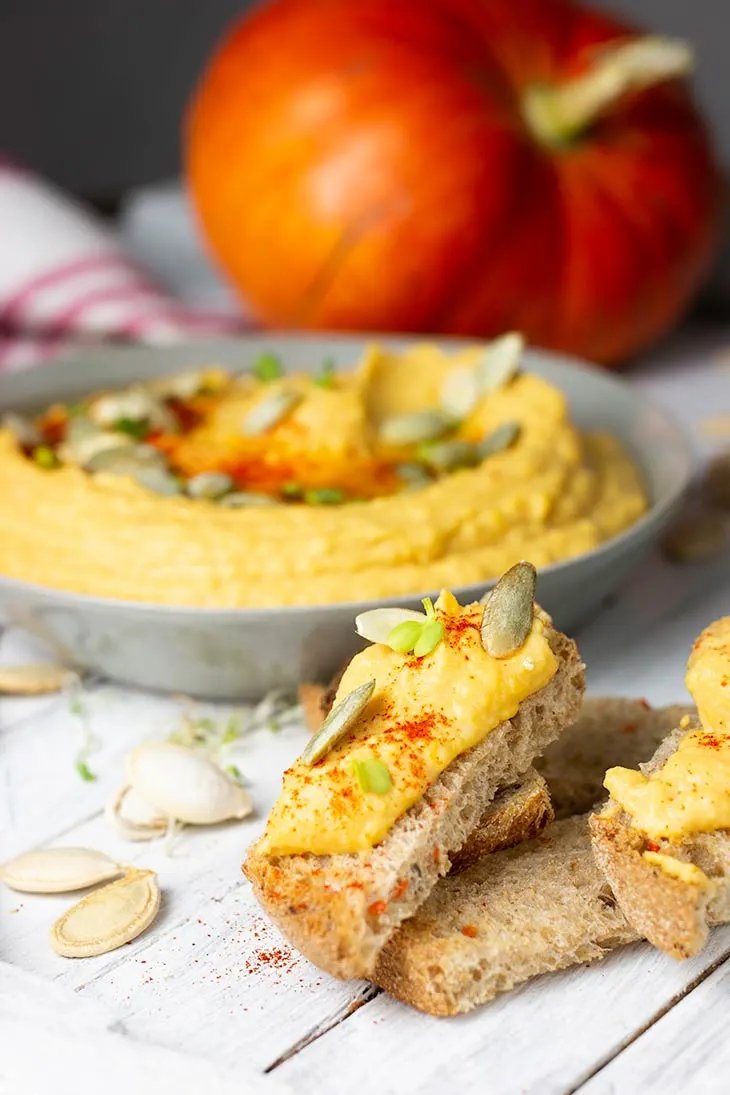 Good thing is, somehow these dishes evolved into the delicious dip (or spread) that we're all so accustomed to nowadays.
Now, in the 21st century, hummus is considered a popular meal, and a really versatile one. As an appetizer and dip, it's most commonly consumed with a type of fresh flatbread, such as pita. But it's also consumed in a bunch of other ways, such as inside falafel (as a sauce), with grilled chicken, fish, or eggplant.
A really fun part of hummus is garnishing it. Popular garnishes include chopped tomato, cucumber, coriander, parsley, seeds, caramelized onions, whole chickpeas, olive oil, hard-boiled eggs (I know, what?), paprika, sumac, olives, pickles… I could go on like this forever. A lot of things go really well on top of hummus, so if you wanna make this, you can go nuts. 😉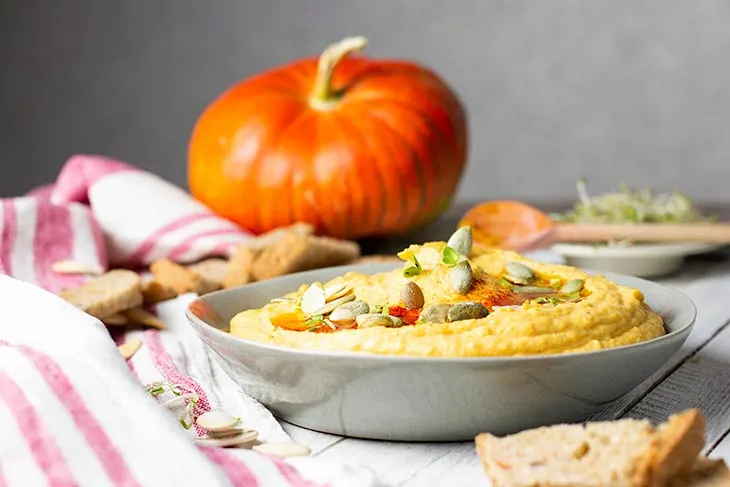 Of course, now you can find premade hummus in just about any supermarket anywhere in the world. But – aside from eating it in the Middle East – it's best made at home. Nothing compares to fresh hummus on a steaming loaf of bread or pita.
You can also experiment with a ton of delicious variations, such as white bean hummus, wild garlic, or, the star of today's article, pumpkin. As fall is finally here and the weather starts to get chilly, I just can't think of recipes that don't involve pumpkin, because I seriously love it. And pumpkin hummus? Oh, man! You've got to try that out – it's amazing! 🙂
You can make pumpkin hummus by combining chickpeas and pumpkin, or by taking out the chickpeas entirely. I know, I know, by this point, some of you might gasp in horror, but believe me when I tell you that pure pumpkin hummus is not only delicious but also a bit easier to make than the original chickpea version.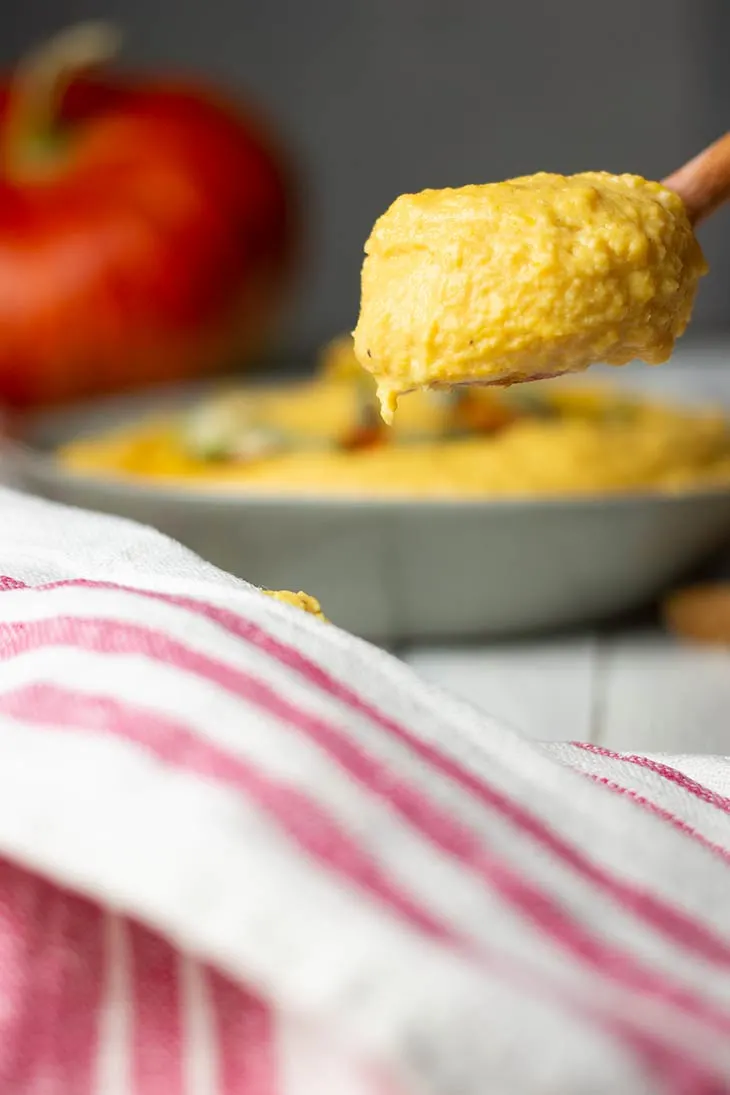 How can that be, you ask me? Well, for this recipe, you don't have to peel and soak anything, and you don't have to coax your blender. You'll need to add tahini for that wonderful taste and creamy texture.
You can buy it from the store or make your own – it's really easy. All you need is a fair amount of sesame seeds and a food processor. You just need to toast the seeds a bit and then blend, blend, blend, until you've got yourself a creamy paste that is to die for.
Tahini honestly makes this recipe a thousand times better, but what I noticed is that, sometimes, the one from the store can be really bitter and awful. I guess it depends on the quality and freshness of the product. But that's why I truly believe making your own is better every time.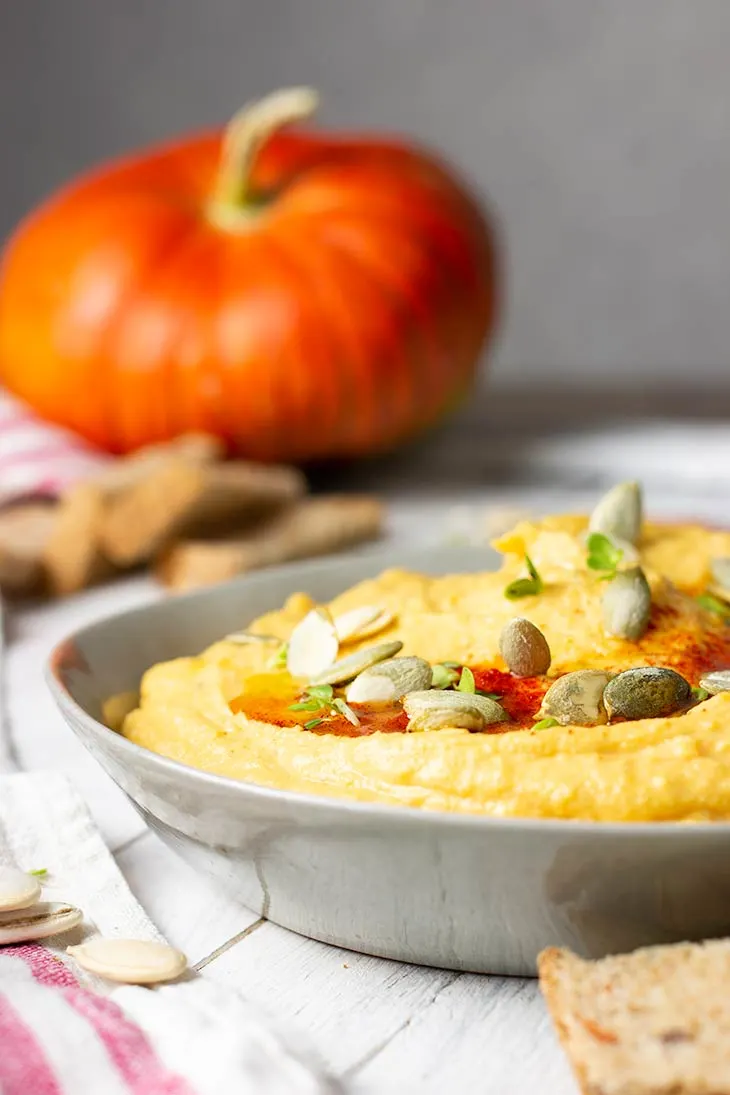 As for the pumpkin part, at this time of year, you can find fresh pumpkin everywhere and it's absolutely delicious. Aside from the absolutely wonderful taste and the vibrant color, pumpkin is super healthy, making this recipe all guilt-free and amazing.
So, by following these easy steps, you're going to have a beautiful, orange bowl of pumpkin goodness which you can then decorate with all the toppings you'll like. An obvious one would be pumpkin seeds with a drizzle of olive oil – so pretty! 🙂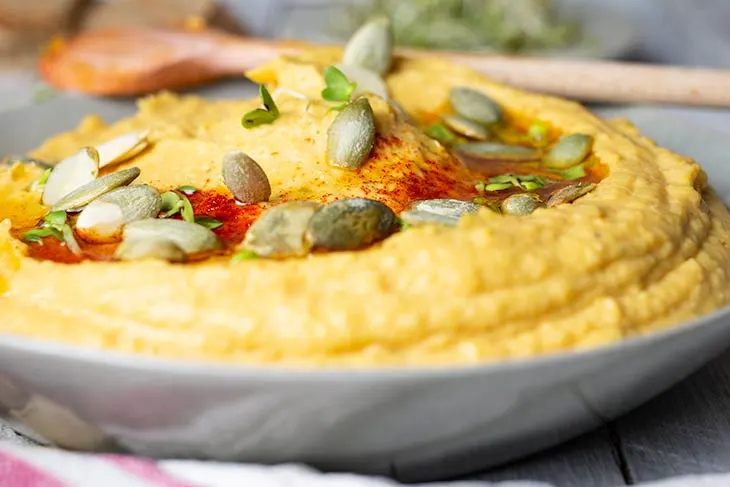 That's about it. If you love pumpkin – and all about autumn – as much as I do, I'm sure you're going to love this recipe as well. And if you do, don't forget to let me know!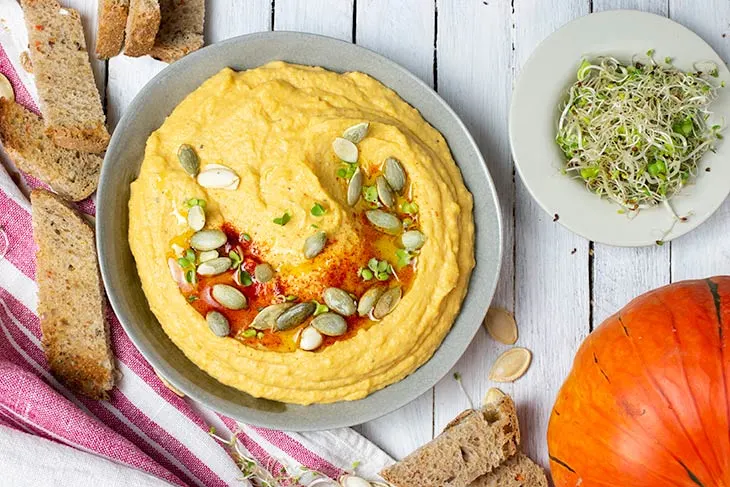 Bored of the plain, old hummus? Here's how to make an incredibly creamy and flavorful pumpkin hummus. Perfect for an autumn appetizer plate!
Ingredients
1 can (800g | 28oz) chickpeas/garbanzo beans, rinsed and drained
200g (7 oz) roasted pumpkin
juice from 1/2 lemon
4 Tbsps tahini
3-4 garlic cloves
2-3 Tbsp extra virgin olive oil
Sea salt
Instructions
Put all your ingredients in a food processor and process for 3-5 minutes until the hummus is smooth.
Season to taste.
Top with pumpkin seeds and smoked paprika.
Nutrition Information
Yield
2
Amount Per Serving
Calories

774
Total Fat

59g
Saturated Fat

8g
Trans Fat

0g
Unsaturated Fat

48g
Cholesterol

0mg
Sodium

383mg
Carbohydrates

54g
Fiber

10g
Sugar

21g
Protein

14g
I strive to keep the information as accurate as possible but make no warranties regarding its accuracy. I encourage you to make your own calculations using your preferred nutrition calculator.