Potato burritos are a quick, delicious, and easy-to-make lunch. Here's how to make it step by step in no time! By the way, the recipe is 100% vegan and healthy!
Who doesn't love a good burrito now and then? I know I do! Burritos are a great lunch or dinner option that's generally easy to put together and is amazingly satisfying to eat.
Burritos are part of Tex-Mex cuisine. A typical burrito consists of a flour tortilla wrapped around various yummy ingredients. More often than not, burritos are filled with a savory filling, usually meat such as chicken, beef, or pork, and other ingredients such as rice, cooked beans, vegetables, cheese and a bunch of condiments (salsa, guacamole and so on).
However, there are countless vegetarian and vegan options out there, for those who are reluctant to animal products, and they're just as delicious! 🙂
Fun fact: in Spanish, the word for "donkey" is "burro". So "burrito" technically means "little donkey". This probably derives from the fact that burritos contain a lot of fillings, similar to a donkey's load.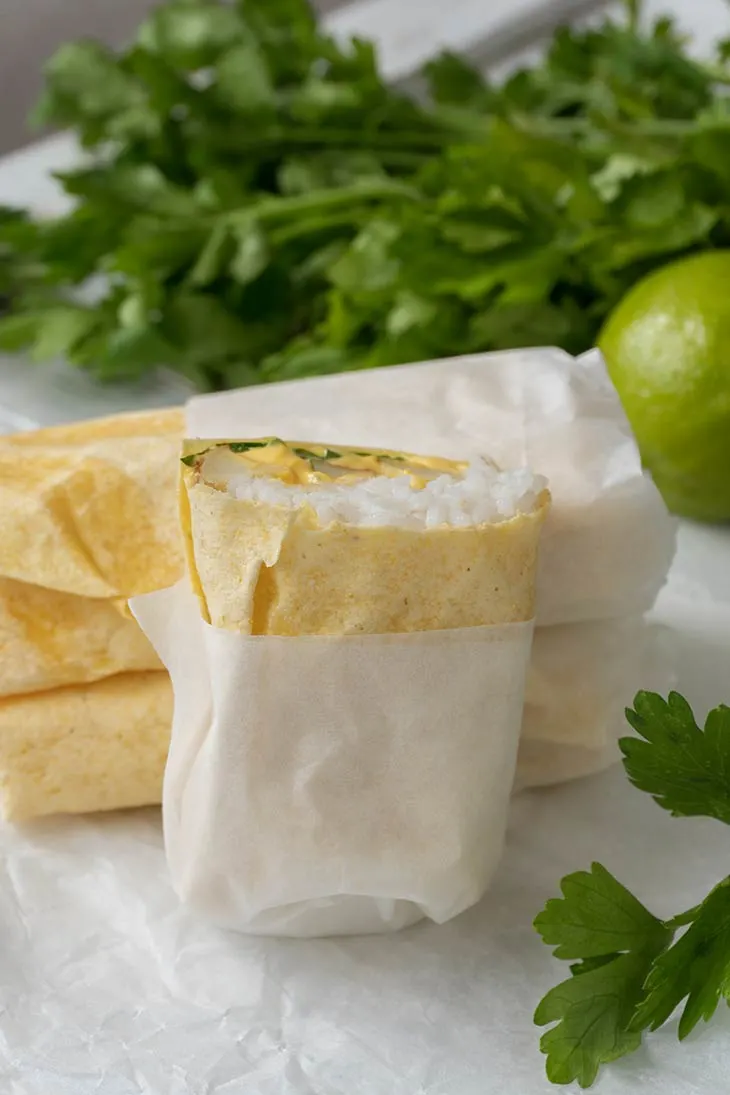 As with all great foods, this one has a lot of variations as well. For example, there is such thing as a wet burrito – that is, a burrito covered with a red chili sauce, with melted shredded cheese on top. This is usually eaten using a knife and fork to avoid messiness.
Another delicious variation, and one that I attempted many times on this channel, is a burrito bowl. This one's not exactly a burrito, but a dish based on burrito fillings served without the tortilla, or with a tortilla on the side instead of wrapped. It's generally served in a bowl, with a layer of rice placed at the bottom and the rest of the ingredients on top of it.
Ingredients may consist of a type of meat, beans, vegetables such as tomatoes and onion, and a yummy sauce, usually spicy. A breakfast burrito is another delicious option, and it consists of, well, breakfast items, particularly scrambled eggs, wrapped in a flour tortilla. It's delicious and bound to keep you full until lunchtime.
Now let's get to more serious business. 😉
Why do we like burritos? Why do we find them so satisfying? Well, first of all, they're delicious and hearty. Burritos are the perfect balance of carbs, protein, and vegetables. And, generally, I found that, as humans, we're more satisfied by things that come in the form of a sandwich or wrap than by those who come on a plate.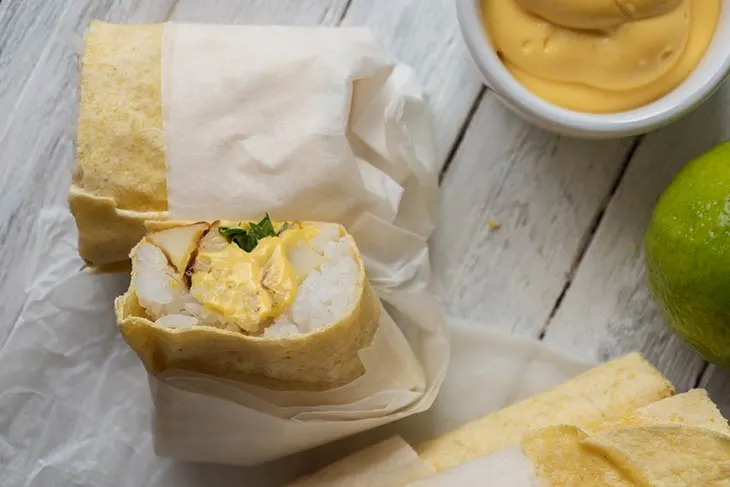 I think there's also the pleasure of knowing you'll get a perfect bite each time, one that has a little bit of everything: a bit of rice, a bit of beans, a bit of vegetables, all wrapped inside that yummy tortilla and smothered in a delicious sauce.
Another reason why I look at burritos as such an amazing meal option is the fact that they're so versatile. You don't necessarily have to stick to the original ingredients in order to assemble a delicious burrito. They're great for using leftovers and whatever you may have in the fridge.
For instance, I like to bake some potatoes in advance, just to have them around in case I'm hungry and I don't know what to eat, as we all know that potatoes take quite some time to cook. Well, let me tell you they worked amazing in this recipe! 🙂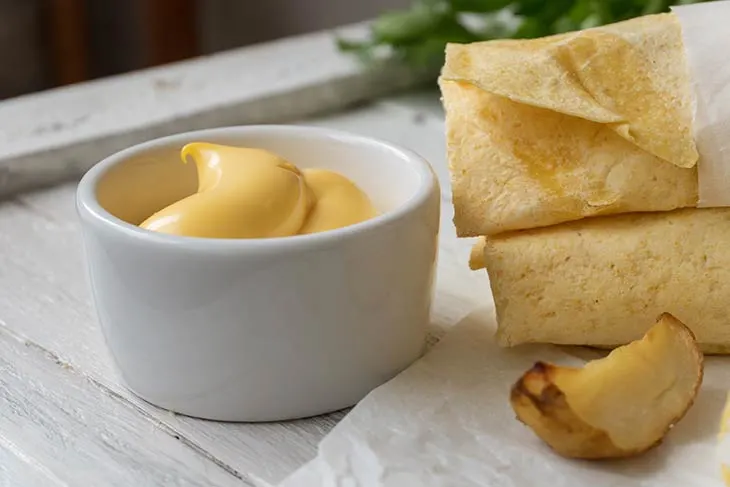 There's something so delicious about this combination of carbs that makes me wanna have more every time. I get why some people fear carbs and potatoes in general, but let me tell you that carbs will not cause you to gain weight: a lack of caloric deficit will. I hope that's clear to everybody and we can (finally) stop the hate towards white potatoes and view them as the amazingly healthy (and delicious) food that they are.
Because that is the truth: potatoes are packed with nutrients. They're an excellent source of vitamin C and potassium, and a decent amount of fiber, especially when paired with other vegetables. They're delicious and filling, that's why they rank really high when it comes to comfort foods in general. And they're not fattening on their own. The only thing is to know how to cook them. And a great idea would be these potato burritos! 🙂
Believe me when I tell you that these potato burritos were wonderful. They're an amazing vegan meal option, but they'd also work wonders for a person who enjoys meat quite regularly. Trust me, they wouldn't feel deprived at all if you gave them this for lunch – it's just so filling and satisfying that there's no way on earth someone would have something to object.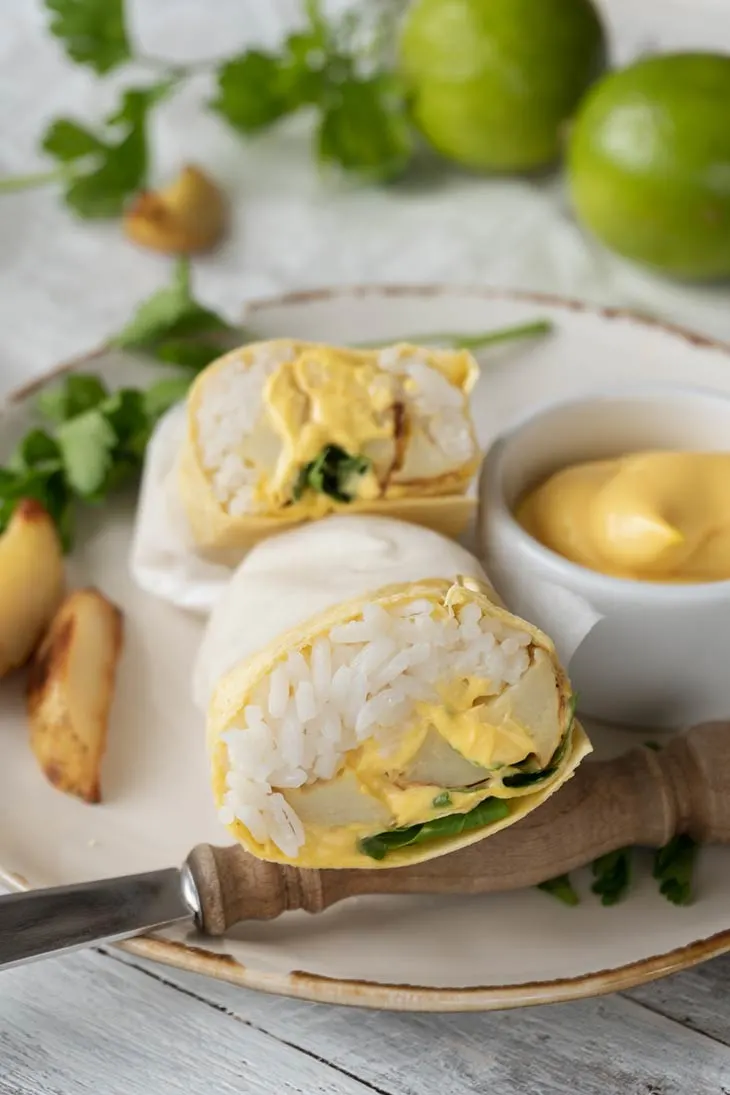 But just in case you've got more picky eaters around, you can also throw some ground beef into the mixture. Otherwise, keep it plant-based: it's better for the environment and just as good. Additional things you can add would be rice, beans (you can definitely use canned, just make sure you wash them thoroughly and maybe fry them a bit for more taste and texture), diced tomatoes and onions, and so many more.
Tip: You can also ditch the rice and use scrambled eggs instead if you plan on serving this for breakfast!
And finally, what is a burrito without a great sauce? You can serve these potato burritos with a nacho sauce, as I suggested or with a red hot sauce, such as Sriracha or Tabasco. Or you can go on the green side and prep some creamy guacamole. They both work amazingly well, as potatoes on their own don't really have that much flavor.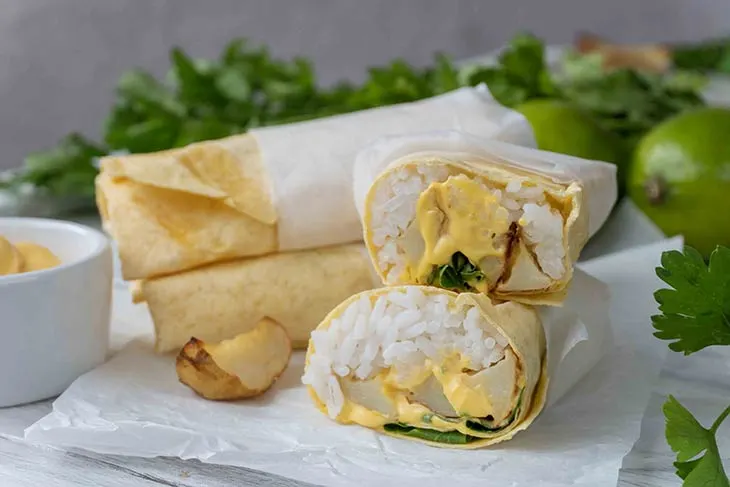 I hope you're going to try my recipe for potato burritos! And I sure hope it's going to keep you full and energized throughout the day, so tell me what you thought about it!
---
Personalized meal plans and workout videos | Get your customized meal plan today! [x_button shape="square" size="mini" float="none" target="blank" href="https://shop.gourmandelle.com/?utm_source=mainsite&utm_medium=site&utm_campaign=inpost" info="none" info_place="top" info_trigger="hover"]I WANT A MEAL PLAN![/x_button]
---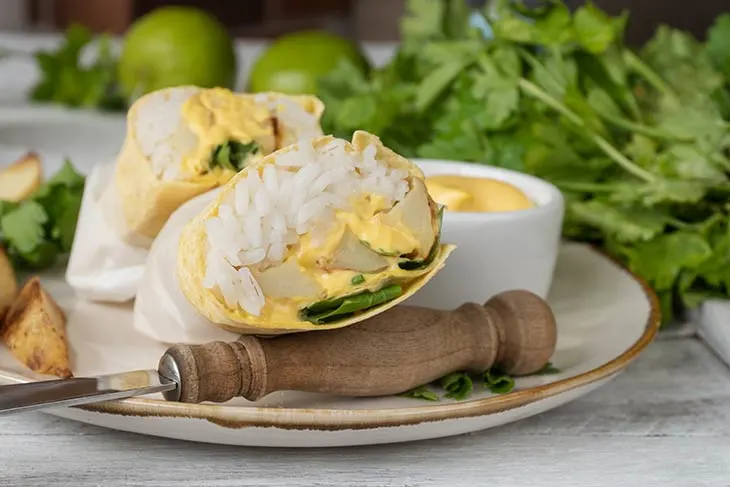 Potato Burritos Author: Ruxandra Micu Serves: 4 Potato burritos are a quick, delicious, and easy-to-make lunch. Here's how to make it step by step in no time! By the way, the recipe is 100% vegan and healthy!
Ingredients
For the burritos:
4 tortillas
4 medium potatoes
200g (1 cup) Basmati rice
550ml (2 ½ cup) veggie broth
½ lime, zest only
2 Tbsp lime juice
2 bay leaves
Fresh cilantro
Salt
Pepper
For the nacho cheese:
200g (1 cup) white beans, cooked and drained
240ml (1 cup) soy milk
30g (½ cup) nutritional yeast
60g (¼ cup) vegan butter
1 jalapeno, diced
2 Tbsp oat flour
1 tsp lemon juice
¼ tsp chili powder
½ tsp cumin
¼ tsp garlic powder
¼ tsp smoked paprika
¼ tsp turmeric
Salt
Pepper
Instructions
Cut the potatoes into slices. Season with salt and pepper and bake at 200C in the oven for 15-20 minutes.
Wash the rice. Put it in a pot, add the bay leaves and veggie broth. Let simmer. Add the cut coriander, lime zest and lime juice. Add salt if necessary.
For the nacho cheese sauce: add all the ingredients in a blender and mix until creamy.
Warm up the wraps in a dry pan.
To assemble: on each wrap, add 3 Tbsp rice, followed by the baked potatoes and the sauce. Close up the burrito.
Serve with additional sauce.
Nutrition Information
Yield
4
Amount Per Serving
Calories

1043
Total Fat

43g
Saturated Fat

19g
Trans Fat

1g
Unsaturated Fat

19g
Cholesterol

103mg
Sodium

1246mg
Carbohydrates

123g
Fiber

20g
Sugar

11g
Protein

46g
I strive to keep the information as accurate as possible but make no warranties regarding its accuracy. I encourage you to make your own calculations using your preferred nutrition calculator.