Are you looking for the perfect, healthy wrap for the office or school lunch? Here's how to make a Greek wrap – vegan gyros!
I'm sure you're already familiar with Gyros, one of the most famous Greek street foods ever. The Gyros wrap is made with shaved meat grilled on the vertical rotisserie, usually, chicken, lamb, pork or a combination of these, wrapped up in a pita together with vegetables such as onions, cucumbers, and tomatoes and, of course, some delicious tzatziki sauce! Greeks usually serve gyros alongside a yummy portion of French fries.
Gyros is very similar to a popular Middle Eastern recipe – shawarma – both of them evolving from the Turkish "Doner Kebab" and growing in popularity all over the world, even in the United States.
"Doner kebab" actually means the act of grilling meat on the vertical rotisserie, a very popular cooking technique invented in Turkey three centuries ago which allows meat to cook in its own juice and flavor. As you may have already guessed, "gyros" means "to turn" in the Greek language, the same as the word "shawarma" means the same thing in Arabic.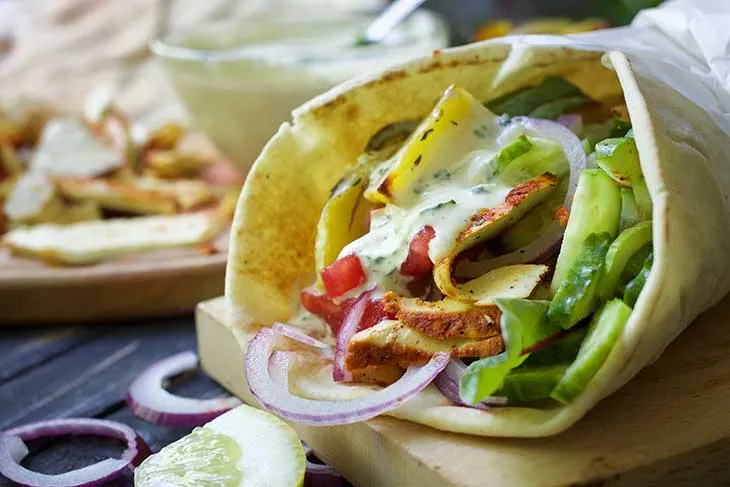 Of course, the one ingredient that makes gyros so unique is the famous tzatziki sauce, a well-known Greek sauce that is served together with grilled meat or as a dip for other dishes. Tzatziki is actually a simple but delicious sauce, a combination of sheep or goat yogurt, shredded cucumbers, garlic, olive oil, lemon juice, salt and fresh herbs such as mint, dill, thyme, parsley etc.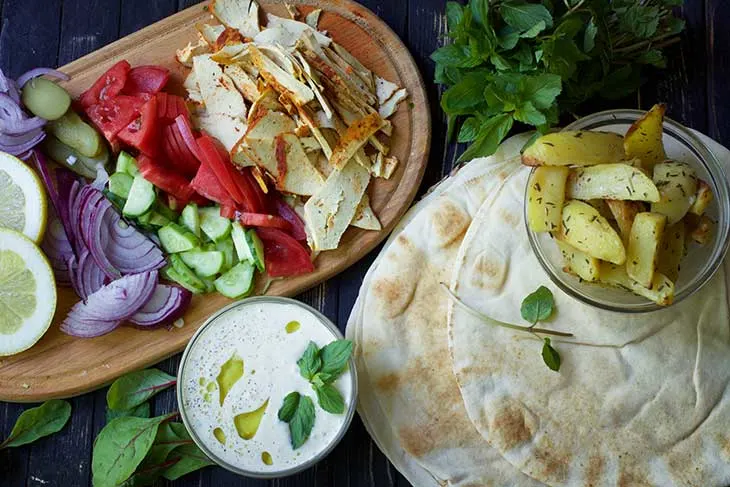 Both gyros and shawarma are delicious fast food dishes that you can find at every street corner in many countries. Because not all of us are fans of unhealthy fast foods, I want to teach you how to make the vegan gyros, which is way healthier, but full of the authentic flavors and textures! In my vegan shawarma recipe I used marinated mushrooms which were extremely flavorful, but for this Greek recipe, I decided to try something different, but just as tasty.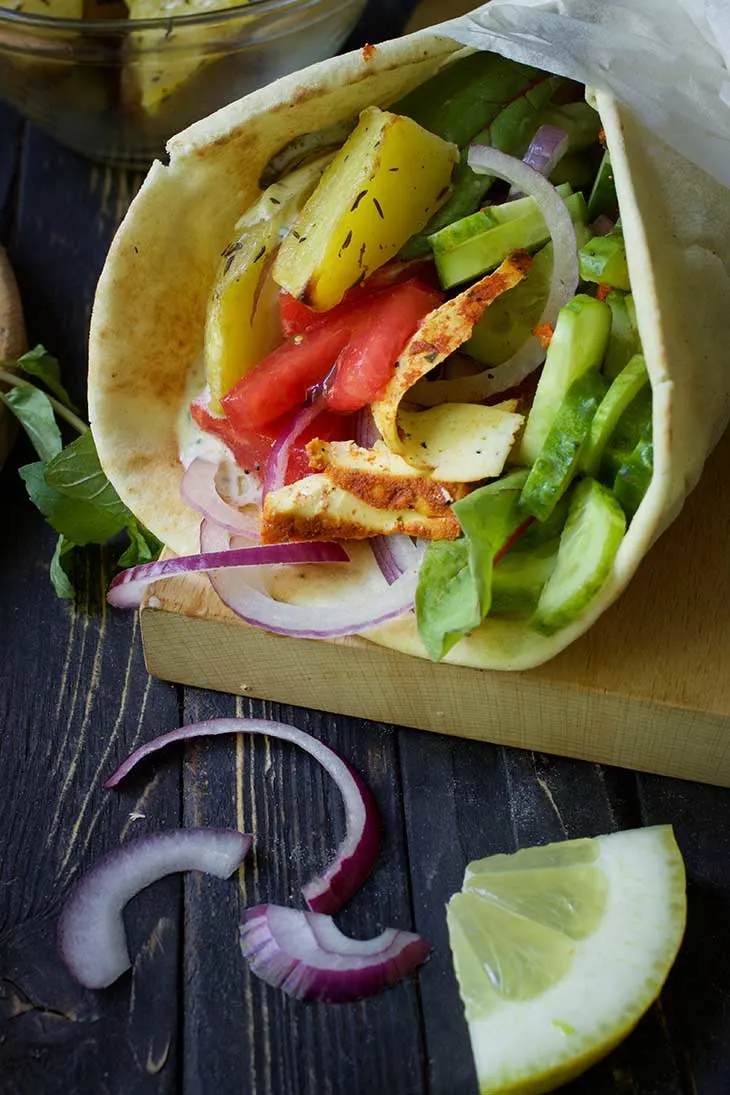 For the vegan gyros, I replaced the grilled meat with tofu marinated in a unique blend of spices such as smoked paprika, cinnamon, soy sauce, mustard and more! Of course, no gyros is complete without tzatziki, so I created an easy-peasy vegan version of this sauce using vegan yogurt, cucumbers, and fresh herbs. The result is a filling, delicious and way healthier gyros than the original recipe!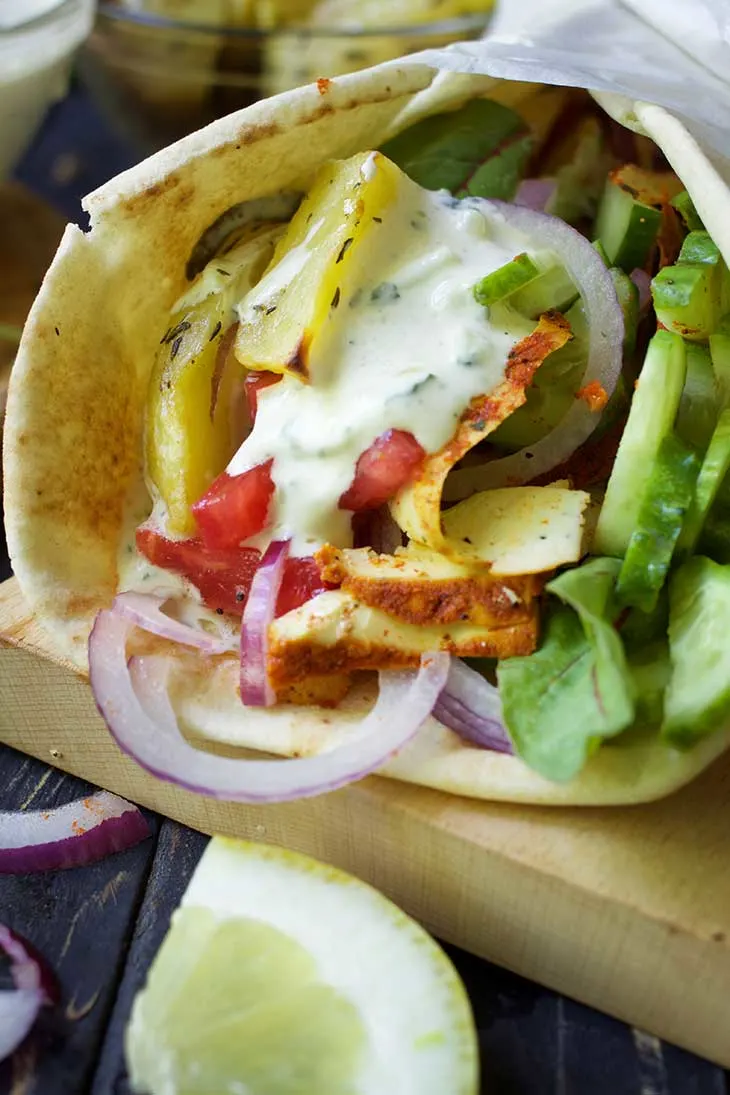 You can easily make this vegan gyros recipe whenever you need a fast lunch or dinner that the entire family can enjoy, or you can take it with you at school or work. Serve this delicious gyro together with some French fries or wedges.
Moreover, you can organize a gyros party where all the ingredients are already prepared on the table and everyone can create their own vegan gyros according to preferences. Don't forget to add different sauces that people can add in order to make their gyros even tastier, such as a spicy sauce. The marinated tofu is so good, I'm sure nobody will even realize that it's vegan!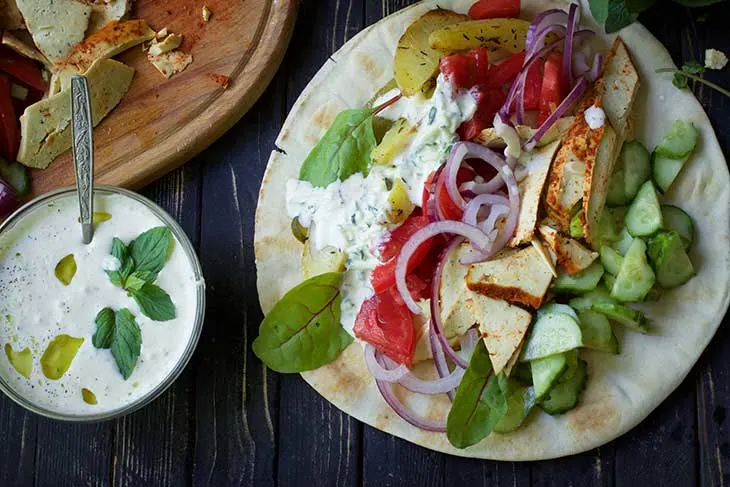 Yield: 4
Vegan Gyros - Greek Wrap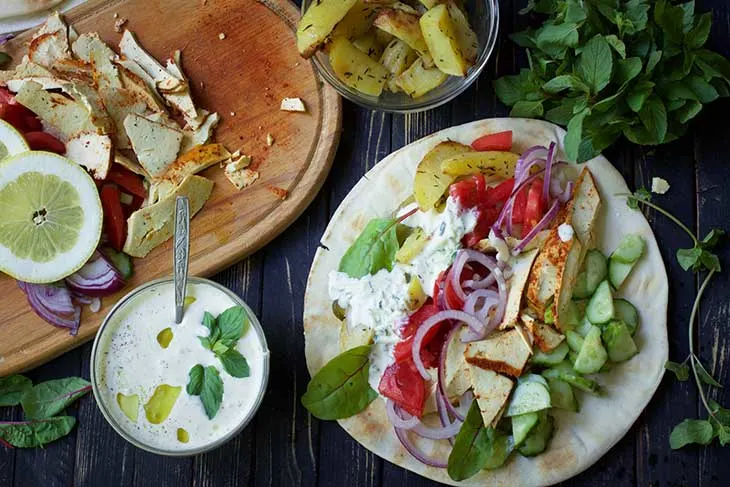 Are you looking for the perfect, healthy wrap for the office or school lunch? Here's how to make a Greek wrap - vegan gyros!
Ingredients
For the vegan tzatziki:
½ Fabio cucumber, shredded
250g (1 cup) non-dairy yogurt
1 Tbsp olive oil
1 small clove garlic minced
½ tsp salt
1 Tbsp lemon juice
2 Tbsp minced fresh mint
1 tsp dry oregano
For the marinated tofu:
1 block (400g | 14oz) tofu
1 Tbsp olive oil
4 Tbsp soy sauce
2 Tbsp tomato paste
1 tsp mustard
1 tsp smoked paprika
¼ tsp garlic powder
¼ tsp ground cinnamon
¼ tsp ground black pepper
½ tsp ground coriander
½ tsp ground cumin
For the vegan gyros:
4 pita breads
2 tomatoes, sliced
½ cucumber, sliced
½ red onion, thinly sliced
2 pickled cucumbers, thinly sliced
30g baby beet leaves , or baby spinach
60g cooked potato wedges
Instructions
For the vegan tzatziki:
In a bowl, mix all ingredients until well-incorporated. Season to taste and store in the fridge.
For the marinated tofu:
Mix together all of the ingredients for the tofu marinade until smooth.
In a large plate, pour the marinade over the tofu, turn the tofu block over to coat all sides.
Let it marinate at least 30 minutes or leave it overnight.
Slice tofu into thin slices of random shapes, to mimic shredded grilled chicken breast.
Heat a non-stick pan over medium heat. Cook tofu slices, stirring occasionally, for about 7 minutes. Remove from the pan.
For the vegan gyros:
Warm the pita bread on a dry pan, over medium heat.
Assemble each pita with sliced veggies, tofu, salad leaf, potatoes, and tzatziki.
Roll it over and enjoy.
Nutrition Information
Yield
4
Amount Per Serving
Calories

455
Total Fat

15.8g
Carbohydrates

56.7g
Protein

21.5g