Are you a chili lover? So am I, but if you never tried making white chili until now, you have no idea what you're missing on! Keep reading to find out how to make the best vegan white chili ever!
The autumn air is getting stronger and stronger here. The ground is full of yellow leaves and I've already switched my sandals for boots. For me this is a clear sign – autumn is here! So I am slowly saying goodbye to fresh salads and locally grown fresh fruit. While this is a little bit of a letdown, there's no reason to be upset because the soup & stews season is here! 🙂
It's finally cool outside, so it's getting acceptable to turn on the oven now. One month ago, this would have been out of the question. But in the evenings, a little bit of warmth is more than welcome now!
So I decided to celebrate with a hearty, filling and creamy meal. Today's recipe is less known in my country, but fairly popular in the Southern parts of the US. It's white chili I'm talking about! 🙂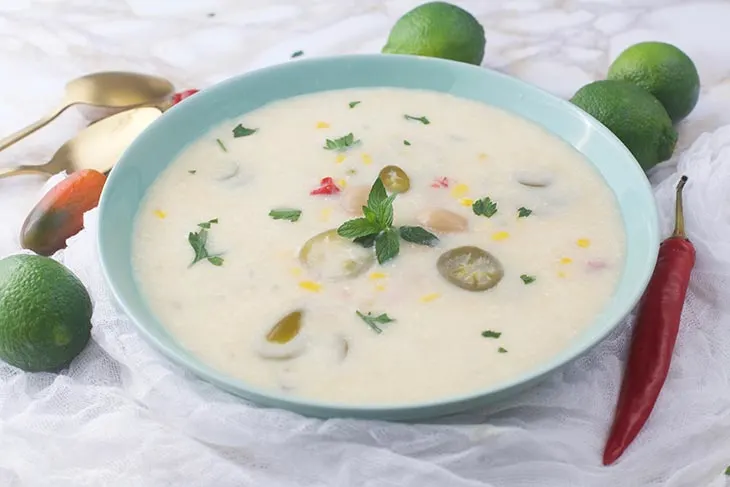 This chili has all the delicious spices and vegetables of the classic chili but it's creamier and super delicious! For me, this recipe was a great way to start the autumn cooking season.
Because it was a new recipe in my kitchen I felt it like a celebration of the cool seasons by adding something different in my cooking repertoire. And I was so glad I did!
I was so amazed by the results that I knew I had to share it with all of you! I just hope you give it a try – you will not regret it for a second! All the spicy flavors of the chili recipe are made so much better with the addition of the creamy sauce. Trust me – this is a great recipe for a weekday dinner!
Maybe you're wondering what's the deal with this white chili and where does it come from? Of course, it's based on the classic chili recipe. Despite popular beliefs, chili is actually an American dish with Mexican roots and it did not originate in Mexico!
The Mexicans even claim that they never had anything to do with the chili recipe and deny any association (unlike myself, who I'm associating with bowls of chili as often as possible!).
You probably know that the full name of the recipe is chili con carne. It basically means chili peppers and meat. You probably know too that the original chili recipe features meat. But of course, the chili recipes that you will find on my blog are completely adapted to the vegan lifestyle.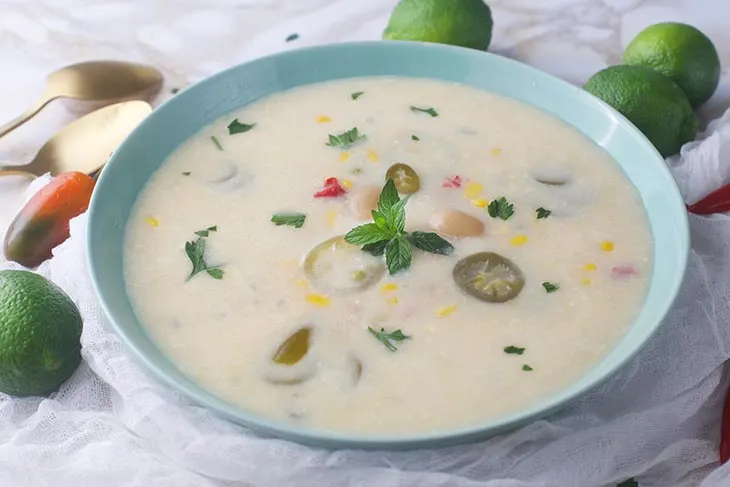 Traditionally, white chili is just regular chili made with chicken instead of beef, white beans, cheese, and cream. We will leave out all the meat and dairy ingredients and replace them with veggies. In my opinion, it actually tastes better and it's much easier to prepare and eat! 🙂
The white chili is actually a new invention and its origins have been tracked somewhere in the 80s. I'm just glad we have this today and we can enjoy it anytime we like!
You will definitely love this recipe and how easy it is to put it together. You will only need one pot and less than an hour to get everything done, so this recipe is a perfect candidate for a weekday meal.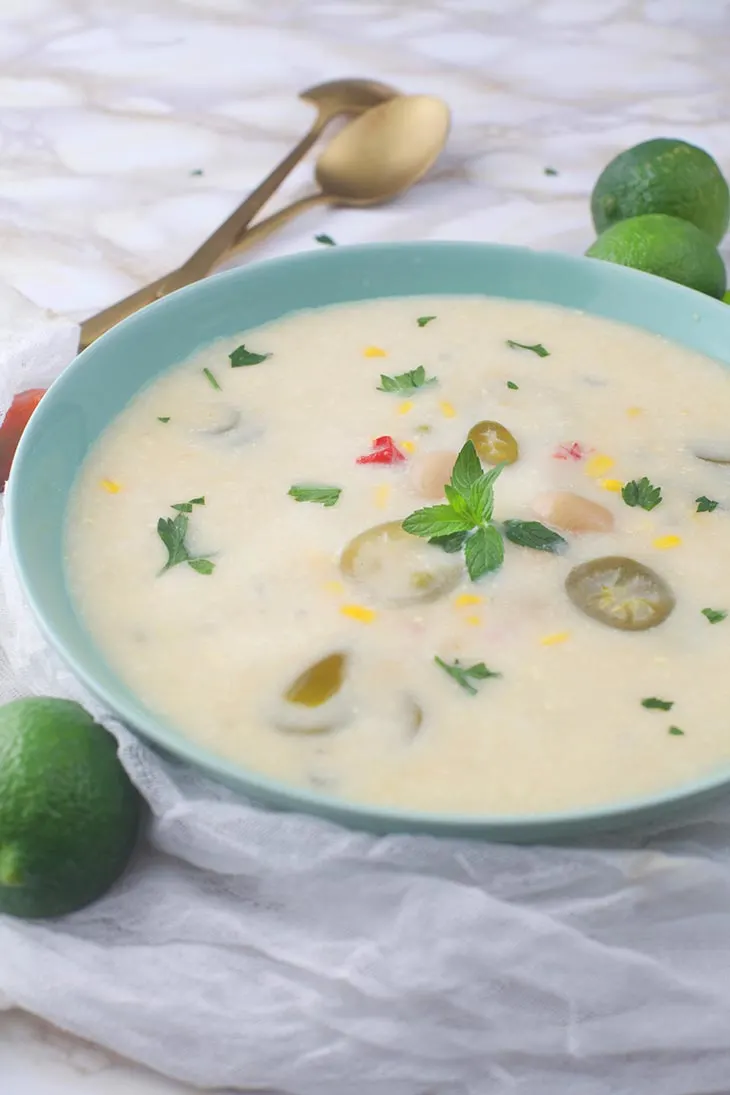 It is also really fun to eat because there are many ways you can enjoy it. You can, of course, eat it as it is, and it is extremely filling, nourishing and full of nutrients from all the veggies. Or you can have it with bread or even pour it over pasta or rice.
You can also eat it with tortilla chips – this is actually my favorite option as I really love the combination between the crispy tortilla chips and the creamy chili. Yum!
With this many options, it's impossible to get tired of this recipe. And if you make more than you and your family can eat at once, it's just perfect to eat it the next day in a different fashion. It's really the gift that keeps on giving! 🙂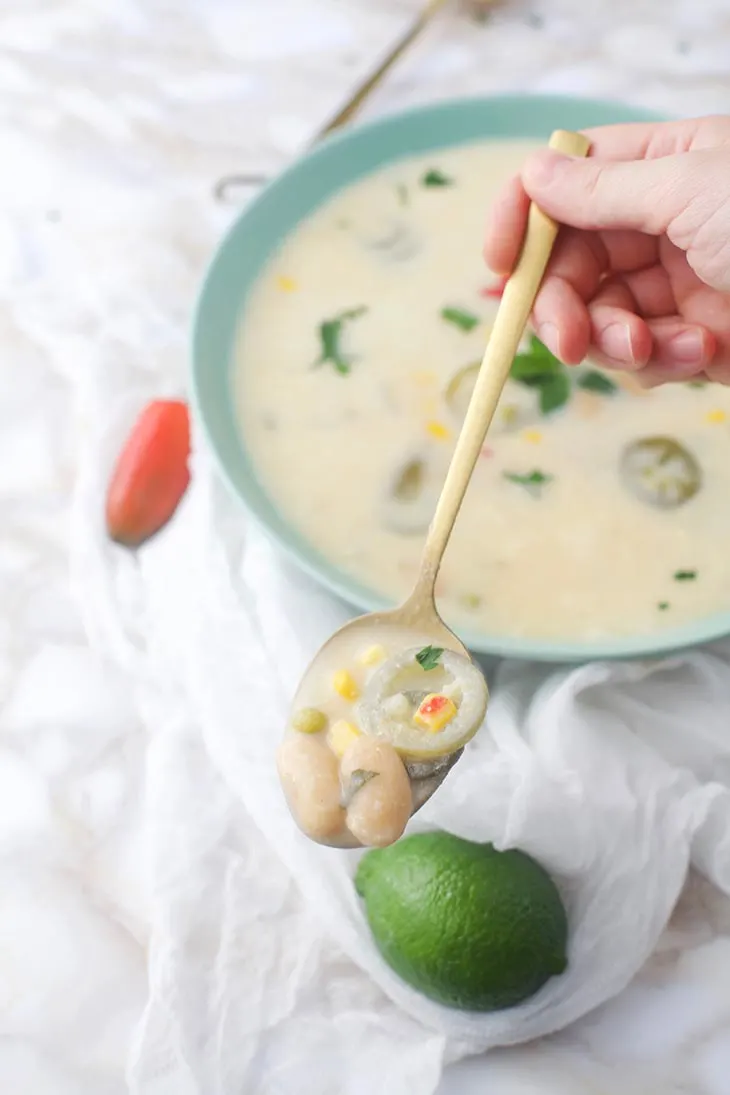 I think that you are now eager to start cooking! Completely understandable – I am already craving another bowl of this amazing dish. So go straight to the closest shop, gather your ingredients and meet me in the kitchen!
Follow my recipe and you will get the most amazing vegan white chili to amaze your friends! I hope you will like the recipe just as much as I did, just don't forget to tell me in the comments how it all worked out for you – I'd love to hear all about it! 🙂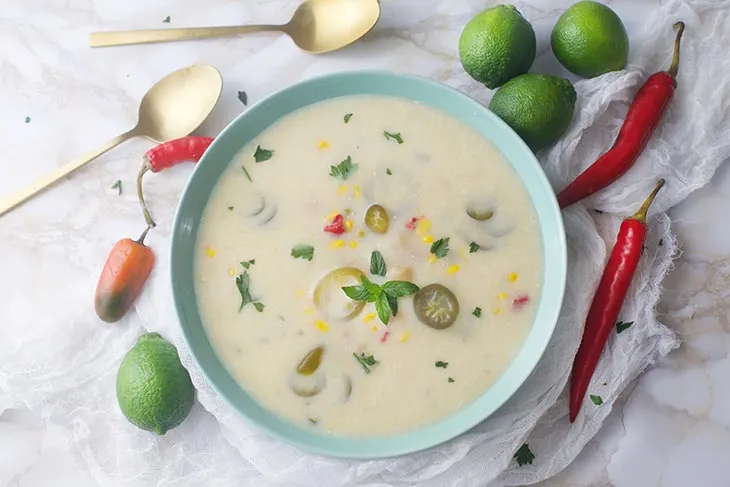 Are you a chili lover? So am I, but if you never tried making white chili until now, you have no idea what you're missing on! Keep reading to find out how to make the best vegan white chili ever!
Ingredients
For the base:
1 Tbsp olive oil
500ml (2 cups) vegetable broth
1 large potato, chopped
1 white onion, chopped
¼ chopped celery
1 stalk green celery, chopped
150g (½ cup) coconut cream
4 cloves garlic, peeled and minced
1 Tbsp white chili seasoning
For the filling:
white beans, drained
jalapeño slices, drained - to taste
70g (½ cup) green peas
40g (¾ cup) chopped white onion
120g (1 cup) corn, cooked
1 red chili, sliced
For serving:
1 lime wedge
cilantro
chopped fresh mint
Instructions
Heat a large pot on medium heat. Add the olive oil, garlic, and onion. Sautee until fragrant.
Add the potato, celeries, and chili seasoning and sautee for about 3 minutes.
Pour in the broth and simmer for about 7 minutes.
Add the veggies to the food processor and blend until smooth.
Add the coconut cream and pulse a few more times to combine.
Return the mixture to the heat. Add all the filling ingredients and bring to a boil.
Turn the heat off, cover and let sit for about 10 minutes.
Serve with lime wedges, fresh cilantro, and fresh mint. Enjoy!
Nutrition Information
Yield
4
Amount Per Serving
Calories

339
Total Fat

11g
Carbohydrates

52g
Fiber

13g
Sugar

8g