Here's how to make vegan Mexican rice, also known as Arroz Rojo or even Spanish rice – a typical Mexican side dish that's incredibly delicious and filling!
Mexican Rice, also known as "Spanish Rice" or "Arroz Rojo" (red rice), is, in fact, a typical Mexican side dish that doesn't exist in Spain but there is a clear reason as to why it is known under this name. Rice isn't a native Mesoamerican grain and was introduced in the 1500s by Spanish settlers through the port of Veracruz, where the climate would prove ideally warm and moist for its cultivation.
The way Spanish colonizers introduced European food elements to the Mexican lifestyle is key to culinary history worldwide and considered to be an early example of successful fusion cuisine. Spanish and New World ingredients were combined to create modern Mexican dishes, of which rice plays a very important part.
Tomatoes were used particularly to replace, for flavor and color, pricy Spanish saffron in everyday rice dishes, and all over Mexico rice was prepared with widely available local ingredients, which of course changed the taste of the dishes and transformed them into authentic Mexican ones.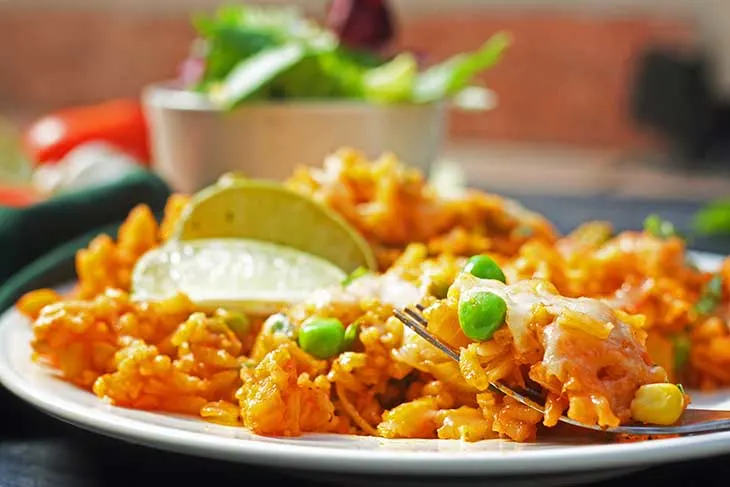 Nowadays, however, Mexicans do not call this recipe "Spanish rice", but simply Arroz (rice) or Arroz Rojo (red rice), its color due to the inclusion of chopped tomatoes or tomato sauce. In English, paella, a typical Spanish seafood rice dish, may be known as "yellow rice" or "Spanish yellow rice", as it uses saffron which gives it a strong yellow hue.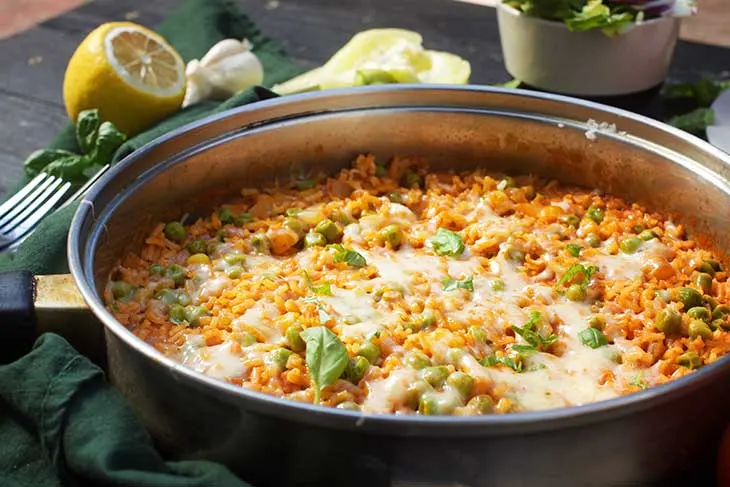 Mexican rice is a simple, filling and flavourful side dish, as we'd expect no less of a cuisine so vibrant and rich as the Mexican cuisine. It's made by sautéing garlic and onions with rice until golden brown, adding chicken or veggie broth and chopped tomatoes. Sautéing the rice helps it preserve some texture after cooking, and a handful of cilantro and generous squeezes of lime at the end will give you the perfect dish!
You can play around with this recipe according to your personal preferences: change the amount of tomatoes and stock for a mellower or stronger tomato flavour, add heat with freshly chopped chilis or keep it mild, add parsley or veggies like corn, peas, carrots or celery for extra texture, but ideally, never skip the cilantro.
Everybody would agree its strong fragrant flavor is a must in this yummy dish. Even the rice you use can vary. Mexicans call long-grain rice "Sinaloa" rice, and short-grain rice is "Morelos" rice. Traditionally, Mexican cooks prepare authentic recipes with short-grain rice, but of course, you could use whichever you have available.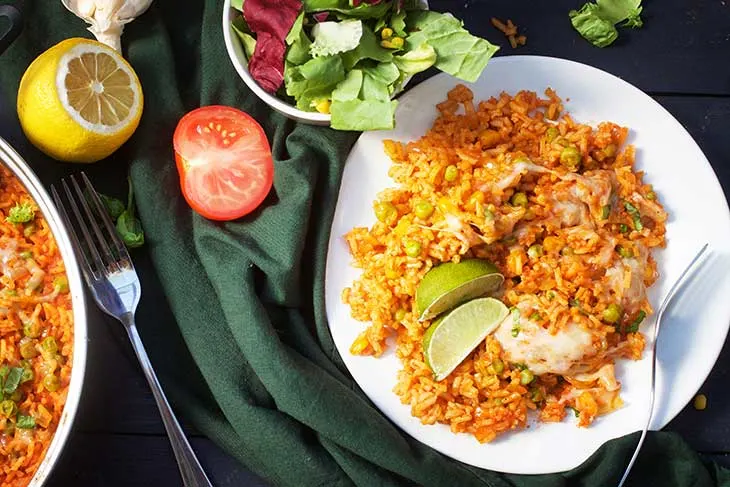 Rice is a nutritious grain; rich in carbs and protein that will keep you full for longer. While short-grain white rice is rich in Omega-6 fatty acids, known for their pro-inflammatory properties, it's lower in vitamins and fiber than brown rice. Rice is also gluten-free and increases the functional and metabolic activity of your organs, giving you more energy, so you can indulge in your bowl of Mexican flavored lunch with no guilt!
In today's recipe, I will show you how to create the most delicious, flavor-packed vegan Mexican rice! I used basmati rice for my vegan recipe, to which I added the classic tomatoes but also some green peas and sweet corn. Garnish everything with a lot of vegan mozzarella and you're in for a treat!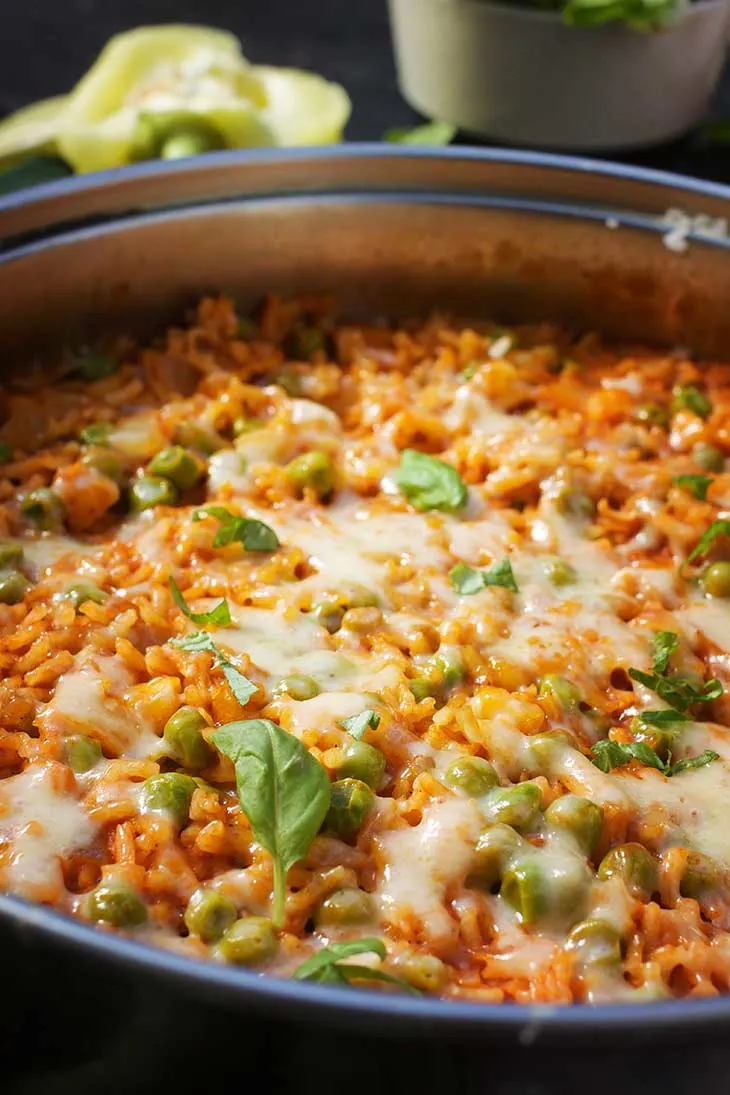 Yield: 4 +
Vegan Mexican Rice- traditional food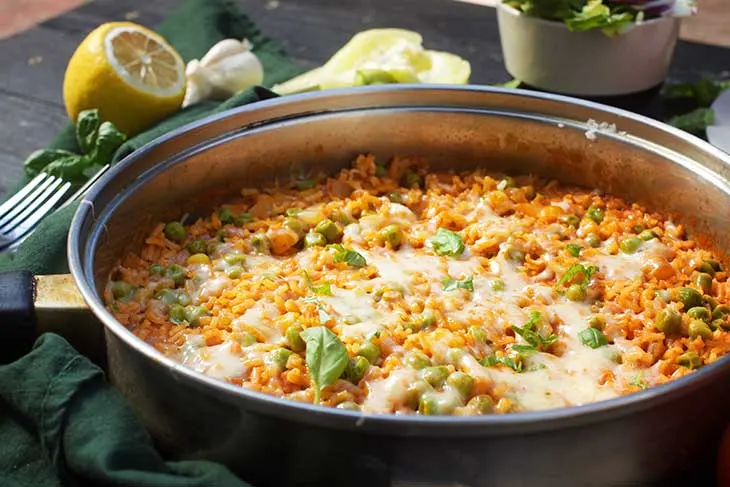 Here's how to make vegan Mexican rice, also known as Arroz Rojo or even Spanish rice – a typical Mexican side dish that's incredibly delicious and filling!
Ingredients
1 Tbsp olive oil
2 cloves garlic, minced
1 onion, chopped
200g (1 cup) basmati rice
340g (1 ½ cup) tomato sauce
360ml (1 ½ cup) vegetable broth
125g (¾ cup) sweet corn
70g (½ cup) green peas
¼ Tsp chili powder
¼ Tbsp cumin
salt and freshly ground black pepper, to taste
1 large tomato, chopped
2 tablespoons chopped fresh basil leaves
75g (1/3 cup) shredded vegan mozzarella
Instructions
Heat olive oil in a large skillet over medium heat. Add garlic and onion. Cook, stirring, until the onions are translucent, for about 4 minutes.
Add the rice and cook for about 3 more minutes.
Add tomato sauce and vegetable broth and bring to a simmer.
Add corn, peas, chili powder, and cumin.
Season with salt and pepper to taste.
Bring to a boil and cover.
Reduce heat to low and cook until the rice is cooked through, for about 15 minutes.
Add fresh tomatoes.
Top with shredded mozzarella, chopped basil and serve.
Nutrition Information
Yield
4
Amount Per Serving
Calories

255
Total Fat

5.4g
Carbohydrates

45g
Protein

6.5g