Learn how to make the perfect vegan paella recipe, with the ideal blend flavors and some wisely-chosen ingredients that will mimic real seafood's taste and texture.
It's impossible not to have heard about paella – a world-known Spanish rice dish with ancient origins. It has many versions and it can also be made vegetarian – paella de verduras – but the authentic paella, in my opinion, is seafood paella. This was the recipe I wanted to veganize and mimic as much as possible.
So, today I decided to make vegan paella, but not just by simply removing the meat from the recipe. I wanted to get the texture and flavor of real seafood, and that's where my favorite type of mushroom came in handy. 🙂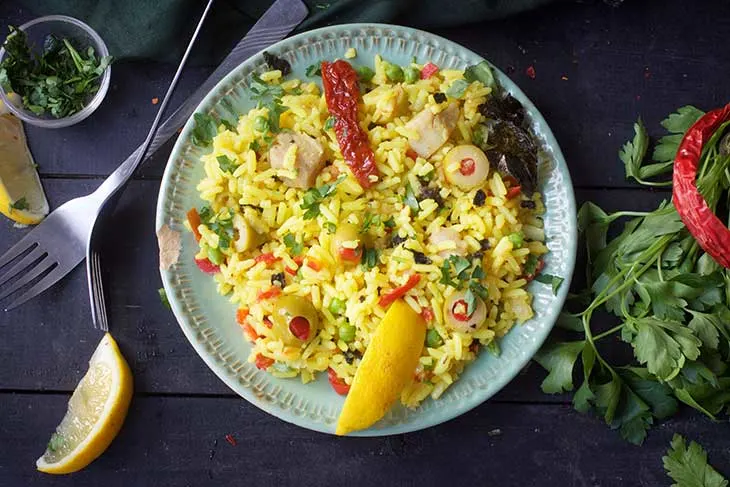 I used oyster mushrooms (Pleurotus) these are cheap mushrooms that have an incredible texture! They mimic meat so well and if cooked with the right ingredients you can make them taste like chicken, pork and even seafood!
If you don't believe me, try this vegan "tripe" soup where I used them to mimic beef belly, or my popular vegan pulled "pork" recipe. I think I have more than a dozen recipes with oyster mushrooms on the blog. These and the classic Champignon are ALWAYS in my fridge.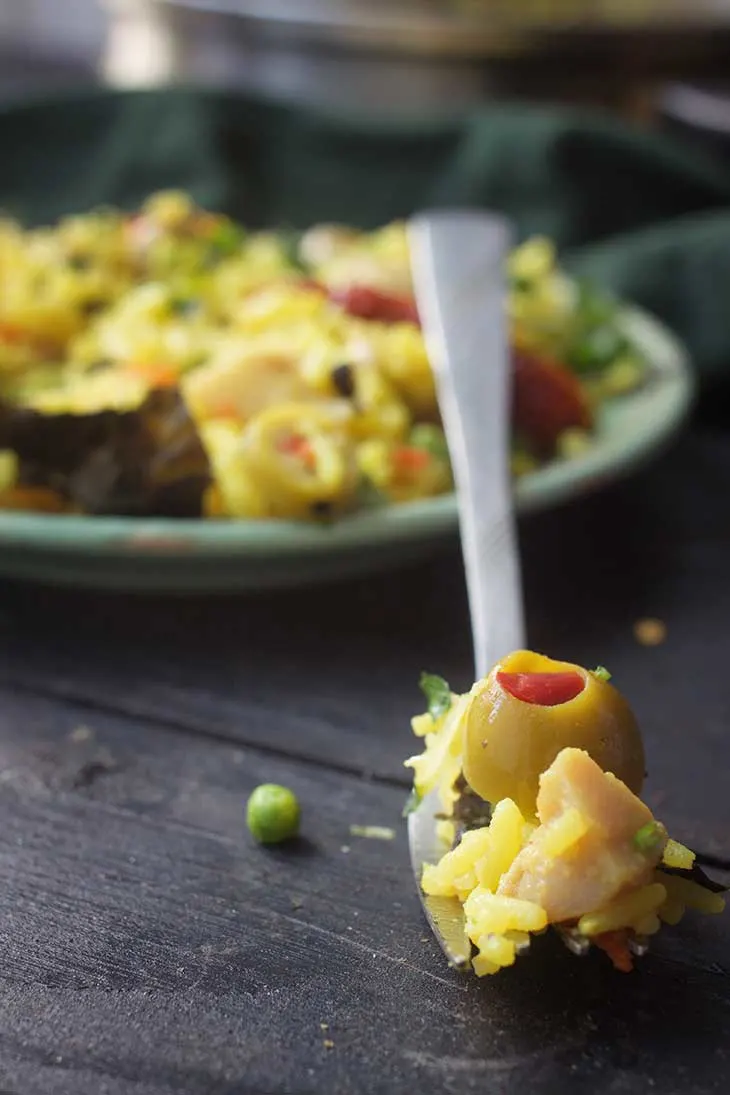 I used only the stem part of the oyster mushrooms which is hard and chewy (just like octopus for example, or even mussels) and left the caps for later. You can use them whole if you want.
So the texture problem was solved, but what about the taste? How can I give this paella the taste of seafood? Then the answer hit me. I remembered about my vegan scallops and how I used Nori sheets to give them the taste of the sea. 🙂 Problem solved!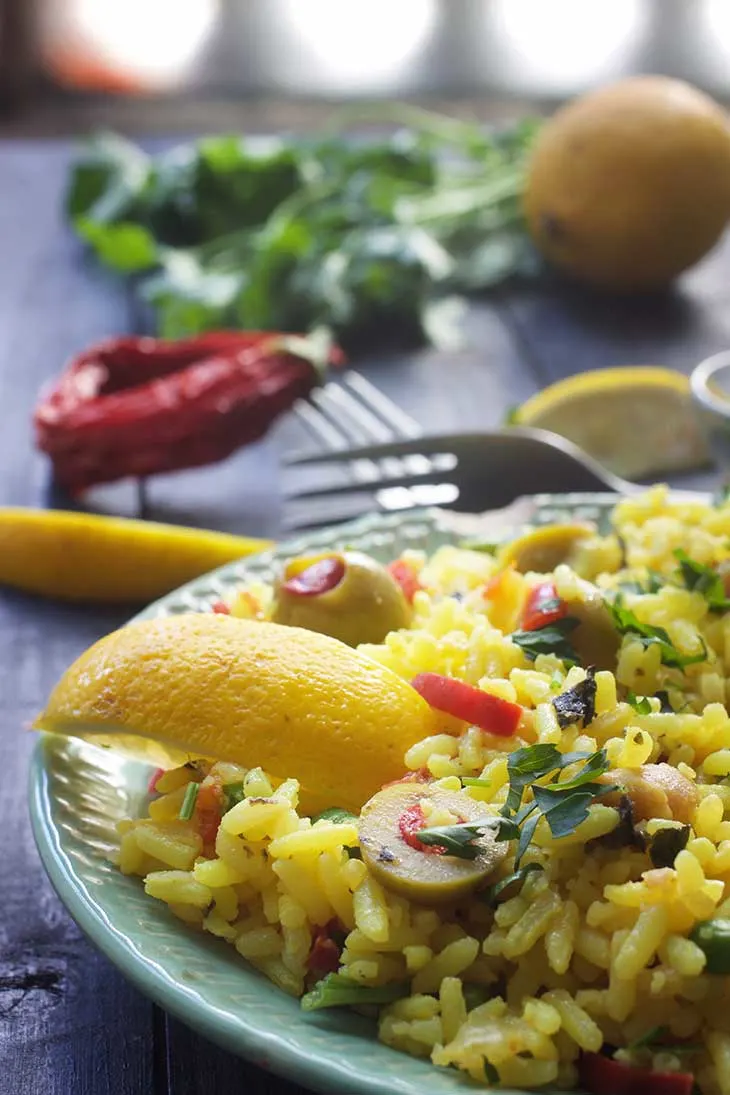 The rest of the ingredients used in this vegan paella recipe are pretty standard, like in the authentic recipe. I used some peppers, peas, olives, dry tomatoes and lots of awesome spices. Loved every bit of this amazing dish.
Hope you'll give it a try! And don't forget about the meal planner app discount! It ends soon!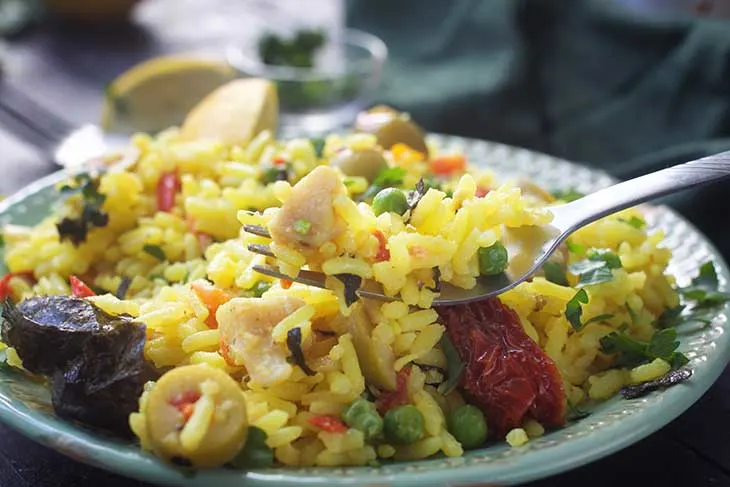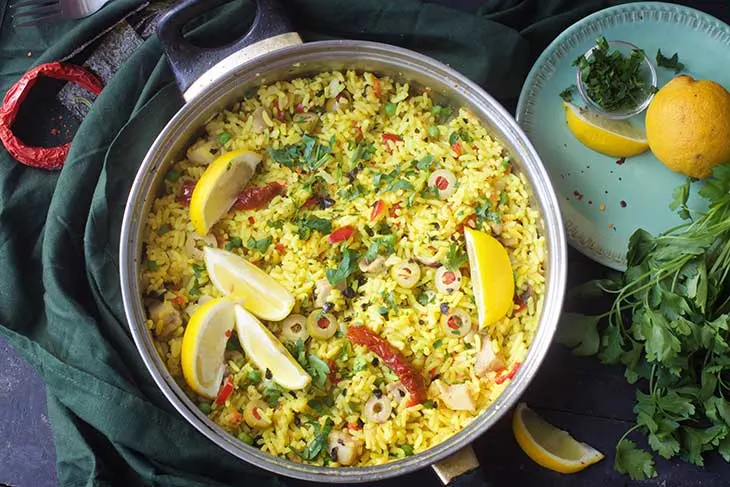 Learn how to make the perfect vegan paella recipe, with the ideal blend flavors and some wisely-chosen ingredients that will mimic real seafood's taste and texture.
Ingredients
3 Tbsps olive oil
500g (2 cups) Oyster mushrooms, Pleurotus, chopped (preferably use only the stems and chop them into small disks to mimic seafood, save the caps for later and maybe make this pulled "pork" burger with them)
1 large onion, diced
4 garlic cloves, minced
2 sweet red Capia peppers, sliced
240ml (1 cup) dry white wine
1 tsp paprika
a pinch of saffron
1L (4 cups) vegetable broth or water
400g (2 cups) arborio rice
130g (1 cup) frozen peas
90g (½ cup) stuffed green olives
1 sheet nori, dry and crushed
30g (½ cup) sun dry tomatoes, sliced
pinch of hot chili pepper
salt and pepper to taste
fresh parsley and lemon wedges, for topping
Instructions
Add 2 tablespoons of olive oil in a large skillet with and place it over medium heat. When it's hot, add the mushrooms and cook them for 7 minutes, stirring occasionally, until lightly golden. Remove the mushrooms from the skillet and transfer them to a plate. Set aside.
Add the remaining tablespoon of oil into the skillet and when it's hot, add the onion. Sauté until soft and translucent, for about 4 minutes, then add the garlic and cook for about 2 minutes more, until fragrant. Add sliced Capia pepper and cook for 3 more minutes.
Add the wine, paprika, chili, and saffron. Bring the liquid to a boil. Lower the heat and allow let it simmer for about 10 minutes, stirring occasionally.
Return the mushrooms to the skillet and stir in the broth/water, rice, peas, olives. Cook uncovered for 10 minutes.
Stir and add the Nori, dry tomatoes, salt, and pepper to taste. Let it simmer for about 10 minutes, until the rice is soft.
Remove the skillet from the heat and allow it to sit for 5 minutes. Sprinkle with parsley and serve with lemon wedges.
Nutrition Information
Yield
4
Amount Per Serving
Calories

580
Total Fat

11g
Carbohydrates

107g
Protein

13g