Here's how you can make vegan scallops that look and taste like real scallops! This recipe is so much easier than it looks and tastes amazing!
I recently went to an awesome restaurant. It wasn't vegetarian but it had plenty of veggie options to choose from, even veggie burgers! 🙂 What caught my attention was the special menu and the main dish was scallops with bacon bits and pea puree. It sounded so good and the people next to us ordered it and it looked pretty amazing! That's when I knew I had to make this special recipe vegan.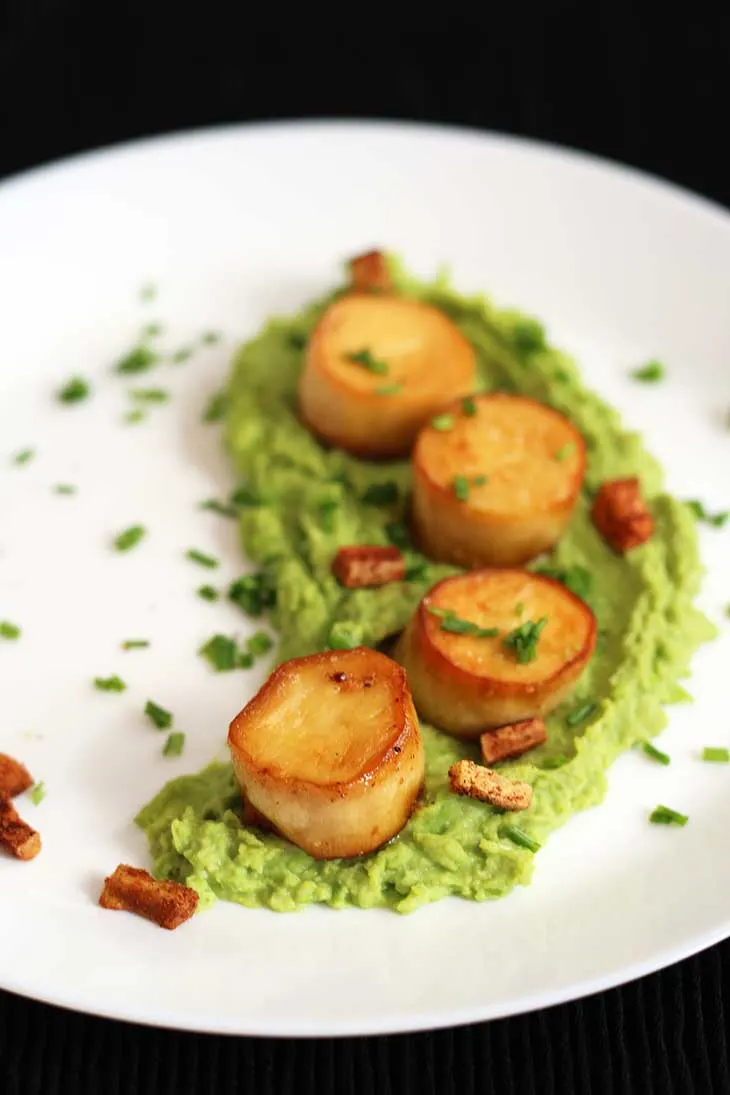 So, vegan scallops. Yep! It's possible! King oyster mushrooms have the PERFECT texture to mimic scallops. You can even make them taste like scallops with just a couple of tricks. For example, I used Nori sheets to give them a "fishy" scent and flaxseed oil instead of regular oil with already has a fish-like smell and taste. It's best to marinate them overnight but if you're in a hurry 2 hours will do, however, the scent will be mild.
This is a very easy recipe even though it sounds and looks fancy. The pea puree is so simple a kid can do it, the vegan bacon bits are simply fried smoked tofu bits and the scallops are marinated mushrooms. So simple and delicious!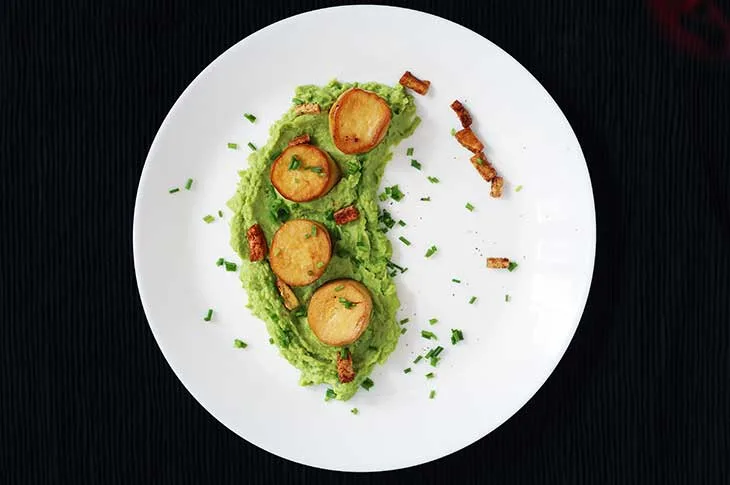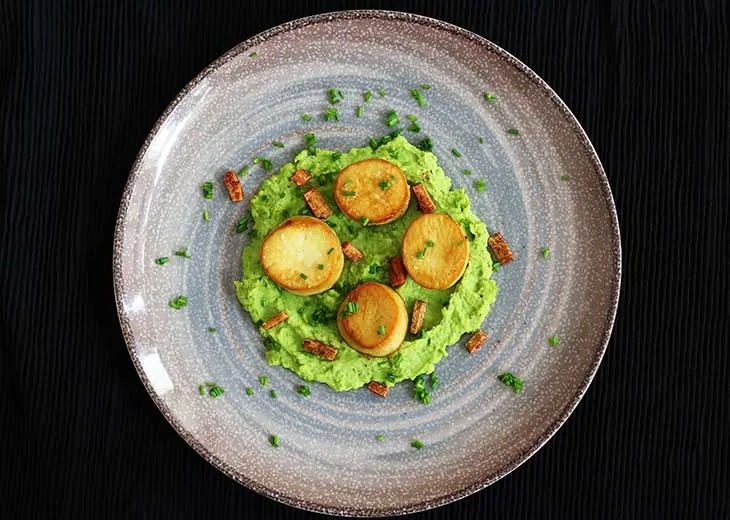 I experimented with different plating techniques. I suck at plating. I lack the patience to do anything that requires even a tiny bit of patience. :)) However, I think it looks decent. This would be the perfect meal for a romantic vegan dinner or a dinner party where you want to impress your guests but without spending a lot of time in the kitchen.
Hope you'll like my vegan scallops recipe! Drop me a comment and tell me hw it turned out for you if you give it a try. 😉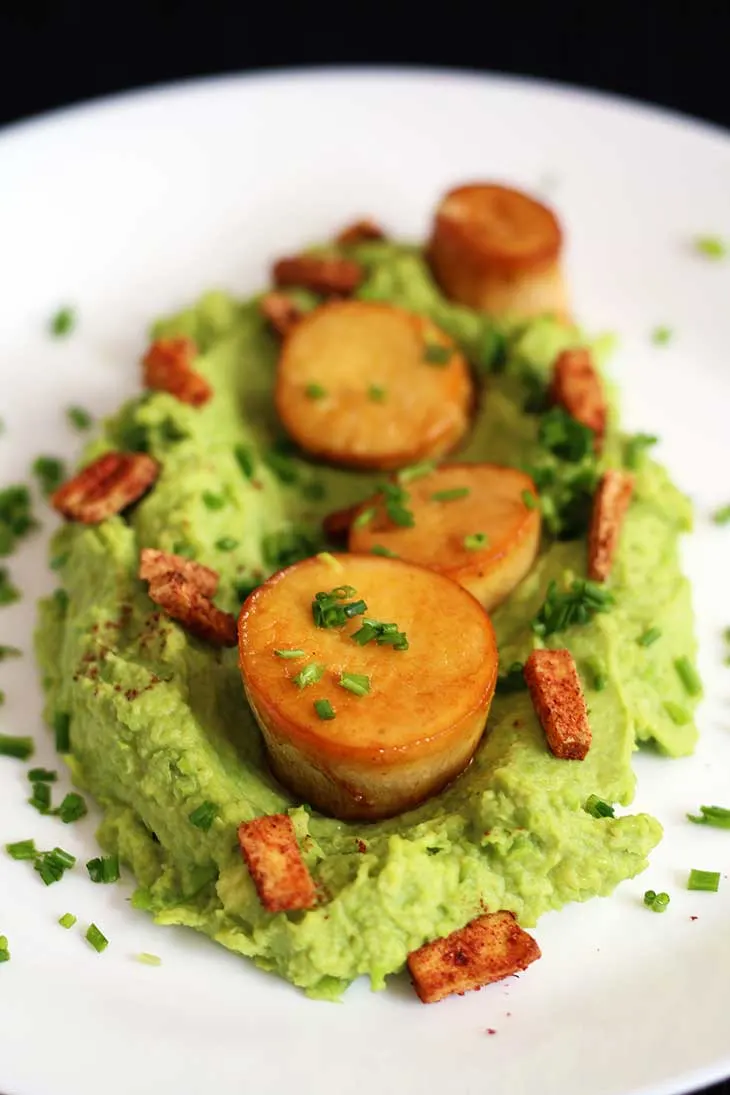 Yield: 4 +
Vegan Scallops with Pea Puree and "Bacon" Bits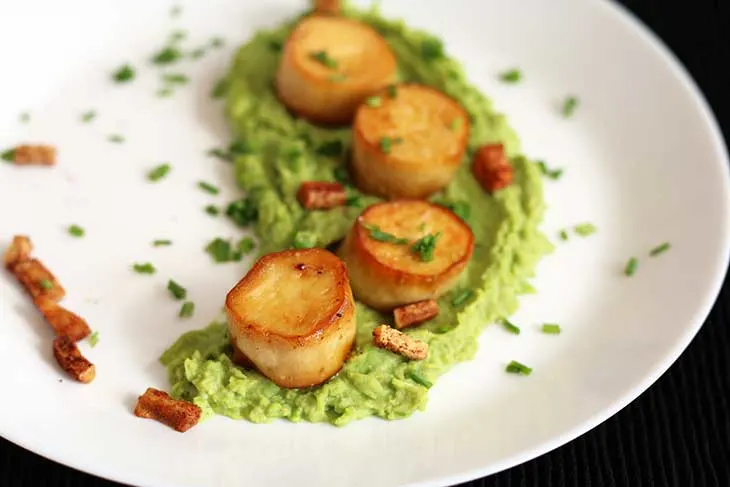 Here's how you can make vegan scallops that look and taste like real scallops! This recipe is so much easier than it looks and tastes amazing!
Ingredients
For the vegan scallops:
500g (6 cups) King oyster mushrooms
2 Nori sheets
2 Tbsps flaxseed oil
salt and pepper
Optional - lemon juice
For the green pea puree:
500g (17.5 oz) green peas, frozen
3 garlic cloves, mashed
120ml (½ cup) soy milk, unsweetened
1 Tbsp olive oil
sea salt and pepper, to taste
chives and/or mint, fresh, chopped
For the vegan bacon bits:
some smoked tofu slices, cut into tiny bits
some oil, for frying
Instructions
For the vegan scallops:
Cut the King oyster mushrooms into ~2cm thick cylinders (see photos). You won't use the caps, so you can save them for later.
Add a Nori sheet on the bottom of a medium casserole.
Place the mushrooms in the casserole and drizzle with flaxseed oil. Season with salt and pepper and cover them with the second Nori sheet. Now, it's best to leave these marinate overnight, but you can let them sit this wat for just 2 hours.
When ready, take the mushrooms out of the casserole and fry them on both sides until golden. Serve on top of the pea puree. Squeeze some lemon juice on top before serving.
For the green pea puree:
Put the green peas in a small pot and boil until tender. Alternatively, you can steam them. Once they're soft (~15mins), remove from heat, add soy milk, garlic, olive oil, salt and pepper and mash using an immersion blender. You can also use a normal blender or a food processor for this. Serve with fresh chopped mint or chives on top.
For the vegan bacon bits:
Cut the smoked tofu into tiny bits and fry them in a non-stick pan for a couple of minutes, until crispy, Remove on a paper towel then serve on top of the pea puree.
Nutrition Information
Yield
4
Amount Per Serving
Calories

520
Total Fat

25.3g
Carbohydrates

36.7g
Protein

36g