Christmas is almost here, so what better way to celebrate it than with a sweet treat? These vegan Christmas brownies are the perfect Christmas-themed dessert! Give them a try!
The winter holidays are approaching fast and Christmas cheer is at its fullest. There are some tough questions everybody must be asking themselves right now. Like, what kind of dessert to make this Christmas?
What is Santa going to find near the glass of milk when he comes down the chimney this year, hurling his heavy sack full of presents? Depending on your mood, budget and the tastes of everyone in the family, there's plenty of different options.
A very popular dessert option is, of course, the chocolate brownie – the simple chocolate treat covered in powdered sugar, served with a glass of milk, or, more avant-garde, with ice-cream. Santa knows his stuff.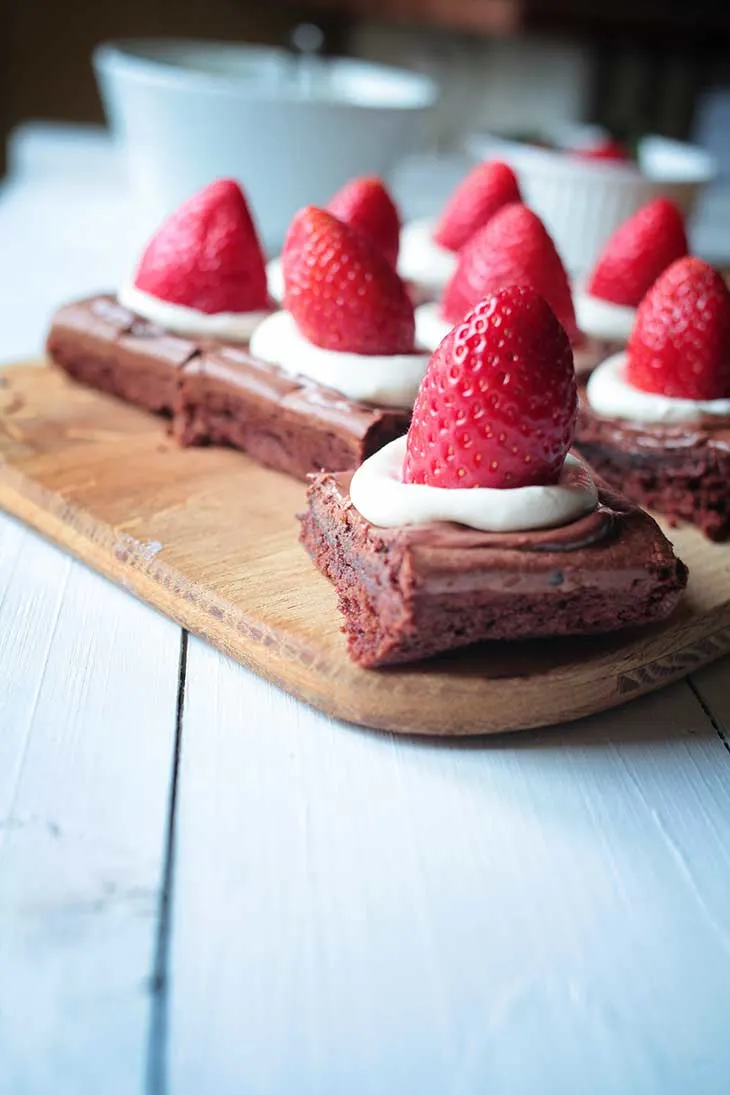 Brownies are a delicious and easy-to-make dessert for any household. Soft chocolate goodness in a flaky layer of cocoa batter – what's not to love about them? Depending on the density of the batter, their texture can range between flaky or cakey.
There are plenty of varieties of brownies, that take the basics from the base recipe and add different ingredients, like different types of frosting, chocolate chips, and even cream cheese! The best thing? This recipe leaves room for experimentation. And experimentation should be encouraged when it comes to a simple recipe like this. There is even a variation that uses vanilla instead of chocolate – these are simply named blondie brownies.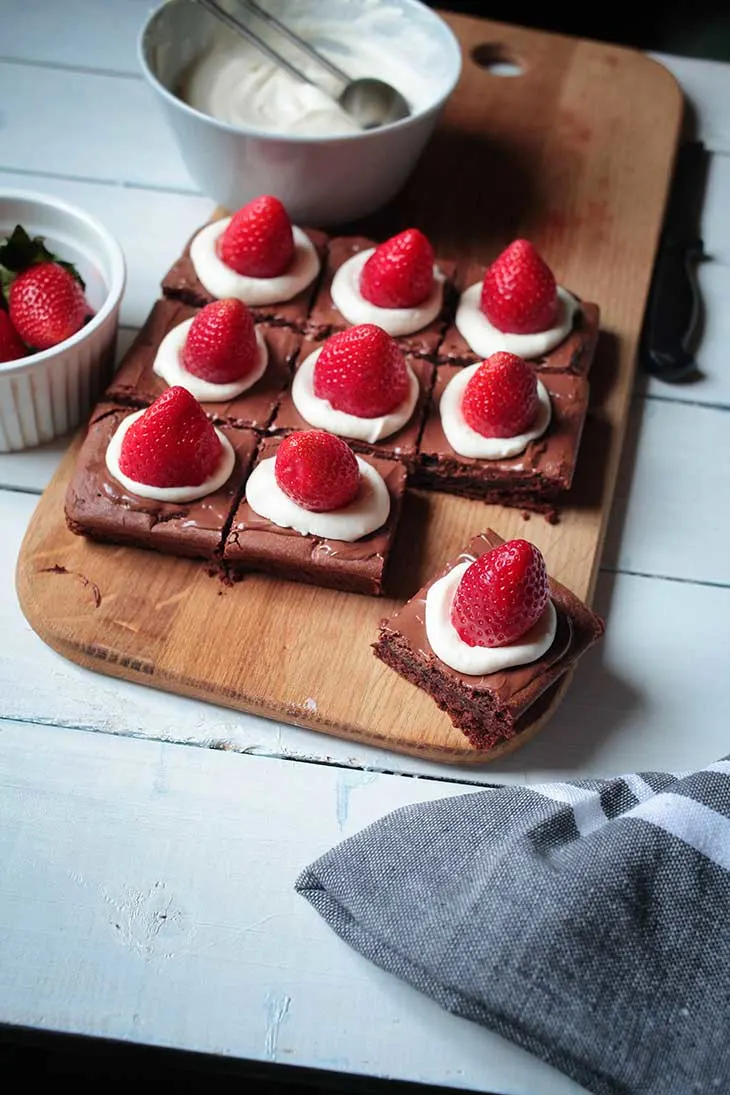 The brownie batter is cooked in a long, rectangular pan, and then cut into multiple pieces. This is the best sign that a dessert is intended to be shared! 🙂 And what is more symbolic of sharing than Christmas itself?
Given the festive season approaching, you might want to make your brownies look like they mean it. You can decorate your brownies to look more Christmassy using a variety of methods.
You can go subtle, and decorate your brownies with powdered sugar, some sprinkles, and green and red M&Ms, you can go full Saint Nicholas and cut the brownies into Christmas Tree shapes and use the bottom ends of candy canes as tree trunks or you can do what I did and top them with some homemade vegan whipped cream and fresh strawberries to make them look like Santa hats! Differently colored frosting also helps to achieve a certain merry aesthetic.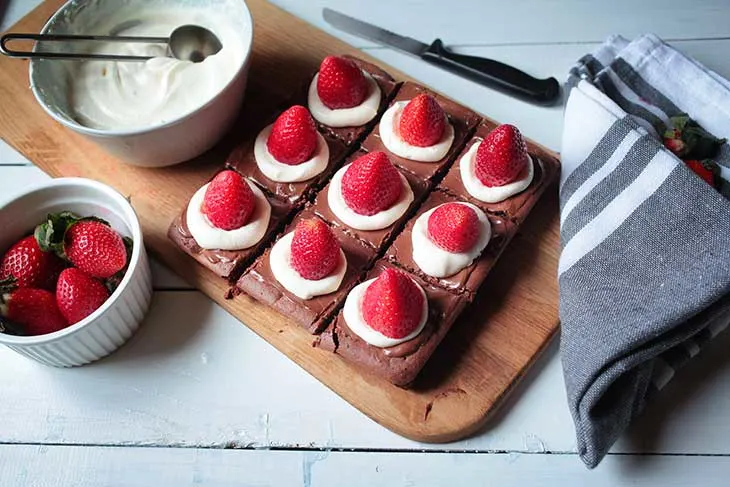 Nowadays, an increasing number of people prefer their desserts to be vegan, and that includes brownies. And why wouldn't they? There are lots of perfectly good options for vegan brownies that turn out just as delicious and soft as their non-vegan counterparts.
It's really a win-win situation – you get to enjoy a delicious brownie without having your conscience tainted. We live in a world that's growing more aware of environmental issues every day. So why wouldn't one put all that good knowledge to use? 🙂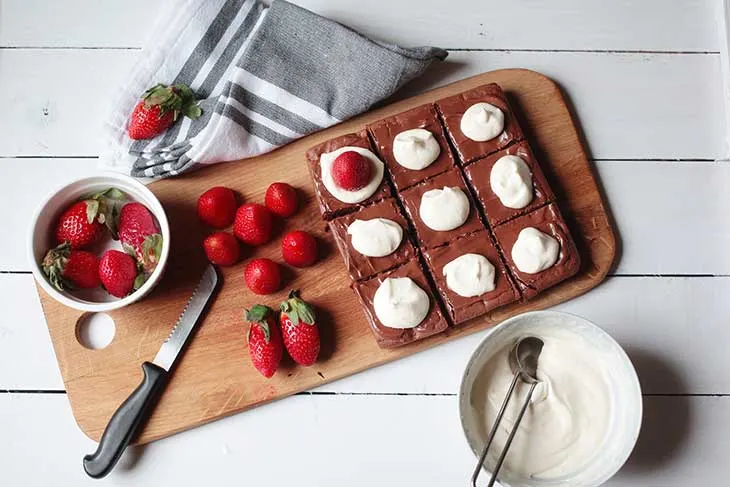 If you feel like you have to make your brownies vegan, there are a bunch of things you can do. Obviously, no dairy products should be used. Soy milk, vegan butter, dairy-free dark chocolate – these are just some of the replacements you'll be using in your vegan brownies. You'll have to be careful, as the ingredients might react differently than they would in a traditional recipe. This is why I created this step-by-step recipe to help you!
Brownies have a long and delicious history. They were allegedly invented in 1893 at the Palmer House Hotel in Chicago. Bertha Palmer, a local socialite and the owner's wife, wanted to create a dessert to appeal to the women who would be attending the World's Columbian Exposition in Chicago. She asked a pastry chef to come up with a cake-like confection smaller than a piece of cake that would fit in the convention's boxed lunches. The result was the Palmer House Brownie with walnuts and an apricot glaze.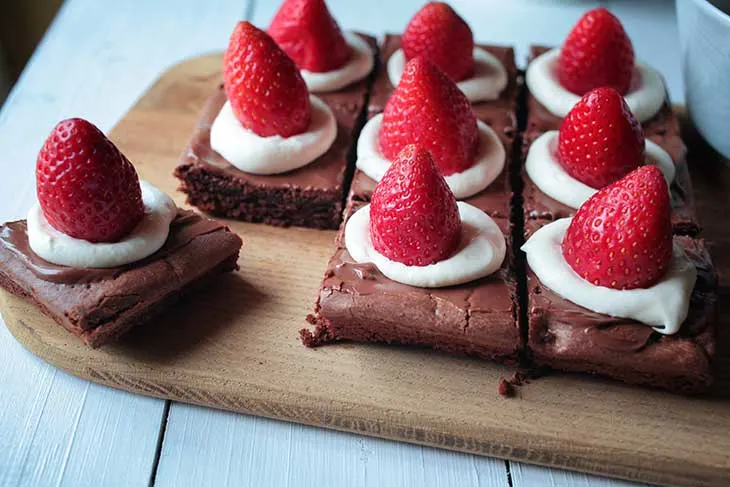 It wasn't called a brownie from the get-go, however. The first time the word was printed in a cookbook in 1896, to describe molasses cakes baked individually in tin molds. After that, the brownie we know today had already been established as a dessert in 1907, appearing in several cookbooks at the time.
There was, obviously, no intention of removing animal products from the brownie at the time. Most changes to the original recipe up until 1920 simply upped the number of eggs and chocolate squares, until the result became similar to the fluffy cookie we all know and love today. Ms. Palmer and her team of chefs would never have thought that modern cuisine would evolve in a way where substitutes are used for animal products in the making of sweets!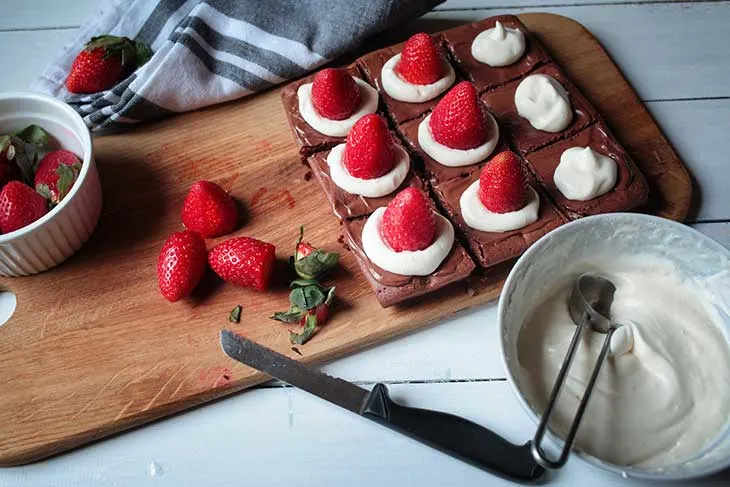 Whether you like your brownies vegan or baked in a traditional way, you can enjoy this classic Christmas dessert at home, with a glass of warm milk or a scoop of ice-cream while getting cozy in your Christmas socks! 🙂
Yield: 9
Vegan Christmas Brownies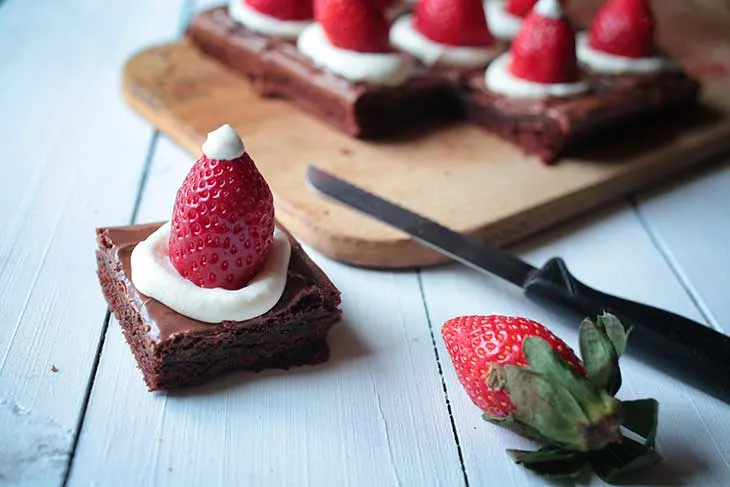 These vegan Christmas brownies are the perfect Christmas-themed dessert! Give them a try!
Ingredients
80g (½ cup) dark chocolate, melted
2 Tbsp flax meal + 6 Tbsp filtered coffee
150g (¾ cup) sugar
6 Tbsp coconut oil, melted
1 Tbsp applesauce
1 tsp vanilla extract
100g (¾ cup) all-purpose flour
25g (¼ cup) cocoa powder
1 tsp baking powder
50g (⅓ cup) chocolate chips
pinch of salt
For the whipped cream:
300g (1 can) coconut milk
1 tsp vanilla extract
1 Tbsp powdered sugar
For the topping:
3 Tbsp homemade Nutella
250g (2 cups) fresh strawberries
Instructions
Preheat oven to 200C.
In a small bowl, mix the warm coffee with flax meal. Let sit for about 10 minutes.
In a large bowl add the coconut oil, applesauce, and sugar. Mix until well incorporated. Continue mixing. Then stir in the flax egg, vanilla extract, melted chocolate, and mix until you achieve a homogeneous composition.
Using a spatula stir in the flour, cocoa powder, baking powder, chocolate chips, and salt.
Grease a square baking tray. Transfer the batter to the baking dish and bake for about 40 minutes.
Let cool about 30 minutes.
Meanwhile, prepare the whipped cream.
Discard the liquid from the coconut milk can. Use only the thick part.
In a medium bowl, beat the coconut cream with an electric mixer. Add vanilla and powdered sugar and continue to mix until fluffy.
To assemble the brownie, spread the Nutella evenly on top and cut into equal portions. Add 1 tsp of whipped cream on each square and top them with a strawberry.
Nutrition Information
Yield
9
Amount Per Serving
Calories

343
Total Fat

17.3g
Carbohydrates

43.2g
Protein

3.6g