Celebrate Christmas with this festive star bread! This recipe will show you, step by step, how to create the best vegan star bread for your Christmas menu – delicious and impressive!
"It's the most wonderful time of the year" – or at least that is how the song goes. But there has got to be a reason why everybody gets so merry around Christmas time.
It must be the weather that makes you want to snuggle up inside your house in a warm blanket and drink hot chocolate until you pass out. Or maybe it is the childhood memories of your grandma, baking Christmas pastries and cookies late into the night, while you silently doze off in a house that smelled of cinnamon and applesauce.
Perhaps it is the memory of your parents reading The Night Before Christmas, which you never got to out-grow, have you now? Or it could be hearing the delightful Christmas carols that you've always loved, which make you feel all warm and fuzzy inside.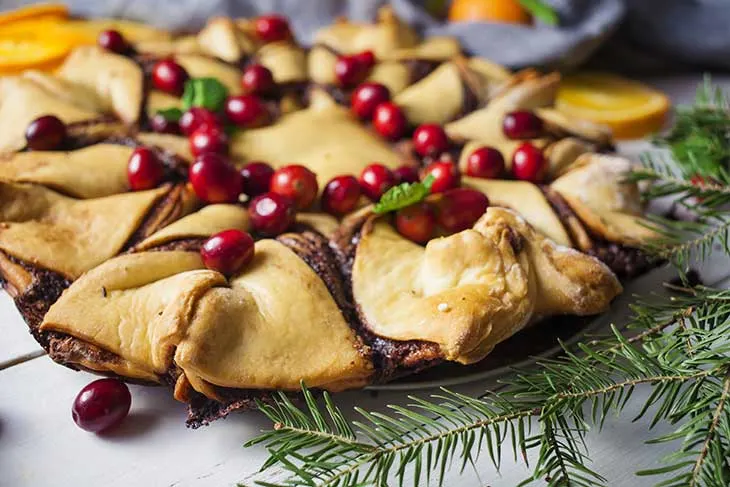 Christmas is that time of the year when you want to share. Be it via gifts, cookies, or a laugh, it's important to keep your loved ones close. You can do that by cooking something for them, something that all of you could enjoy together while trading stories.
Today, that something is star bread – a Christmas recipe that is as easy to make as it is charming and great for bringing the whole family together. Everybody will be eager to tear a piece from this delicious warm bread made in the shape of a snowflake. Bonus points if it's actually snowing outside.
The star bread has a shape that might discourage the less experienced of bakers, but its appearances are quite deceiving. The technique to shape it is all in the wrist – literally! And besides being easy to make, this recipe allows you to go creative and make it suitable for any course of the Christmas Meal.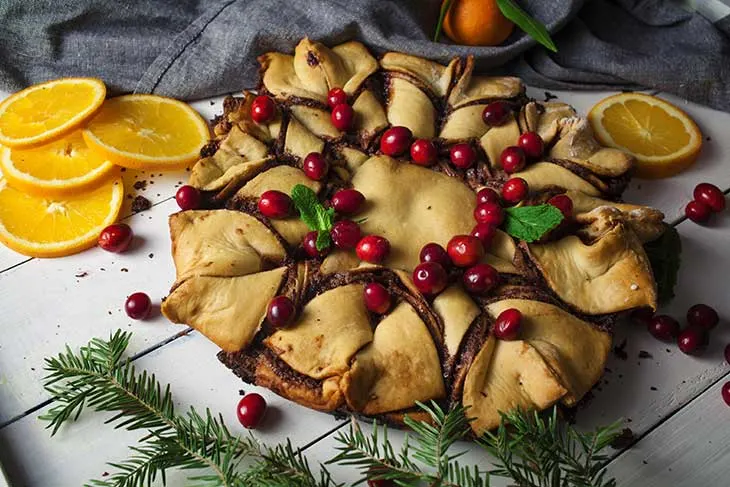 Star bread is really a blank canvas type of dish when it comes to the many variations you can bake – after you've molded the dough, anything goes. As the big majority of Christmas cooking tends to be dominated by sweets, a lot of people will make their star bread with sugar or cinnamon.
But that doesn't mean you are forced to eat it for dessert! Star bread can play any role you throw at it on the Christmas table. For starters, you can bake it plain, and it will take the place of regular, boring, bread-shaped bread. If you don't feel like doing that, start adding herbs and spices to the recipe – and you've got yourself a wonderful appetizer before the rest of the Christmas meal. In fact, why not go even further?
Vegan parmesan cheese and pesto sauce make wonderful additions to the star bread when they fill up and swirl around its intricate texture. If you feel extravagant, you can spread a thin layer of butter before you roll, add some tomato paste and mozzarella, and you've got yourself a star pizza!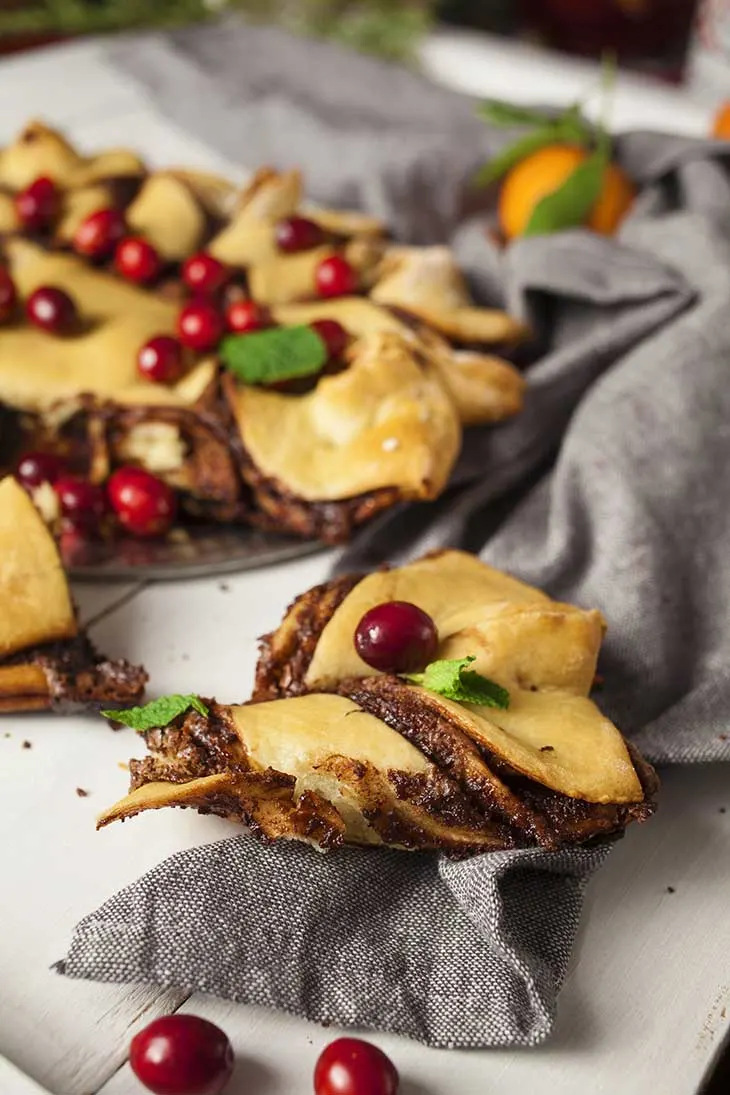 It is not exactly clear when or why star bread started being made, or who thought of it first. It's really more of a recent internet trend – a pretty-looking type of festive bread with no deeper meanings behind it.
Unless you choose to give it one. People always like to associate the things they make with the things they believe in, therefore pastry baking has always managed to fill the gap between fact and fiction, between immaterial and palpable.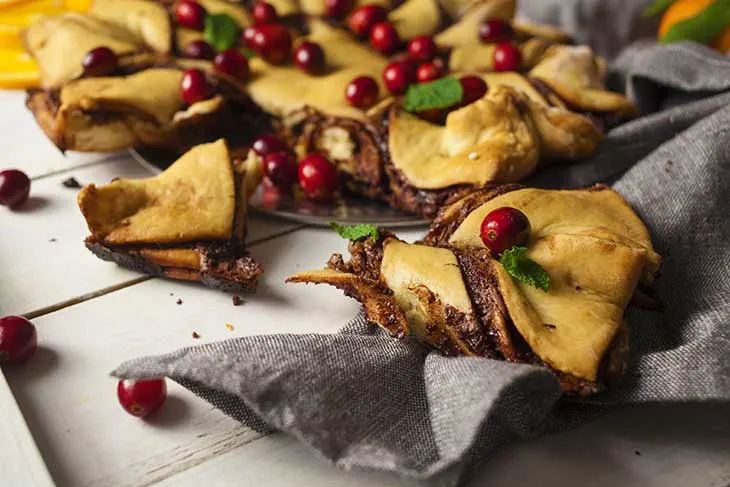 There has always been a close link between the Christmas holiday and festive pastries. Different countries have different versions of this. In the United Kingdom, bread is always at the side of the main dish of mashed potatoes, turkey and gravy.
The traditional Christmas dessert implies a whole lot of pastries – different types of pies, cakes, and puddings. Slovaks have the potica – a sweet rolled bread with cocoa powder.
The Germans have the Stollen, that is full of dried fruits and very sweet. The French have bûche de Noël – their version of the British Yule Cake. The Italians have the classic Panetone – which has gradually become popular in Europe in recent years.
Pastries are closely linked to Christmas, especially when certain spices are being used, like cinnamon, vanilla, and chocolate – the big three flavor of the holiday season.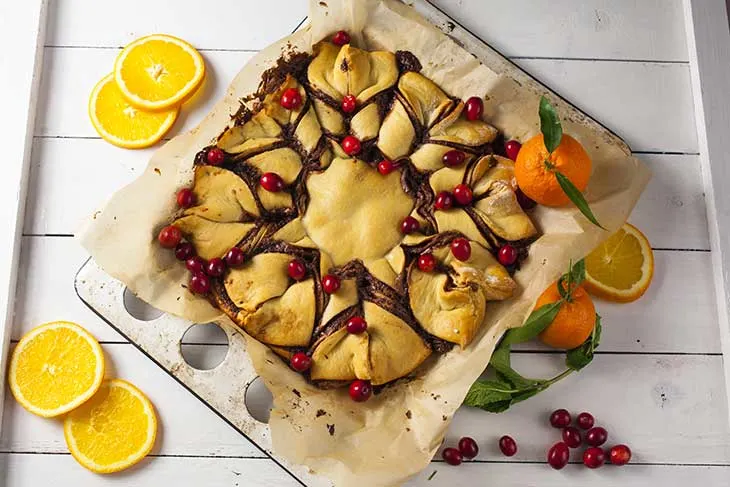 Wherever in the world, you may be, this Christmas treat your loved ones right and give them a special pastry – the vegan star bread – to celebrate!
There's no greater happiness than the moment you set your fresh star bread on the table and they each get to break off a piece. Actually, you might want to make more, since they'll surely ask for second helpings! 🙂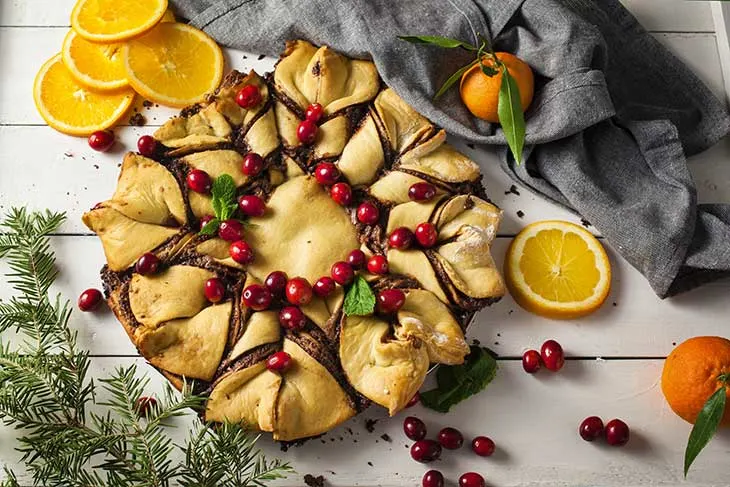 Celebrate Christmas with this festive star bread! This recipe will show you, step by step, how to create the best vegan star bread for your Christmas menu - delicious and impressive!
Ingredients
40g (3 Tbsp) vegan butter, melted
1 packet instant yeast
240ml (1 cup) unsweetened almond milk, warmed
1 Tbsp organic cane sugar
¼ tsp salt
360g (3 cups) all-purpose flour
450g (1 ½ cups) chocolate hazelnut spread, warmed
2 Tbsp soy milk
Instructions
In a large bowl combine the warm milk and the melted butter.
Sprinkle on the yeast. Let activate for 10 minutes.
Add the sugar and salt and stir.
Stir in the flour, ½ cup at a time.
When it is too thick to stir, transfer to a lightly floured surface and knead for a minute or so until it forms a ball.
Cover a medium bowl with a little oil and add the dough bowl in.
Cover with a kitchen towel and let it sit about an hour in a warm place, until double in size.
Preheat oven to 200C.
Divide the dough into 3 equal pieces.
Roll each piece into a circle.
Using a spatula, spread ½ of the warmed hazelnut spread on the bottom circle, cover with the second and repeat.
Cover with the last circle.
Using a large plate cut out the edges to create a perfect circle.
Transfer the dough to a baking tray with parchment paper.
To twist the dough, put a large cup in the center of the circle upside down.
Using a pizza knife, cut the dough from the cup to the edge into 16 wedges.
Twist the wedges together to form the star shape.
Top with some soy milk wash.
Bake for about 30 minutes.
Nutrition Information
Yield
6
Amount Per Serving
Calories

344
Total Fat

12.4g
Carbohydrates

50.2g
Protein

7.7g