Change language / Schimba limba:

Română
Make this vegan lo mein / vegan chow mein recipe in under 15 minutes and enjoy a delicious, healthy and protein-packed stir-fry for lunch or dinner!
The series of Asian recipes for this year's challenge of 'veganizing' popular traditional recipes from various world cuisines continues with this 15-minute vegan lo mein recipe.
Lo Mein is a traditional Chinese dish, originally made with thin noodles, seasonings, veggies, soy sauce and sometimes different types of meat, such as poultry or pork. I made the vegan lo mein version with veggies, mushrooms and some tofu, for adding some extra-proteins into this meal.
Lo Mein is very similar to Chow Mein, the major differences being that lo mein uses more sauce and the noodles are added at different cooking stages, other than these, the recipes are pretty much the same.
If you want to discover even more vegan Chinese recipes, check out this cookbook I just found. It seems pretty amazing! It has over 200 meat-free, egg-free, dairy-free dishes from the culinary regions of China!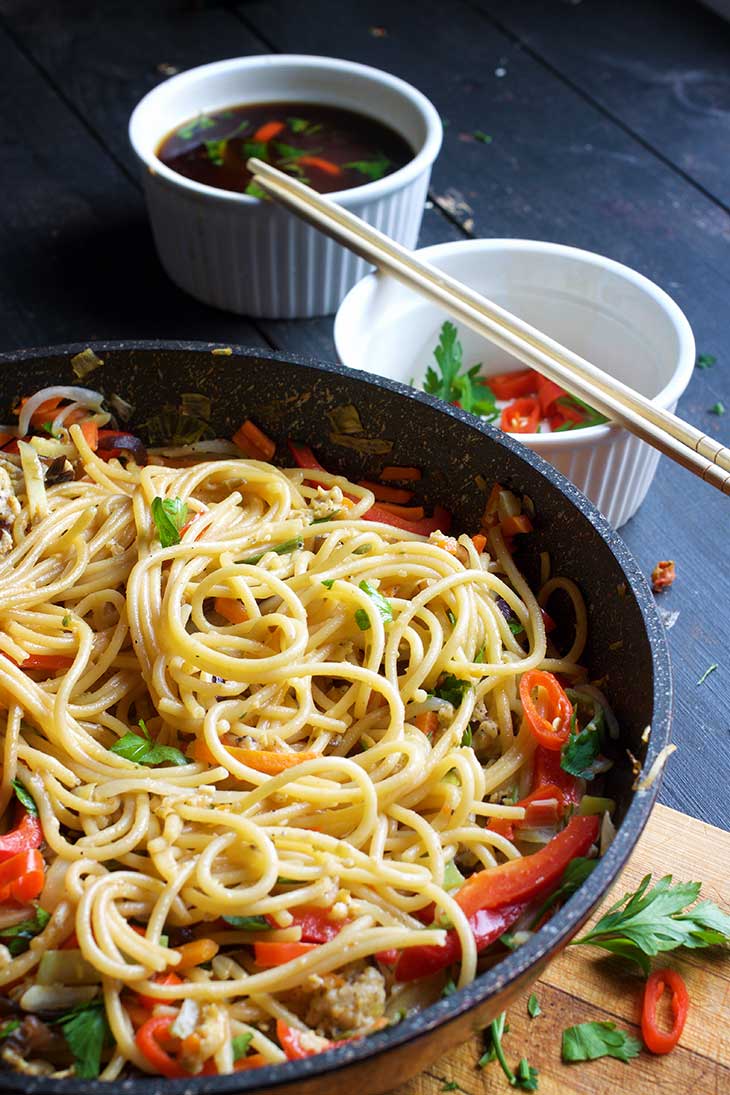 Make sure you use a vegan type of noodles. The traditional recipe uses Chinese egg noodles, which are not vegan, so find a vegan substitute for these.
Using coconut oil for stirfrying is the best option. It is very stable, can withstand very high temperatures and also has a lovely flavor perfect for Asian recipes.
Another tip is to add the veggies in the right order to the pan when stirfrying. In this case, the carrots are added first, then the bell pepper and finally followed by leeks, one minute after the other.
I used vegan fish sauce instead of soy sauce for this lo mein recipe, by following this super-smart recipe created by Sylvia. I linked it in the recipe below too. If you don't want to make this vegan fish sauce, you can simply add soy sauce or tamari.
Frying the noodles a bit can make them crispier and enhance the texture of the meal. But make sure you don't overdo it and burn them. The secret of this dish is the perfect timing – adding ingredients on time and not overcooking them.
You can serve this vegan lo mein / vegan chow mein recipe with a soup on the side, the vegan Pho would be perfect for a complete Asian lunch menu.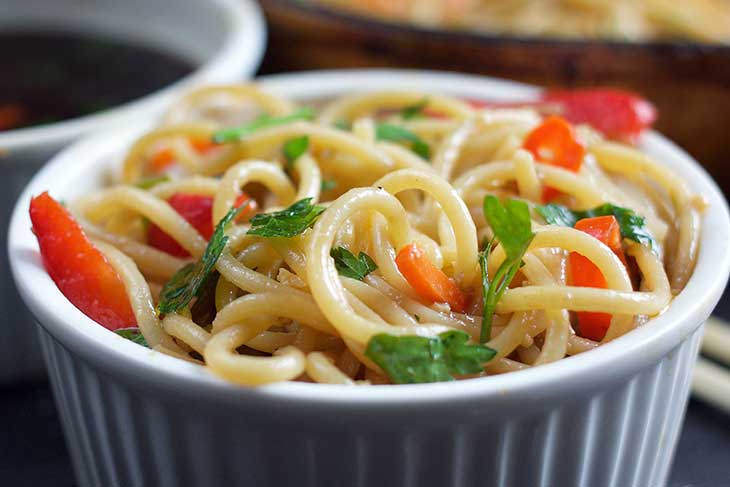 Hope you'll like this vegan lo mein / vegan chow mein recipe! Don't forget, if you give my recipes a try, take a photo and tag me on Instagram @gourmandelleblog and use the hashtag #gourmandellerecipe. I will feature you on my Facebook page and/or Instagram Stories! 🙂
Yield: 2
Vegan Lo Mein | Vegan Chow Mein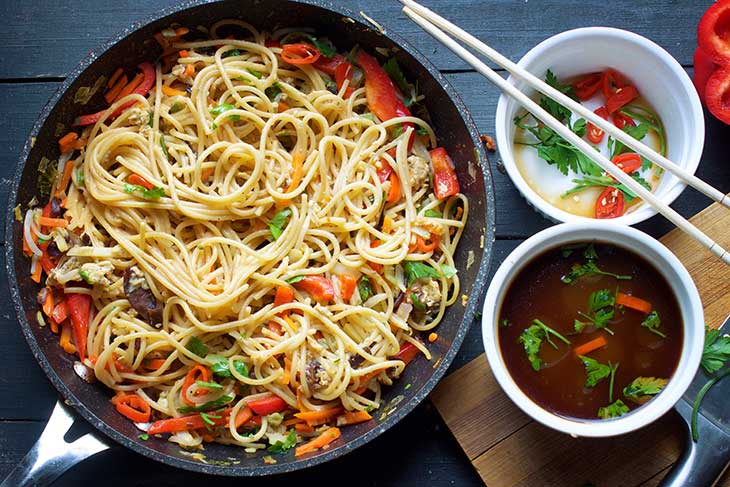 Make this vegan lo mein / vegan chow mein recipe in under 15 minutes and enjoy a delicious, healthy and protein-packed stir-fry for lunch or dinner!
Ingredients
Sauce
1/3 cup vegetable broth
3 Tbsp vegan fish sauce , optional, but recommended. I made it by following the recipe in the link. Alternatively, simply add some soy sauce.
1 Tbsp Lime juice
1 tsp maple syrup
1 clove garlic, minced
1/2 tsp ground ginger
1 Tbsp tapioca flour
Stir Fry
1 cup noodles
1 carrot, cut into sticks
1 red bell pepper, cut into sticks
3 Tbsps sliced Shiitake mushrooms
1 leek, sliced
1 Tbsp coconut oil
1 red hot chili pepper
Tofu scramble:
½ cup firm tofu
1 tsp nutritional yeast
1/4 tsp turmeric
1/4 tsp ground cumin
1/4 tsp smoked paprika
salt and pepper to taste
Instructions
Cook the noodles according to the instructions on the package. Drain and set aside.
Mix all the sauce ingredients in a medium bowl, set aside.
In a large pan, stir-fry all veggies with coconut oil, except for the chili pepper, until crispy and tender.
Add noodles and the sauce. Mix everything
Using a spatula, make some space in the middle of the pan. Crumble tofu into the pan, breaking it up with your fingers. Pour the seasoning over tofu and mix well. Cook for few minutes and continue mixing.
Add the chili pepper slices and top it with some fresh parsley.
Nutrition Information
Yield
2
Serving Size
1 grams
Amount Per Serving
Unsaturated Fat

0g