Here's a simple, yet filling vegan Pho soup (vegan Asian noodle soup) recipe that bursts with flavors and has a subtle spicy taste. It's similar to the popular Vietnamese Pho soup recipe, turned vegan.
I continue the series of Asian recipes for this year's challenge of 'veganizing' popular traditional recipes from various world cuisines, with this simple and nourishing vegan Asian noodle soup – vegan Pho.
This vegan Pho / Asian noodle soup is an explosion of flavors in a bowl. Usually, this recipe is made with poultry, pork or beef but I turned it vegan. You can use any type of noodles, but I prefer the extra-large rice noodles for this. It's more filling this way. You can also use homemade linguine or other vegan fresh noodles.
To enhance the flavors of the ingredients used in this recipe, I would recommend you to follow it just like I wrote it below, and not skip the stir-frying part. This cooking method gives this vegan Pho noodle soup even more flavor and makes the aromas stronger.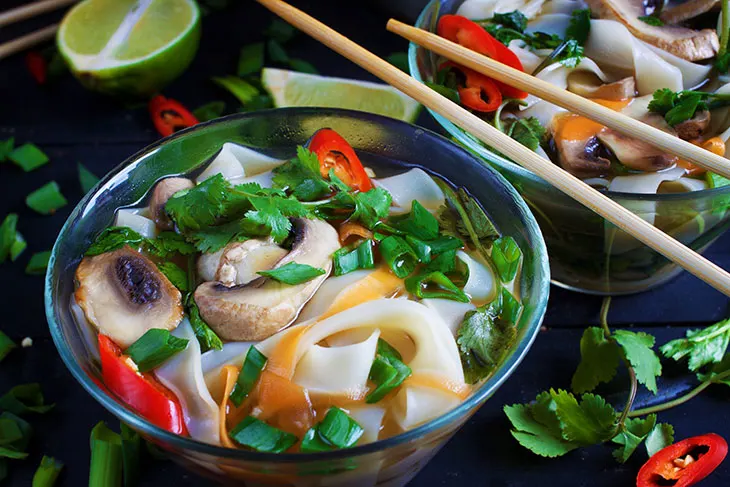 This recipe is pretty easy to make. It's quite similar to the popular Vietnamese Pho recipe. Did you know that Pho comes from the French dish "pot au feu" and was integrated into the Asian cuisine during the French colonial period in Vietnam? Just like the Tofu Banh Mi recipe, I posted earlier on the blog.
Many things have changed about this noodle soup recipe, in its almost 100 years of existence. In the beginning, the Pho Bo version was popular. Traditionally, the soup was made with just boiled beef, noodles and broth. Later appeared the Pho Ga with chicken and Pho Lo with pork. The last one appeared during the war when the cattle were used as traction animals.
The only thing that is certain is that this amazing vegan Pho soup is that it's energizing! It's served warm and spicy and seems to have an energizing effect on you, making you feel better after eating it. Or at least this is the effect its spiciness had on me! 🙂
I have a difficult relationship with cilantro, but I do tolerate it in small amounts in Asian and Mexican foods. You can also use parsley instead of cilantro if you don't like it. When you serve this vegan Pho noodle soup, do not forget about the lime. One-quarter of lime, freshly squeezed in the soup has a huge impact on the taste! You can also add in other spicy sauces if you want it extra-hot.
Hope you'll like this easy vegan Pho noodle soup recipe! Don't forget, if you give my recipes a try, take a photo and tag me on Instagram @gourmandelleblog and use the hashtag #gourmandellerecipe. I will feature you on my Facebook page and/or Instagram Stories! 🙂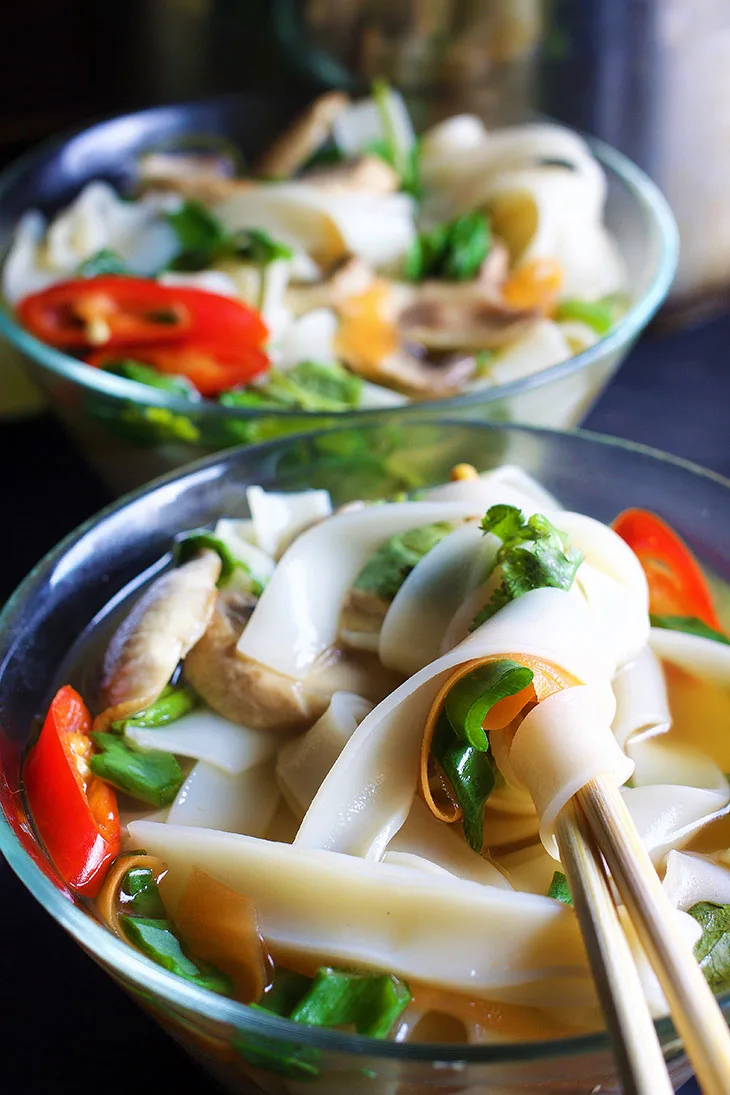 Yield: 4
Vegan Pho Noodle Soup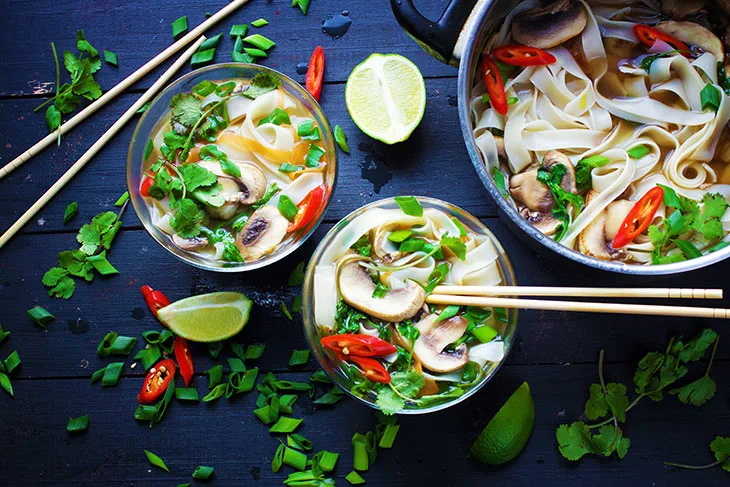 Here's a simple, yet filling vegan Pho soup (vegan Asian noodle soup) recipe that bursts with flavors and has a subtle spicy taste. It's similar to the popular Vietnamese Pho soup recipe, turned vegan.
Ingredients
1.5L (6 cups) homemade veggie broth
1 package rice noodles - I used extra-large rice noodles
200g (2 cups) button mushrooms, sliced
1 large carrot, sliced with a julienne peeler in noodles-shape
2 Tbsp coconut aminos or soy sauce
¼ tsp ground ginger
1 tsp Sriracha, or more to taste
3 cloves garlic, minced
1 yellow onion, julienned
1 small bunch of cilantro or fresh parsley
1 chili pepper, sliced
1 star anise
1 cinnamon stick
1 medium lime, cut into wedges
1 Tbsp coconut oil
a handful of green onion for topping, chopped
Instructions
In a large saucepan, on a medium heat, add the cinnamon stick and anise star and dry-roast them, stirring to prevent burning, for about a minute.
Add 1 Tbsp coconut oil and the sliced onions. Stir fry them for about 2 minutes.
Add the ginger and garlic and cook for 2 more minutes,
Pour in the vegetable broth, soy sauce or coconut aminos, sriracha sauce, and bring to a boil, then lower the heat.
Simmer for about 25 minutes on low heat.
Meanwhile, prepare the noodles and toppings.
Soak the rice noodles for about 20 minutes in water.
Stir-fry the mushrooms in a small pan for about 4 minutes. You can skip this step and simply add them to the soup, but I just love the lightly fried mushrooms flavor in this recipe.
Add the noodles, mushrooms, carrot, cilantro and sliced chili pepper to the soup. Boil for 3-5 more minutes.
Top with green onions and serve with a lime wedge.
Nutrition Information
Yield
4
Amount Per Serving
Calories

531
Total Fat

5g
Carbohydrates

111g
Protein

10g