The pumpkin spice latte HAS to be the star of autumn. Here's how to make the best homemade vegan pumpkin spice latte – yummy, healthy, with no nasty ingredients!
What would autumn be without a homemade pumpkin spice latte recipe? As basic and cliché as that may be… let's face it: you love it. We all love it. It deserves the fame! 🙂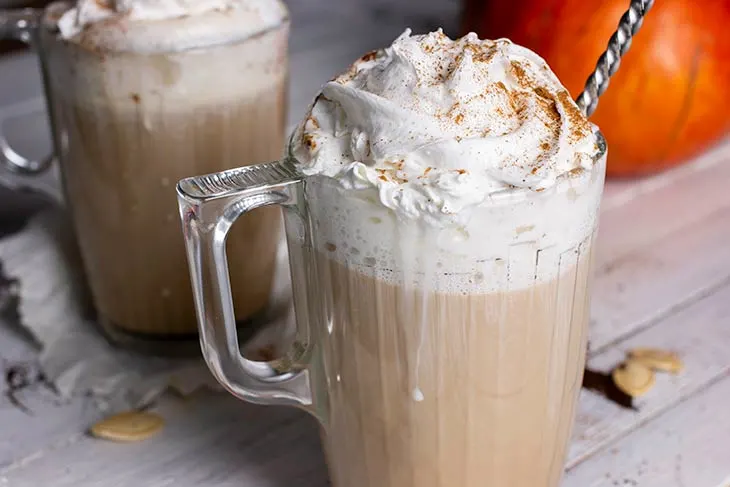 The pumpkin spice latte is a coffee beverage offered by Starbucks since 2003, usually available during the colder months. It's made with the greatest, traditional fall spice flavors – cinnamon, nutmeg, and clove – steamed milk, and espresso.
It (more often than not) contains a lot of sugar, and it's topped with a lot of whipped cream and more of that pumpkin spice. Hence its name. It became Starbucks' most popular seasonal beverage of all time.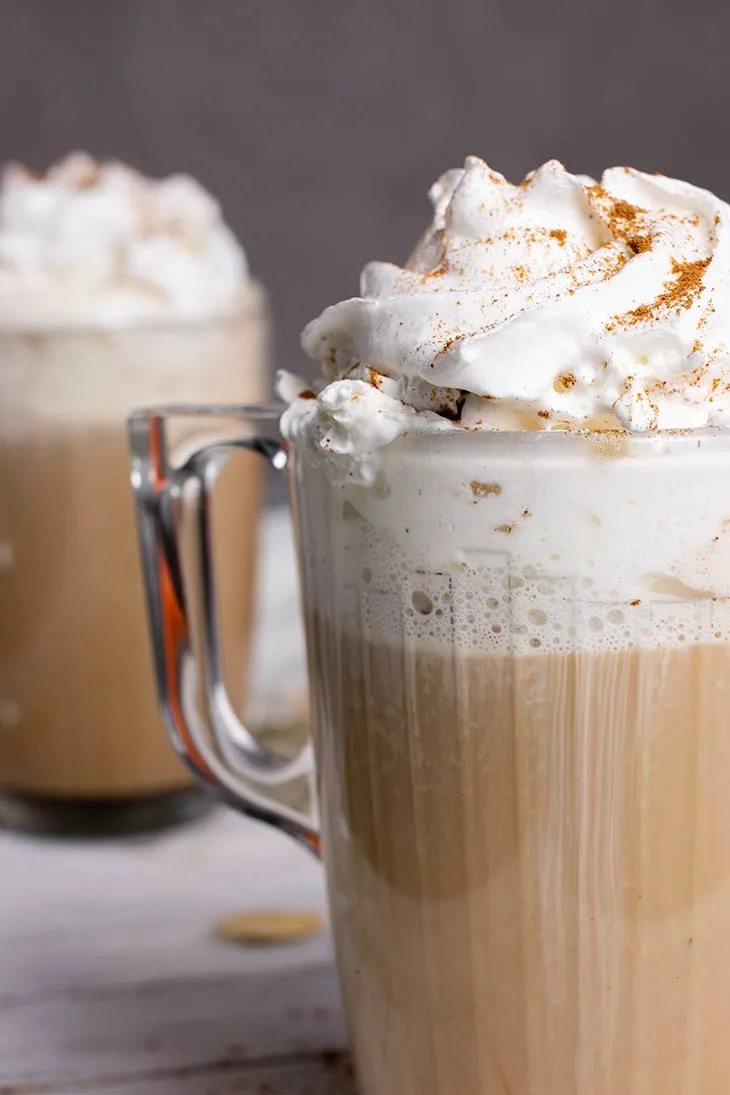 I mean, there's an entire culture based on this drink. It started a trend of pumpkin spice products, such as candles and air fresheners. Because, as impossible as it sounds now, during that time pumpkin spice wasn't a thing! This pumpkin hype we've all grown so accustomed to was not around then! 😉
A lot of people tend to criticize the amount of sugar used in Starbucks' classic. And for good reason. It contains a ton of the thing. But, in Starbucks' defense, I don't really feel like the pumpkin spice latte was ever meant to be consumed on a day to day basis, as your regular morning cup of joe. I view it more as dessert, what with all the sugar, syrup, and whipped cream it contains.
And a delicious dessert it is! I also believe that, when eaten in moderation, this drink can still be "friends" with your silhouette.
But I still wanted to make a healthier version, without food coloring and all of the nasty stuff. I wanted to reduce the sugar amount a bit, too, because, delicious as it is, I've always thought that the pumpkin spice latte tends to be excessively sweet, the burn-your-throat type. Plus, we get to use real pumpkin in this recipe, while the Starbucks version doesn't. Nope. Not even a morsel.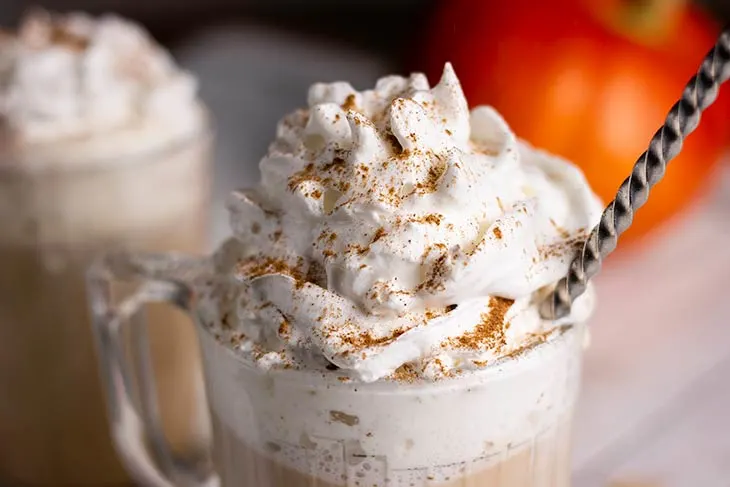 The name "pumpkin spice" had to do with the drinks' spices, not with the pumpkin itself; to evoke the feeling of a pumpkin pie without actually containing the pumpkin. I truly believe this homemade version to be not only healthier but also even more delicious! 🙂
I love dessert-type beverages. I love preparing something sweet and delicious that has the potential of warming my hands and my soul on a cold autumn day. And I especially love serving this around 4 in the afternoon, when work starts feeling a little dragged and I feel my eyes closing. We all know by now that caffeine and sugar have the potential of dragging us out of this kind of slump and give us a lot of energy. When combined, they're powerful! No wonder why most of us feel like having a second cup of joe in the afternoon, or "just a bite" of something sweet.
You can adjust this recipe and make it suitable for anybody, vegan, vegetarian, or omnivore, by simply choosing your milk of choice.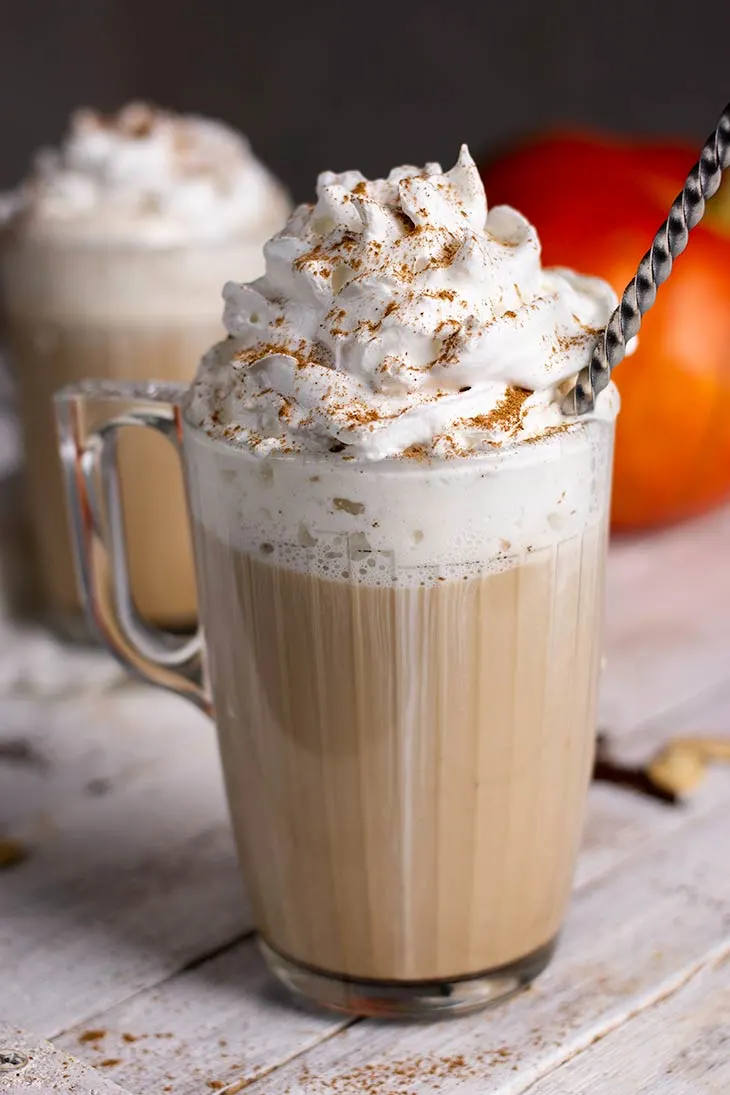 If vegan, obviously choose a plant-based version. What I found is that using soy, oat, or almond work best. The coconut one tends to be a bit overpowering – you can really feel that coconutty flavor, which doesn't really go that well with the autumn vibe.
You can also use a sweetener of choice, such as plain white sugar, or a healthier alternative such as honey, agave, or maple syrup. If you want to reduce the number of calories you're consuming, you can also choose a healthy zero-calorie sweetener, such as stevia or xylitol. Add as much as you like. Some people prefer their latte super sweet, while others like to feel the bitterness of the coffee.
You'll also need to get your hands on some vegan whipped cream. If you can't find this in the store, you can make it from aquafaba, which is the liquid that remains when you've emptied a can of chickpeas. I know it sounds gross, but it's really good. When beaten up vigorously, the aquafaba increases its volume by a lot and turns into something that closely resembles whipped cream, especially if adding a lot of sweetener to the mixture. The whipped cream step is super important, as we're making dessert here, not a simple coffee! 😉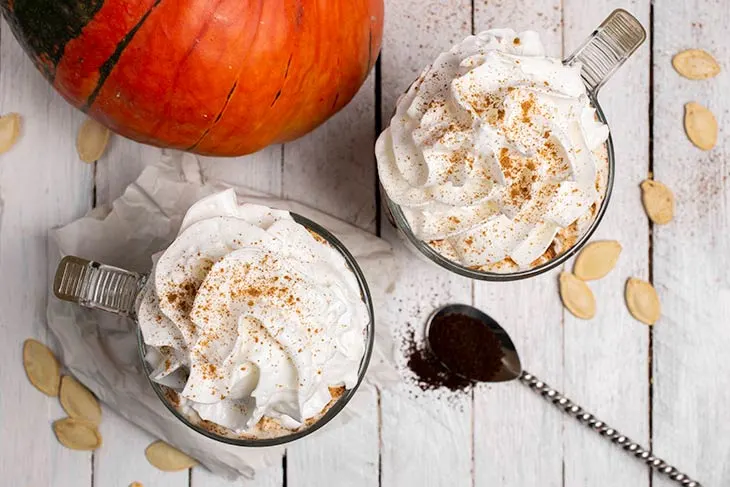 I think this recipe is truly amazing at replicating that pumpkin spice flavor that we all adore so much. Try it and you won't ever feel like spending money at the coffee shop – you've got anything you need right here, in your own home.
Who would want to go out in this kind of weather, anyway?
Yield: 2
Homemade Vegan Pumpkin Spice Latte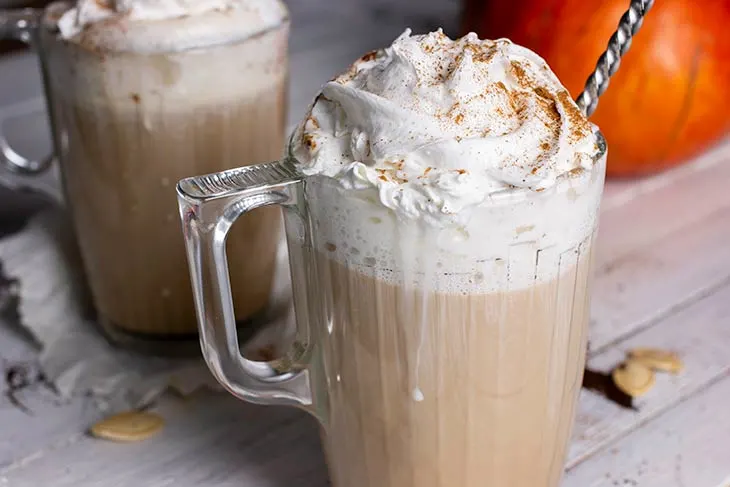 The pumpkin spice latte HAS to be the star of autumn. Here's how to make the best homemade vegan pumpkin spice latte - yummy, healthy, with no nasty ingredients!
Ingredients
250ml (1 cup) coffee
250ml (1 cup) almond milk
2 Tbsp pumpkin puree
2 Tbsp maple syrup
½ tsp pumpkin spice mix - ground cinnamon, ground ginger, ground cloves, ground nutmeg
Vegan whipped cream for decoration
Instructions
In a small pot, add the almond milk, pumpkin puree, maple syrup, and pumpkin spice mix.
Once it's simmering, add the coffee and stir until hot.
Pour into a mug, top with vegan whipped cream.
Sprinkle with additional cinnamon.
Nutrition Information
Yield
2
Amount Per Serving
Calories

110
Total Fat

3g
Saturated Fat

1g
Trans Fat

0g
Unsaturated Fat

1g
Cholesterol

2mg
Sodium

14mg
Carbohydrates

22g
Fiber

2g
Sugar

17g
Protein

1g
I strive to keep the information as accurate as possible but make no warranties regarding its accuracy. I encourage you to make your own calculations using your preferred nutrition calculator.