Have you heard of poke bowl before? It's a traditional Hawaiian dish that basically combines all your favorite ingredients, so it's totally customizable! Here's how to make the best vegan poke bowl >>>
Today is about healthy, nutritious and delicious food! Okay, most of my recipes here are about healthy, nutritious and delicious food but I have a feeling that you will really really enjoy what I have prepared for you today! 🙂
I love the fact that during the last few years, a wave of "hipster" healthy eating has emerged. Recipes and ingredients from all over the world are brought forth and celebrated for their health and deliciousness potential! The recipe we are going to prepare today is part of that trend. I'm talking about poke bowls!
So what exactly is a poke bowl? First of all, it's pronounced poh-keh. And it's a traditional Hawaiian dish! It's actually the main dish for native Hawaiian cuisine. It's a typical Hawaiian fisherman food, combining rice with their early-morning fish capture, such as "aku" (a type of oily tuna) and "he'e" (octopus).
During the last decade, the so-called hipster health wave led to the popularization of Poke all over the world, the modern version being called poké bowl! And now there are lots of varieties available, including tons of vegan options! Variations now include avocado, mushrooms, cilantro, ponzu sauce, mango, pickled jalapeño, pineapple, Sriracha sauce, teriyaki sauce, crispy onions or cucumber.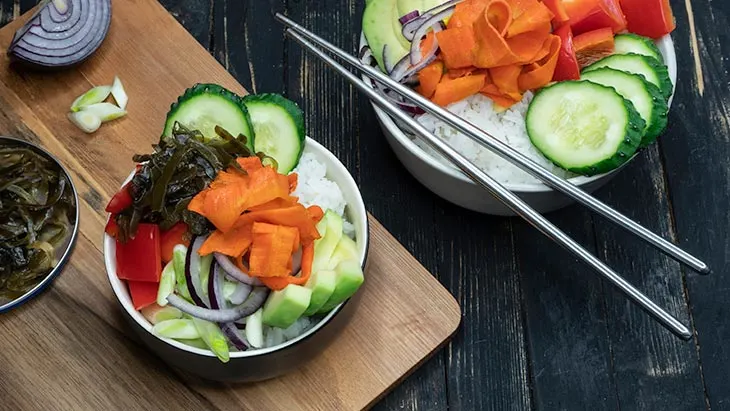 Also, fun fact: San Diego has a yearly three day I Love Poke festival! Ha, poke is that good! 🙂
Sounds nice, right? Now, as you've seen, there are literally dozens of ways you can make your vegan poke bowl. So you can make your own custom bowl, including all the ingredients that you love!
It's one of those dishes that are really hard to get tired of. And that's great because poke bowls are really good meal options. Not only they are healthy and packed with flavor, they are also super filling with a very fresh taste. So it can easily become a regular in your cooking routine, without having the same vegan poke bowl twice!
So there's a warning: they are highly addictive!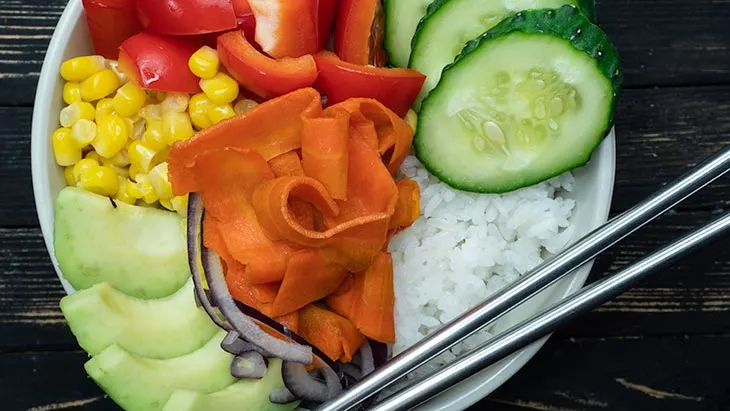 Of course, the version that we are going to prepare today is 100% vegan! So obviously, we will skip the fish part. A great option for vegan poke bowls is tofu bites.
They are flavorful and filling, and a great replacement for the fish. Or here's another amazing suggestion – my two variations of making vegan salmon. It works amazingly in this combination!
But as I said, the recipe presented here is more of an example. It's a great introduction to poke bowls, and if it's your first vegan poke bowl you could follow my indications exactly to get an idea of what a good poke bowl should taste like. But if you feel that some ingredient would better fit your taste, then go ahead and throw it in there!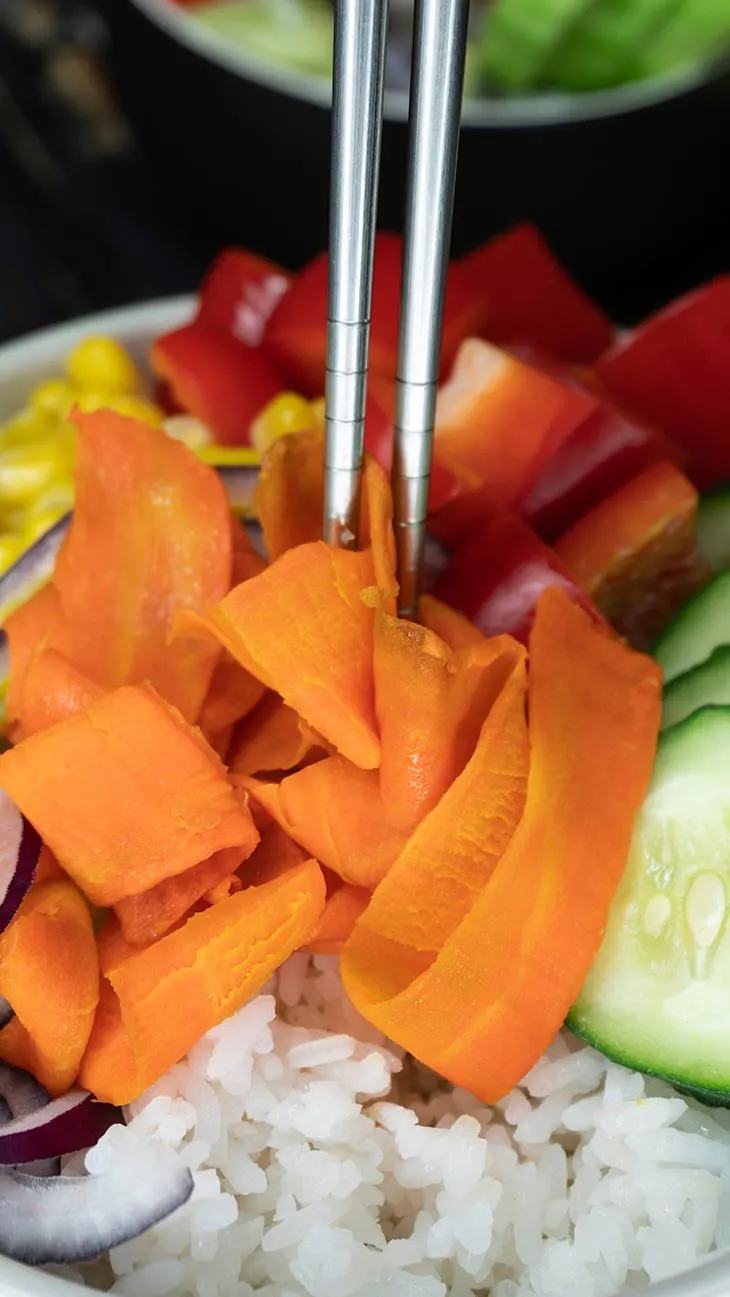 Here are some tips for a good looking and tasting vegan poke bowl:
Choose your dressing well, as much of the taste and flavor is based on your sauce choice;
Don't be afraid to play with contrasting temperatures, textures and flavors;
Arrange the toppings evenly on top of the rice, sorted by color;
Mix in both fruit and veggies;
Toppings with different colors make for a fun-looking vegan poke bowl;
I am absolutely positive that you will fall in love with this recipe. It's a delightful way to get your nutrients intake while keeping things fun and tasty. Kids tend to love it too because all of the colors involved – so it's a great way to trick the little ones to eat their veggies! 😉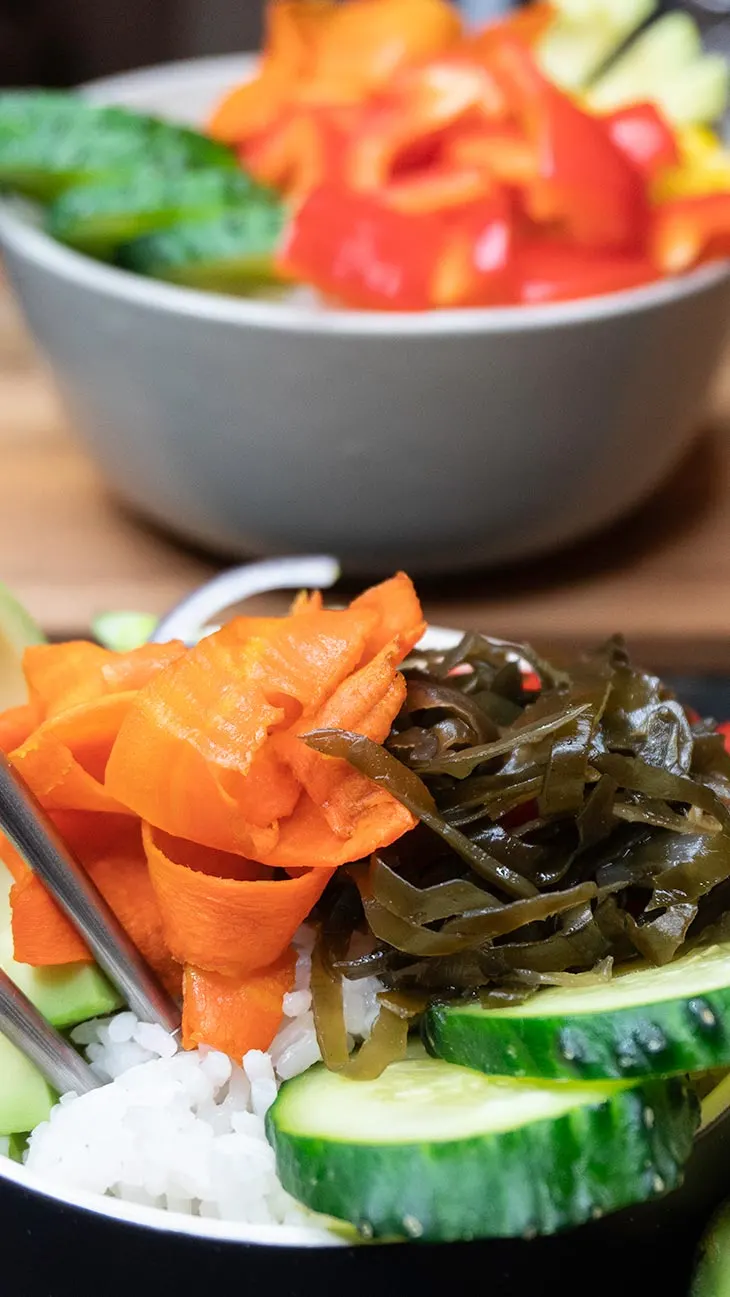 Another great thing about these poke bowls is how easy they are to prepare. It's one of those less than an hour recipe that you can put together in no time. So be it morning, after work evening or a lazy afternoon, this recipe is simply perfect!
It's also a great meal prep! You can prepare everything and keep it in the fridge – and whenever you feel like it, you can assemble your poke bowl! So 30 minutes in the kitchen and your lunch is set for the next three or four days! 🙂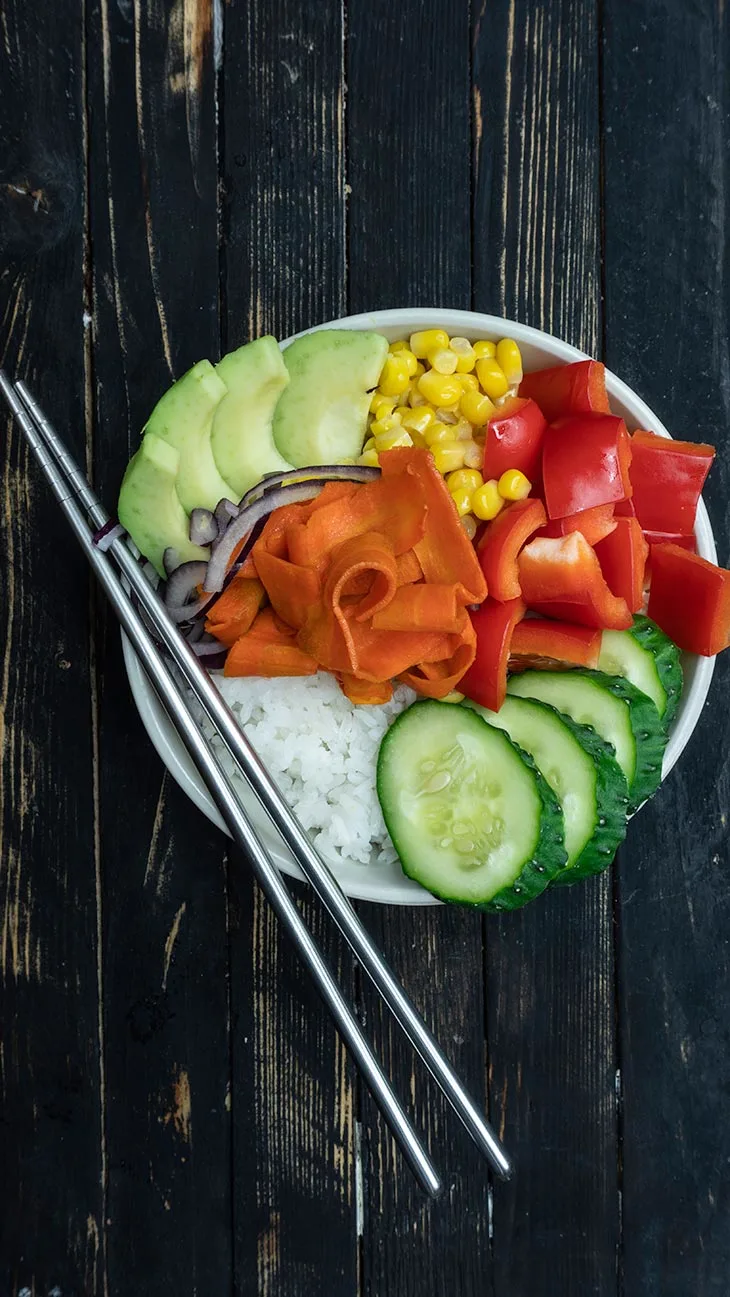 I hope I've convinced you already to try this recipe because it's really something you shouldn't miss!
Bottom line: it's super tasty, super nutritious, super fun and super easy to make! What more can you ask from your food? I am heading to the kitchen right now to get things going and I invite you to do the same! Follow the steps below and you will thank yourself for doing so! I am eager to read your comments about how everything turned out for you, so don't forget to let me know!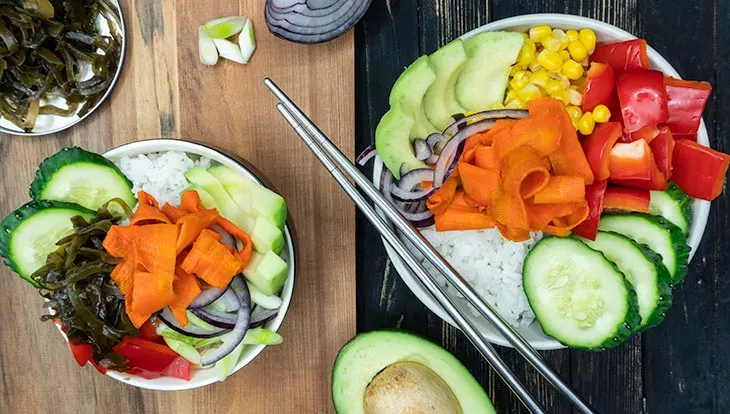 Have you heard of poke bowl before? It's a traditional Hawaiian dish that basically combines all your favorite ingredients, so it's totally customizable! Here's how to make the best vegan poke bowl >>>
Ingredients
200g (1 cup) Jasmine rice
320ml (1 ⅓ cup) water
1 avocado
1 red bell pepper
3 Tbsp sweet corn
1 cucumber
vegan salmon - link to the recipes here
1/4 red onion
1 green onion, chopped
1 Tbsp sea kale
salt
Instructions
Wash and drain the rice.
Add the rice and water to a pot, bring to a boil and simmer on low heat for 10 minutes.
Remove from heat and leave covered for 10-15 minutes. Fluff the rice with a fork.
Chop or slice the veggies into bite-size pieces.
Top the rice with the vegan salmon and veggies.
Season with salt. Enjoy!
Nutrition Information
Yield
1
Serving Size
1 grams
Amount Per Serving
Calories

487
Total Fat

25g
Unsaturated Fat

0g
Carbohydrates

58g
Fiber

15g
Sugar

4g