This easy-peasy recipe for vegan mushroom pâté is yumminess in a jar! Give it a try – it's quick, healthy and extremely flavorful!
Are you trying to create the perfect vegan breakfast for yourself? I feel you. I fight the same fight. The issue is, I sometimes don't really know what I want to eat for breakfast. I usually wake up in the morning and make myself coffee, and then I spend most of my time picking out things from the fridge.
I like spreading things on bread, but there aren't as many vegan options for that. Usually people spread cheese on toast, or butter, or liver paste, but those are all non-vegan, so what's a vegan to do? Well, I might have just the thing for you! 🙂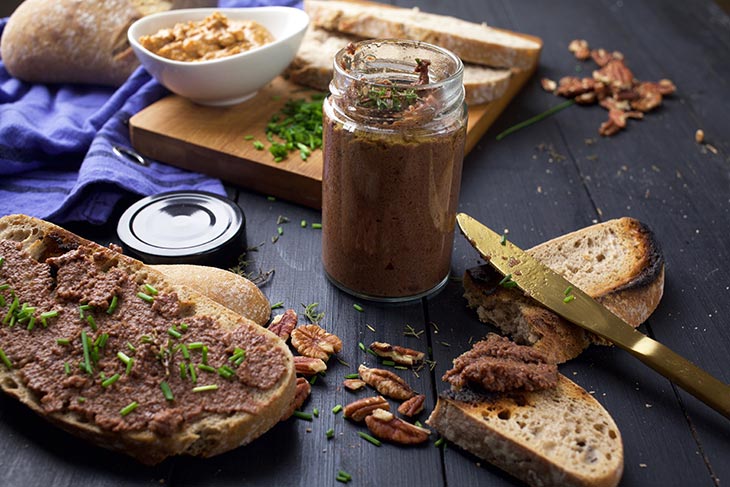 If you're running out of ideas about what to spread on your bread in the morning, this might help you get your fix of healthy breakfast food. I like having a minimalist breakfast, usually made out of three to four things. And in the center of it all, there have to be two pieces of toast that I've spread with mushroom pâté.
In this recipe, I will teach you how to make this pâté and also talk about all the ways you can use it in your daily vegan meals. Get ready! 🙂
First of all, if you've been following my recipes, you might notice that I am an avid fan of mushrooms. I love everything about them, from their high protein content to their deliciousness, and the many ways they can be cooked into tasty dishes.
Other people also appreciate how closely they can imitate the texture of meat, being used in so many vegan recipes all over!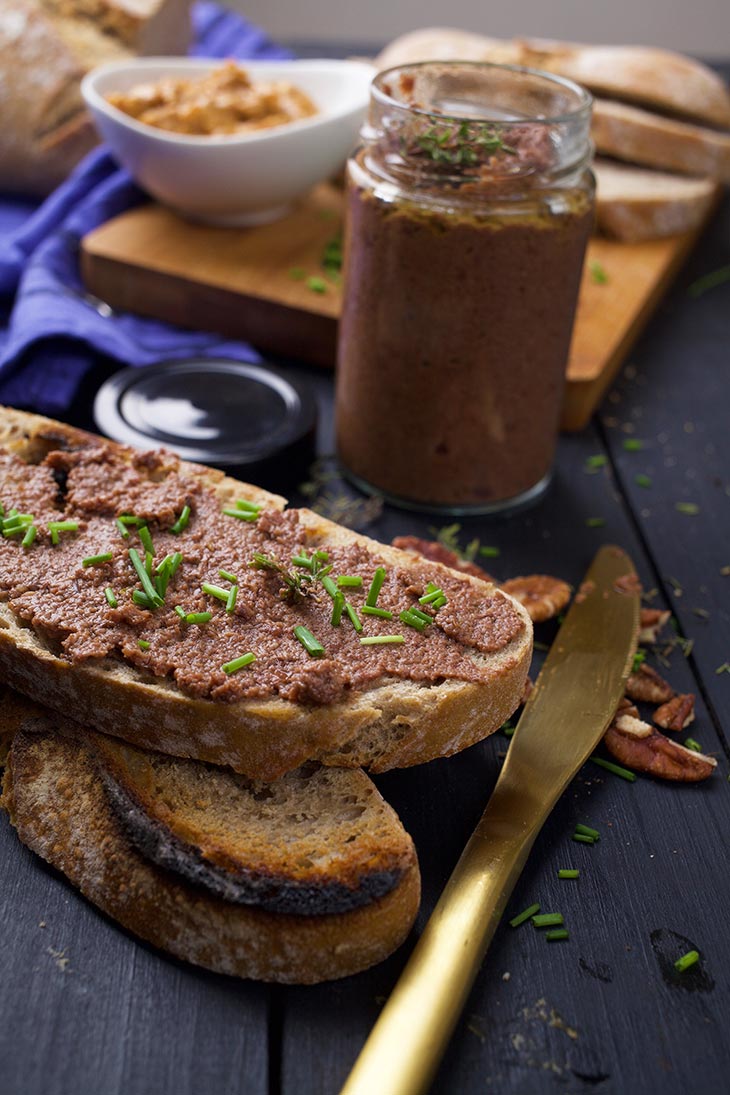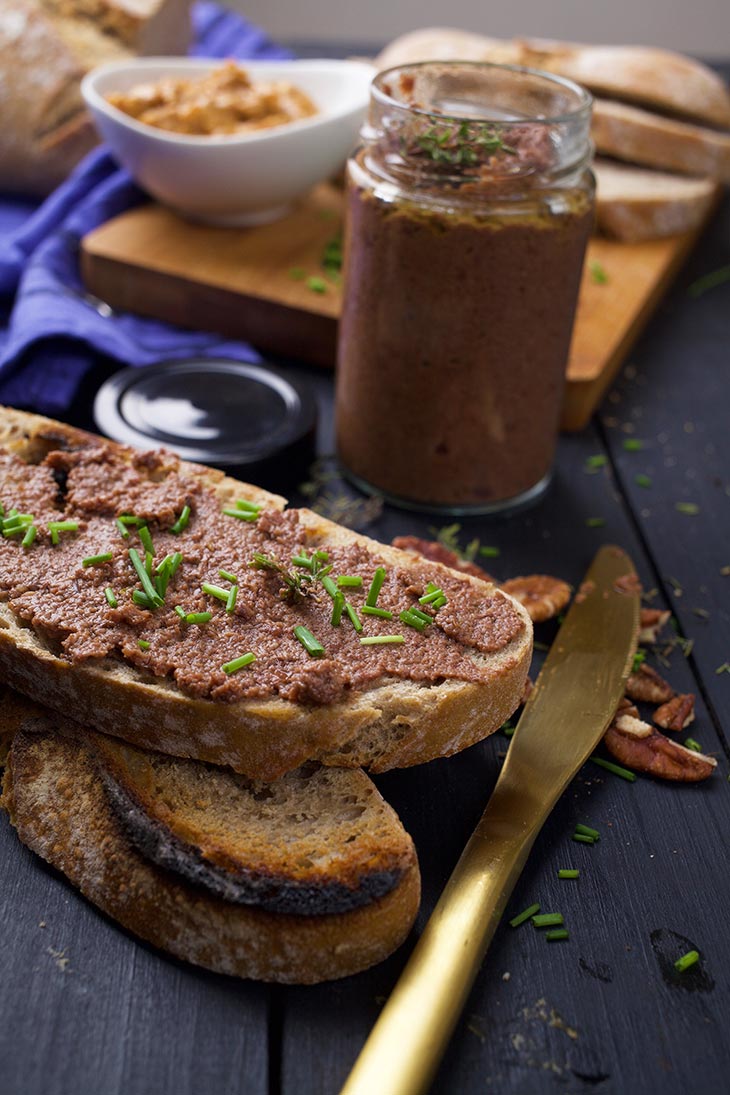 But today we aren't doing anything complicated. Today I am going to teach you how to choose the best mushrooms in order to make them into a delicious vegan mushroom pâté, and all the different uses that will have in your kitchen.
Mushroom pâté, as fancy as it may sound, is actually a pretty easy recipe and can be ready in about 20 minutes if you're efficient. For this recipe, you can use a multitude of different mushroom types. Shiitake, cremini, oyster, common mushroom – all of these work, because we are going to be grinding them into a paste later.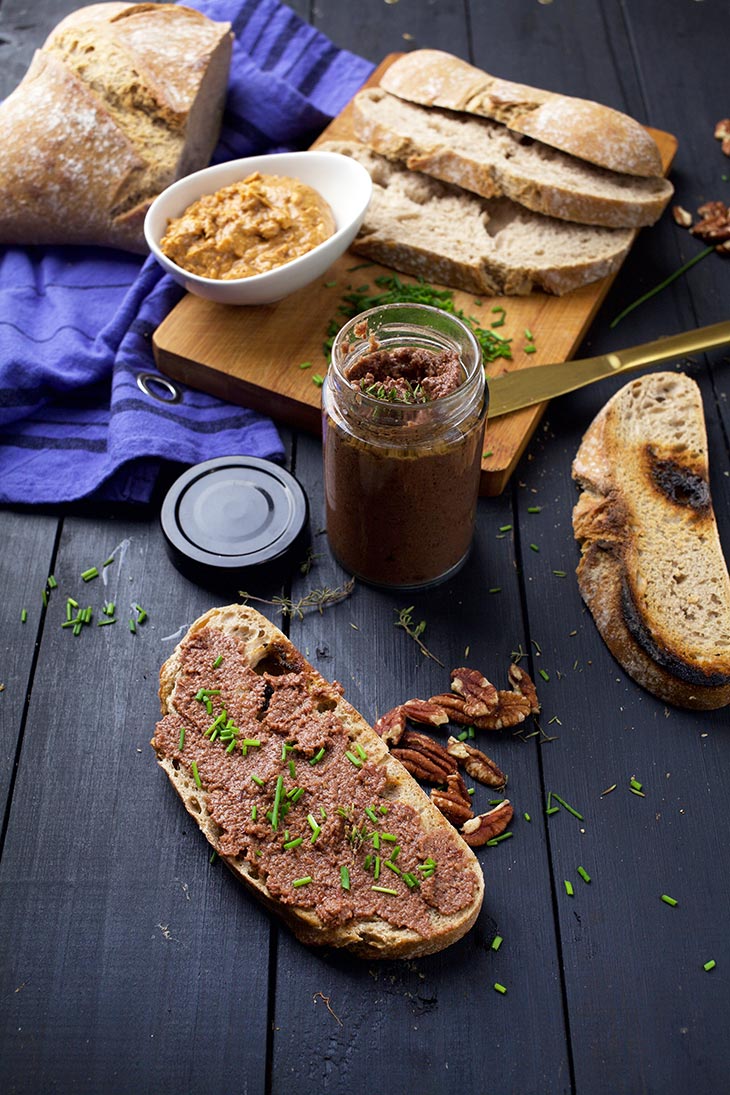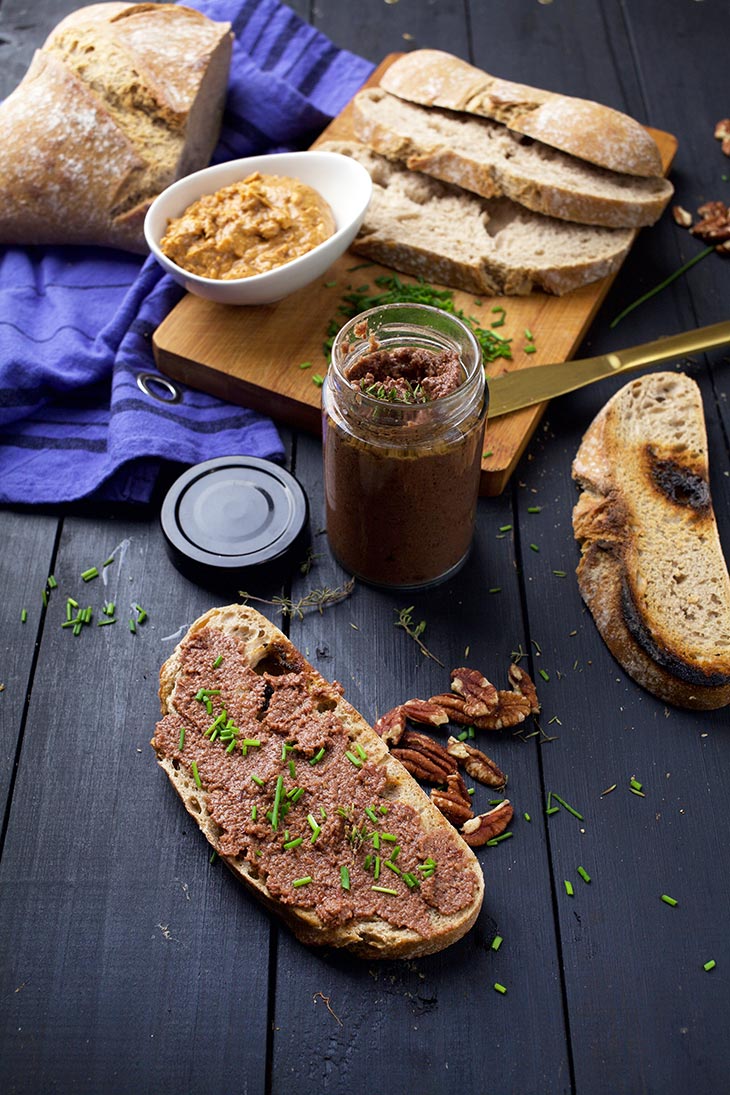 But first, you have to chop them finely. Then, heat some olive oil or vegan butter in a pan, and then drop in the mushrooms. This is the point where I might advise you to also include garlic (or garlic powder, in my case) in this recipe. You don't have to, but it would make it a lot better.
Of course, you should chop or smash the garlic before, too. Stir responsibly, until the mushroom moisture is gone. Then we will add a couple of special ingredients that you can find in the recipe below. After the mushrooms have cooled down, you can start with the main, and my favorite part of cooking this recipe – putting the mushroom into a food processor, and blending the whole thing together.
After blending once, if you want to be a bit unconventional, you can add in your favorite vegan cheese in a creamy form and blend again. This way, you'll have the best of the best laying on your bread slice in the morning – yum! You have to leave it in the fridge for a while if you want to give it time to shape up, though, but I assure you it is worth the wait!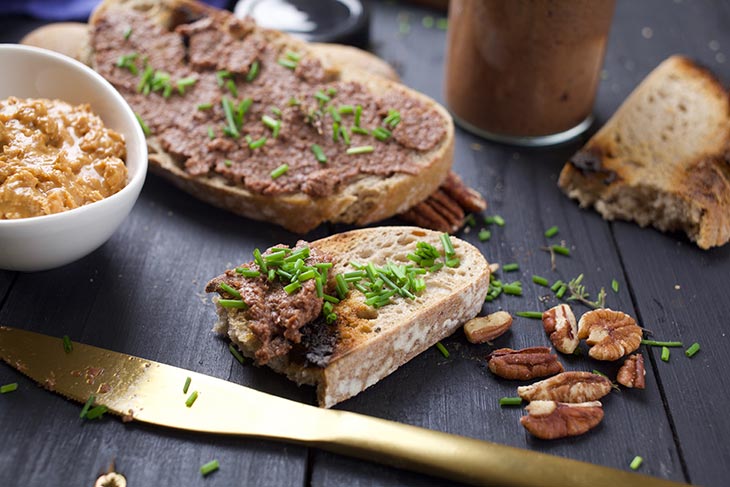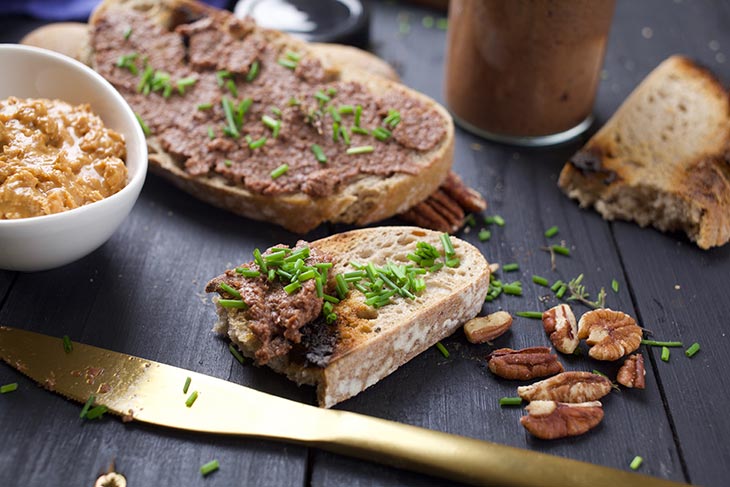 I've said previously that this mushroom pâté is the best thing to have at breakfast – and it truly is! I simply want to add that you can use it in so many other ways in the kitchen. Add it to your lunch salad! Use it in your vegan burger! There are so many ways to enjoy this fine pâté.
If you have some pâté leftover, you can stir it into some vegan bechamel sauce and also add a little vegan cream to make a delicious mushroom sauce. So, in a way, the finished product can become an ingredient itself, which I think speaks volumes about the wonders that can be performed in a kitchen.
But, of course, I would urge you to try it out first simply spread on a slice of your favorite bread, and after that, you can keep building on the taste. The first thing I would add to that would be a slice of fresh tomato, but it's up to you to find what you like! 🙂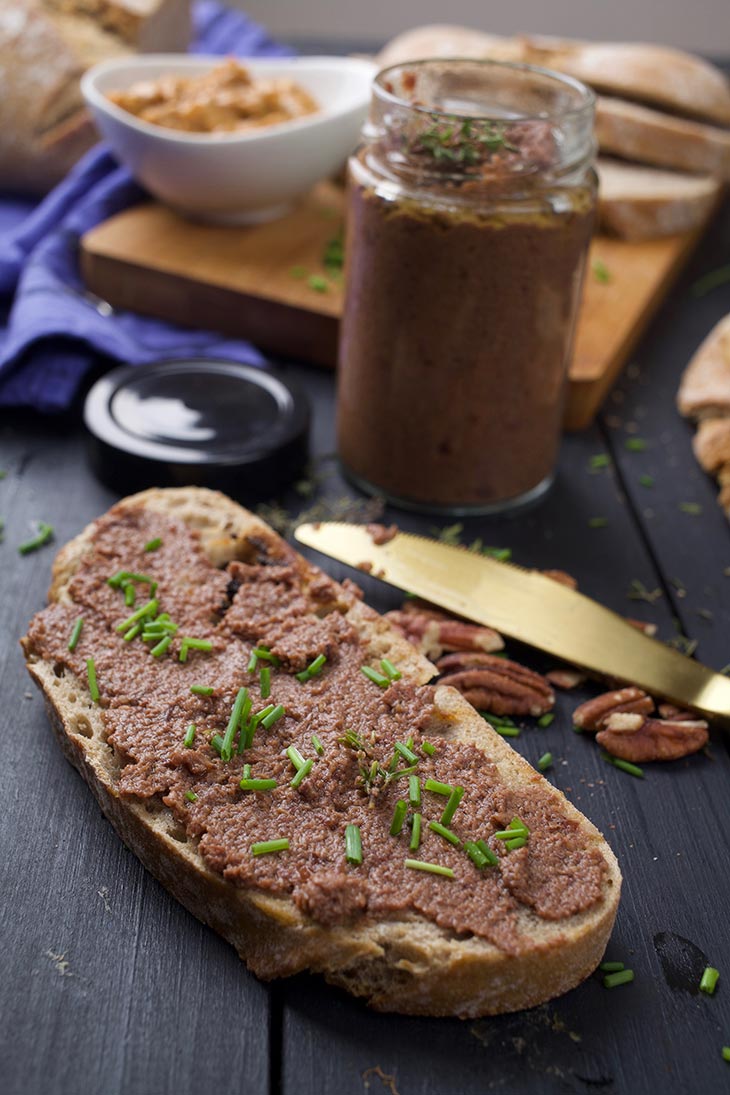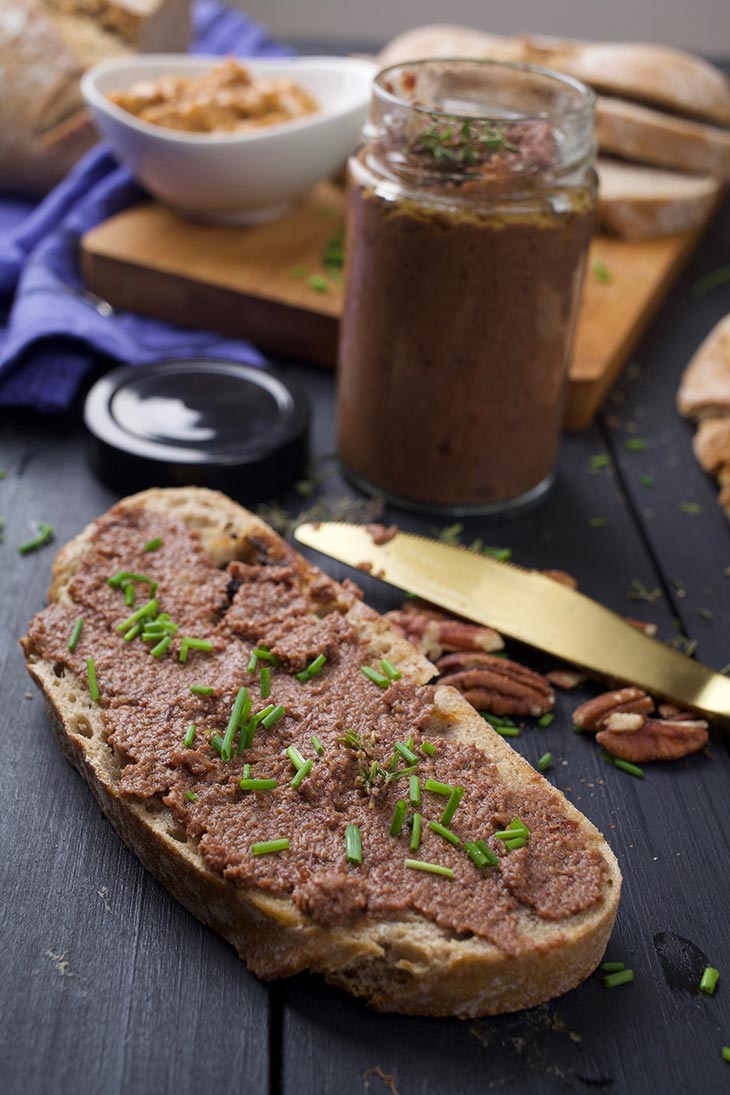 I hope you have enjoyed this recipe of mushroom pâté, and even though it might take you a few tries to nail that consistency, I still am eager to find out how it went. Be sure to tell me!
Yield: 2
Vegan Mushroom Pâté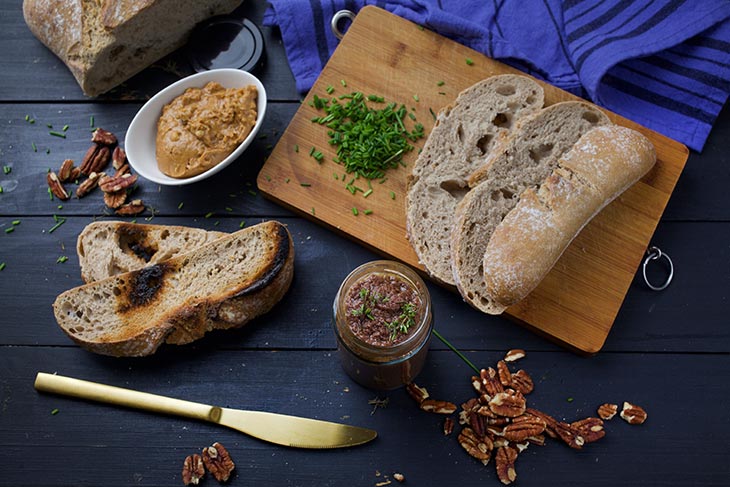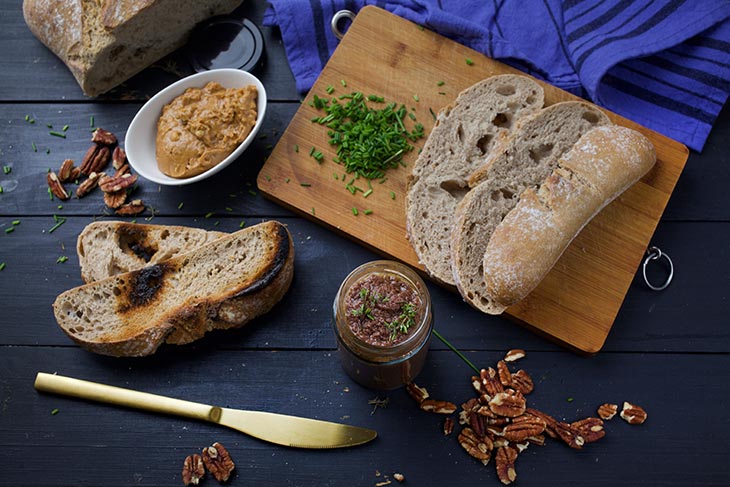 This easy-peasy recipe for vegan mushroom pâté is yumminess in a jar! Give it a try - it's quick, healthy and extremely flavorful!
Ingredients
150g (2 cups) sliced cremini mushrooms
1 small shallot, chopped
60g (½ cup) pecans, toasted
4 Tbsp olive oil
1 Tbsp molasses
2 Tbsp white wine
a handful of fresh thyme
½ tsp garlic powder
1 Tbsp nutritional yeast
2 Tbsp wild mushrooms, dried
240ml (1 cup) boiling water
1 Tbsp coconut aminos or soy sauce or tamari
Instructions
Soak the dried mushrooms in boiling water for about 30 minutes.
Discard the water and chop the mushrooms, then set aside.
In a skillet over medium heat, add 1 Tbsp olive oil, chopped shallots and sautee for about a minute.
Add the sliced mushrooms, fresh thyme and stir to combine. Add the wine. Sautee for about 10 minutes, stirring occasionally until there is no more liquid.
Add the chopped soaked mushrooms and stir to combine. Discard the thyme sprigs. Cook for 5 more minutes.
In a food processor, add the cooked mushrooms, toasted pecans, the remaining olive oil, garlic powder, nutritional yeast, molases and coconut aminos.
Blend all the ingredients until smooth.
Serve on a toast or fresh bread with fresh chives and additional olive oil.
Nutrition Information
Yield
2
Amount Per Serving
Calories

525
Total Fat

43.4g
Carbohydrates

25.7g
Protein

7.7g