Today I'm excited to explore a vegan alternative to a heavyweight Russian dish. Let's enjoy a delicious mushroom stroganoff at home!
So you want to make a delicious dish for dinner that can be served with a side or as a "topping" over rice or pasta? Why not make Stroganoff – this 19th-century Russian recipe that has taken the world's kitchens by storm? Sauteed pieces of beef in sour cream, or smetana, as it's called in Russian, what could be better? 🙂
There are many variations on the classic recipe, and if you're vegetarian or vegan and or you think beef and sour cream sound gross, or too fatty, let me just mention that there is a perfect vegan recipe for mushroom stroganoff that you can find right here! And I urge you to try it!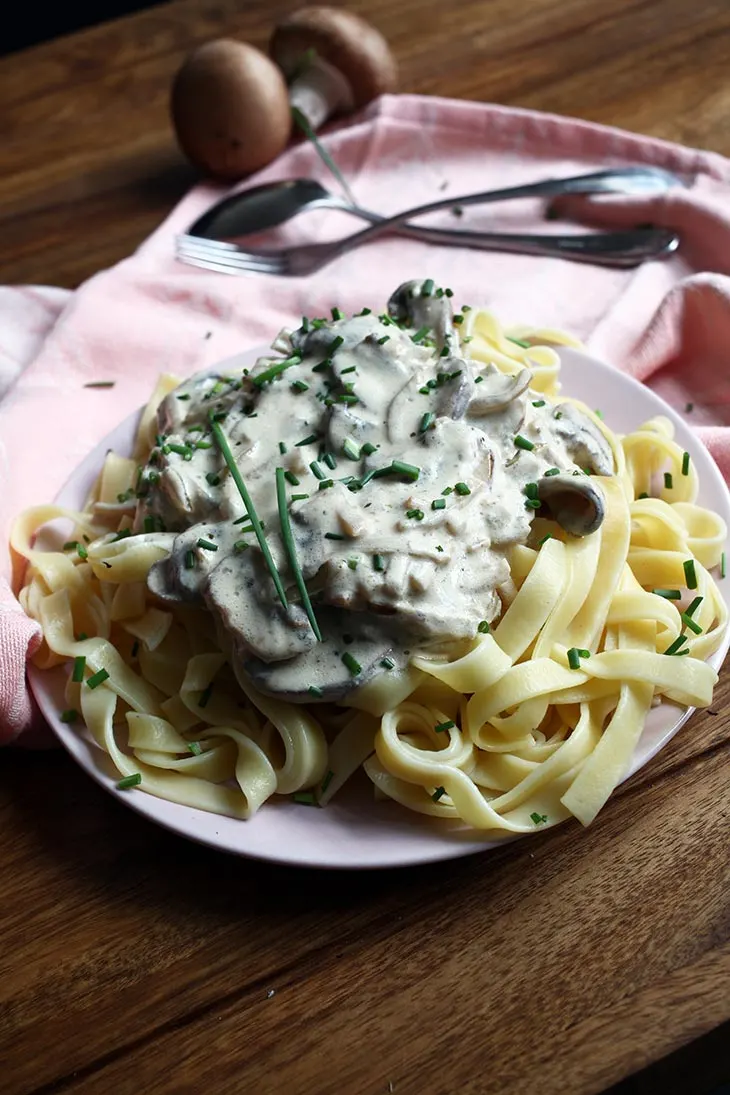 The origin of the "Stroganoff" name is still disputed, but there are two distinct possibilities. It was either named after Stroganov – an influential 19th-century Russian family – or after the Russian verb "strogat" (meaning to shave, to chip off). In my opinion, the latter is more likely, since it describes how the beef is prepared in the traditional version of Stroganoff.
Stroganoff is a very savory and filling recipe, perfect for lunch or dinner. It can be served with rice, vegetables or pasta. Different cultures have different variations on this dish.
The seasonings, the types of meat or the lack of, and many other things vary between cultures. For example, in Brazil, there is a recipe of Stroganoff that involves both mushrooms and meat!
In Sweden, there is a variation of Stroganoff that uses sausages instead of beef. Finnish Stroganoff uses diced pickles to enhance the texture. Sounds both strange and delicious, right? 🙂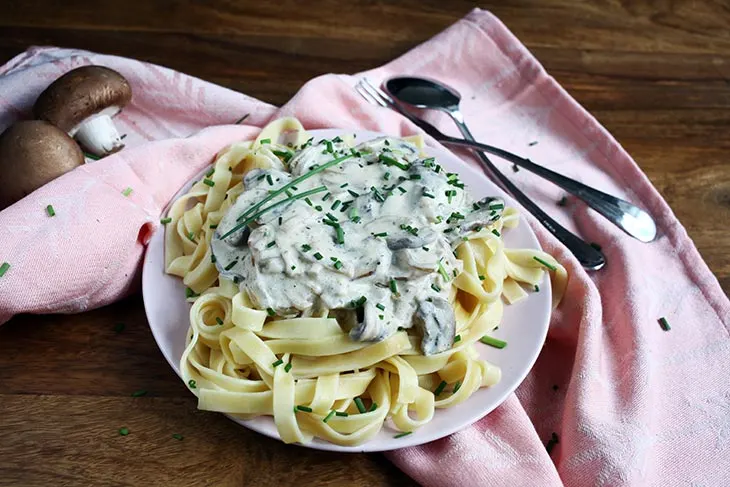 Our mushroom stroganoff will be served over tagliatelle, but you're free to use it however you want! The main advantage that it brings is that it will be lower in fat and calories than the traditional beef recipe while delivering the same spicy-hot taste and creamy texture that the original does. Ah, I'm drooling just thinking about it!
And, of course, you know how much I adore mushrooms, right? And with good reason! Mushrooms are a great source of protein that will enrich any meal, and will often be used instead of meat. If you cut them up and fry them accordingly, they will even offer a similar texture!
The best part? You get to choose what mushrooms you use for this recipe. Most people will prefer using a pre-made mix of different breeds, but if you have your own personal preference don't hesitate to do so! Vegans could choose the familiar taste of Pleurotus, while other people might like Shiitake. Personalize to your heart's content!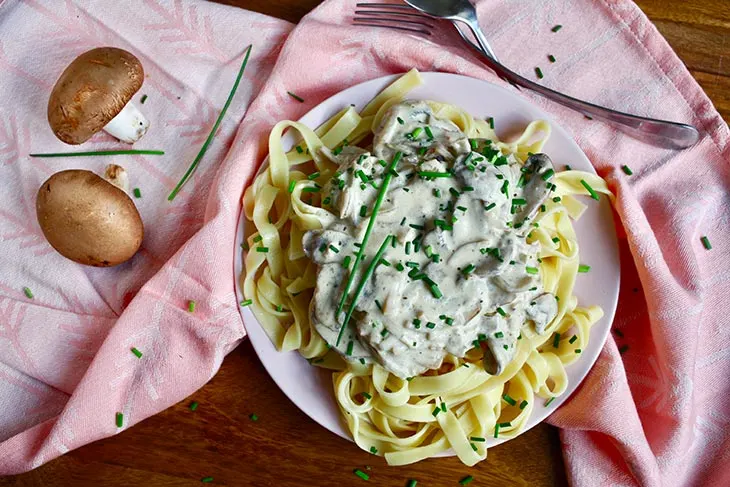 You can also spice this amazing Stroganoff however you like, but some of the most common spices used – not counting sour cream as a spice – are paprika and garlic cloves. Parsley and thyme are two spices that go along great with both meat and mushrooms, and they will help you preserve the flavor of the beef stroganoff even if you are using mushrooms.
Tomato paste is also recommended, along with Worcestershire sauce. You're going to want to aim for a very creamy sauce because the end product must mix well with rice or noodles. And not to mention that it is the creaminess of Stroganoff that makes it such a comforting dish! But I guess you figured that out by just looking at the pictures, right?
It's up to you how vegan and personalized you want your Stroganoff to be. You can use vegetable stock instead of beef stock, and you can use your favorite vegan replacement of sour cream. This recipe uses mushrooms instead of meat but preserves the magnificent taste of a good, old Stroganoff recipe.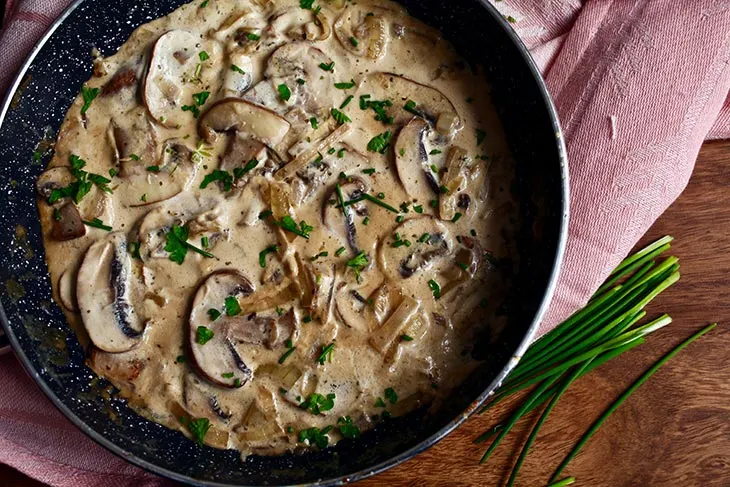 If you wish your mushroom Stroganoff to have the taste of freshly sauteed beef, you have to spice accordingly, but you can also make it taste a bit more fresh and veggie-like. It's all up to you, really!
Optionally, you can top your Stroganoff with grated vegan Parmesan. It doesn't take long and it will feature a nice addition in taste and texture when the Parmesan melts. Yum!
This mushroom Stroganoff is a meal that the whole family will enjoy! Moreover, due to how many different dishes you can make with it, you will be able to boil pasta and rice and serve it separately, depending on everyone's preferences!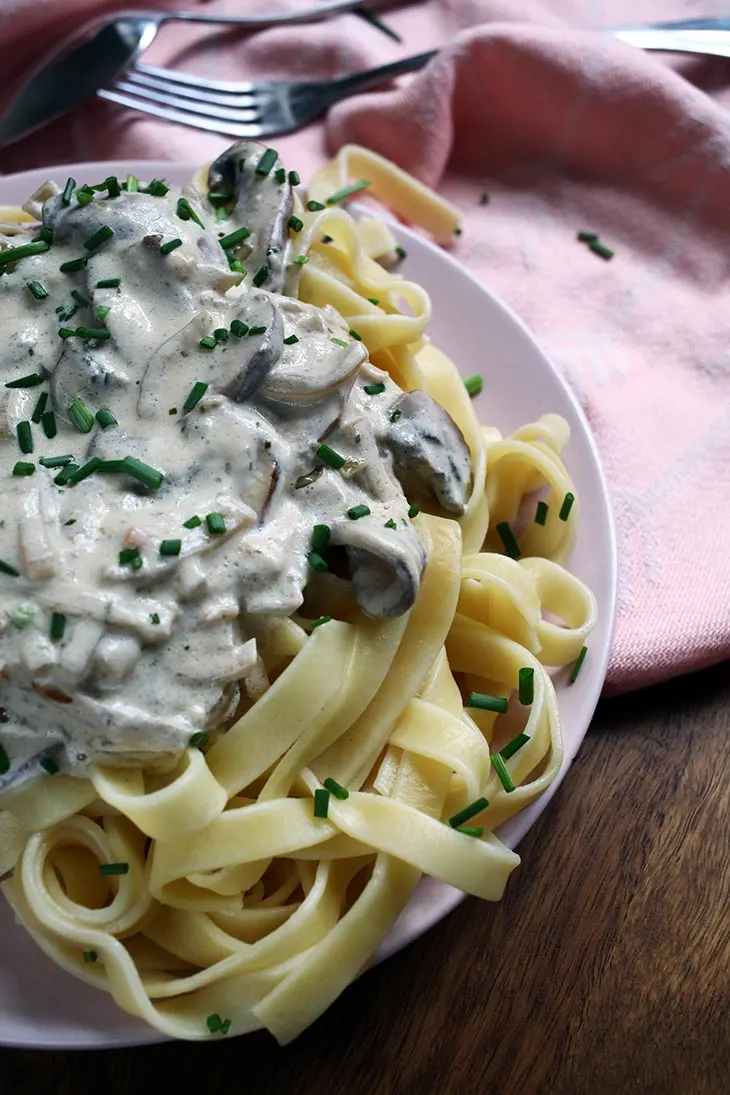 Maybe you'll serve it with tagliatelle for yourself and your partner, and give it over rice to the kids! It's a quick recipe that can be done in half an hour, and will prove to be quite filling, even if it doesn't have any meat! Speaking of, you might want to give it to your favorite meat lover to try, see if they like it!
I hope you will enjoy this mushroom Stroganoff recipe and that it turns out well for you. Be sure to tell me your impressions! I'm dying to find out if you'll love it as much as I do! 🙂
Yield: 2
Mushroom Stroganoff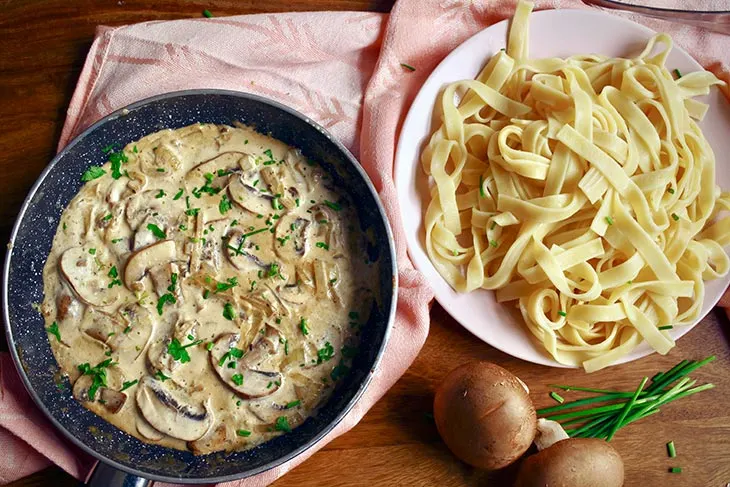 Today I'm excited to explore a vegan alternative to a heavyweight Russian dish. Let's enjoy a delicious mushroom stroganoff at home!
Ingredients
1 Tbsp olive oil
170g (2 cups) Cremini mushrooms, sliced
1 white onion, medium, sliced
1 clove garlic, crushed
1 tsp thyme
1 Tbsp flour, use GF if needed
240ml (1 cup) veggie broth or water
240ml (1 cup) coconut milk
½ tsp ground cumin
60ml (¼ cup) dry white wine
salt and pepper to taste
a handful of chives for garnish
400g (2 cups) cooked pasta
Instructions
Heat a skillet on medium heat. Add olive oil.
Add the mushrooms and cook for about 5 minutes, stirring occasionally.
Add the garlic and onion and cook, stirring, for 5 more minutes.
Add the dry white wine and thyme. Let it simmer for about 4 minutes to evaporate.
Add the flour and mix to incorporate. When the mixture begins to thicken, add the coconut milk and broth. Stir to combine.
Bring to a simmer. Let it cook for about a minute until it gets thicker.
Garnish with chives.
Serve on freshly cooked pasta. Enjoy!
Nutrition Information
Yield
2
Amount Per Serving
Calories

588
Total Fat

12.3g
Carbohydrates

103.5g
Protein

15.8g