Indulge in the flavorful experience of stuffed Jalapeno peppers with cream cheese – a delightful appetizer that harmoniously blends the fiery kick of hot peppers with the irresistible creaminess of cheese.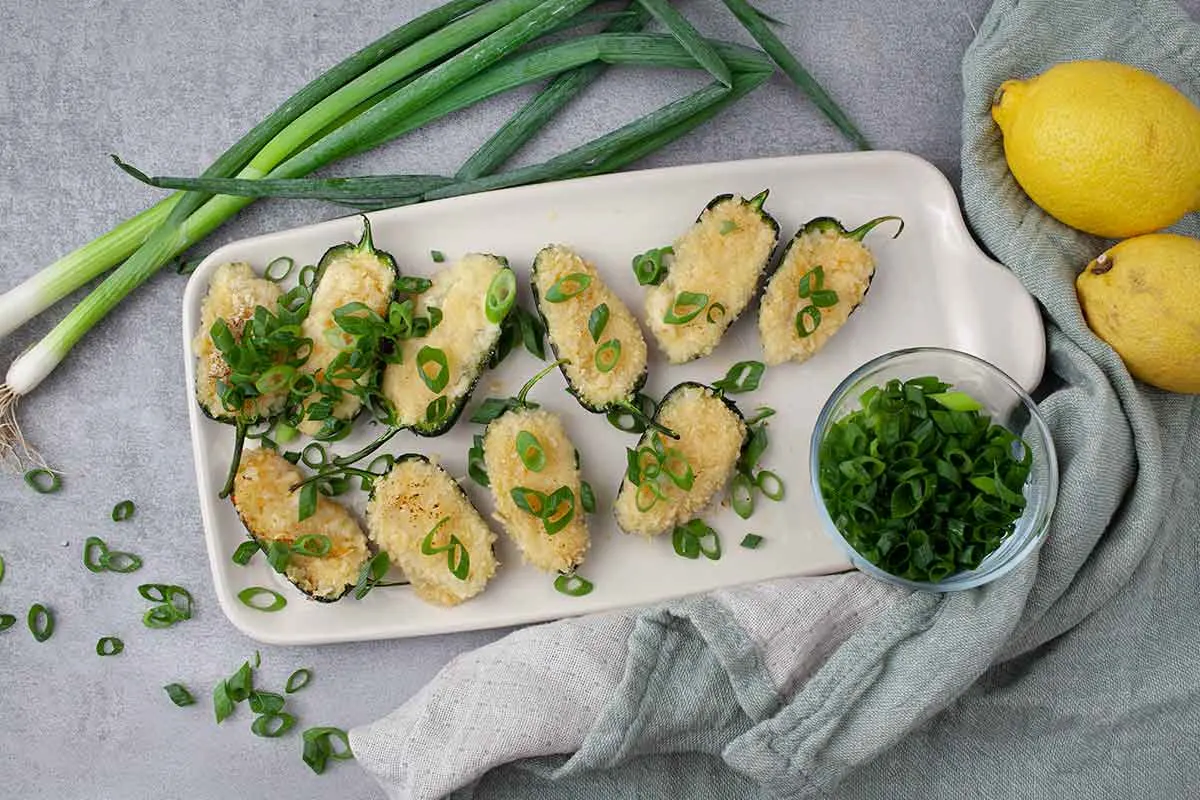 Although I can't call myself a devoted fan of spicy dishes, I have to admit that I really like Mexican cuisine, and especially Jalapenos, which are a staple in my kitchen, in their pickled form.
This year I planted about 6 Jalapeno pepper seedlings, so I thought I'd take advantage of the harvest in a new recipe, different from how I was used to eating them – grilled or pickled.
I hope you'll like my stuffed Jalapeno peppers recipe – it's a real treat!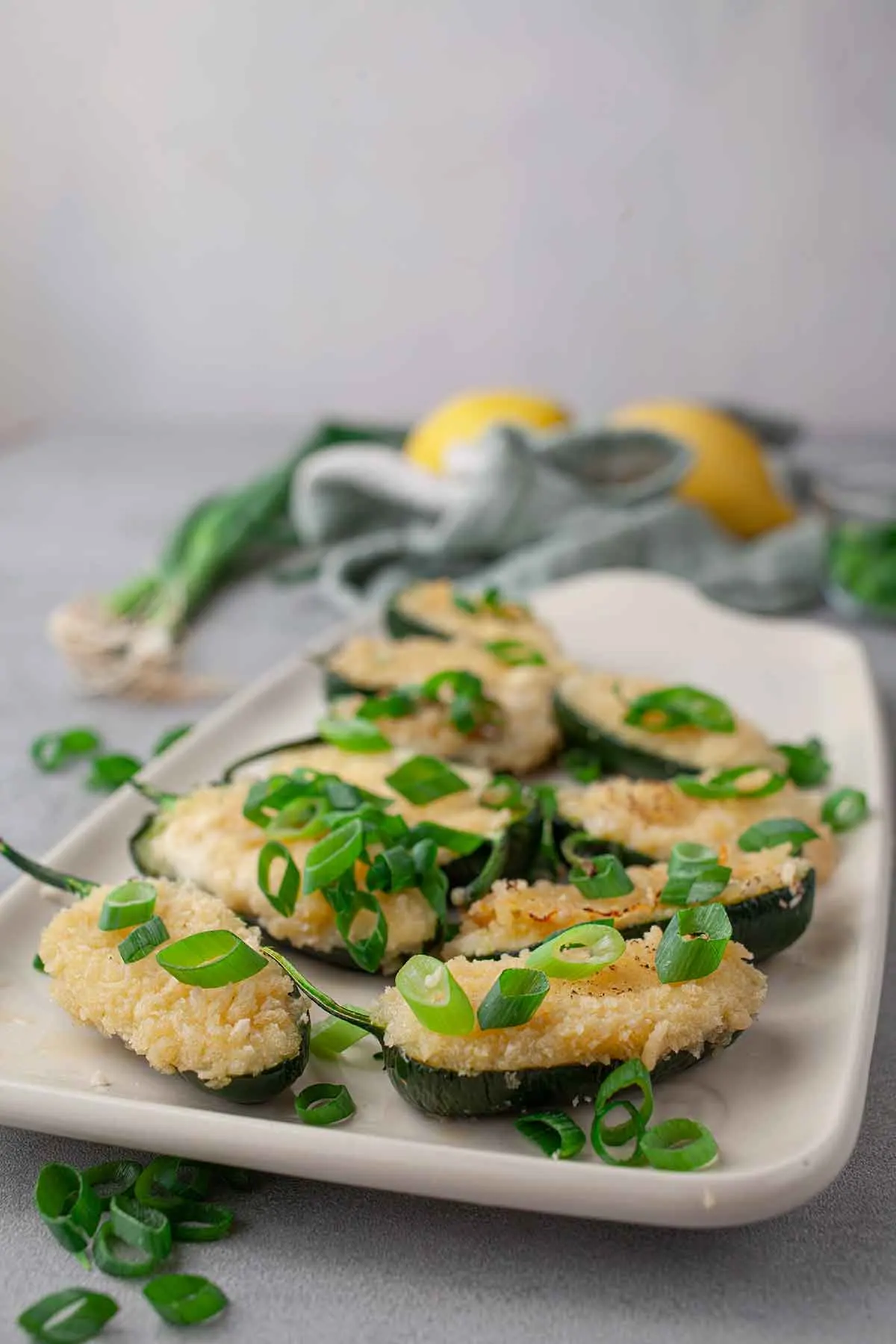 Stuffed Jalapeno peppers cheese-based stuffing ideas
In case my cream cheese & Cheddar stuffing is not 100% to your liking, or you simply want to try something else, here are some other ideas of cheese fillings for Jalapeno peppers, which add different and delicious flavors to this dish:
Goat cheese and honey stuffed Jalapenos: The combination of sweet and creamy goat cheese with honey adds a refined and slightly sweet note to jalapeno peppers.
Feta cheese and olives stuffed Jalapenos: Salted feta cheese and aromatic olives give an authentic Mediterranean taste to jalapeno peppers, bringing a unique flavor.
Gorgonzola cheese and walnuts stuffed Jalapenos: Intense gorgonzola cheese, in combination with crunchy walnuts, offers an explosion of rich and complex flavors.
Provolone cheese and spicy salami stuffed Jalapenos: Using provolone cheese and spicy salami, you can create a delicious filling with Italian influences.
Cottage cheese and caramelized onions stuffed Jalapenos: Creamy cottage cheese combines perfectly with caramelized onions, offering a delicate and sweet filling.
Ricotta cheese and spinach stuffed Jalapenos: A classic and delicious combination, ricotta cheese and spinach bring a soft texture and a refined taste to jalapeno peppers.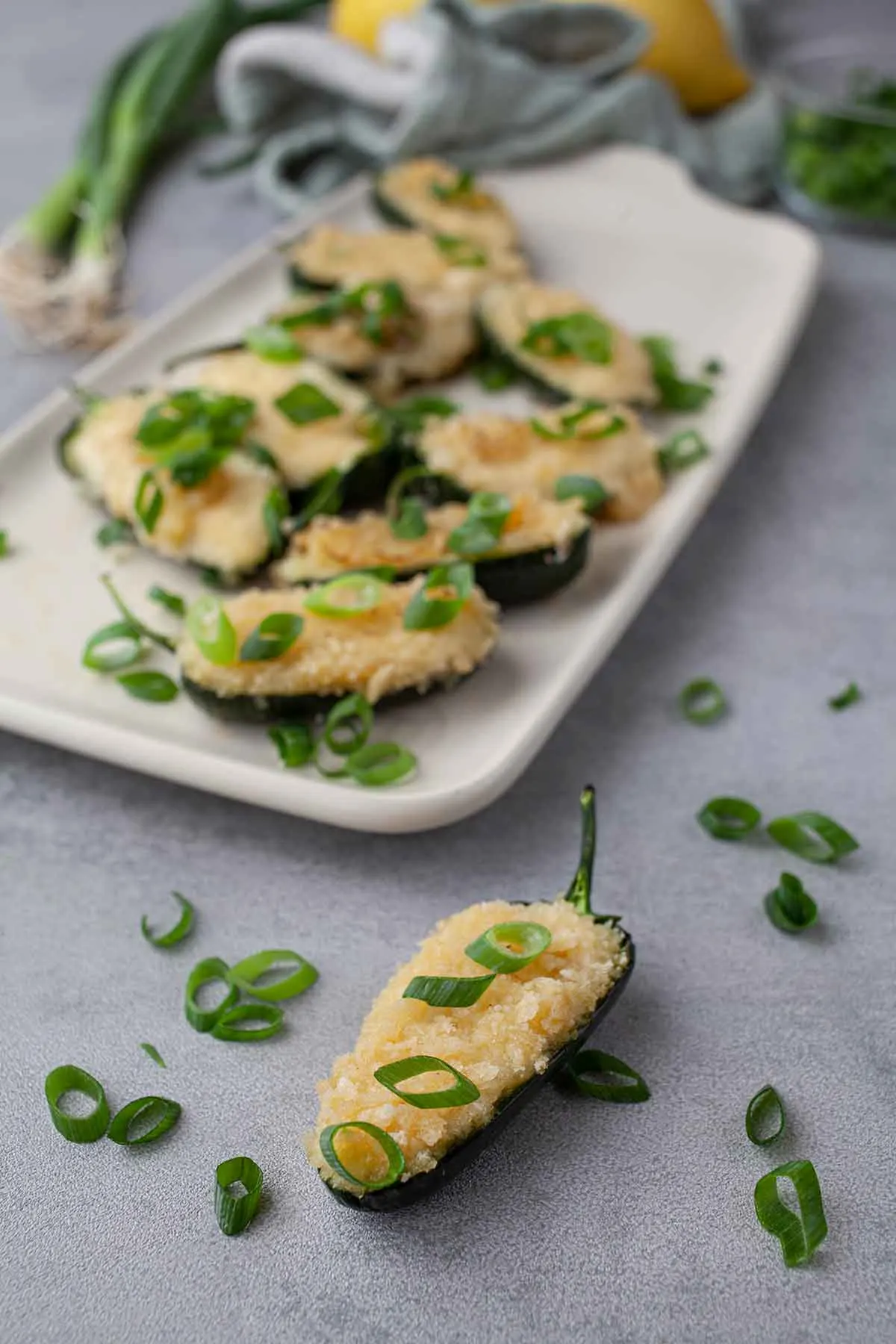 How to tone down hot pepper spiciness
Here are a few proven tips on how to tone down the spiciness of hot peppers. By applying these tips, you can adapt the recipe to suit all tastes, without being overwhelmed by the hotness of the peppers.
Remove the seeds and membranes

The hotness of jalapeno peppers comes mainly from the seeds and inner membranes. To reduce the intensity, you can cut the peppers in half and carefully remove the seeds and membranes. This method will make the spice softer and easier to bear.

Wash them in advance

If you want to reduce the hotness, you can wash the jalapeno peppers before use, inside and out. This will help remove some of the volatile oils that contain capsaicin, the substance responsible for their spiciness.

Mix with mild ingredients

If you want to tone down the heat, try mixing jalapeno peppers with mild ingredients, such as cream cheese or sour cream. Dairy neutralizes some of the pepper's spicy flavor.

Opt for less hot varieties

If you want to avoid the hotness altogether, you can opt for less hot varieties of jalapeno peppers or even sweeter peppers, such as bell peppers.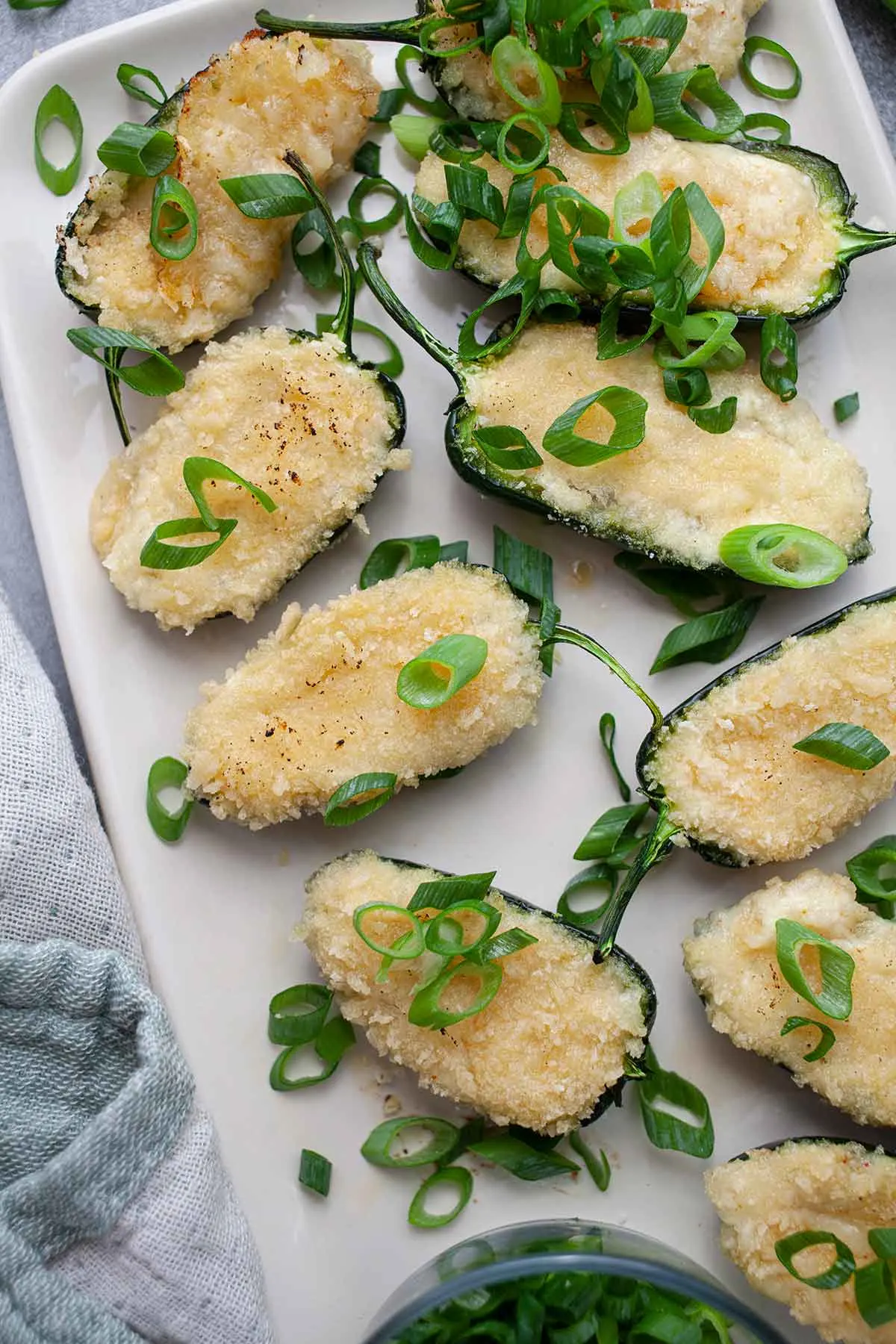 Complete the menu – recommended drinks and appetizers
Suitable drinks:
Margarita: A classic Mexican drink, Margarita with the flavor of lime or tropical fruits goes perfectly with the hotness of jalapeno peppers. For something sweet, try my Margarita Cake recipe.
Cerveza (beer): A cold and refreshing beer, such as a Mexican beer or a lemon beer, can be a suitable choice to soften the hotness of the peppers.
Fruit lemonade: A fresh lemonade, or with the addition of fruits such as strawberries or watermelon, is complemented by the aroma and taste of stuffed jalapeno peppers.
Water with lime or lemon slices: A simple and refreshing option, which will soften the hotness of the peppers and complement the taste of the filling with creamy cheese.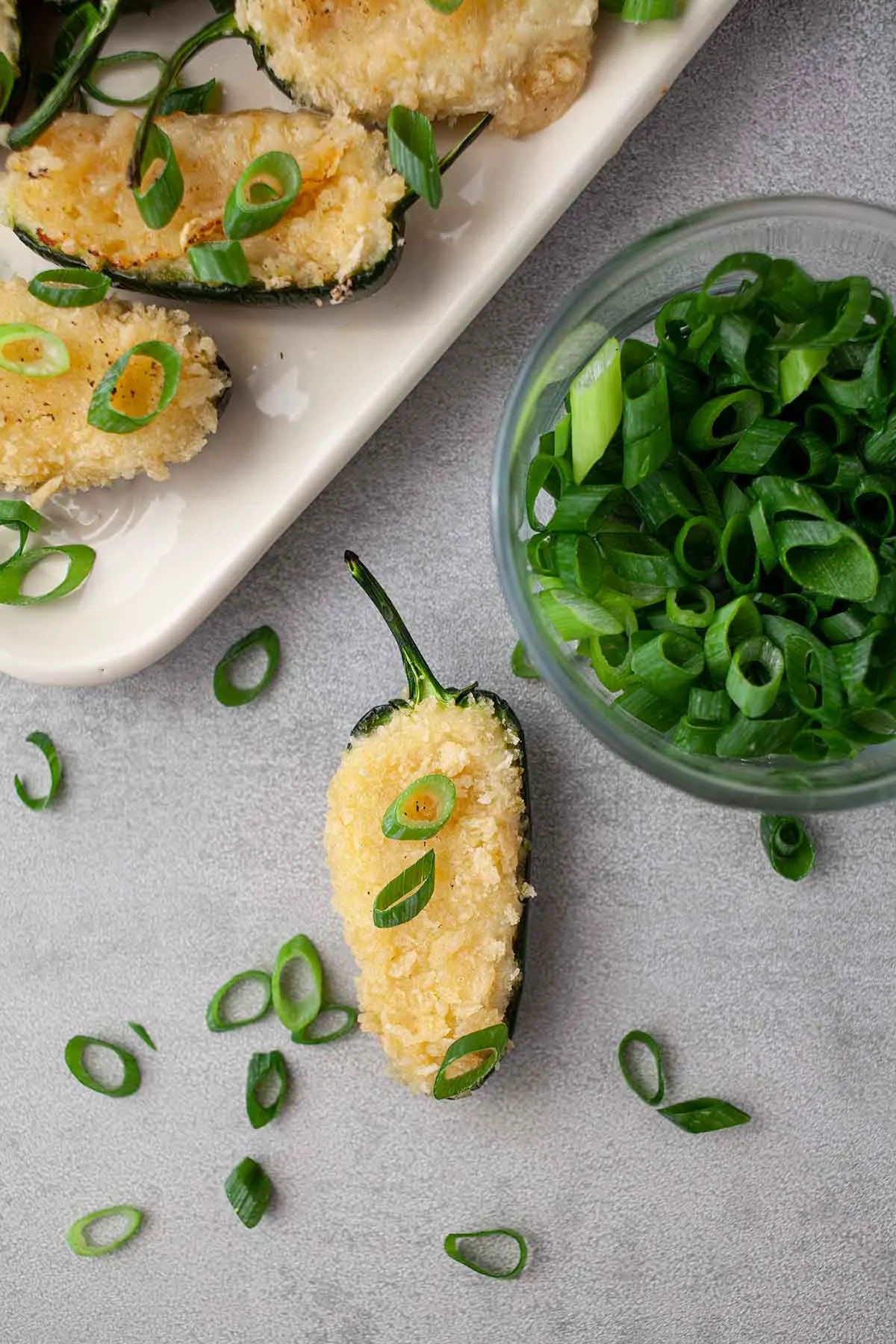 Other appetizers:
With these delicious combinations, you will ensure a meal full of flavors and satisfaction for all guests. Jalapeno peppers stuffed with cream cheese will definitely be the star of the evening and will be enjoyed with complementary drinks and appetizers.
How to make stuffed jalapeno peppers
If you want to make jalapeno poppers in oven, this stuffed jalapeno recipe is what you're looking for.
Yield: 20 stuffed jalapenos
Stuffed Jalapeno Peppers with Cream Cheese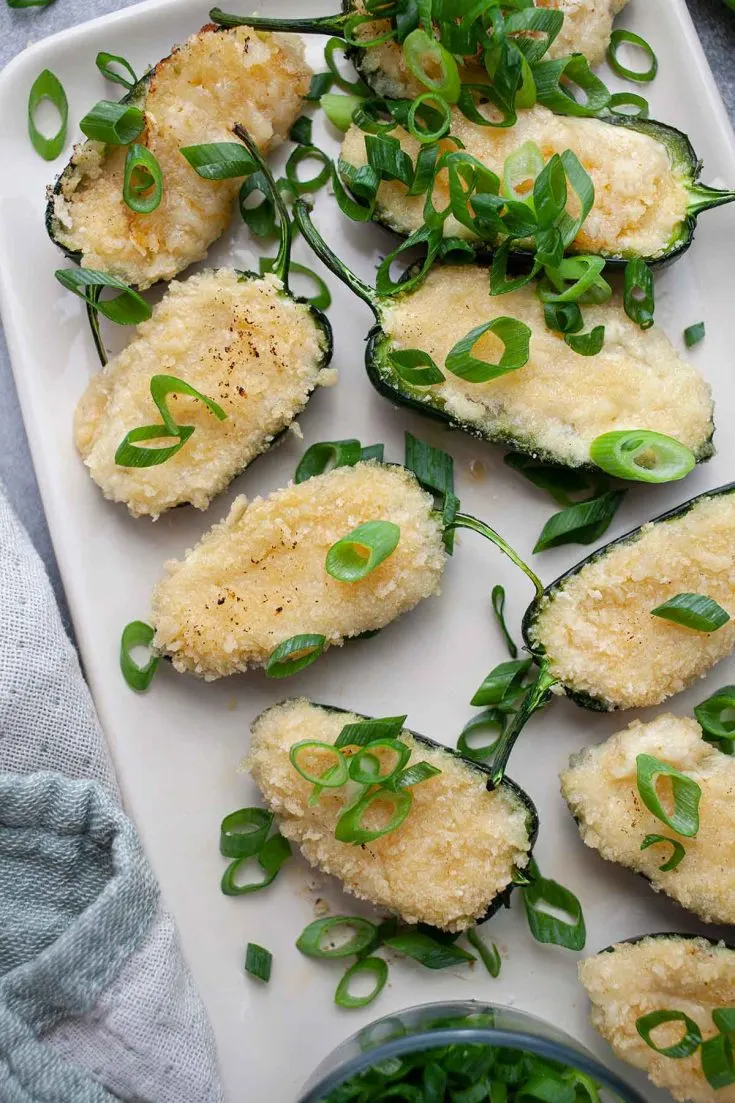 Indulge in the flavorful experience of stuffed Jalapeno peppers with cream cheese - a delightful appetizer that harmoniously blends the fiery kick of hot peppers with the irresistible creaminess of cheese.
Ingredients
10 jalapeno peppers, cut in half, lengthwise, deseeded
For the stuffing:
200g (¾ cup) cream cheese
3 tablespoons fried onion flakes
150g (5.3 oz) grated cheddar cheese
¼ cup Panko breadcrumbs
1 tablespoon melted butter
1 green onion, chopped
2 cloves of garlic, crushed
½ teaspoon of salt
½ teaspoon pepper
For the topping:
½ cup panko breadcrumbs
½ teaspoon garlic powder
Instructions
Heat the oven to 200 C (390F).
Line the tray with baking paper.
In a bowl, add cream cheese, fried onion flakes, grated cheese, ¼ cup panko breadcrumbs, melted butter, green onion, garlic, salt, pepper and mix until it becomes a homogeneous composition.
In a small bowl, add the topping ingredients.
Fill the cleaned jalapeño halves with the cream cheese mixture.
Dip each pepper, inside down, on top of the breadcrumbs mixture, so that it sticks to the filling.
Arrange the stuffed peppers on the tray with the breadcrumbs layer faced up.
Bake the stuffed jalapenos in the oven until the tops are lightly browned, 15-20 minutes.
Serve warm.
Nutrition Information
Yield
20
Serving Size
1
Amount Per Serving
Calories

39
Total Fat

2g
Saturated Fat

1g
Trans Fat

0g
Unsaturated Fat

1g
Cholesterol

4mg
Sodium

113mg
Carbohydrates

4g
Fiber

1g
Sugar

1g
Protein

1g
I strive to keep the information as accurate as possible but make no warranties regarding its accuracy. I encourage you to make your own calculations using your preferred nutrition calculator.