If you love tahini (sesame paste) and cookies, then you're in for a treat with this delicious combo! Check out this Middle Eastern-inspired tahini cookies recipe!
Giving the fact that you live in the 21st century, where food trends are in bloom, you've probably heard about tahini by now. But what is it? you may wonder. Some sort of crazy condiment? Or maybe a sauce? I like to think about it as a mix between the two.
To put it simply, tahini is a sort of paste made from ground and toasted sesame seeds. In its best form, tahini is creamy, nutty and savory, its texture strongly resembling loose nut butter – yes, like that organic peanut butter you always see at the store and try to avoid because it's too liquidy.
Your first experience with store-bought tahini is very important because if the first thing you try is good tahini, you're gonna fall in love with it; and if the first thing you try is bad tahini, you're surely going to hate it. Bad tahini is usually a bit acidic and tangy, but most of all bitter. Not the good stuff, I can tell you! 🙂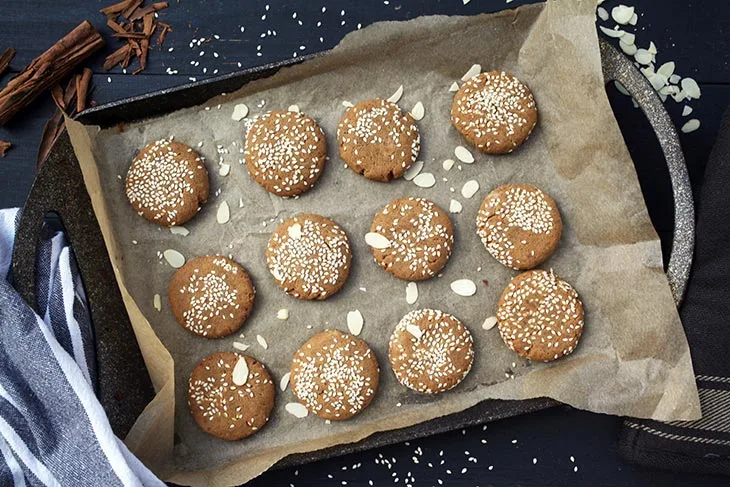 You can use this magic paste in both savory and sweet recipes. When it comes to the savory side, it makes for an amazing salad dressing and dip. And when it comes to the sweet side, it's pretty similar (but different) to peanut butter – you can use it in cakes, oatmeal, and cookies. And that's what we're going to talk about today!
These tahini cookies make for the most amazing snack (or dessert) and they tend to be pretty healthy as well. They contain no gluten or animal products, so they can be enjoyed even by those with food sensitivities or by vegans. Oh, and since we're talking about veganism… did you know that tahini contains more protein than any type of milk and most nuts? It's also a rich source of vitamins B and E and of important minerals such as magnesium, iron, and calcium. More reasons for you to shop for tahini every time you're about to do grocery!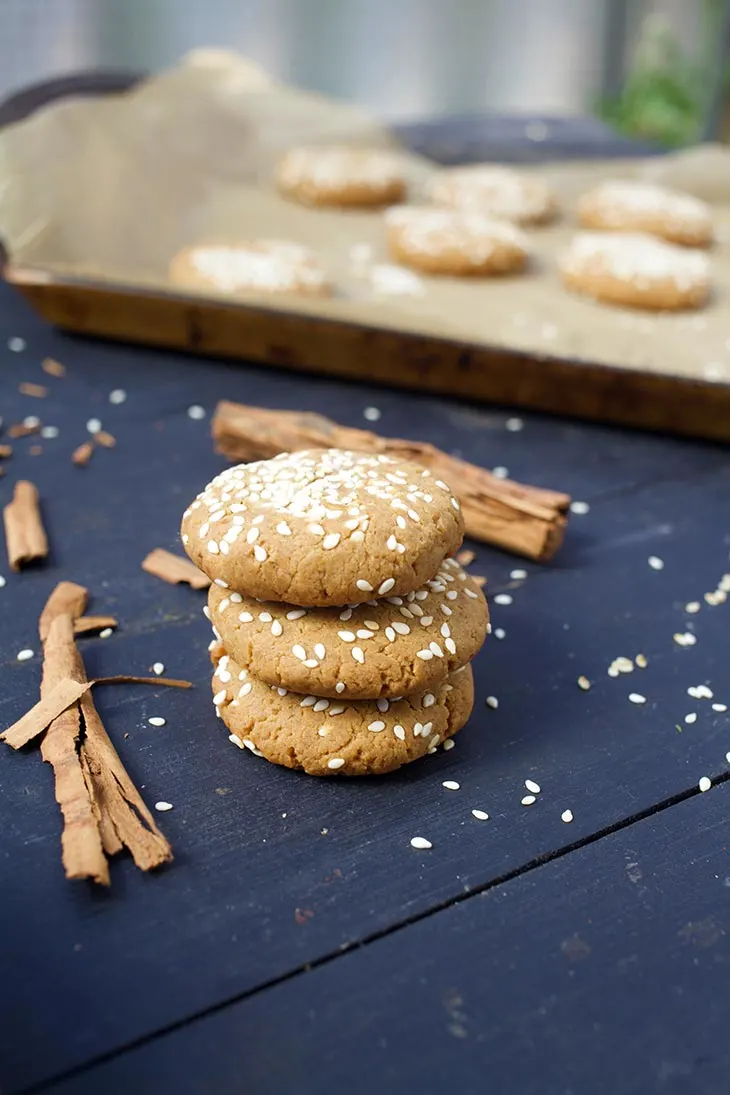 Besides the tahini, these cookies pretty much contain basic ingredients which you should already have in your pantry, so they're amazing if you want a short time in the kitchen with amazing results. They're also incredibly versatile! 🙂
It might not sound like it, but tahini is a versatile base – it goes well with a lot of stuff, much like peanut butter. Which means these cookies can be left plain, with only tahini and a dash of sweetener (you can use maple or agave syrup, but also normal sugar or coconut sugar) or you can have some fun with the composition!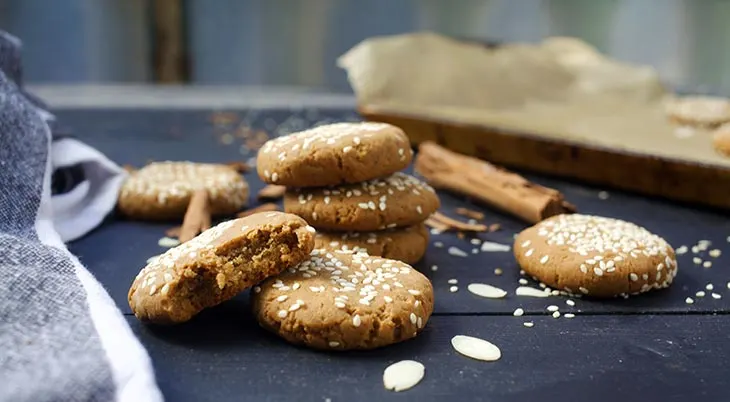 You can add dried fruit such as figs, plums, cranberries, raisins or cherries, chopped nuts (cashews would be great) and even chocolate. Tahini cookies with chunks of chocolate make for a rich, decadent dessert that's surely going to please every person with a daily sweet tooth!
The possibilities are endless when it comes to these cookies. As for their outside, you can leave them as they are – and they're still amazing – or you can sprinkle even more sesame seeds on top – because why not? These sesame seeds are going to make the cookies incredibly pretty, and to one-up that aesthetic, instagrammable factor you can try to use a mix of black and white sesame seeds – the result is going to be spectacular.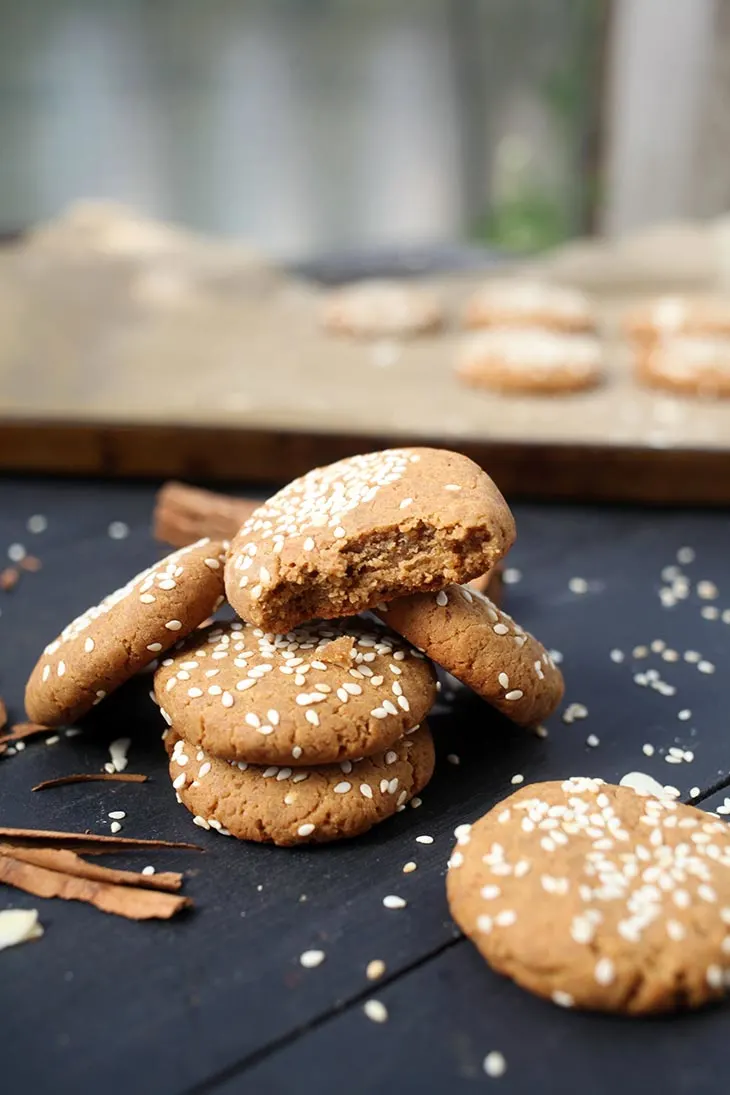 Other amazing ingredients which can serve as toppings or decorations are any type of nuts, finely chopped, dried fruit, coconut flakes, and even frosting or ganache if you've decided to turn them into a decadent treat. Either way, they're going to be a million times better than sugar-filled, store-bought cookies which contain little to no nutrition and are going to leave you energy-depleted.
Everyone will know what you're doing the minute you pop them into the oven because the smell is insane – and I mean this in a good way! 🙂 They're perfect for both the hot and the cold season. They're perfect on a gloomy winter evening when all you want to do is cuddle on the couch with some delicious cookies and a cup of cocoa; they're also perfect for a garden party or picnic during the summer, served with a cold glass of milk or iced tea.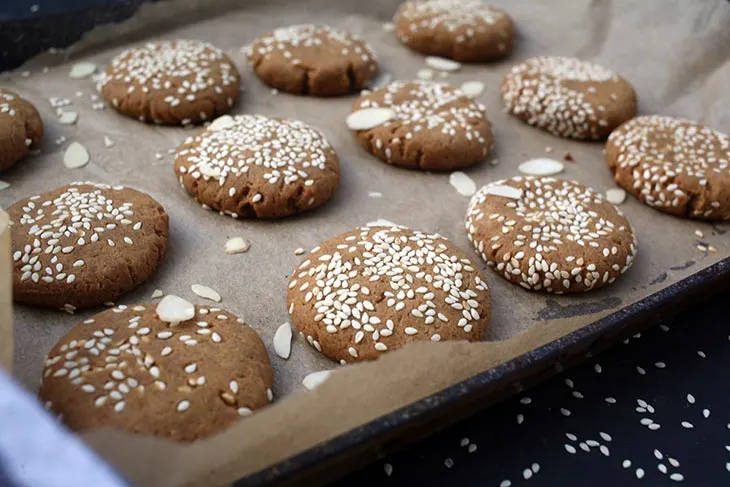 You can either eat them on their own or get a bit creative. What I sometimes like to do is crumble them on top of parfaits and oatmeal bowls and have them for breakfast. They offer an amazing crunchy texture. When eaten on their own, the texture is amazing as well: you can expect for the edges to be slightly crunchier and a bit caramelized, while the center should remain soft and chewy – just like the best types of cookies are! 🙂 Yum!
Oh, and probably the best part? This is the type of recipe that requires almost no kitchen skills and can be prepared using only one bowl. Perfect for those days when you come home absolutely exhausted but feel like having something yummy. Because – let's face it – when it comes to cooking, the most dreadful part is cleaning the absolute disaster which is now your kitchen.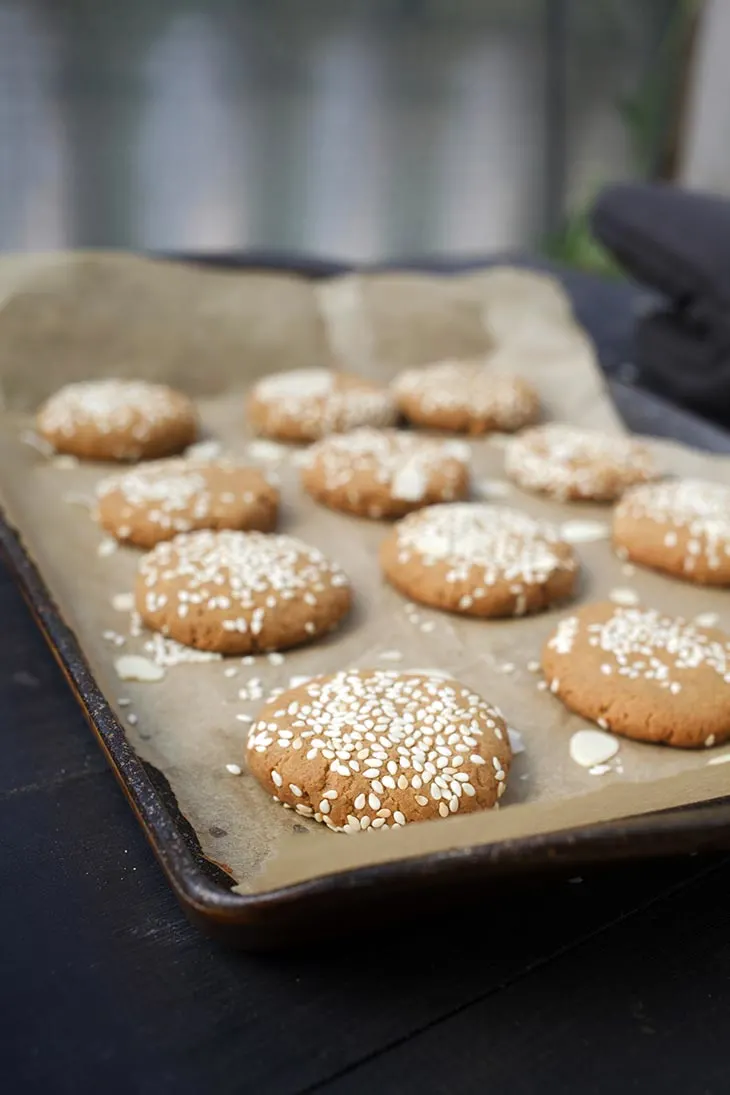 Make sure to try these delicious tahini cookies the next time you're craving something sweet! And if you do, make sure to take some photos and show them to me – I always love to see your creations!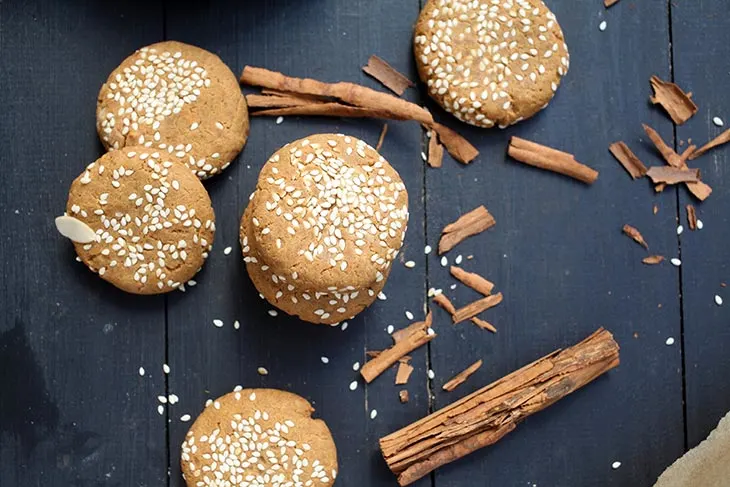 Have you ever tried making tahini cookies before? If not, you have no idea what you're missing on! They're simple but full of delicious flavor! Plus, they're vegan!
Ingredients
110g (1 cup) almond flour
1 Tbsp almond butter
120g (½ cup) tahini
5 Tbsp maple syrup
½ tsp vanilla extract
¼ tsp baking soda
pinch of salt
4 Tbsp sesame seeds
Instructions
Preheat the oven to 180ºC.
Line a baking tray with parchment paper.
In a food processor, mix together all the ingredients, except for the sesame seeds.
Scoop a Tbsp of cookie dough, roll it into a ball, then flatten it into a disk shape. Sprinkle with sesame seeds and lightly press them into the cookie.
Repeat with the rest of the dough and refrigerate for about 10 minutes.
Bake the cookies at 180ºC for about 8 minutes or until lightly golden on top.
Let them cool on the rack, then enjoy!
Nutrition Information
Yield
12
Amount Per Serving
Calories

129
Total Fat

9g
Carbohydrates

8g
Fiber

1g
Sugar

5g