Discover an explosion of authentic flavors with the Mexican stuffed peppers recipe. This delicious dish combines the intense flavor of Mexican spices with the fine texture of fresh peppers. An authentic and captivating culinary experience awaits you, ready to delight your taste buds.
I love stuffed peppers! Whenever I prepare them in the summer, their taste takes me back to my childhood and I remember the classic Romanian recipe for stuffed peppers that my grandmother used to make. Over time, I discovered other flavors specific to other cultures that delight me just as much.
Today I decided to share with you the recipe for Mexican stuffed peppers, a delicious vegetarian recipe with a slightly spicy taste. If you are looking for other stuffed pepper recipes, I also recommend the following recipes: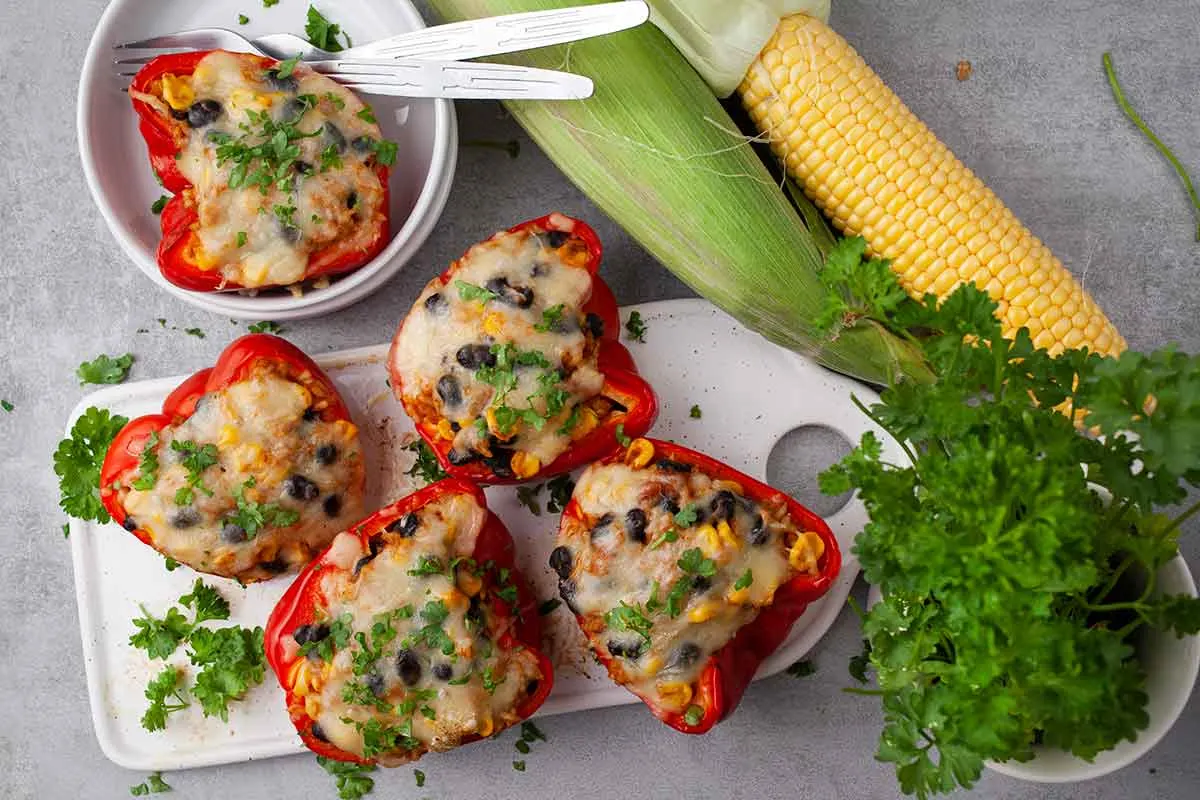 The history and origin of stuffed peppers
The history and origin of stuffed peppers in Mexican cuisine are closely related to the rich culinary traditions and diverse influences that define this vibrant gastronomy. Known as "Chiles Rellenos" in Spanish, stuffed peppers are a true pillar of Mexican gastronomy, with deep roots in the culture and history of this country.
The origin of this recipe dates back centuries, with influences from the colonial period and the various regional communities of Mexico. People initially used peppers to fill the gaps in the staple food, but over time, the recipe developed and became a refined delicacy. This dish was created to combine the spicy flavors of the peppers with the rich and filling filling, in a culinary harmony that characterizes authentic Mexican cuisine.
Traditionally, stuffed peppers were prepared with various fillings, including beef, pork or cheese, but also vegetarian versions with rice, beans and vegetables. Each region of Mexico has its own variations of the recipe, using different types of peppers and characteristic flavors. This dish has become a symbol of Mexican hospitality and is often served at special occasions and local festivals.
Today, Mexican stuffed peppers are an exceptional combination of tradition and culinary creativity. They evolved in different versions, incorporating modern ingredients and adapting to individual preferences. However, the authentic essence and respect for the gastronomic culture of Mexico remain fundamental in the preparation of this delicious food.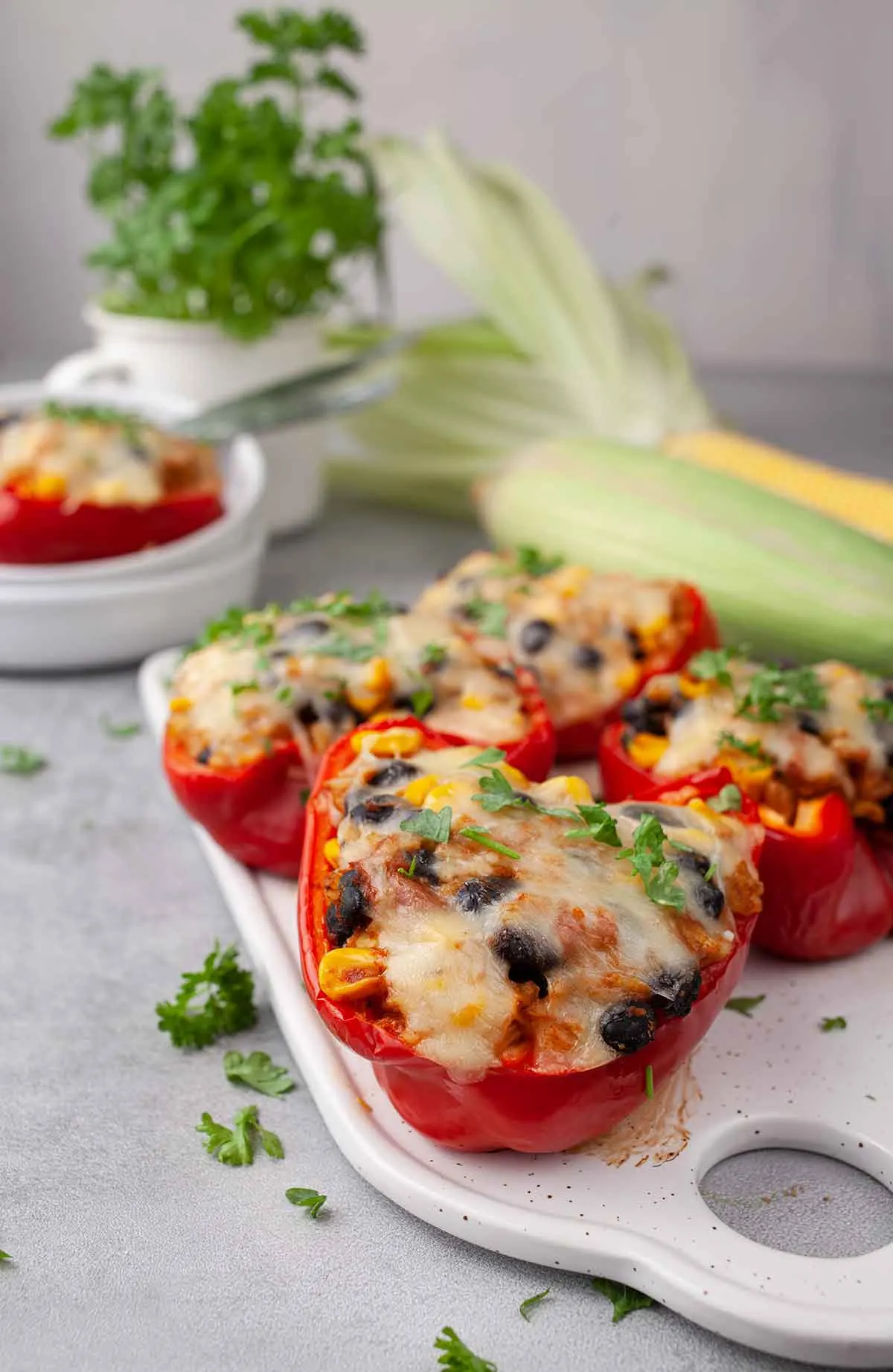 How to clean peppers
In order to obtain delicious and attractive stuffed Mexican peppers, it is important to follow some essential techniques in the preparation of peppers. Here's how to clean, prepare and stuff peppers to get perfect results:
Choosing the right peppers: Choose large and beautiful peppers, with smooth and uniform skin. For a sweeter taste, choose peppers that have 4 lobes, instead of 3.
Washing and cleaning the peppers: Wash the peppers under cold water and wipe them dry with a kitchen towel. Carefully cut off the top cap of each pepper and remove the seeds and membranes from the inside.
Preparation of the filling: The filling can vary from cheese and rice, to meat or combinations of vegetables. Prepare your favorite filling before stuffing the peppers.
Filling the peppers: Carefully, using a spoon, fill each pepper with the prepared filling. Make sure you fill them evenly and not too tightly, to avoid breaking the shell.
Closing the peppers: Place the cut caps of the peppers back on top, covering the filling. Make sure it stays in place. If you choose not to make whole stuffed peppers, but halves, skip this step.
Preparation for cooking: Stuffed peppers are easy to make in the oven. You can cook them without sauce, if you choose to make stuffed pepper halves, or with sauce, recommended for whole stuffed peppers. In the second case, place them in a tray and add a tomato sauce and a little water.
Cooking: Bake the peppers in the oven at the specified temperature until they turn brown and the skin softens.
Serving: After they are cooked, the stuffed peppers can be served as such or with a tomato sauce and cheese on top. Accompany them with rice, tortillas or other favorite side dishes.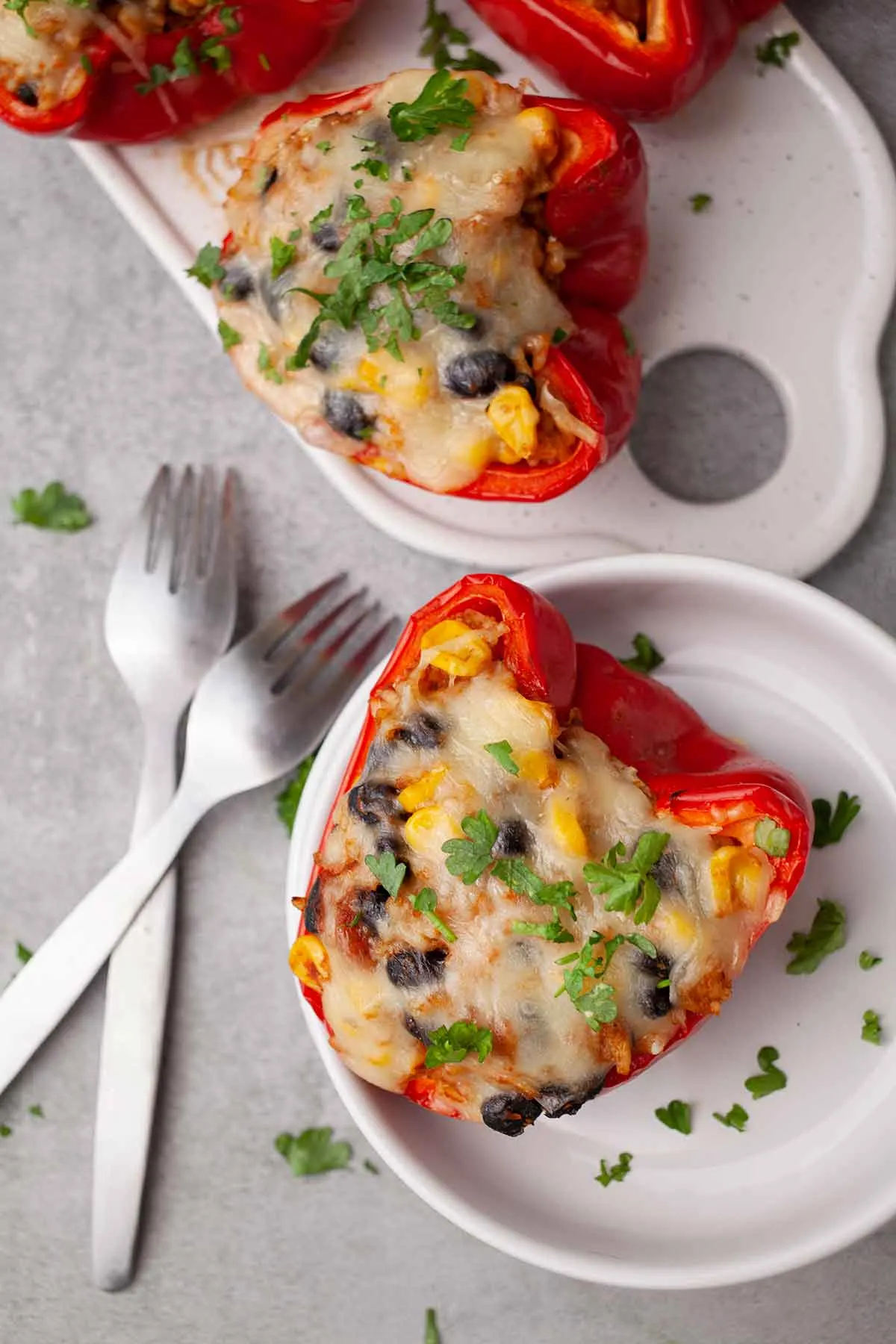 Sauces and side dishes for Mexican stuffed peppers
Mexican stuffed peppers are delicious both by themselves and when they are accompanied by sauces and garnishes that can complement the flavor and culinary input. Here are some suggestions for sauces and side dishes that can go perfectly with this recipe:
Salsa: A fresh and delicious sauce, salsa can add a burst of flavor and a slightly spicy note to stuffed peppers. Choose a classic version of red salsa or one with mango or peaches for a sweet-spicy contrast.
Guacamole: Rich and creamy avocado cream, guacamole is an excellent partner for stuffed peppers. Its fresh texture and taste will bring a new dimension to the culinary experience.
Sour cream: The acidity and freshness of sour cream can perfectly counterbalance the rich filling of peppers, offering a pleasant balance of flavors.
Cheese: A variety of cheeses can complement stuffed peppers. From Cheddar or Monterey Jack to feta or Gouda cheese, adding cheese on top of the peppers will add extra creaminess and flavor.
Tortilla Chips: If you want to add a crunchy texture and create a consistent contrast, tortilla chips or nachos can be used as a side dish.
Rosemary or Fresh Coriander: For an aromatic and decorative accent, add a touch of freshness with fresh rosemary or cilantro leaves on top of the stuffed peppers.
Fresh vegetables: Thin slices of cucumber, slices of red onion or slices of fresh tomatoes can add a refreshing and crunchy note to the dish.
Hot Pepper Sauce: If you are a fan of spicy flavor, a hot pepper sauce can be a bold choice to accentuate the taste of stuffed peppers.
By combining stuffed peppers with various sauces and garnishes, you can personalize the culinary experience and create delicious combinations that will satisfy all tastes.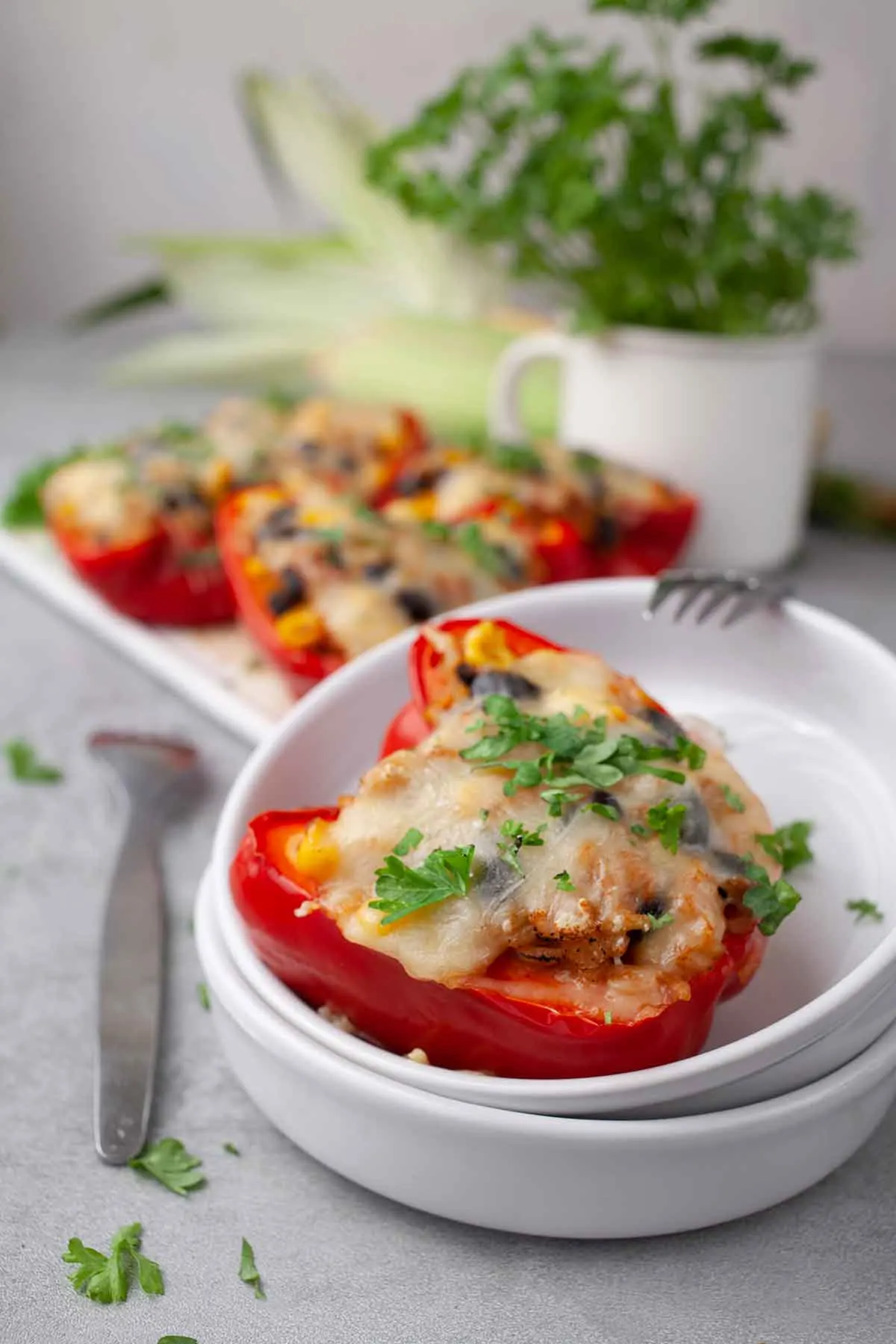 Authentic Vegetarian Mexican Filling – Ingredients
The authentic filling for Mexican stuffed peppers is a tasty combination of ingredients that bring flavors and culinary contributions specific to Mexican cuisine. Here are the key ingredients for an authentic and delicious filling:
Rice: A well-seasoned and cooked rice in a mixture of spices such as cumin, sweet paprika and coriander adds a delicious and consistent base to the filling.
Black beans: Cooked black beans add protein and fiber to the filling, giving it substance and texture.
Corn: Sweet and crunchy corn brings a touch of sweetness and freshness to the filling.
Tomato Salsa: Tomato salsa adds a strong flavor and a slightly spicy note to the filling. You can choose a ready-made version or you can create one from fresh tomatoes, onions, peppers and spices.
Mexican spices: Ground cumin, sweet paprika, ground coriander and cayenne pepper are some of the spices specific to Mexican cuisine that will add authentic and spicy flavors to the filling.
These ingredients are carefully combined to create a Mexican vegetarian filling with authentic flavors and a balanced texture.
How to make Mexican stuffed peppers
Yield: 4 servings
Mexican Stuffed Peppers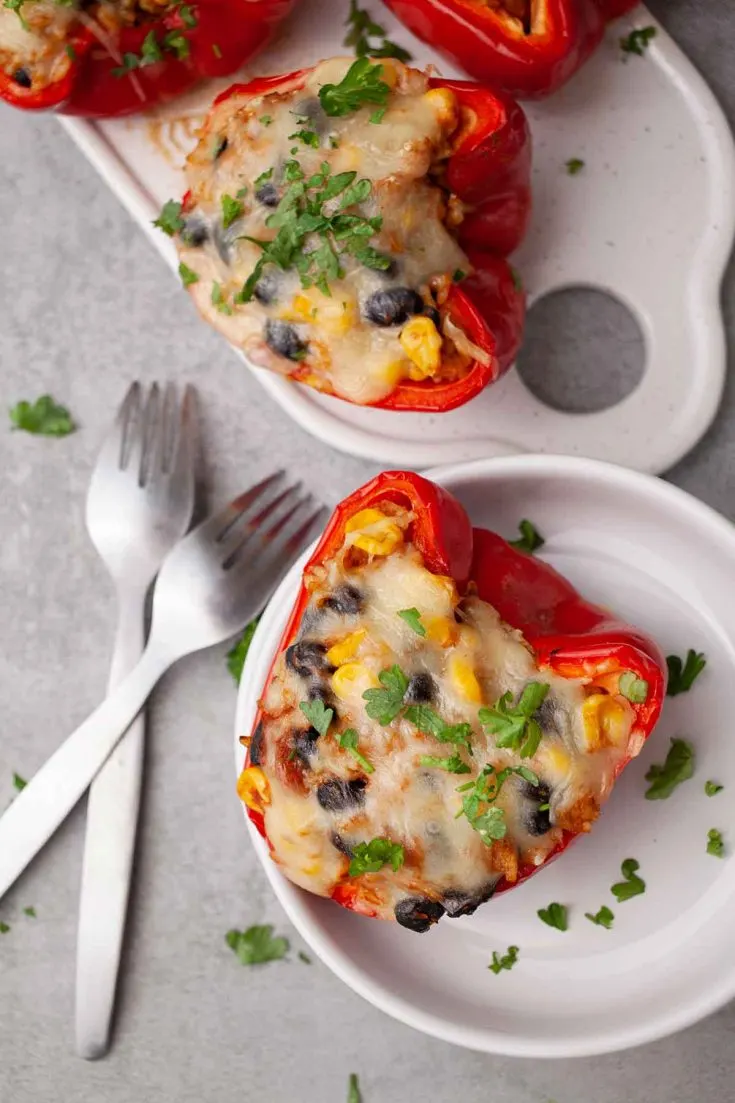 Discover an explosion of authentic flavors with the Mexican stuffed peppers recipe. This delicious dish combines the intense flavor of Mexican spices with the fine texture of fresh peppers. An authentic and captivating culinary experience awaits you, ready to delight your taste buds.
Ingredients
4 bell peppers, deseeded and cut in half lengthwise
2 cups cooked rice (you can use leftover plain rice for this)
1 cup corn, canned or boiled
450g (16 oz) black beans, canned or cooked
1 cup tomato salsa
2 cups of grated Gouda cheese
1 tablespoon taco seasoning
1 teaspoon cayenne pepper
Instructions
Heat the oven to 200 C (390 ºF).
In a bowl, add the cooked rice, corn, beans, tomato salsa, 1 cup grated Gouda and spices.
Mix well and fill the pepper halves with the rice mixture.
Place the stuffed peppers on a baking tray, with the stuffed part up, and sprinkle over the remaining grated cheese.
Put the peppers in the oven and cook for around 30 minutes.
Garnish with parsley and/or fresh coriander.
Nutrition Information
Yield
4
Serving Size
1
Amount Per Serving
Calories

441
Total Fat

16g
Saturated Fat

10g
Trans Fat

0g
Unsaturated Fat

5g
Cholesterol

62mg
Sodium

1363mg
Carbohydrates

56g
Fiber

7g
Sugar

14g
Protein

22g
I strive to keep the information as accurate as possible but make no warranties regarding its accuracy. I encourage you to make your own calculations using your preferred nutrition calculator.