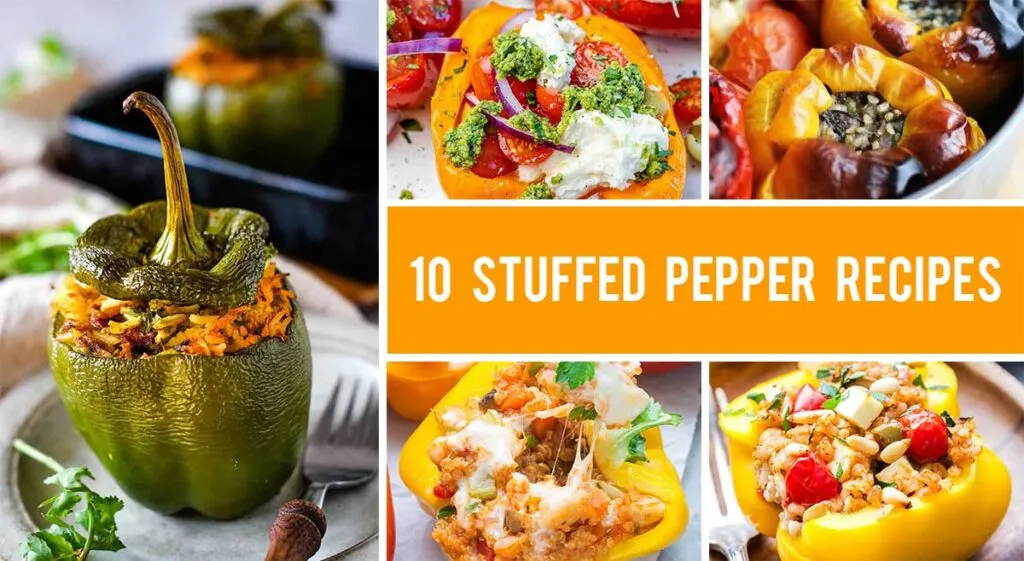 Looking for some comfort food inspiration? Here are 10 stuffed pepper recipes that are absolutely worth the effort. Give them a try!
Stuffed peppers, for some people, are the epitome of comfort food – myself included!
There's something so simple, yet charming about stuffed peppers. Flavorful and filling, but not too much that you won't be able to move from the couch after you finish your portion. You're left satisfied, feeling like you've eaten something healthy that will last you well until your next meal.

But do you know what I love most about stuffed peppers? Their versatility, that's for sure.
First of all, there are various types of peppers out there: red, yellow, dark green, light green, and orange – each one of them with a slightly different flavor intensity. If you're cooking stuffed peppers in all colors, you'll end up having the rainbow on your plate, which is one of my favorite things in the world. We all know that our food needs to be appealing as well, not just delicious, right? 🙂
As for the stuffing, the peppers are so versatile, that they allow for a plethora of possibilities. In my country, stuffed peppers are usually filled with a mix of rice and minced meat, usually beef or a combo of beef and pork. But today we're talking exclusively about vegetarian stuffed pepper recipes. And not just the classic mushroom filling – I have prepared so many options for you down below! But until then, let me tell you a couple more words about the wonderful world of stuffed peppers.
When it comes to vegetarian filling options, the sky's the limit. From the classic rice with a few chopped veggies to more intricate combos such as quinoa, bulgur, mushrooms, cheese, tomatoes, and everything in-between.
Here in Romania, stuffed peppers are usually cooked with tomato sauce and served with a dollop of sour cream on top. I've seen that, especially in the US, this is not the case. Stuffed peppers there can be served plain after you've finished roasting them. The peppers don't even need to be cooked, after all – you can simply use them as little "boats" in which you add whatever ingredients you want as your stuffing, such as cherry tomatoes, burrata, and pesto for a Caprese-style of stuffed peppers, similar to a light and yummy salad.
Not a fan of peppers? Well, luckily for you, these are not the only veggies that can be filled. You can do the same with tomatoes, zucchini boats, pumpkins, potato skins, and more. If you see a recipe that you'll like down below, you can copy the filling ingredients and use them for whatever else stuffed veggie you want to make.
For more inspiration, you can also check out this article – 10 Stuffed Vegetable Recipes Everyone Will Love. Or check out either of my recipes:
Okay, back to our peppers now. In case you want some inspiration for delicious, vegetarian stuffed pepper recipes, you are in the right place! I have prepared an eclectic selection of 10 recipes below, both from this blog and from all around the internet. You'll find them all below and, trust me, the hardest part will be to choose your favorite.
Click on the titles, images, or buttons in order to access each of the stuffed pepper recipes below. Happy cooking! 🙂
10 Stuffed Pepper Recipes That Are Absolutely Worth The Effort
Looking for some comfort food inspiration? Here are 10 stuffed pepper recipes that are absolutely worth the effort. Give them a try!