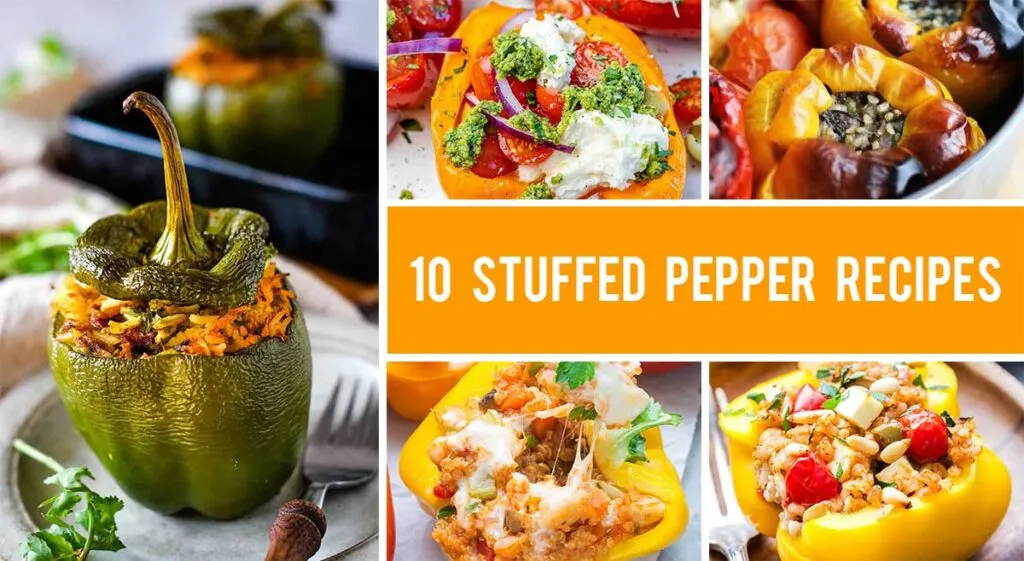 Looking for some comfort food inspiration? Here are the best stuffed pepper recipes that are absolutely worth the effort. Give them a try!
Stuffed peppers, for some people, are the epitome of comfort food – myself included! There's something so simple, yet charming about stuffed peppers. Flavorful and filling, but not too much that you won't be able to move from the couch after you finish your portion. You're left satisfied, feeling like you've eaten something healthy that will last you well until your next meal.
In case you want some inspiration for delicious, vegetarian stuffed pepper recipes, you are in the right place! I have prepared an eclectic selection of some of the best stuffed pepper recipes below.
Best Stuffed Pepper Recipes
Get ready for a spicy and sensational experience with these stuffed jalapeno peppers. These little firecrackers are filled with a creamy mixture of cream cheese, shredded cheddar, and smoky bacon, creating a tantalizing balance of heat and richness. Perfect as a crowd-pleasing appetizer or a sizzling side dish for your next gathering. Handle with care, and enjoy the fiery flavor!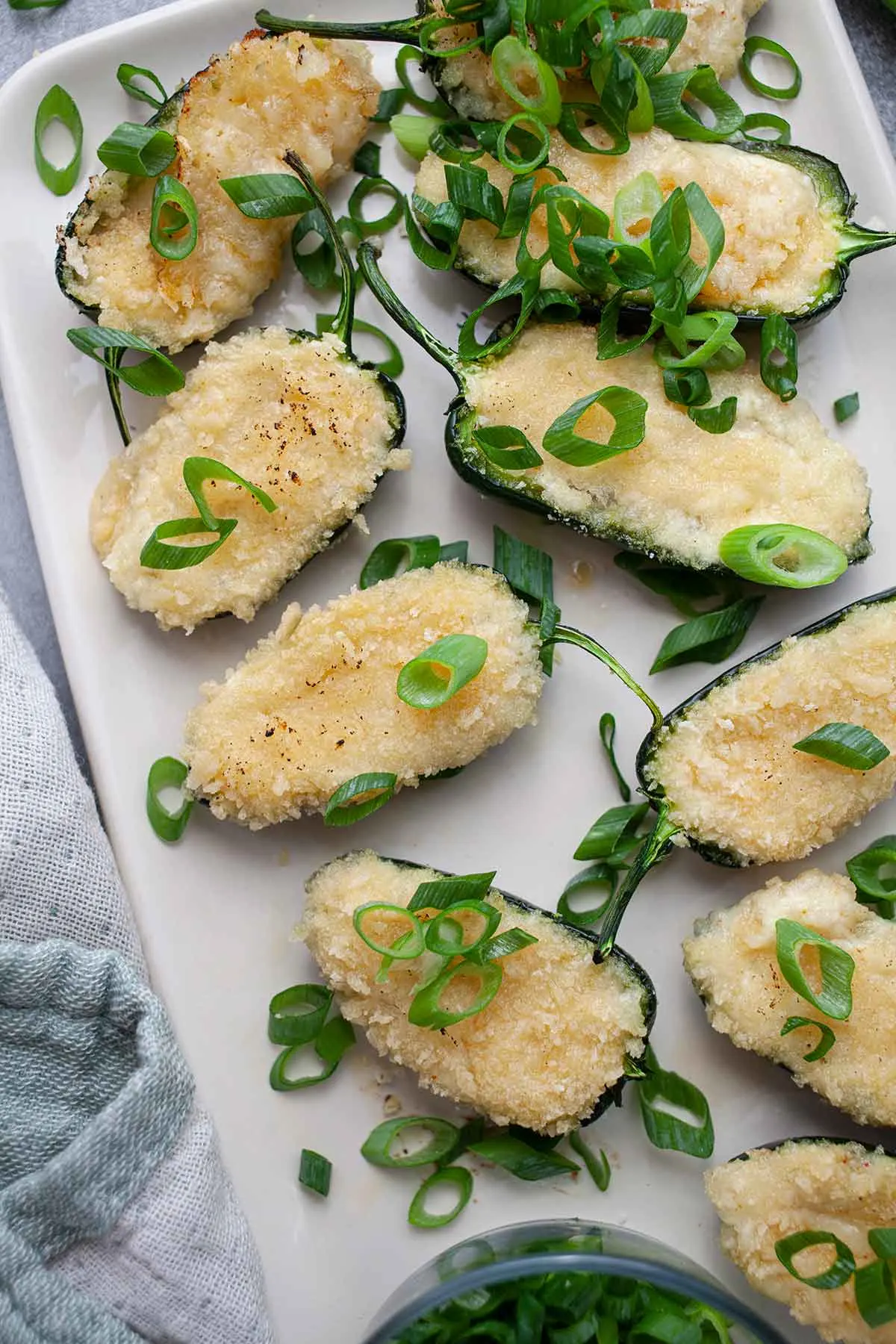 Spinach and ricotta represent, for me, one of the best combos in the world. And I never tried using it as a stuffing for peppers… until I found this recipe. So good! Recipe created by JZ Eats.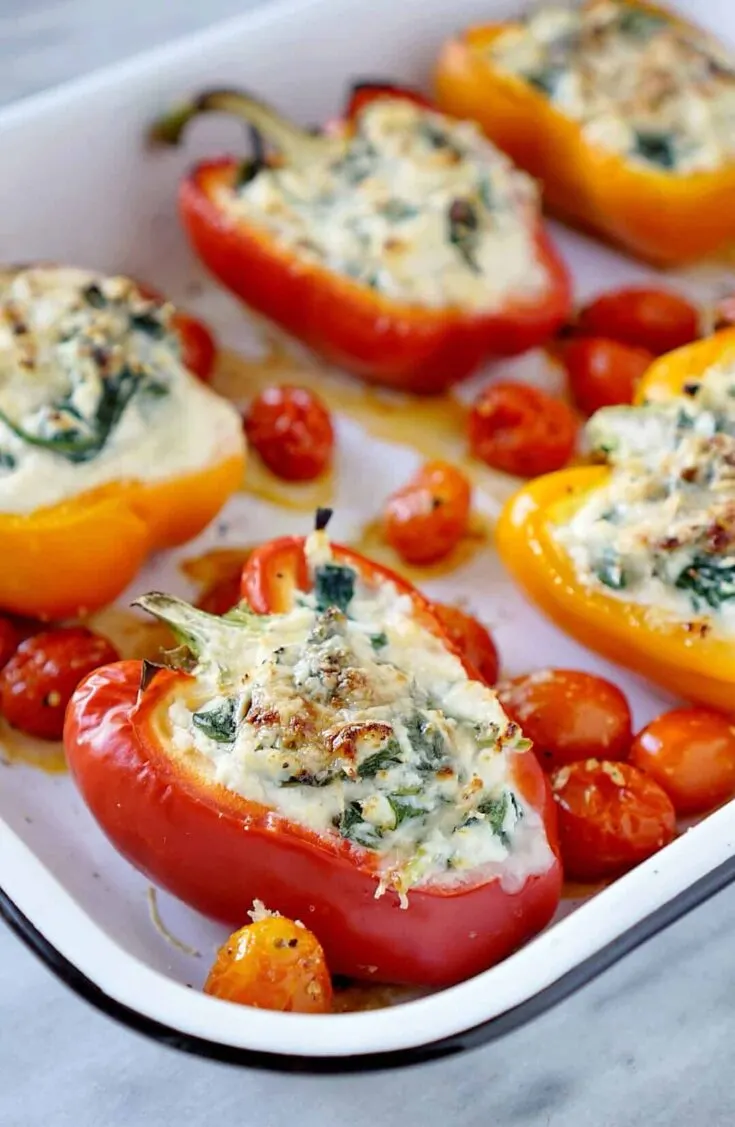 Indulge in the rustic charm of Italian cuisine with these delightful stuffed peppers. Tender bell peppers are filled with a mouthwatering blend of seasoned ground meat, aromatic herbs, and savory rice, all simmered in a rich tomato sauce. Each bite is a comforting taste of Italy's culinary heritage.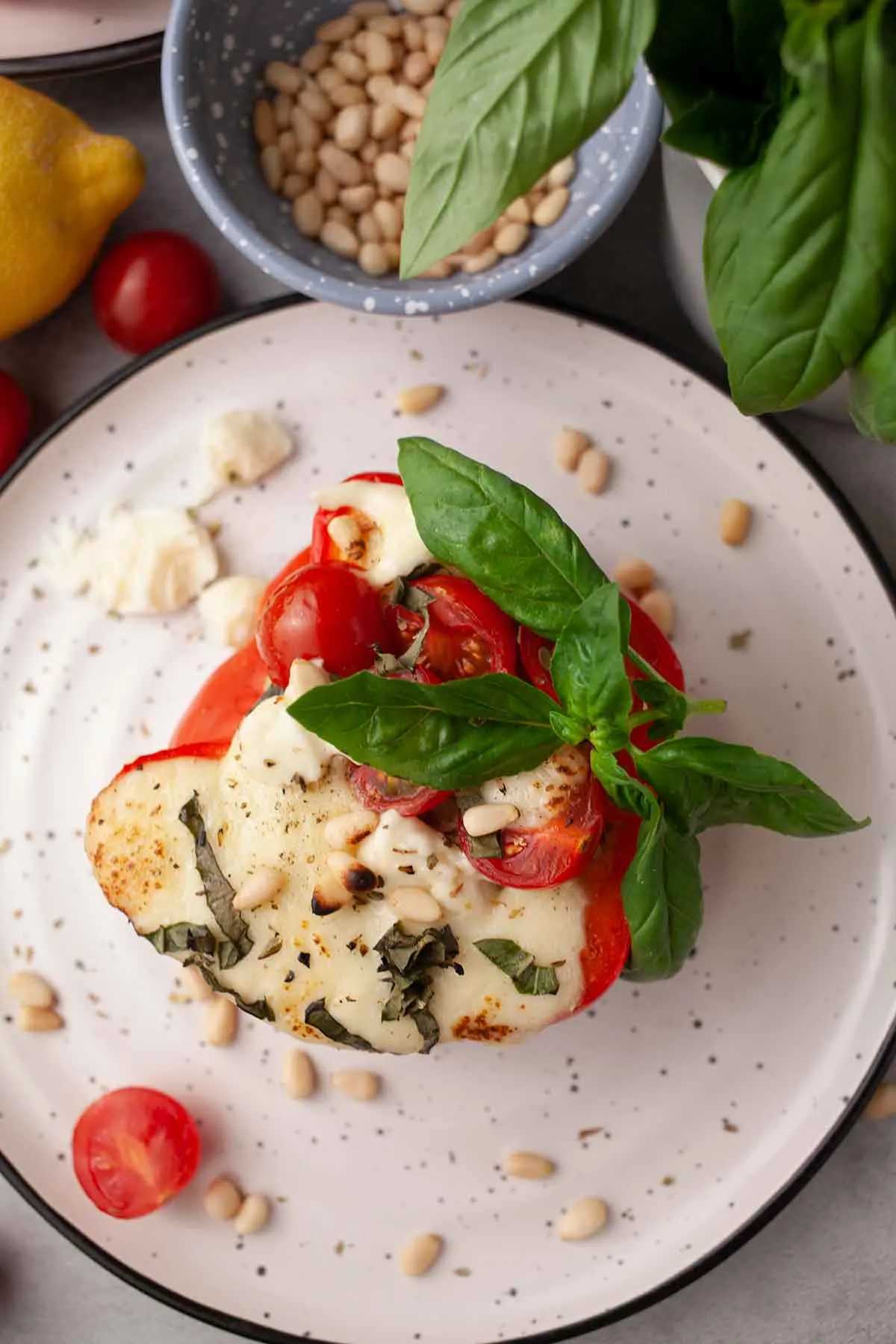 I just love the Mediterranean "diet"! If you too are a fan of fresh flavors and light ingredients, this is the recipe for you! Recipe created by Recipe Runner.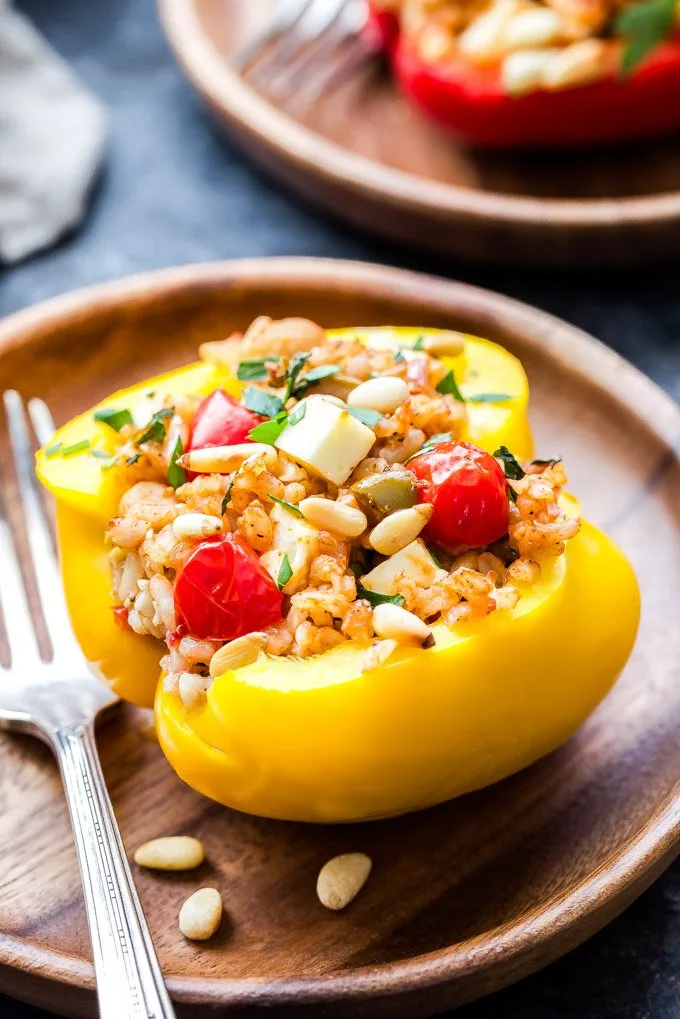 Embark on a flavor-filled journey to Mexico with these vibrant stuffed peppers. Colorful bell peppers are stuffed with a fiesta of seasoned beans, corn, and tender diced vegetables, topped with gooey melted cheese. A burst of Mexican spices and zesty salsa make this dish a true fiesta for your taste buds.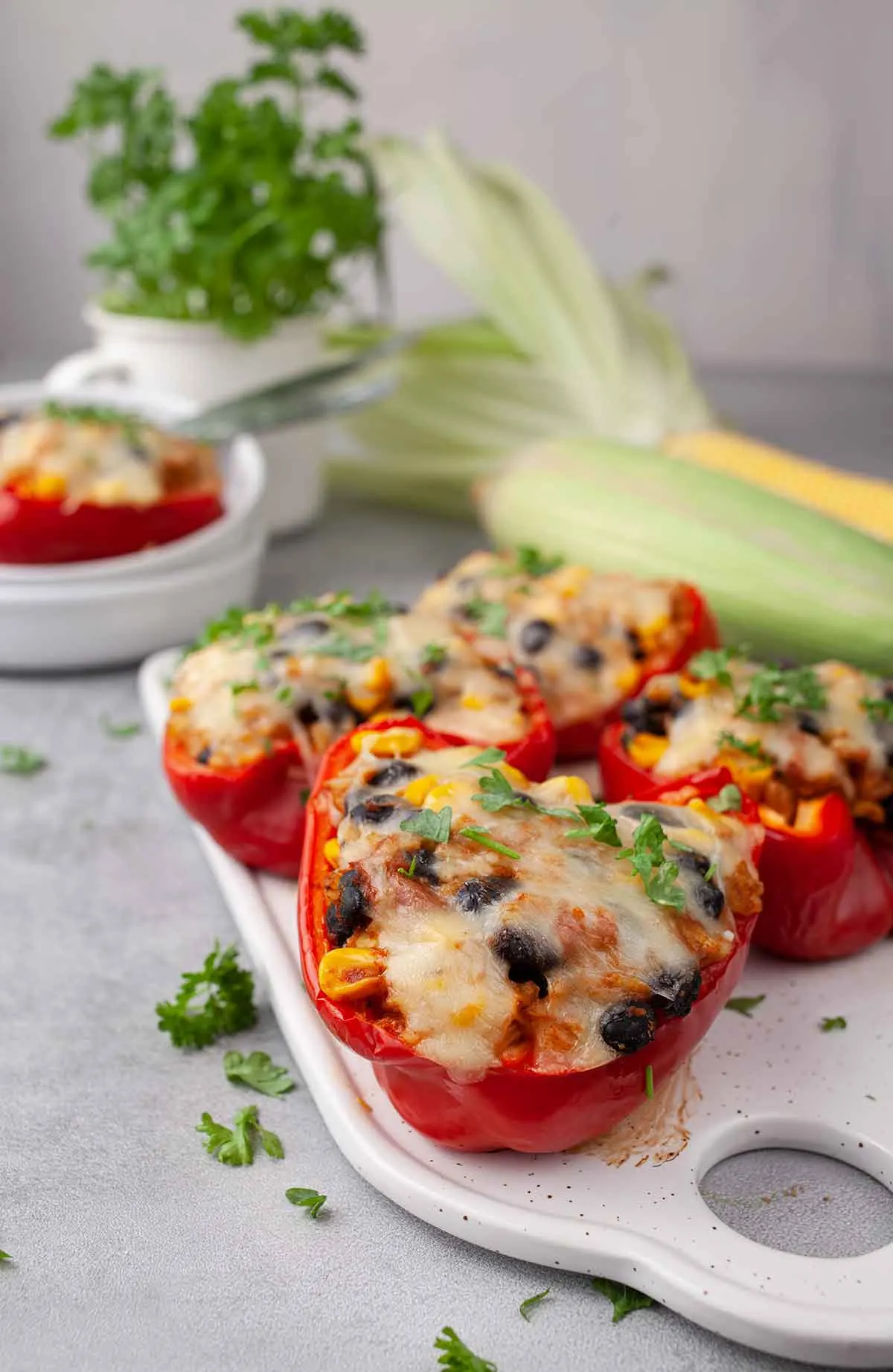 In case you're looking for a filling, protein-rich recipe, I recommend trying these quinoa stuffed peppers. So delicious, especially topped with a bit of melted cheese! Recipe created by Kristine's Kitchen Blog.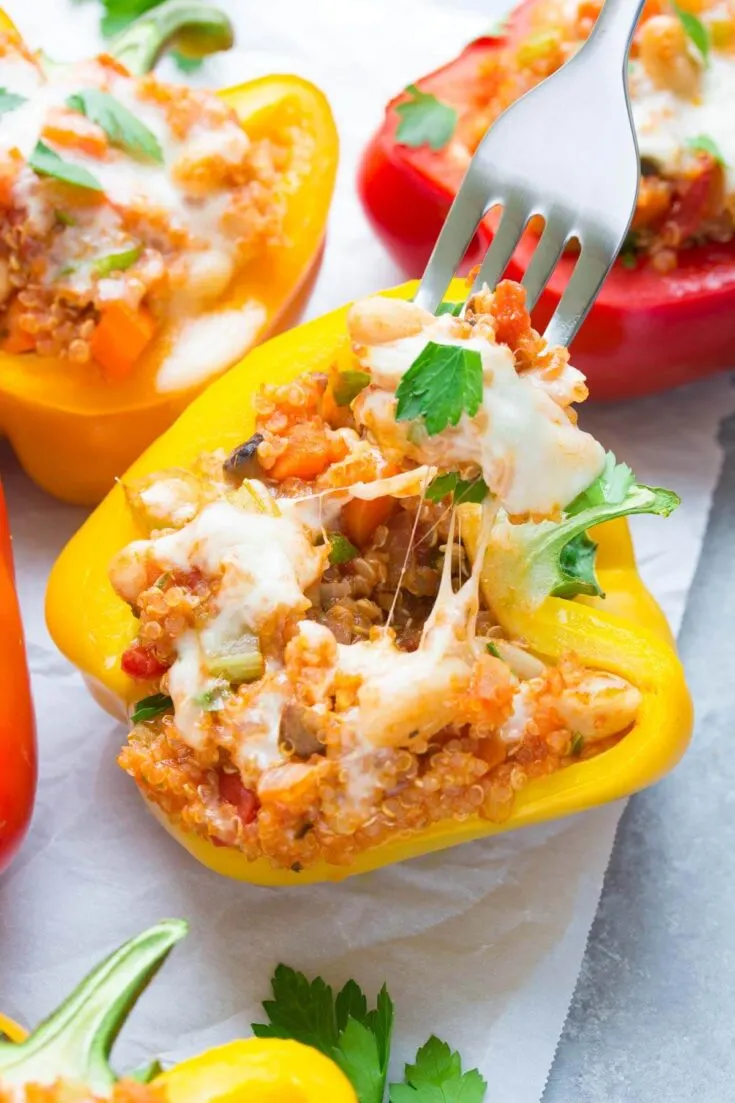 Have you ever tried stuffing poblano peppers? If the answer is no, then you should! And this recipe is the perfect way to start. Recipe created by Running in a Skirt.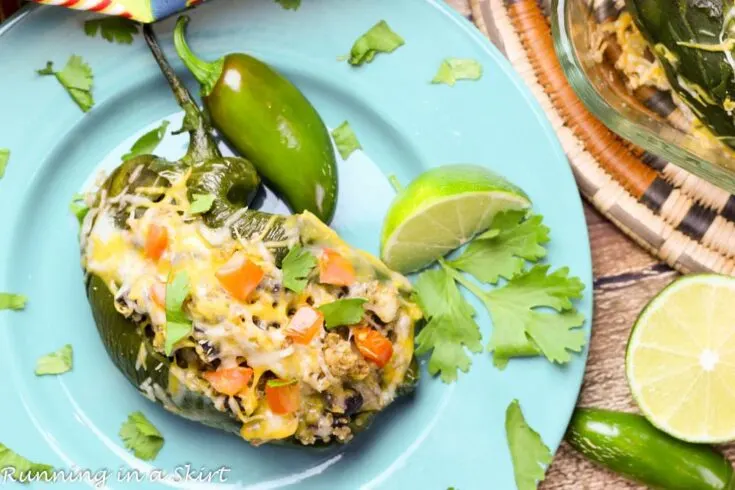 I love everything bite-sized, but I never thought stuffed peppers could fall into this category. Not anymore! These stuffed mini peppers are absolutely adorable and can be served as an appetizer. Recipe created by The Modern Proper.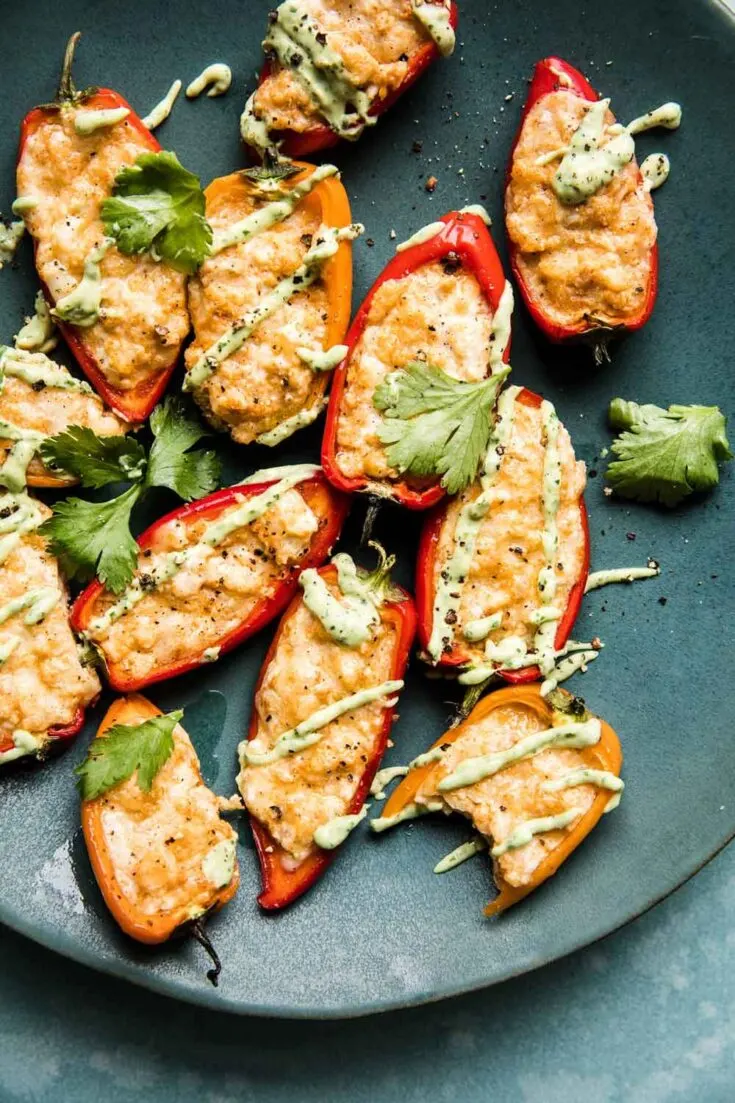 Here's one of the freshest recipes on this list: burrata stuffed peppers. Perfect for summer! Recipe created by Clean Food Crush.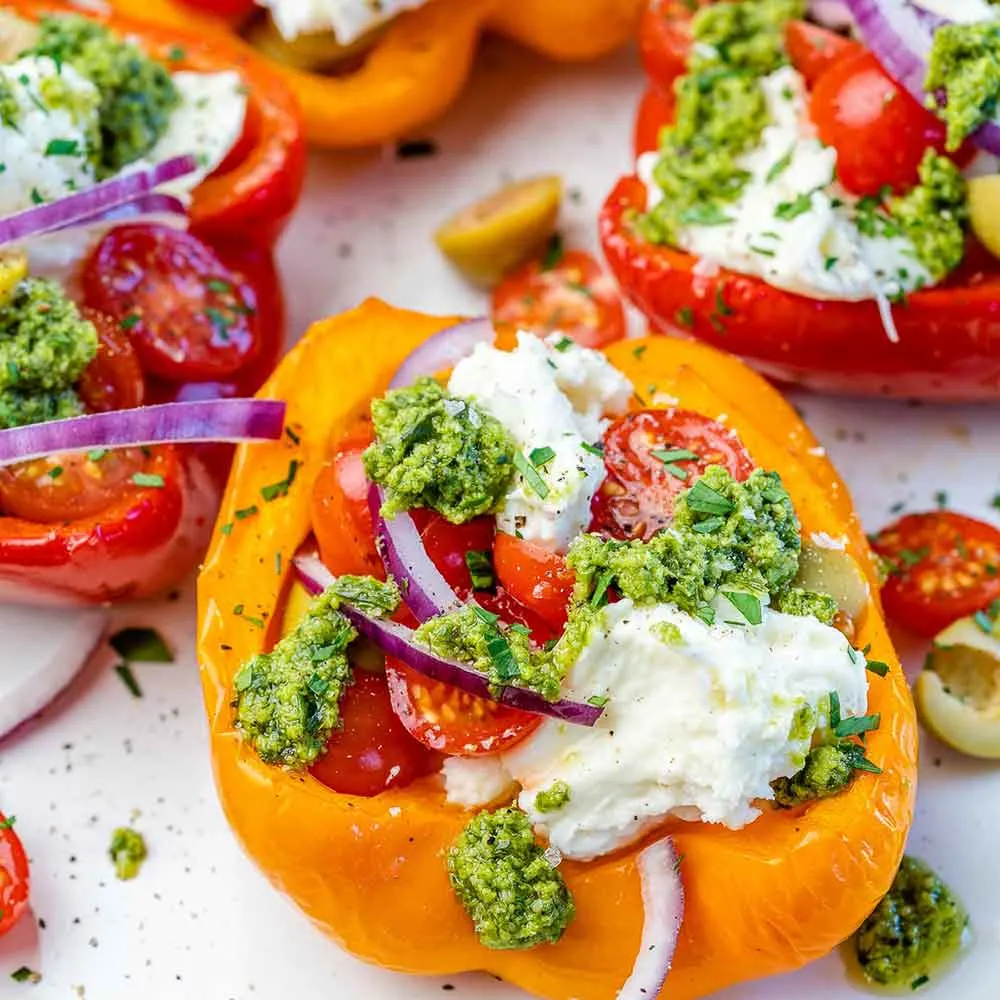 Last but not least, here's a recipe for all those of you that like slightly spicy Indian flavors: curry stuffed peppers. Super delicious and easy to make! Recipe created by Larder Love.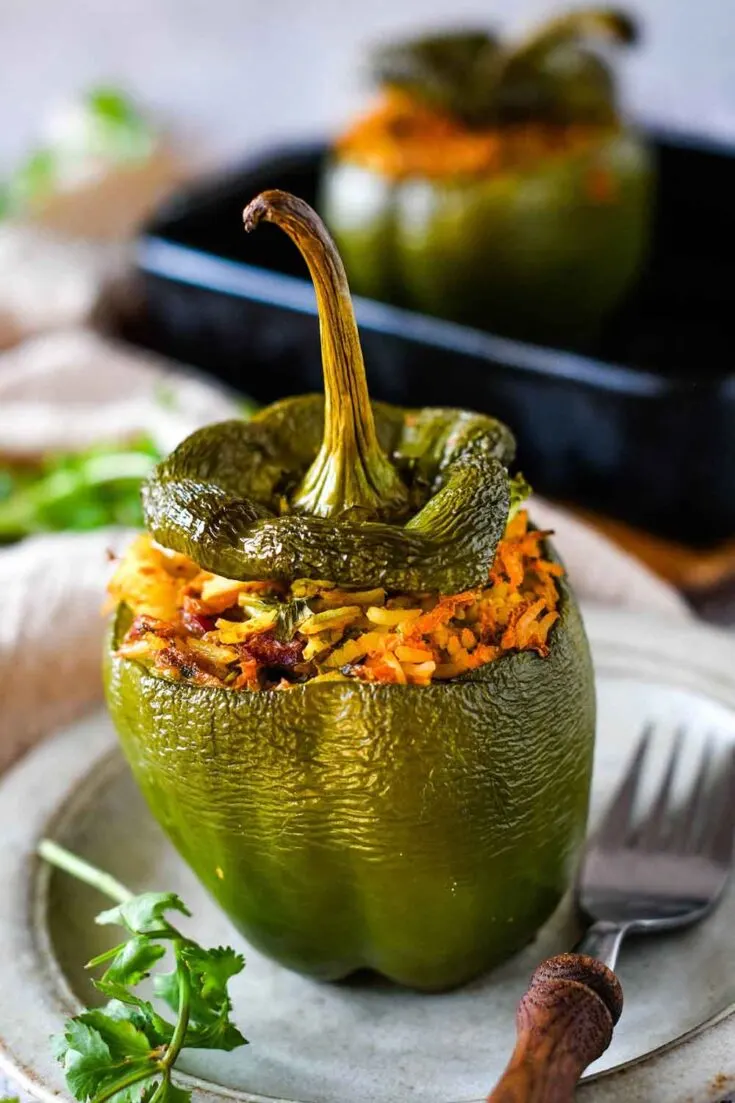 Celebrating Halloween? Here's a yummy recipe you can try making on this special day: Halloween stuffed peppers! Simple and super delicious!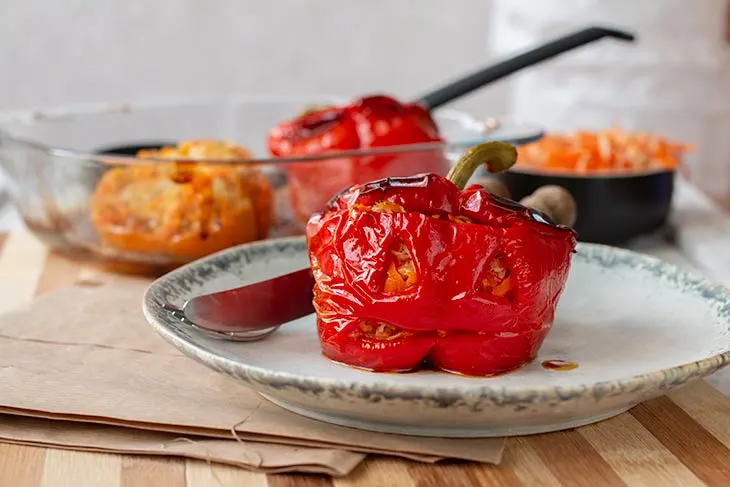 Make these stuffed red bell peppers with brown rice and mushrooms and even your non-veg friends will love them! This is a budget-friendly recipe too!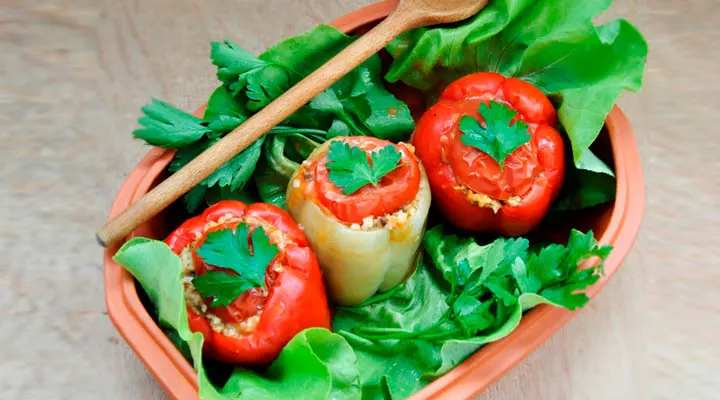 This is the only stuffed peppers recipe you will ever need! It's extremely easy to make, healthy and most of all…delicious!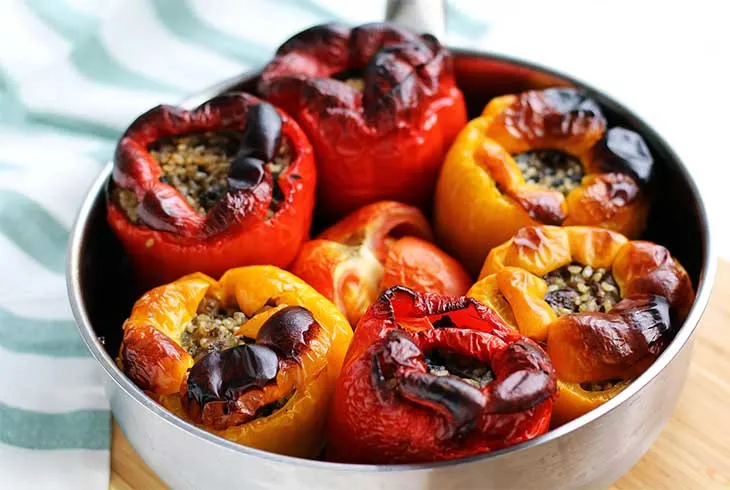 How to choose the right type of pepper
There are various types of peppers out there: red, yellow, dark green, light green, and even purple and orange – each one of them with a slightly different flavor intensity. If you're cooking stuffed peppers in all colors, you'll end up having the rainbow on your plate, which is one of my favorite things about cooking. We all know that our food needs to be appealing as well, not just delicious, right? 🙂
Choosing the right type of pepper for stuffing depends on your personal preferences and the level of spiciness you desire in the dish. If you prefer a milder flavor, opt for bell peppers such as red, yellow, or orange. They have a sweet taste and are perfect for those who enjoy a subtle kick.
On the other hand, if you're a fan of spicier dishes, jalapeño peppers or Padron are an excellent choice. They bring a medium level of heat to the stuffing and add a zesty element to the overall flavor. Remember to adjust the stuffing ingredients accordingly to complement the pepper's flavor and create a delectable stuffed pepper dish that suits your taste buds perfectly.
Pepper stuffing ideas
As for the stuffing, the peppers are so versatile, that they allow for a plethora of possibilities. In my country, stuffed peppers are usually filled with a mix of rice and minced meat, usually beef or a combo of beef and pork. But today we're talking exclusively about vegetarian stuffed pepper recipes. And not just the classic mushroom filling – I have prepared so many options for you down below! But until then, let me tell you a couple more words about the wonderful world of stuffed peppers.
When it comes to vegetarian filling options, the sky's the limit. From the classic rice with a few chopped veggies to more intricate combos such as quinoa, bulgur, mushrooms, cheese, tomatoes, and everything in-between.
Here in Romania, stuffed peppers are usually cooked with tomato sauce and served with a dollop of sour cream on top. I've seen that, especially in the US, this is not the case. Stuffed peppers there can be served plain after you've finished roasting them. The peppers don't even need to be cooked, after all – you can simply use them as little "boats" in which you add whatever ingredients you want as your stuffing, such as cherry tomatoes, burrata, and pesto for a Caprese-style stuffed peppers, similar to a light and yummy salad.
Not a fan of peppers? Well, luckily for you, these are not the only veggies that can be filled. You can do the same with tomatoes, zucchini boats, pumpkins, potato skins, and more. If you see a recipe that you'll like down below, you can copy the filling ingredients and use them for whatever else stuffed veggie you want to make.
Best Stuffed Pepper Recipes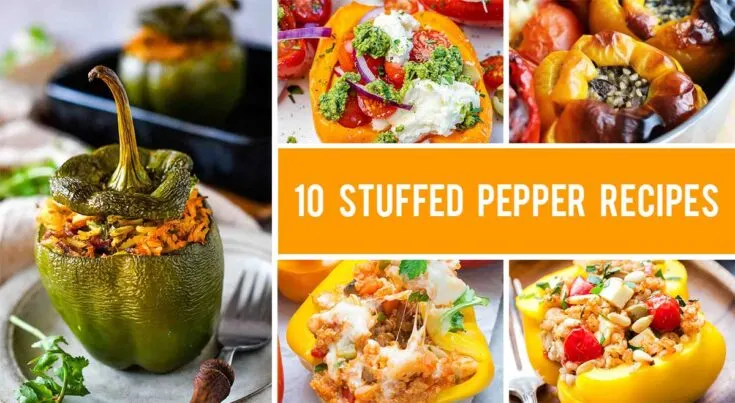 Looking for some comfort food inspiration? Here are the best stuffed pepper recipes that are absolutely worth the effort. Give them a try!
Instructions
Choose your favorite stuffed pepper recipe.
Organize all the ingredients.
Prep some delicious vegetarian stuffed peppers.