This recipe is for all my taco lovers out there: an amazing Mexican-themed taco Tuesday lunch ready in no more than 15 minutes. Yummy and efficient!
Do you know about Taco Tuesday? If you're not from the US, then you may not be familiar with this concept, in which case I'm going to briefly explain it and its origins down below.
Taco Tuesday is exactly what you may imagine it is: a dedicated Tuesday on which tacos are being eaten – and oftentimes for a special price such as 1$ per taco. It's like an urban tradition in the United States (especially in Southern California) that started more than 30 years ago.
In fact, the exact "creator" that came up with the idea is still being disputed, although the trademark on the "Taco Tuesday" term has been granted to a fast food restaurant called Taco John's, based in Wyoming. It is said that this restaurant came up with the idea in 1989 and they have a full trademark on the territory of the United States – except for New Jersey.
In New Jersey, the trademark "author" of Taco Tuesday is a restaurant called Gregory's Restaurant & Bar, said to come up with the idea in 1982. To add more spice to the story, even LeBron James applied for a trademark for this term too, but he didn't get it.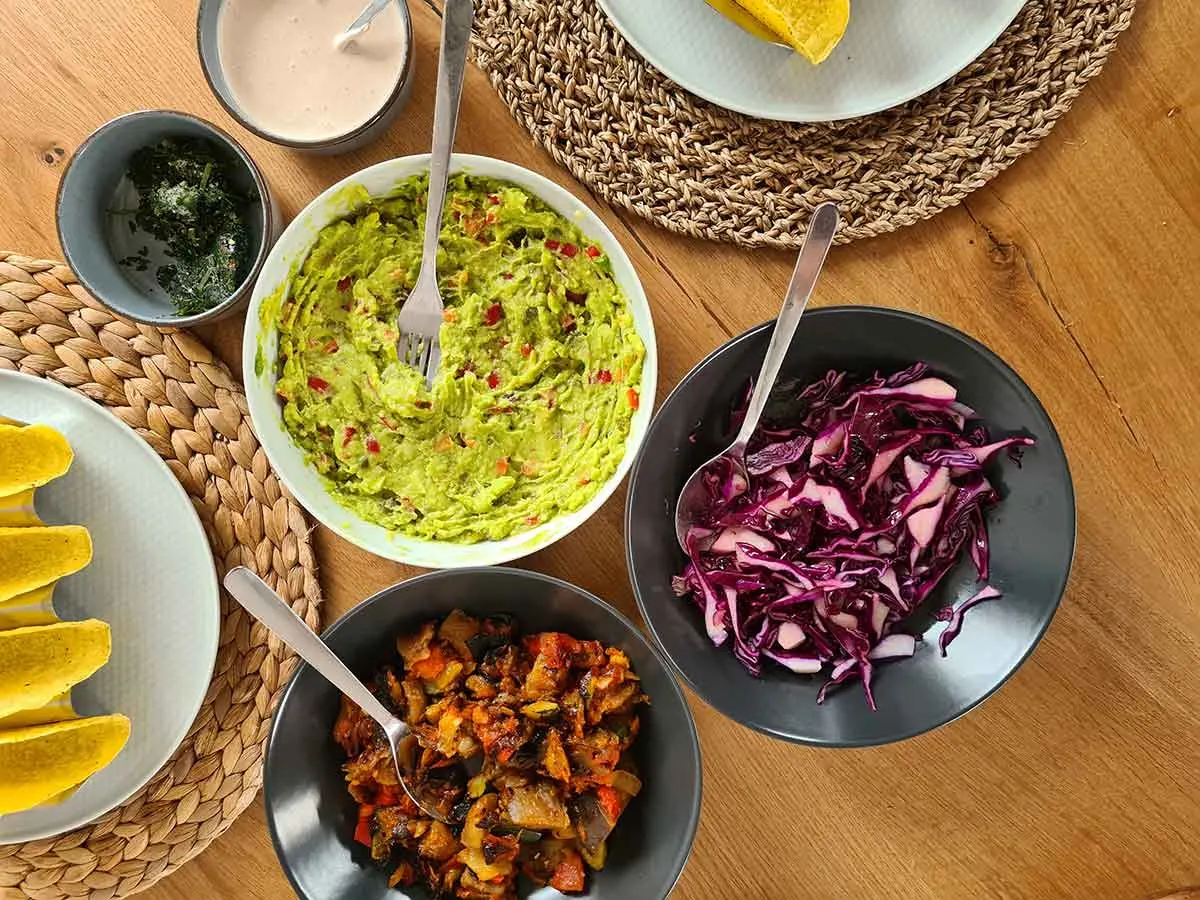 Although things may seem clear until now, the story gets even more complicated: a California-based restaurant chain called Baker's Drive-Thru has been advertising its own Taco Tuesday offers since… 1967. And there are many other stories as well (one of them dating from 1933) and restaurants disputing the origin of the term, each with its own version of when and how they come up with the term "Taco Tuesday" for the first time. But enough with the theories!
Regardless of this, the term Taco Tuesday is widely used all around the globe right now – and not just by restaurants. Anyways, if there's one thing to keep in mind about it, it's this one: some restaurants around the world have great offers for tacos on Tuesdays. And that's about it.
Most taco fans are actually against this whole idea of a trademark – and I completely agree! I find "Taco Tuesday" to be kind of a general association of terms and I think everyone can use it – including myself as the title of this recipe! It's as mainstream as "Fish & Chips Fridays" (yep, that's a thing too) and I think it should be used freely by anyone that feels like it.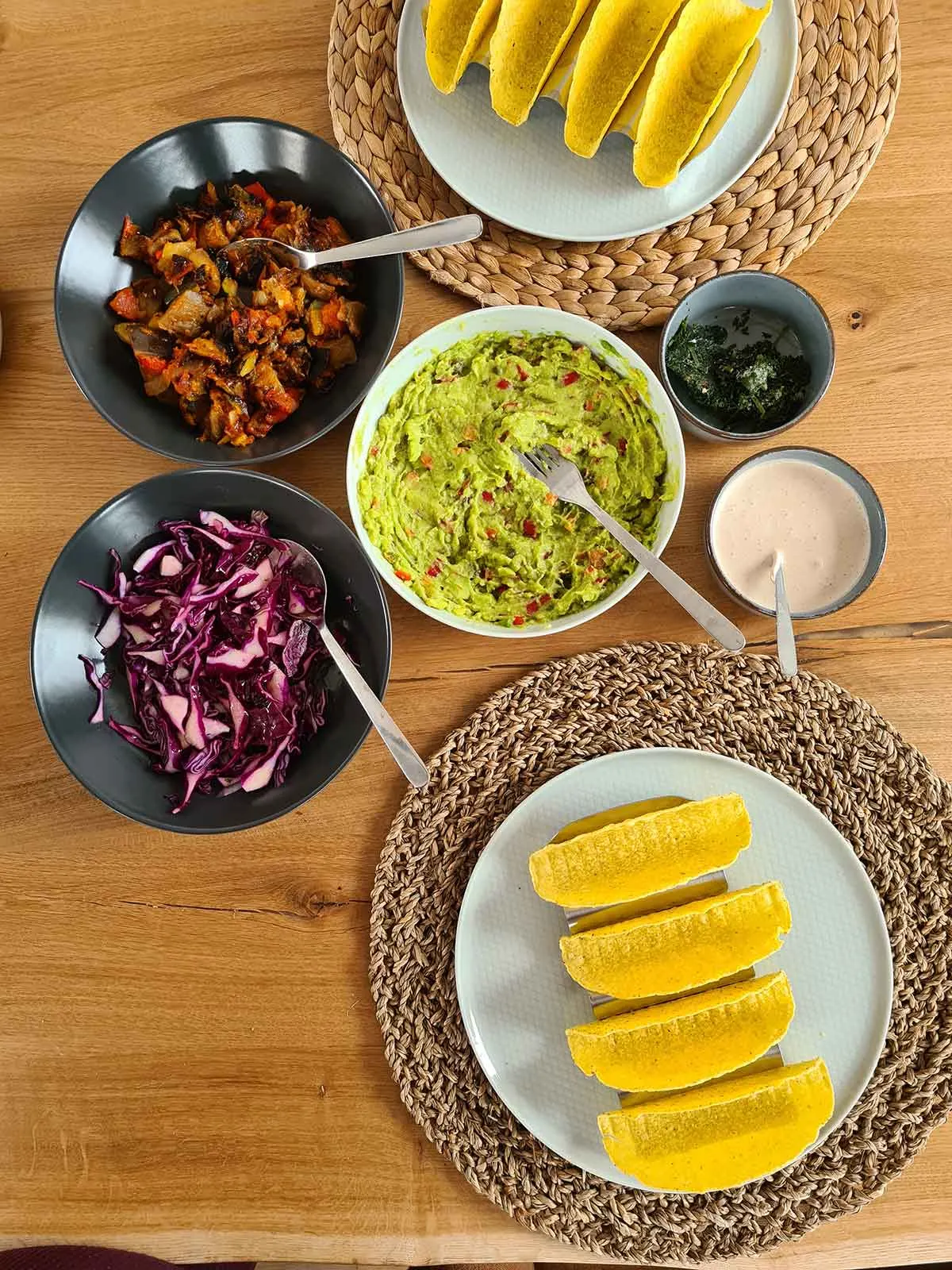 Speaking of this recipe, let me tell you a couple of things about it.
First of all, it's a taco recipe, of course. Second of all, you may have seen in the title that it only takes 15 minutes to make – and it's true! This is because I've used some aces that I keep up my sleeve and that I gathered over time, after many successful attempts at making all kinds of tacos.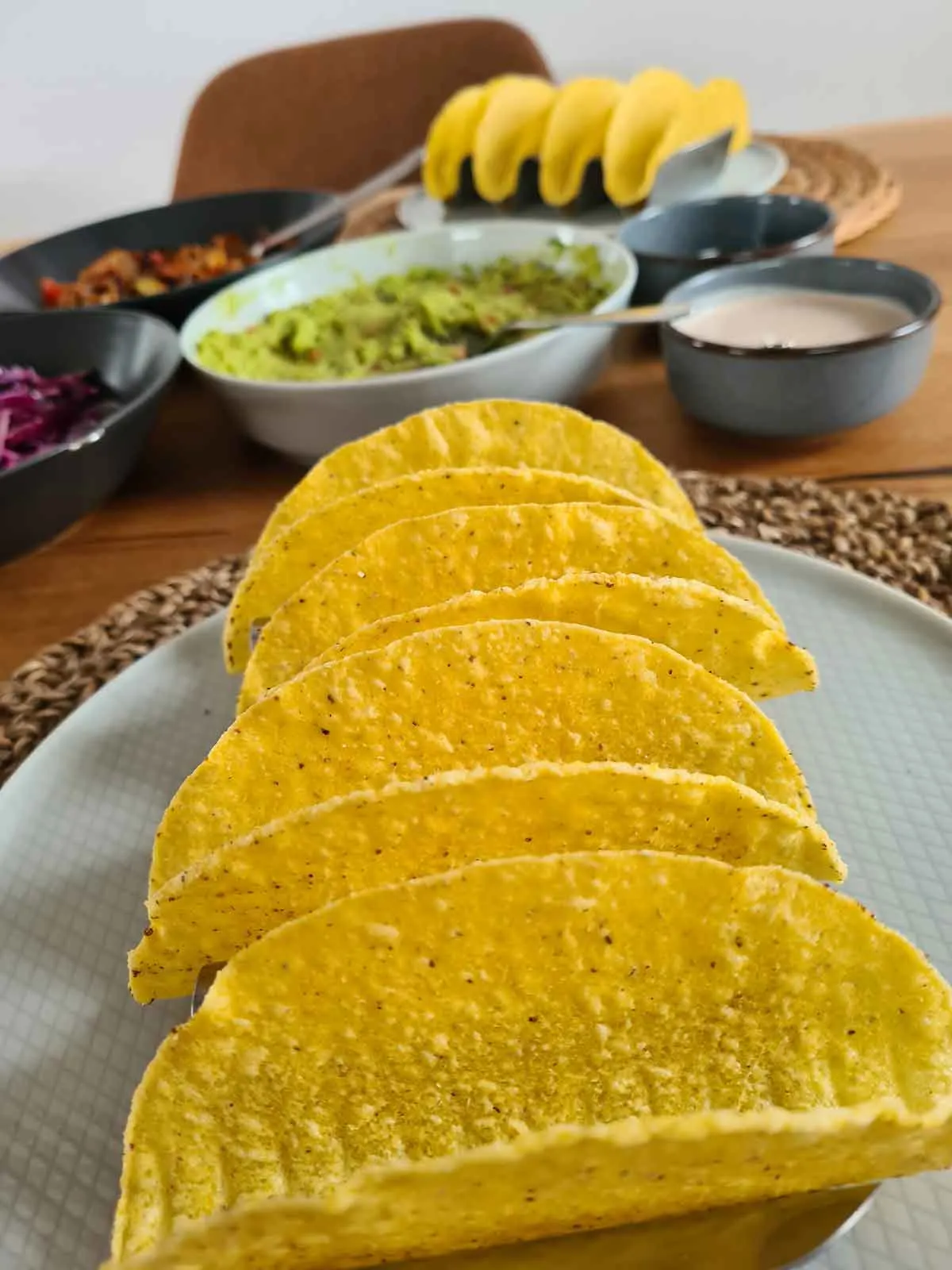 We're big fans of the Mexican cuisine in this house, especially tacos. I actually published some other taco recipes on the blog:
And some alternatives to the classic taco recipe:
So you can understand that I've made plenty of tacos before, so I have some idea about what I'm talking about. If you too want to learn how to make QUICK tacos, here are some tips.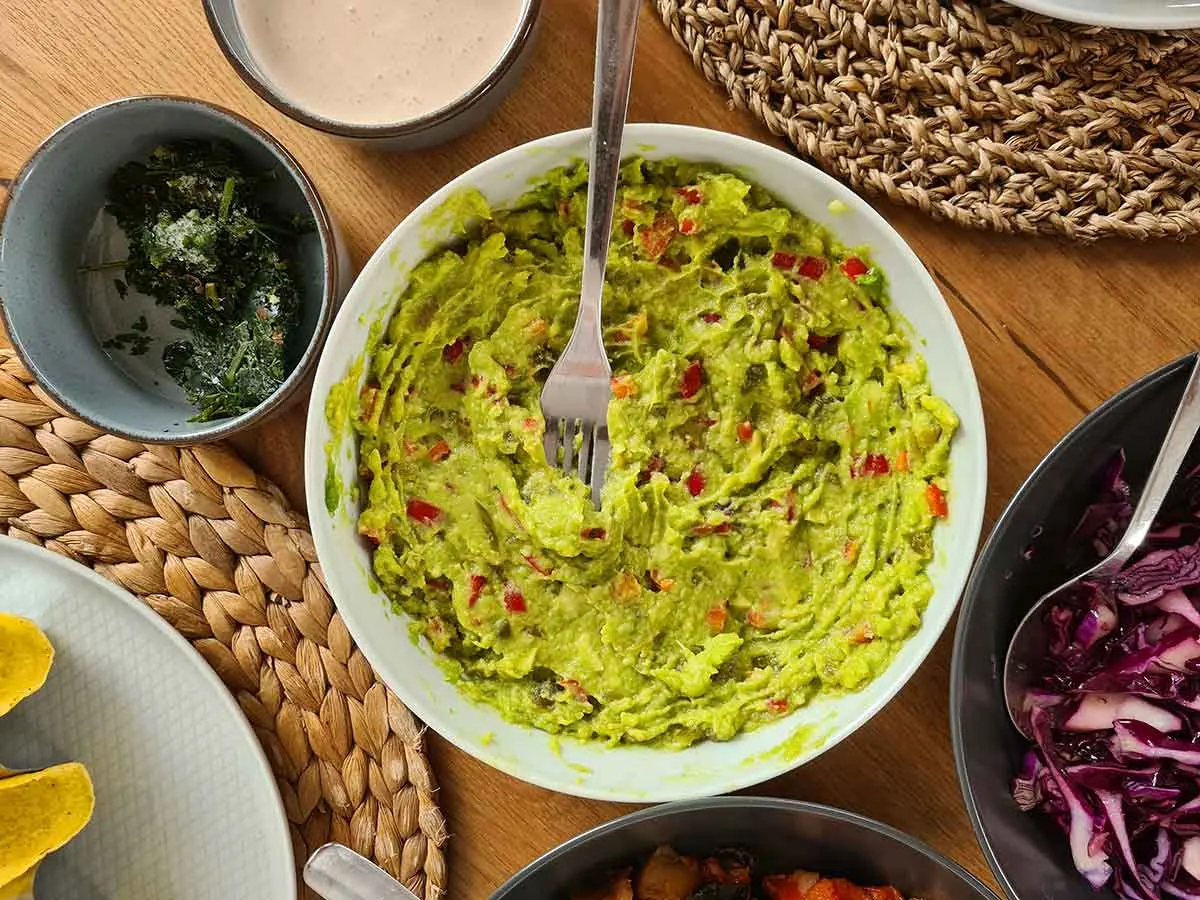 First of all, guacamole. I make guacamole really often – you can find my fail-proof recipe here that I use each and every time – Best Ever Guacamole. So often that I developed a pretty good trick – frozen avocado!
Ever since I discovered the frozen avocado cubes in Carrefour, I always have them in my freezer. At some point, I got really tired of wasting money on "ready to eat" avocados that will go bad the next day and I also dislike waiting an entire week or more for a regular avocado to get ripe. There are times when I need MY avocado RIGHT away!
So I fell in love with frozen avocado cubes. They're absolutely wonderful, always fresh and ready to use. In order to thaw the frozen avocado, I just keep the cubes at room temperature for 1-2 hours or, if I need it right away, I preheat the oven, turn it off and then insert the avocado cubes in a heat-resistant bowl. They're ready to use in about 10 minutes.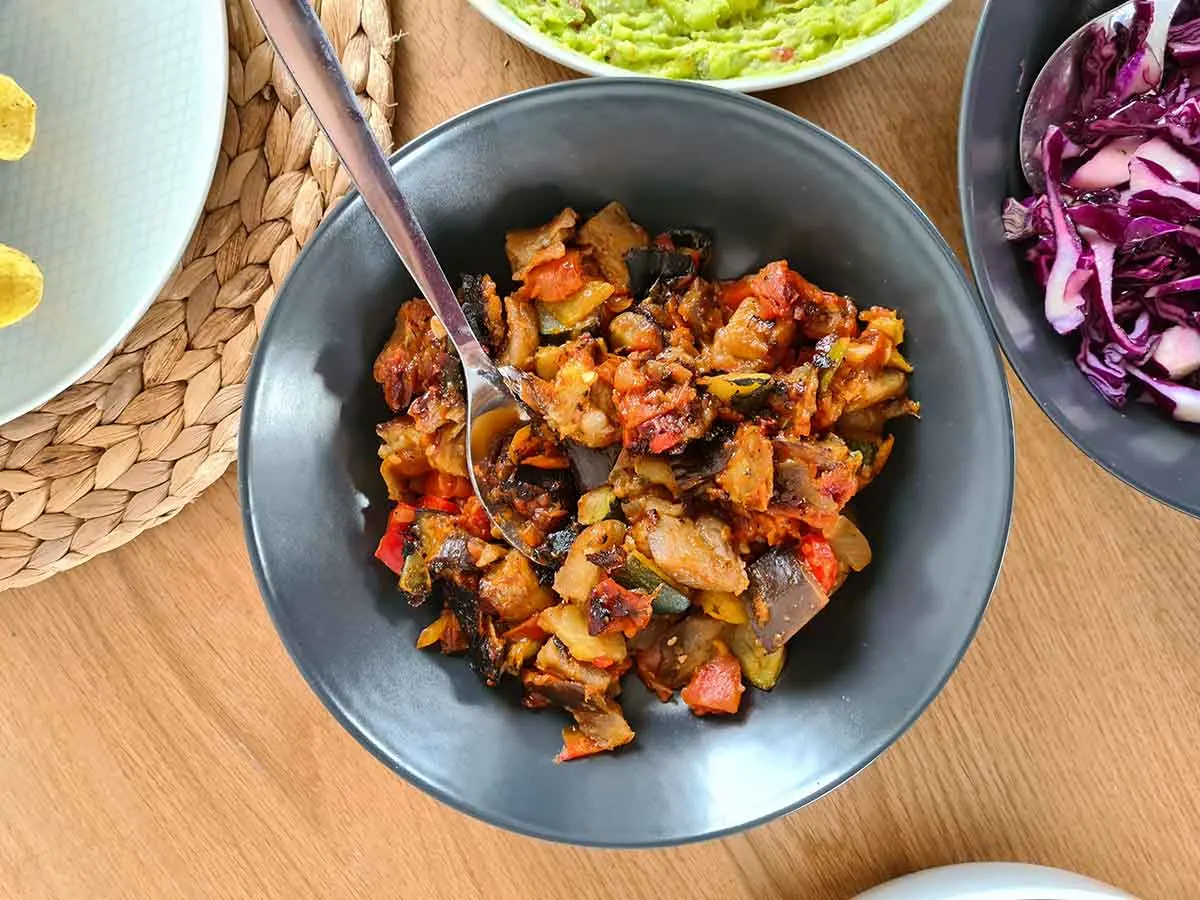 Next, the veggies. For this recipe, I also used some sauteed roasted vegetables as the base, instead of meat. In order to make everything quicker, I used a frozen vegetable mix – my favorite is the Ratatouille mix from Carrefour.
Other than these two items mentioned above, you also need some hard taco shells, shredded cabbage, cilantro (if you like it), and a yummy sauce. You can find the step-by-step recipe for everything down below!
ALTERNATIVES: In case you don't want this Taco Tuesday lunch to be veggie-based, you can also make it with fish. I love a good fish taco made with shredded roasted salmon! And if you want to turn this recipe vegan, simply replace the sour cream in the spicy white sauce with vegan sour cream – the taste will be just as good and the recipe will be 100% plant-based.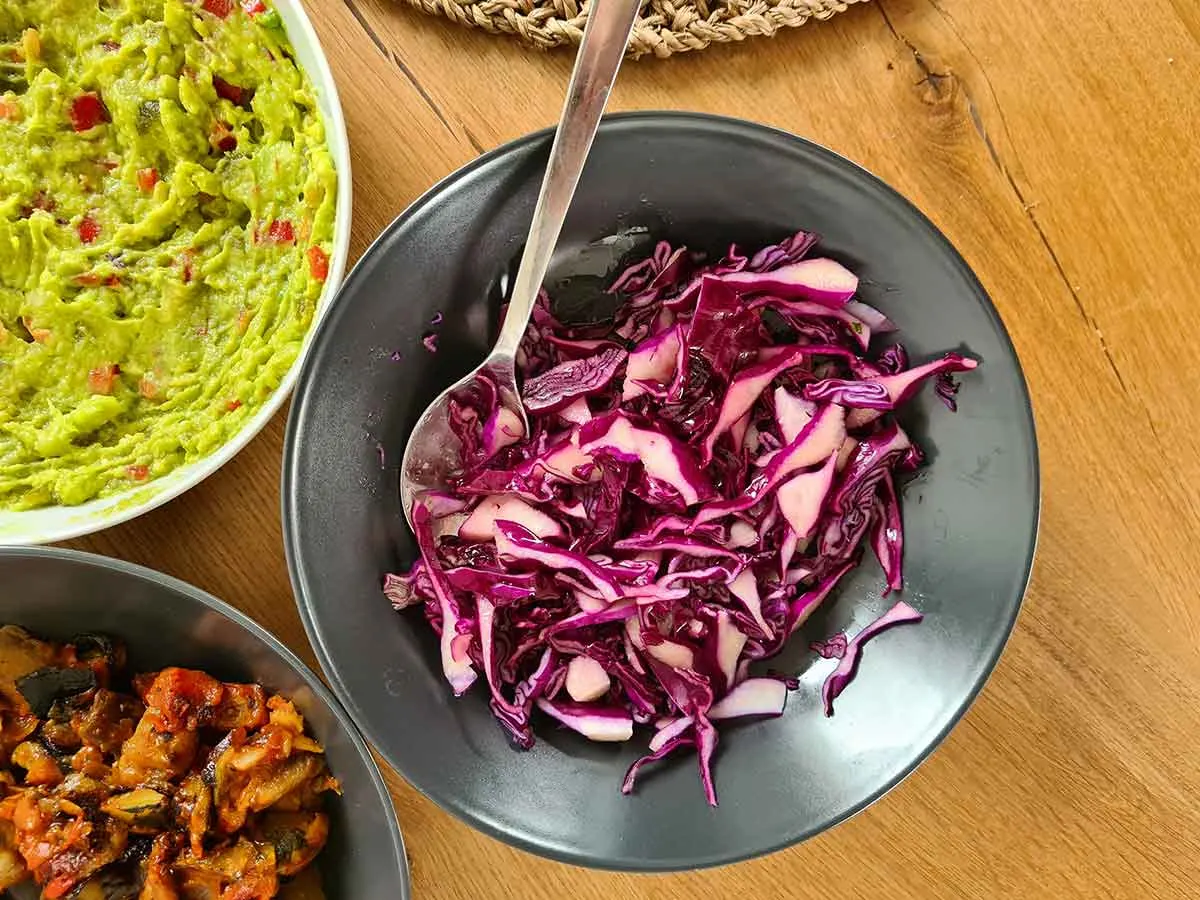 And with this being said, I'll leave you with this Taco Tuesday lunch recipe that is super quick and extremely delicious. I hope you'll enjoy it – don't forget to tell me your impressions in the comments section below.
Happy Taco Tuesday everyone! 🙂
Yield: 8
Taco Tuesday Lunch Ready in 15 Minutes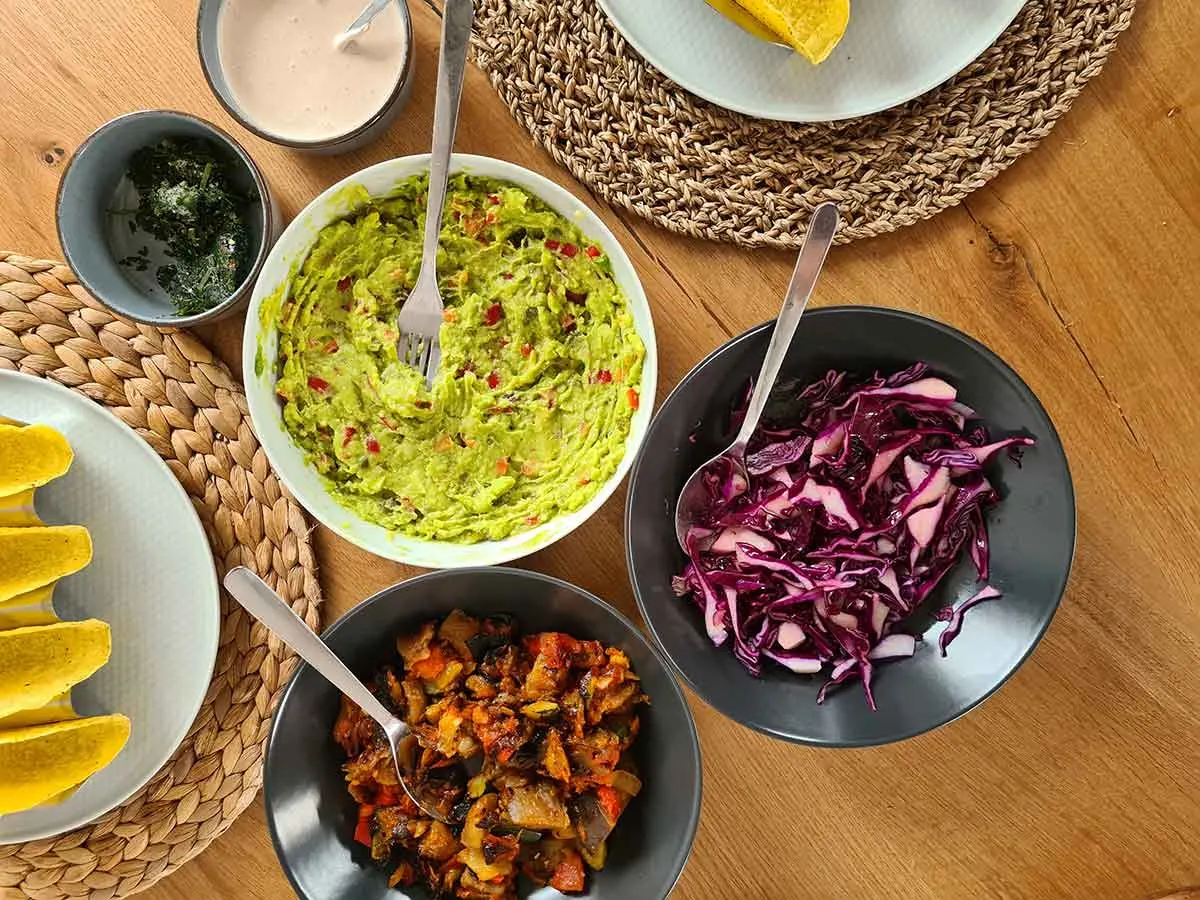 This recipe is for all my taco lovers out there: an amazing Mexican-themed taco Tuesday lunch ready in no more than 15 minutes. Yummy and efficient!
Ingredients
hard taco shells
¼ red cabbage, shredded, mixed with 1 Tbsp vinegar and some olive oil
fresh cilantro (I used frozen)
spicy white sauce - 5 Tbsps sour cream mixed with 3 tsp sriracha
roasted vegetables mix - I used a frozen mix which I sauteed in a pan
Instructions
Serve everything in separate bowls and mix everything together for each taco you assemble, right at the table. Enjoy!
Nutrition Information
Yield
8
Amount Per Serving
Calories

303
Total Fat

15g
Carbohydrates

37.7g
Protein

5.6g