Learn how to make gomasio (gomashio) at home with this easy, step-by-step recipe. This macrobiotic Japanese sesame salt has amazing health benefits too! Find out more in this recipe.
I always loved sesame. Since I got back into macrobiotics, I discovered gomasio (or gomashio), the macrobiotic sesame salt George Ohsawa was talking about in his book, Zen Macrobiotics. It is truly an amazing condiment!
Gomasio is really easy to make, as it contains only whole sesame seeds and natural salt. For my gomasio recipe, I used whole white sesame seeds and Himalayan salt. You'll use just a little bit of salt for this, the sesame seeds will have a strong enough flavor. It's a great salt replacement for those of you who have to keep a low sodium diet but still want their food to taste good.
Gomasio also has healing properties! Yes! Only a teaspoon of gomasio a day can make a difference. Whole sesame seeds are very high in calcium and other important minerals. This will also balance your Yin/Yang energies and make you feel better.
You can add gomasio in almost every savory meal you make, but I find it especially good in rice meals and salads. It adds both crunch and flavor to the meal.
I made the photos in the evening, and unfortunately, I couldn't photograph the final product also, but you can follow the steps in the recipe below. Hope you'll give it a try and use it in your own recipes as well! It's really good! 🙂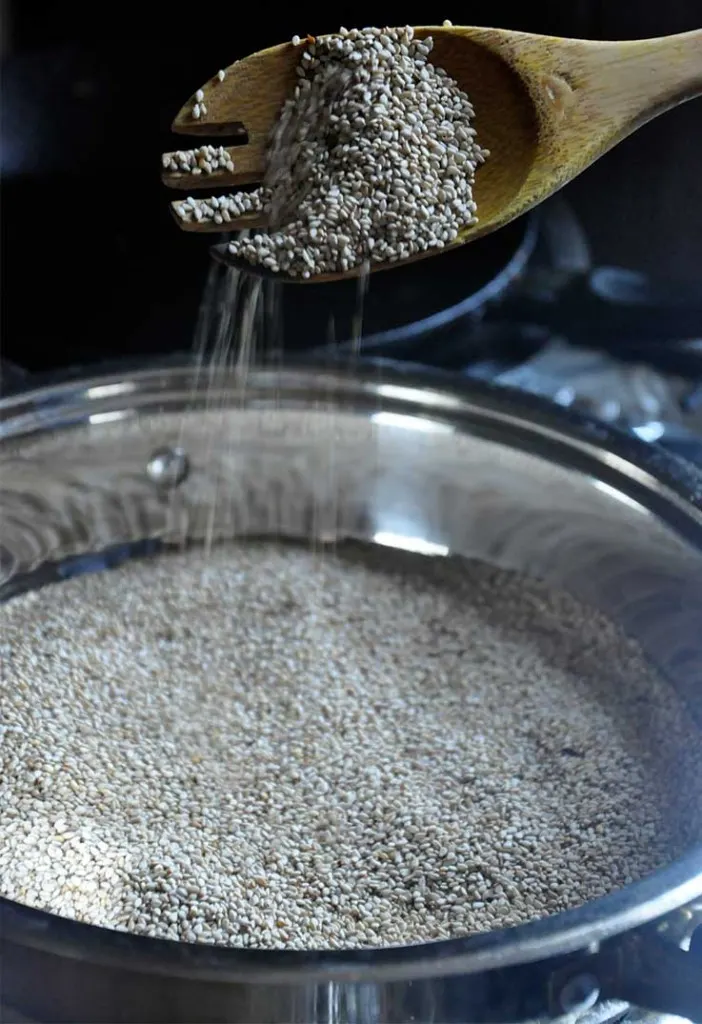 Yield: 2
How to make Gomasio at home! | Macrobiotic Sesame Salt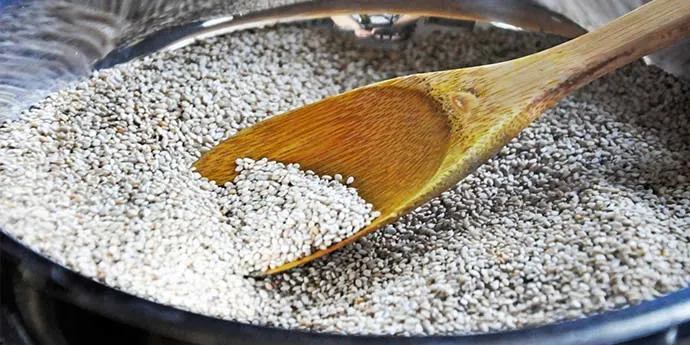 Learn how to make gomasio at home with this easy to follow recipe! I recently discovered macrobiotic sesame salt and I've been using it ever since!
Ingredients
15 Tbsps whole sesame seeds, raw
1 Tbsp natural salt, you can use sea salt, Himalayan, or any other natural salt you like
Instructions
Heat your skillet (preferably cast iron skillet) over medium heat.
Add salt.
Move it around the skillet for a minute or so, then remove from heat and add into a large mortar and pestle.
Put the skillet back on the stove and add sesame seeds.
Heat sesame seeds until they start to crack - 2-3 minutes - while stirring continuously. Test the seeds if they're ready by tasting them. If they burst with flavor and they're dry it means they're ready. If not, heat them a little bit more. Be careful not to burn them.
Remove from heat.
Add sesame seeds in the mortar and pestle. Grind them a bit, not too much.
Store in an air-tight container or jar. It's best stored in the fridge or a cool, dry place in the pantry.
Nutrition Information
Yield
2
Amount Per Serving
Calories

431
Total Fat

35g
Carbohydrates

16.5g
Protein

12.5g