Here's how to make a vegan Philly Cheesesteak sandwich, inspired by the legendary American sandwich! It's just as delicious as the authentic recipe, but healthier!
Philadelphia cheesesteak sandwich (Philly cheesesteak) is a legendary part of the American cuisine. It is not only available, as the name may suggest, in Philadelphia, but its popularity made it spread widely with numerous variations specific to different regions.
This amazing and 100% American sandwich goes under many names – Philly cheese steak, cheesesteak sandwich, steak and cheese, or simply cheesesteak. Regardless of what you may call it, the general recipe stays the same: thinly sliced pieces of beef steak, onions and melted cheese, all wrapped in a long sandwich bread called a "hoagie roll". Nowadays you can get a good Philly cheesesteak from almost any fast food chains or street vendors across the States.
Unlike some other American dishes, the origin of the cheesesteak is quite clear: Philadelphia, Pennsylvania! Pat and Harry Olivieri, who owned of a hot dog stand, one day made a new sandwich putting chopped beef in a roll. A cab driver stopped by and asked for one. After tasting the new, amazing sandwich, he suggested they stop selling hot dogs and focus on the new invention from now on. After the first bite, the sandwich's popularity skyrocketed – from selling it at the hot dog stand, Pat opened up his own restaurant which is still functional nowadays, named "Pat's King of Steaks". The cheese was only later added to the mix, transforming the Philly Cheesesteak into a real delicacy and a staple of the American cuisine.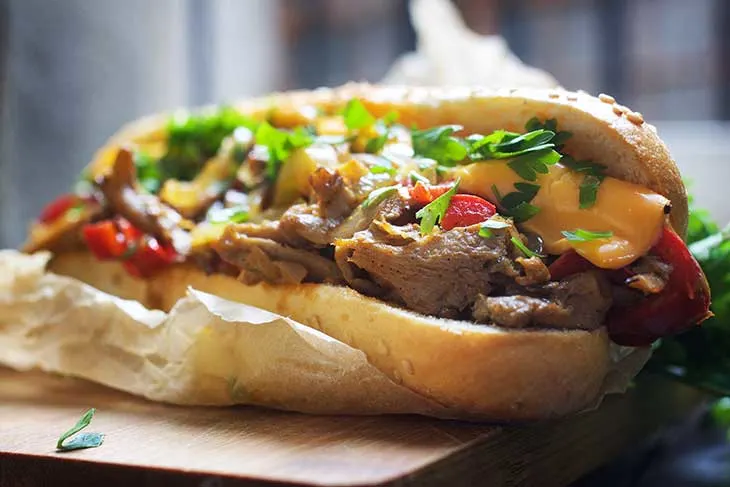 While cheesesteak lovers might argue over its content – the way the meat is cooked or which cheese to add – everybody seems to agree that the sandwich has to be served in a local Amoroso roll, a regional favorite.
The cheese could be replaced with Provolone which melts beautifully, but the original recipe from Pat Olivieri was made with a processed cheese spread called "Cheez Whiz", highly appreciated for its comforting taste. The New York Times newspaper even called Cheez Whiz "the sine qua non of cheesesteak connoisseurs" in 1986, so you can understand that the authentic recipe for the perfect Philly cheesesteak is no joke.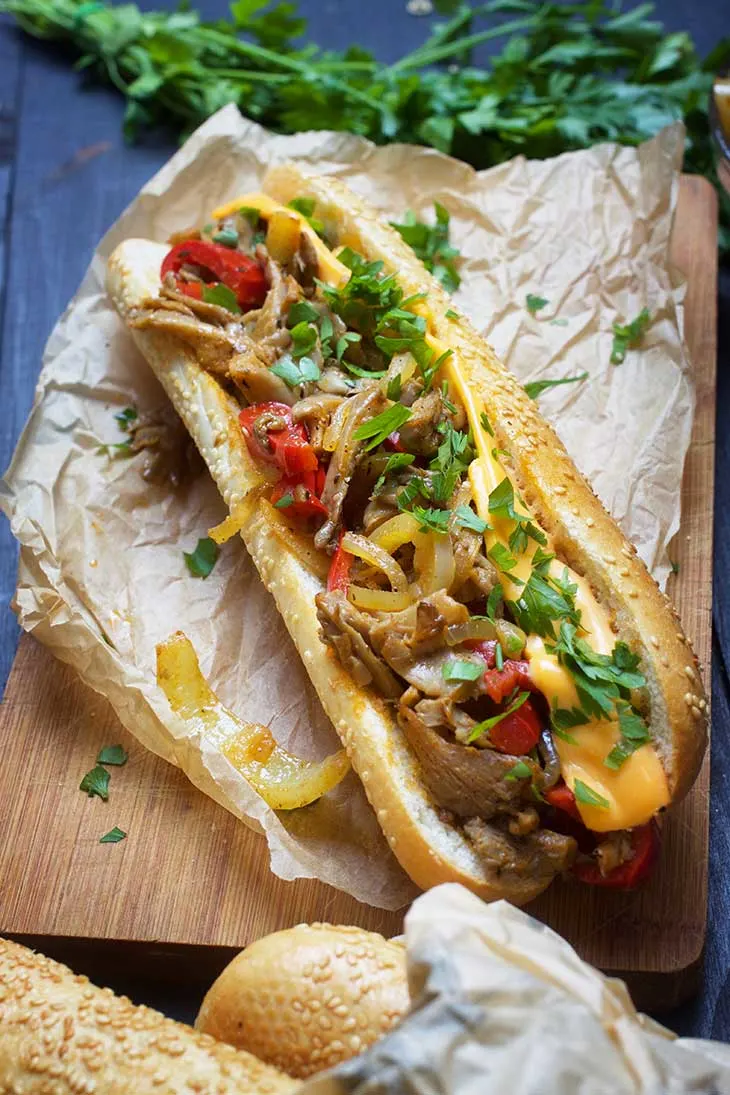 Some popular variations of this sandwich include pizza cheesesteaks, meaning cheesesteaks with mozzarella and tomato sauce added, sometimes toasted to add the fail-proof pizza flavor, and a chicken cheesesteak (or chicken Philly) where the beef is replaced with chicken. A cheesesteak hoagie is just about the healthiest option out there with added lettuce and tomato.
Of course, there are many other variations of the Philly cheesesteak, including a vegan one, but any true American would turn their nose at something that is so far from the frankly unhealthy, shameless original recipe. Americans say that the whole point of the Philadelphia cheesesteak is to be as unhealthy as possible – they claim that while you could replace the fat, stringy beef preferred for the sandwich with some finest quality beef, and the heavily processed Cheez Wiz cheese sauce or the packaged rolls with fresh bakery baguettes, the resulting dish would simply no longer be a Philly cheese steak. If you're not making it as the original, authentic recipe says, all essence is lost.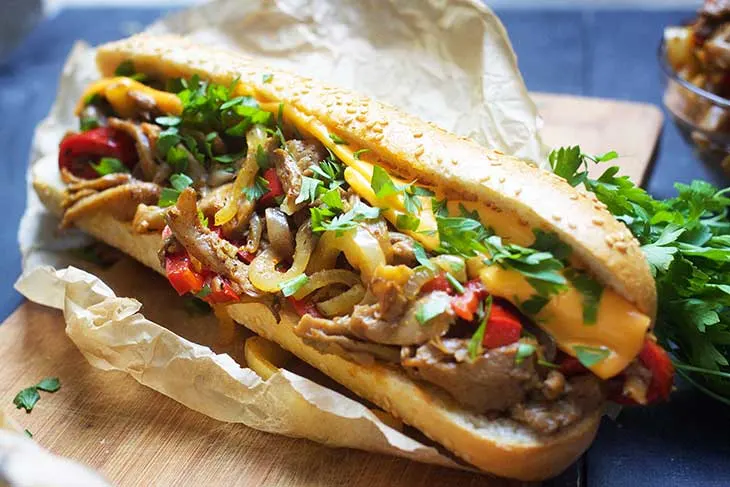 However, you do not have to give up your beliefs if you really want to try it. Even though the majority of Americans will disagree with me, I am taking my chances and I'm showing you today how to make the vegan version of the amazing Philly cheesesteak. For my all-healthy, guilt-free sandwich I used my favorite meat replacement in the entire world: Oyster mushrooms, of course!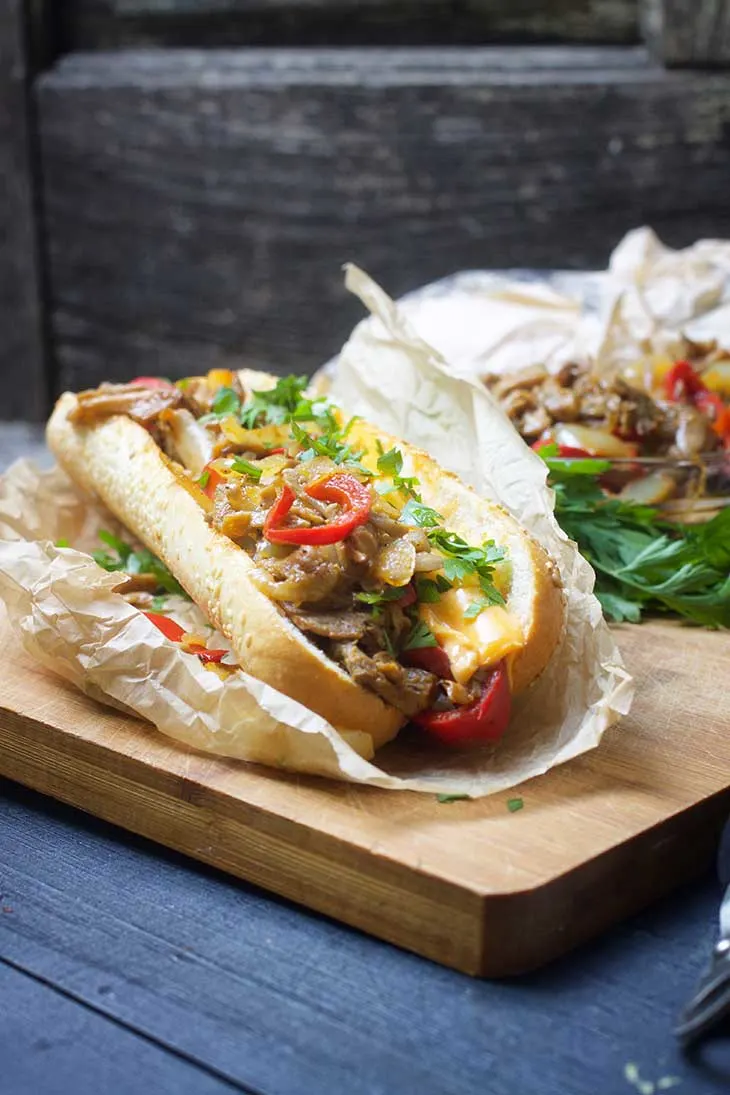 Yield: 4
Vegan Philly Cheesesteak Sandwich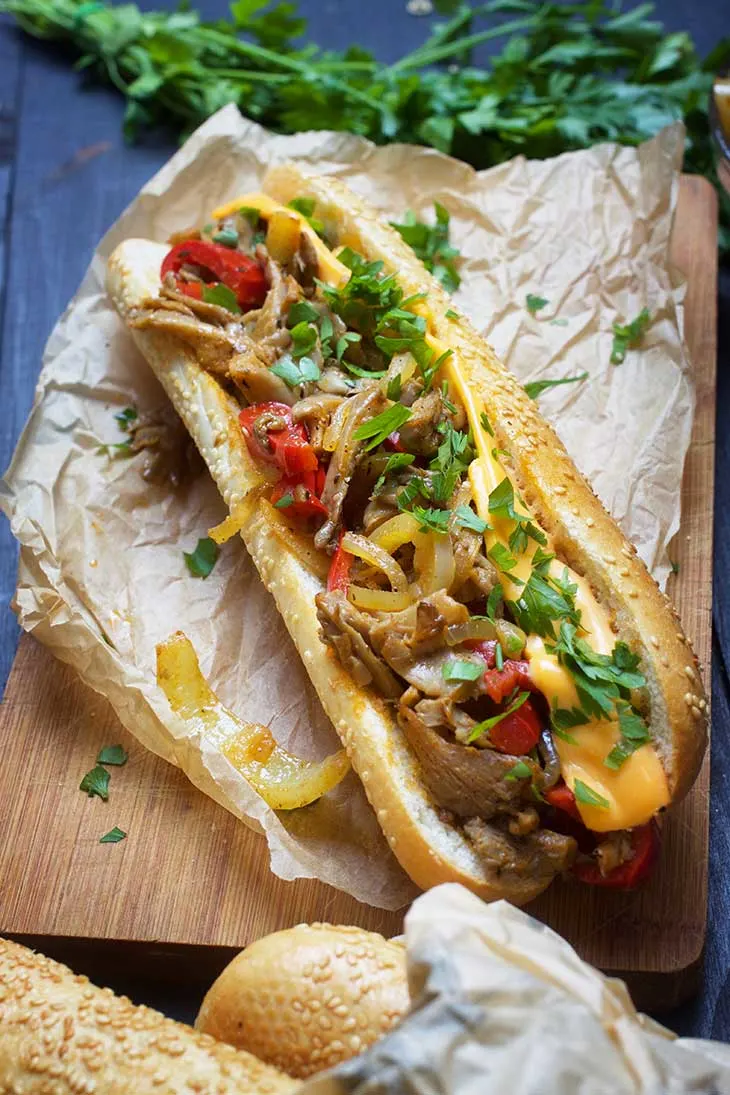 Here's how to make a vegan Philly Cheesesteak sandwich, inspired by the legendary American sandwich! It's just as delicious as the authentic recipe, but healthier!
Ingredients
1 Tbsp extra-virgin olive oil
1 yellow pepper, thinly sliced
1 red pepper, thinly sliced
1 large yellow onion, julienned
1 tsp Himalaya salt
9 slices vegan cheddar
4 hoagie rolls
For the vegan steak:
500g (2 cups) Oyster mushrooms
Spices:
1 tsp brown sugar
1 Tbsp vegan barbecue sauce
3 Tbsps coconut oil
2 Tbsps white wine
¼ tsp all-spice
⅓ tsp thyme
¼ tsp coriander, ground
⅓ tsp pepper, ground
½ tsp sweet paprika
½ tsp smoked paprika
¼ tsp mustard powder
½ tsp garlic powder
½ tsp onion powder
1 tsp cumin
½ tsp anise powder
sea salt, to taste
Instructions
Heat a tablespoon of oil in a large skillet over medium heat. Add peppers and onions and season with salt. Cook, stirring until caramelized for about 15 minutes.
Remove the onions and peppers from the skillet and set aside.
For the "steak":
Slice mushrooms into thin, long strips. Put them into a bowl.
Add the spice mixture. Mix well.
Place them all in a large pan, over medium heat.
Sautee for 20 minutes. Add a little bit of water if necessary, so the mushrooms won't burn. When ready, remove from heat.
Add the cooked veggies mixture and stir to combine.
Cover the mixture with vegan cheese and cover with a lid. Cook for 1 more minute.
Divide the mixture in the hoagie rolls and serve with some fresh chopped parsley on top.
Nutrition Information
Yield
4
Amount Per Serving
Calories

584
Total Fat

35.5g
Carbohydrates

40.5g
Protein

25.6g