Dive into the crispy rice waffles recipe, a brilliant twist on traditional waffles that transforms leftover cooked rice into a gluten-free breakfast delight. Perfectly crunchy on the outside with a tender middle, these waffles are a morning game-changer.
These crispy rice waffles are the perfect solution to turn any leftover rice into a gluten-free treat! With an irresistible texture and a unique taste, these rice flour waffles will quickly become your favorite. Do not throw away leftover rice; turn it into a really special breakfast or snack!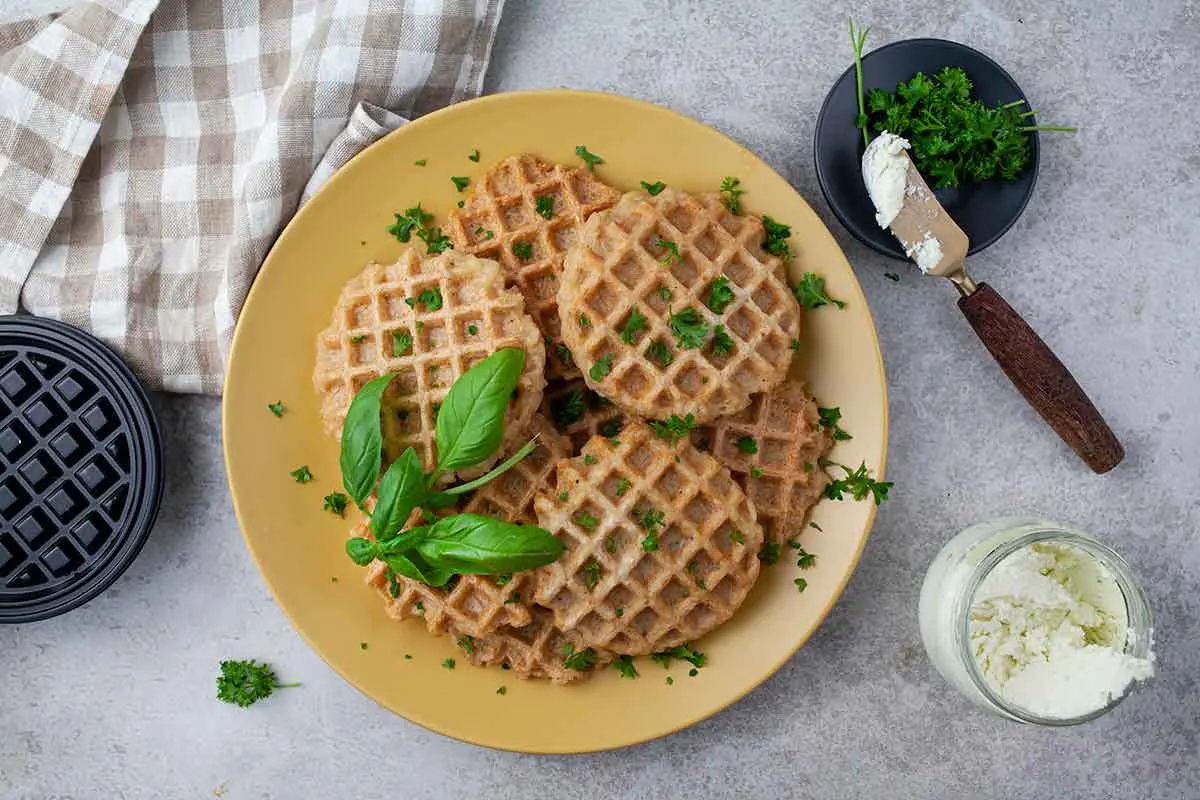 What type of rice to use for rice waffles
Rice, in its wide variety, offers a wide range of textures and flavors, which can influence the final result of your waffles. Choosing the type of rice for the waffle maker can be influenced by what you have on hand or by the effect you want to achieve.
White rice (or long grain rice): It is the most common type of rice used in many cuisines. Its cooking results in a soft and slightly sticky bean, giving the waffles a soft texture and a slight crunch. The taste is neutral, allowing the aroma and toppings to be in the foreground.
Basmati rice: This has a long grain and comes off easily after cooking. Waffles made with basmati will have a slightly airier texture and a distinct, almost fragrant taste.
Jasmine rice: This rice of Asian origin is slightly sticky and has a floral fragrance. Waffles with jasmine rice will have a delicate taste and a slightly stickier texture.
Round grain rice (or rice for risotto): This rice has a higher starch content and, after cooking, the grain becomes very soft and sticky. Waffles made with this type of rice will have a soft and dense texture, ideal if you want more moist and slightly sticky waffles.
Brown Rice: This has a firmer texture and a distinctive, slightly sweet taste. Brown rice waffles will be more filling and with a unique taste note.
Wild rice: Wild rice waffles will have an interesting texture and earthy taste.

When preparing gluten-free rice waffles, you can experiment with different types of rice or even combinations between them, to discover which texture and taste you prefer the most. Regardless of the choice, the secret lies in adjusting the liquid and the ingredients to obtain the desired consistency of the dough.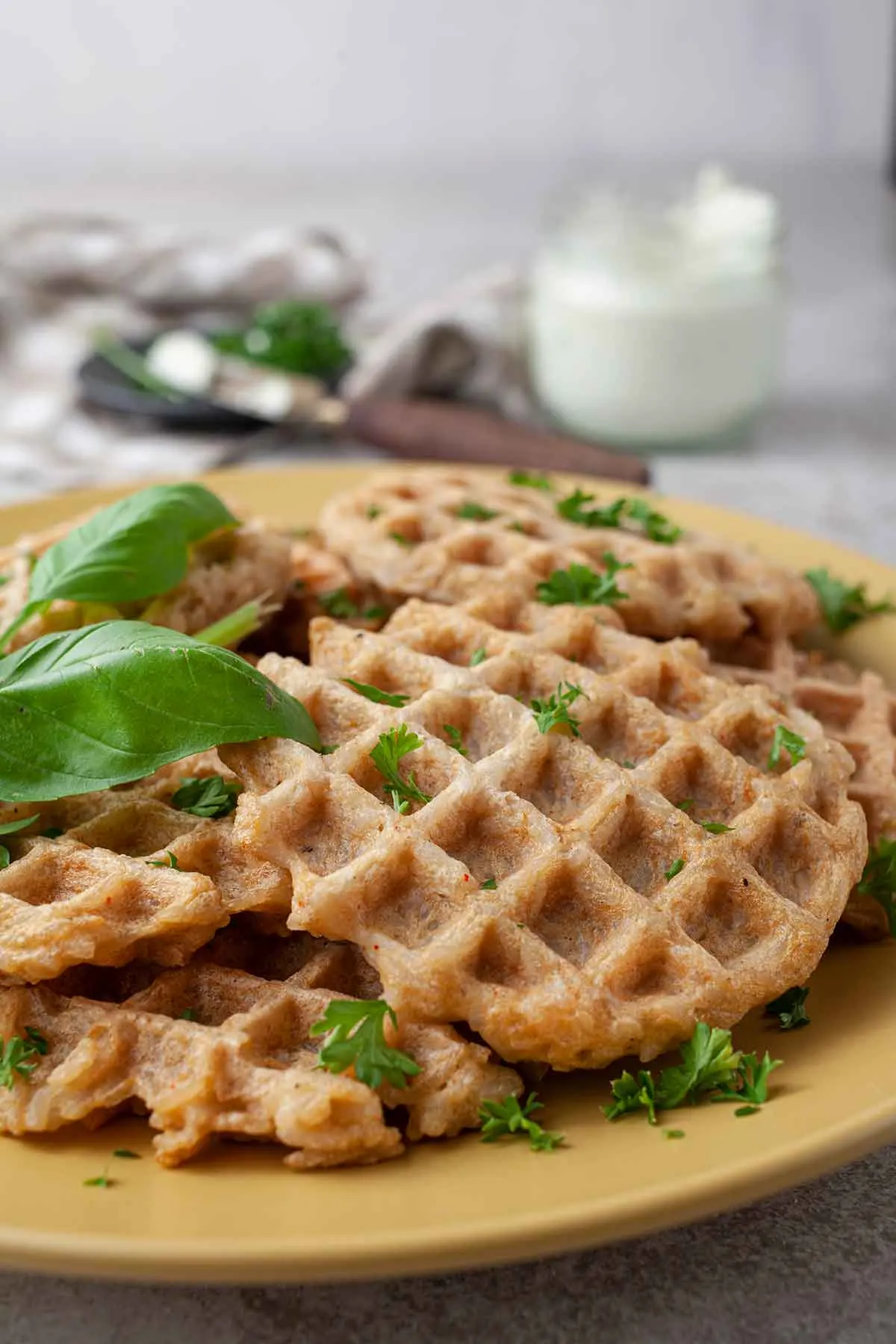 Equipment needed for making rice waffles
To prepare waffles properly and ensure that the end result is delicious, the right equipment is essential. Here are some recommendations:
Waffle maker: There are numerous models on the market, from the simplest to those with advanced functions. A quality appliance will have an even distribution of heat and will allow you to adjust the temperature to control the level of crispness. Also, an indicator that signals when the waffle is ready can be extremely useful.
Blender or mixer: If you prefer a finer texture for your waffle dough, a blender or mixer can help you mix the rice with the other ingredients and obtain a homogeneous consistency.
Large mixing bowl: Ideal for combining ingredients and ensuring a uniform dough consistency.
Ladle: It will help you to pour the right amount of batter on the waffle maker, reducing the risk of pouring too much or too little.
Kitchen brush: Useful for lightly greasing the waffle maker with butter or oil, ensuring that the waffle will not stick.
Spatula: A thin and wide spatula will make it easier to lift the waffle and transfer it to a plate without breaking it.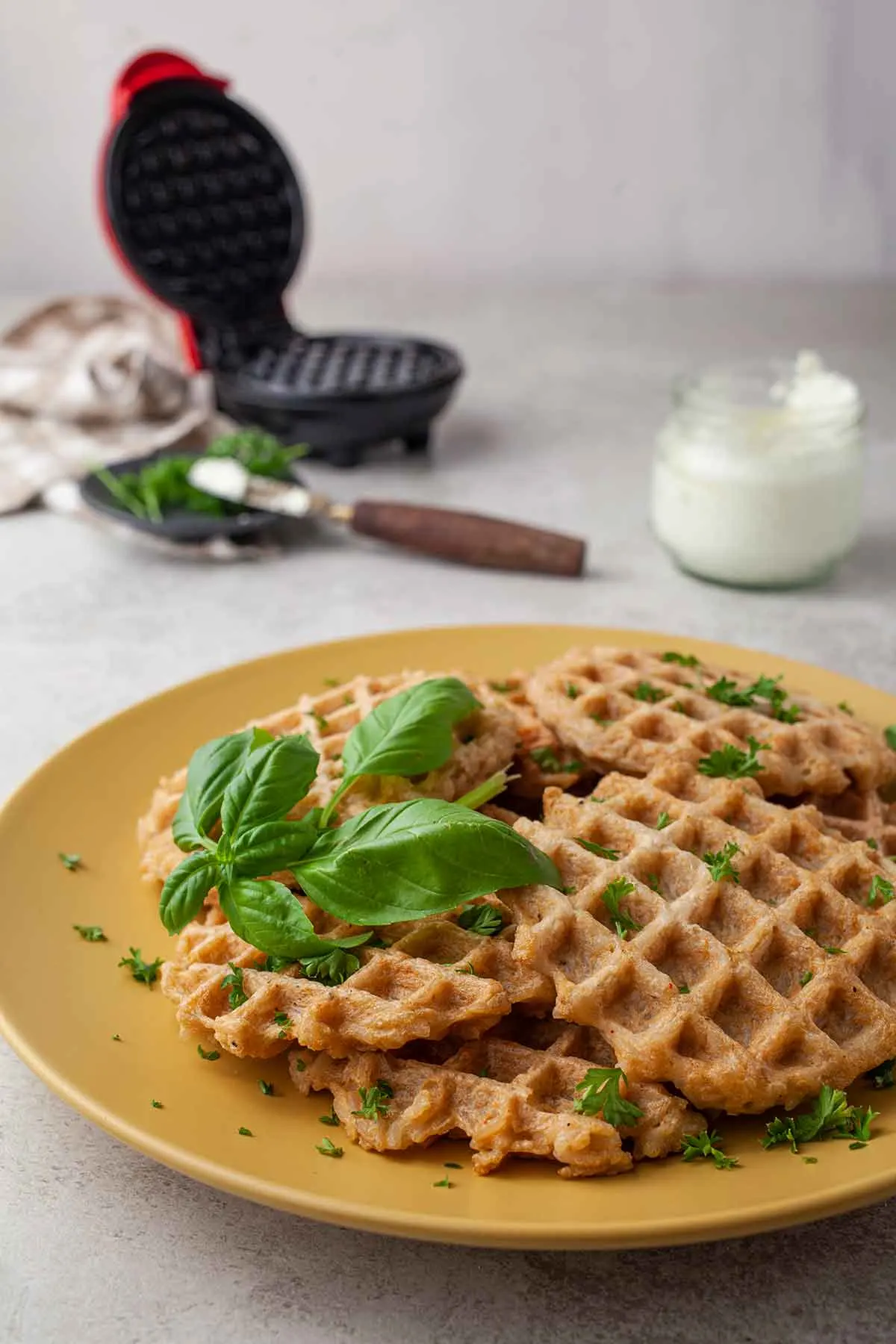 How to avoid sticking when making waffles: Tips and tricks
We have all faced the problem of waffles sticking to the waffle maker at some point. To avoid this shortcoming and ensure that your waffles are perfect and easy to remove, here are some techniques and tricks you can try:
Preheating: Make sure your waffle maker is fully preheated before adding the batter. Most waffle makers have an indicator that lets you know when they are ready to be used.
Grease the surface: Even if you have a non-stick appliance, it is recommended to grease the surface with a little butter or oil before each portion. You can use a kitchen brush to evenly apply a thin layer of fat.
Using the right waffle batter recipe: The consistency of the dough is essential. If it is too thick or too thin, there is a greater chance of sticking. Follow the waffle recipe carefully and adjust the amount of liquid if necessary.
Do not open the waffle maker too soon: If you try to check the waffle before it is ready, there is a risk of it breaking and sticking. Be patient and wait for the recommended time to pass before lifting the lid.
Check the temperature: Too low a temperature can cause sticking. Make sure your waffle maker is set to the correct temperature according to the recipe.
Regular cleaning: Old dough deposits can cause future waffles to stick. After each use, clean the waffle maker according to the manufacturer's instructions.
Using baking paper: Although it is not a common solution, you can try placing a small piece of baking paper between the dough and the machine. This trick can work especially for older appliances or those that are not non-stick.
By applying these techniques and tricks, you will be able to prepare perfect waffles, without facing the problem of sticking. It is important to familiarize yourself with your waffle maker and adjust the techniques according to its specifications.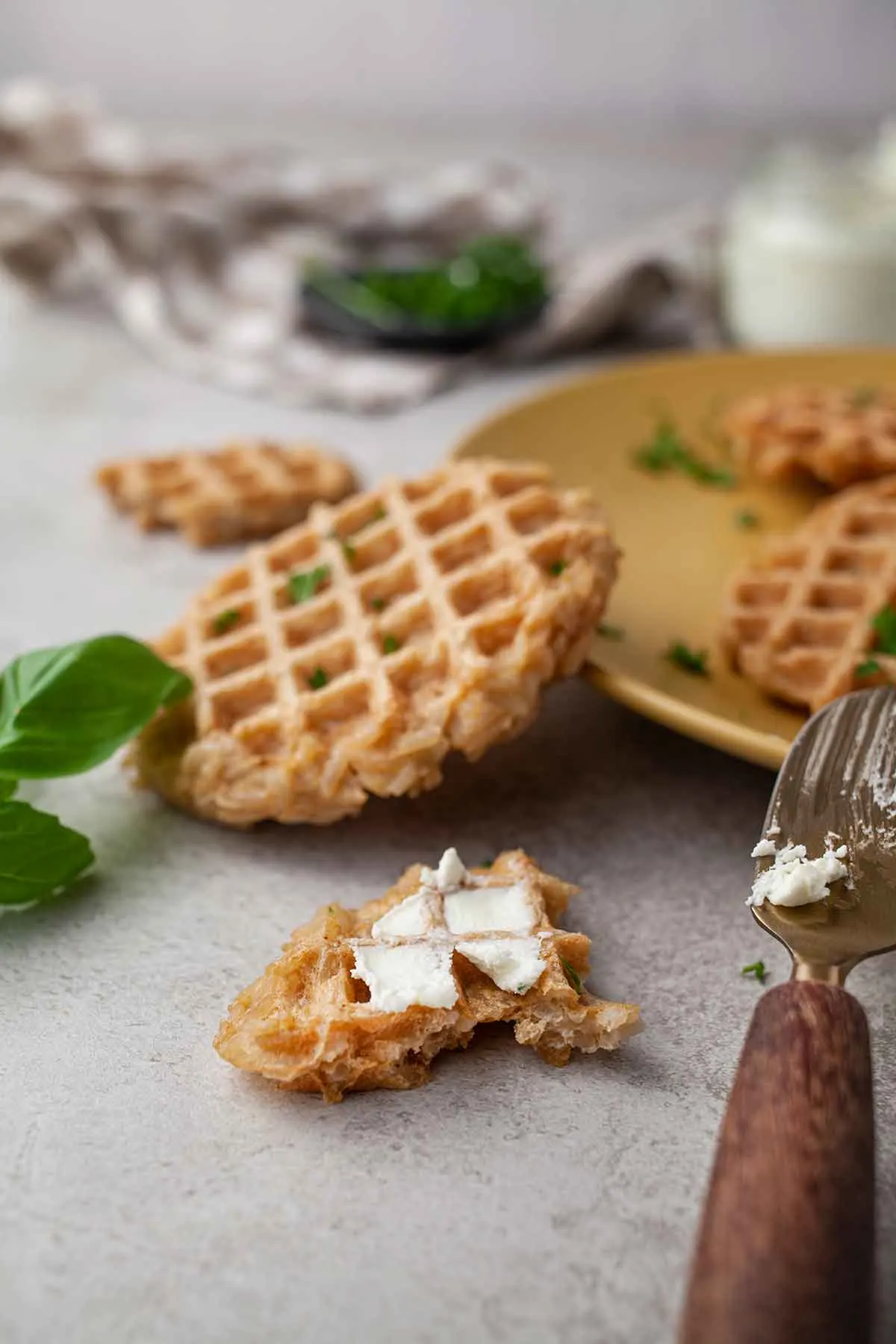 Enhancements and Gourmet Toppings for Rice Waffles
In the kitchen, creativity has no limits, and waffles offer an extensive palette of possibilities in terms of additions and toppings. I chose a salty version of rice waffles, but you can make them in a sweet version just as well! Whether you choose to enrich the dough or add a special note at the end, here are some suggestions to inspire you:
Sweet rice waffles
In the dough:
Dried fruits: Pieces of raisins, cranberries or dates can be incorporated directly into the dough for added sweetness and texture.
Nuts and seeds: Chopped nuts, hazelnuts, chia or flax seeds can add a crunchy texture and a valuable nutritional contribution to the dough.
Spices: Cinnamon, nutmeg or cardamom can transform simple dough into a real aromatic delicacy.
After cooking:
Fresh fruits: Slices of bananas, strawberries, blueberries or kiwi can be added over the waffles for a fresh taste and an intake of vitamins.
Syrups: Maple syrup, honey, or even flavored syrups (such as caramel or chocolate) can perfectly complement the crispy texture of the waffle.
Creams: A layer of peanut butter, hazelnuts or even a spoonful of Greek yogurt can add a creamy consistency and a rich taste to the dish.
Crunchy toppings: Granola, toasted nuts or coconut flakes can add an interesting texture and a special taste.
Ice cream or whipped cream: For the moments when you want something more indulgent, a scoop of ice cream or a dollop of whipped cream can turn the waffle into an unforgettable dessert.
Flavoring powders: A drop of cocoa, powdered sugar or even matcha powder can add flavor and color.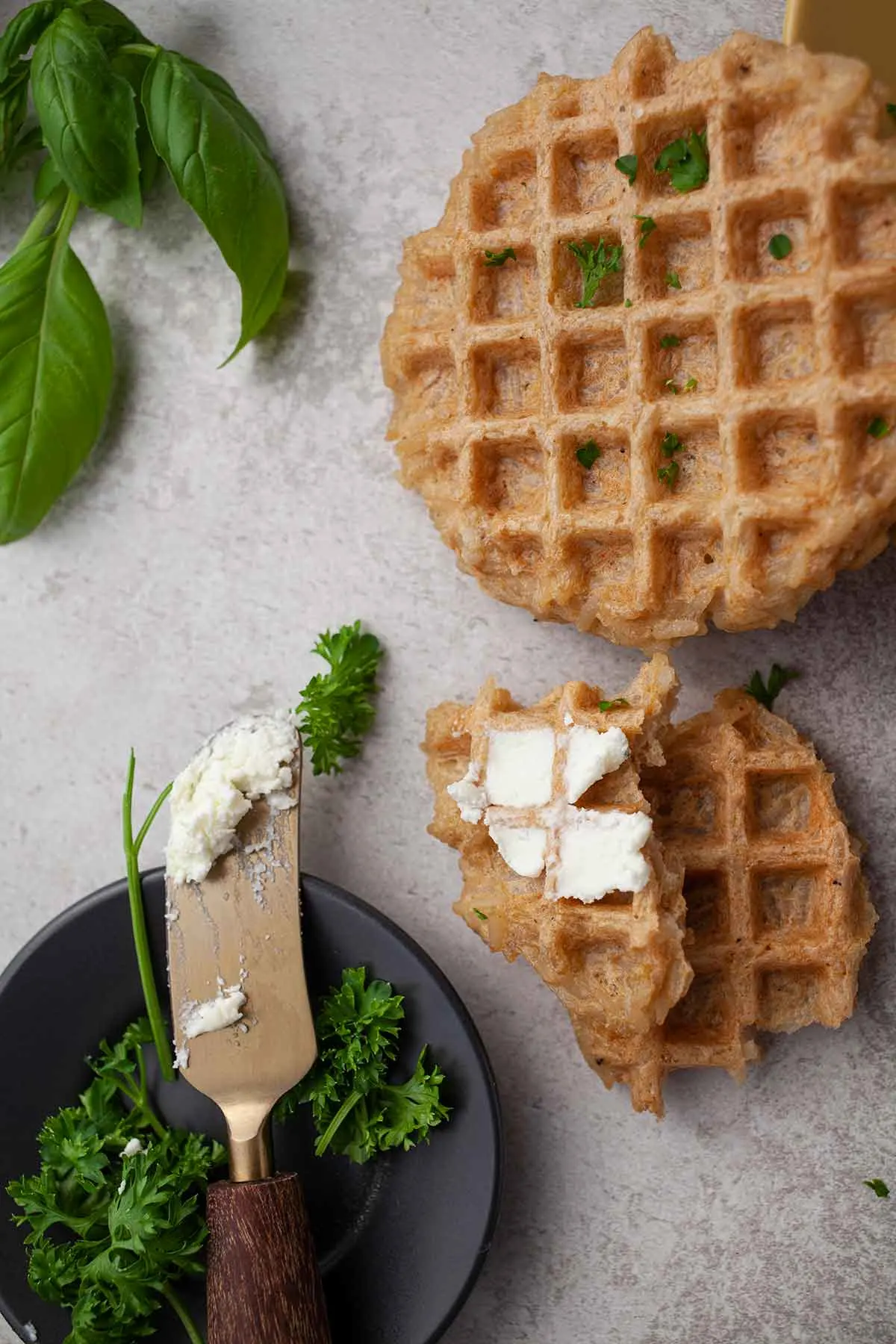 Savory rice waffles
In the dough:
Vegetables: Small pieces of pepper, finely chopped green onion or even peas can be mixed directly into the dough for a fresh and colorful touch.
Aromatic herbs: Parsley, dill, coriander or thyme, finely chopped, can add a fresh taste and a special aroma to the dough.
Cheeses: Small pieces of feta, mozzarella or cheddar cheese can be incorporated into the dough for extra creaminess and flavor.
Condiments: Garlic powder, ground black pepper or even chili flakes can intensify the flavor of the waffles.
After cooking:
Smoked products: Pieces of smoked salmon, pastrami or crispy bacon can add a rich taste and an interesting texture to waffles.
Creams and sauces: Guacamole, hummus, tzatziki or a simple mayonnaise can serve as a creamy base for other toppings.
Salads: A tomato salad with basil or even a mix of arugula and spinach can be placed over the waffles for a fresh taste.
Eggs: A fried or laid egg over a crispy waffle can be the perfect combination for a hearty breakfast.
Grated cheeses: Parmesan, gouda or even grated blue cheese on hot waffles bring an intense and satisfying taste.
Olives and capers: For a Mediterranean note, finely chopped olives and capers can add a salty and sour taste.
Regardless of your choice, it is essential to play with the flavors and textures until you find the perfect combination for you. Waffles are like a white canvas, ready to be painted with the most varied and daring ingredients!
Crispy rice waffles recipe
Yield: 5 waffles
Crispy Rice Waffles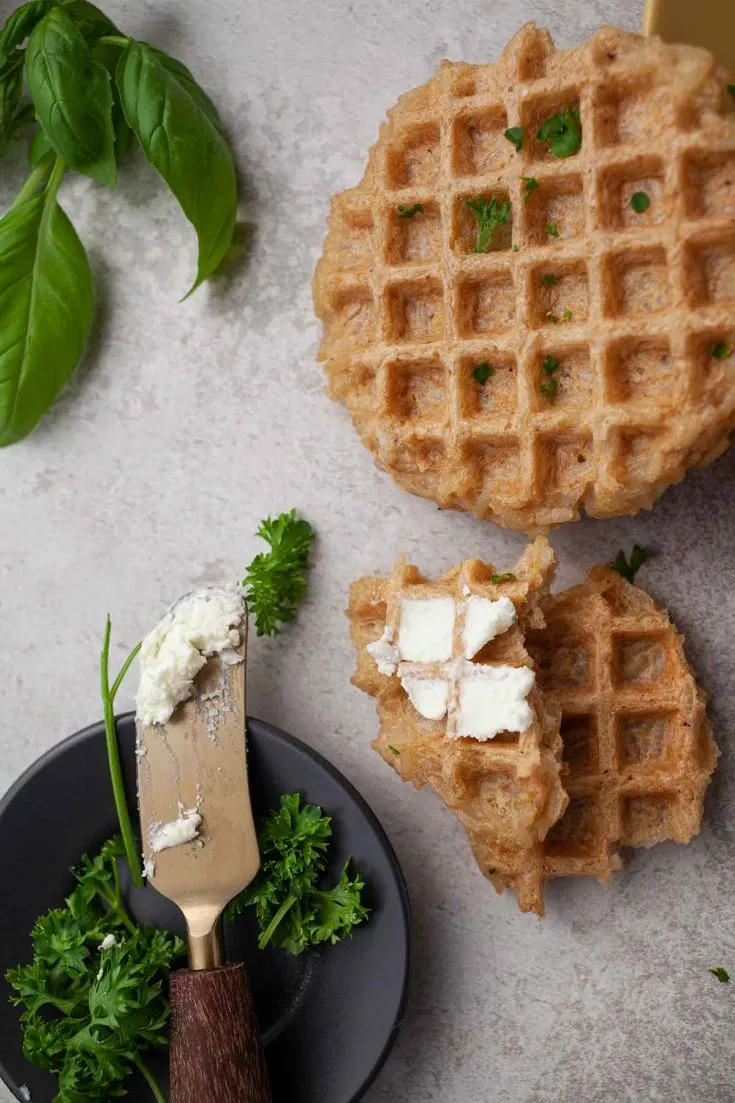 Dive into the crispy rice waffles recipe, a brilliant twist on traditional waffles that transforms leftover cooked rice into a gluten-free breakfast delight. Perfectly crunchy on the outside with a tender middle, these waffles are a morning game-changer.
Ingredients
1 ½ cups boiled or fried rice (leftover)
1 tablespoon soy sauce or tamari
2 large eggs
¼ teaspoon of sesame oil + extra oil for the waffle maker
Instructions
In a bowl, add the soy sauce or tamari, eggs and sesame oil. Mix well with a whisk or fork.
Add the leftover rice and mix until you get a creamy composition.
Heat the waffle maker and grease it with some sesame oil.
When it's hot, put a spoonful of the rice mixture in the pan. Close and leave until the waffle is well browned.
Repeat the process with the rest of the composition.
Serve the waffles warm with your favorite sauce.
Nutrition Information
Yield
5
Serving Size
1
Amount Per Serving
Calories

174
Total Fat

8g
Saturated Fat

1g
Trans Fat

0g
Unsaturated Fat

6g
Cholesterol

92mg
Sodium

640mg
Carbohydrates

19g
Fiber

1g
Sugar

0g
Protein

6g
I strive to keep the information as accurate as possible but make no warranties regarding its accuracy. I encourage you to make your own calculations using your preferred nutrition calculator.