This lemon meringue ice cream recipe is truly an explosion for your senses! This refined delicacy combines the refreshing aroma of lemon with the fine and foamy texture of meringue, resulting in an absolutely delicious dessert.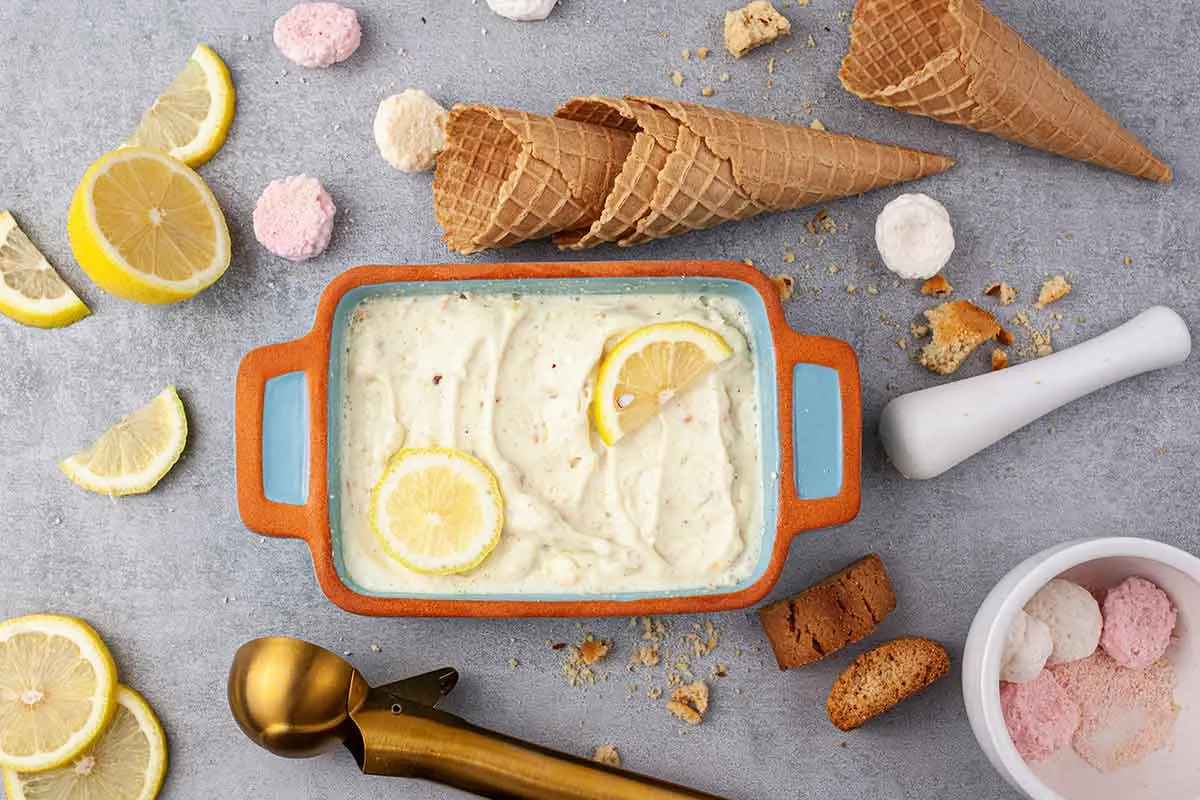 For me, there is no summer without enjoying homemade ice cream. If I usually prepare it from frozen and blended bananas mixed with flavored protein powder (2 in 1 – both healthy and delicious), but this time I wanted to try something classic, with milk, with sugar, as traditional ice cream is made.
I was inspired by the authentic Italian lemon ice cream recipe and customized it according to my own taste. The result delighted the whole family, so it must be shared here on the blog. I hope you'll enjoy it as much as we did!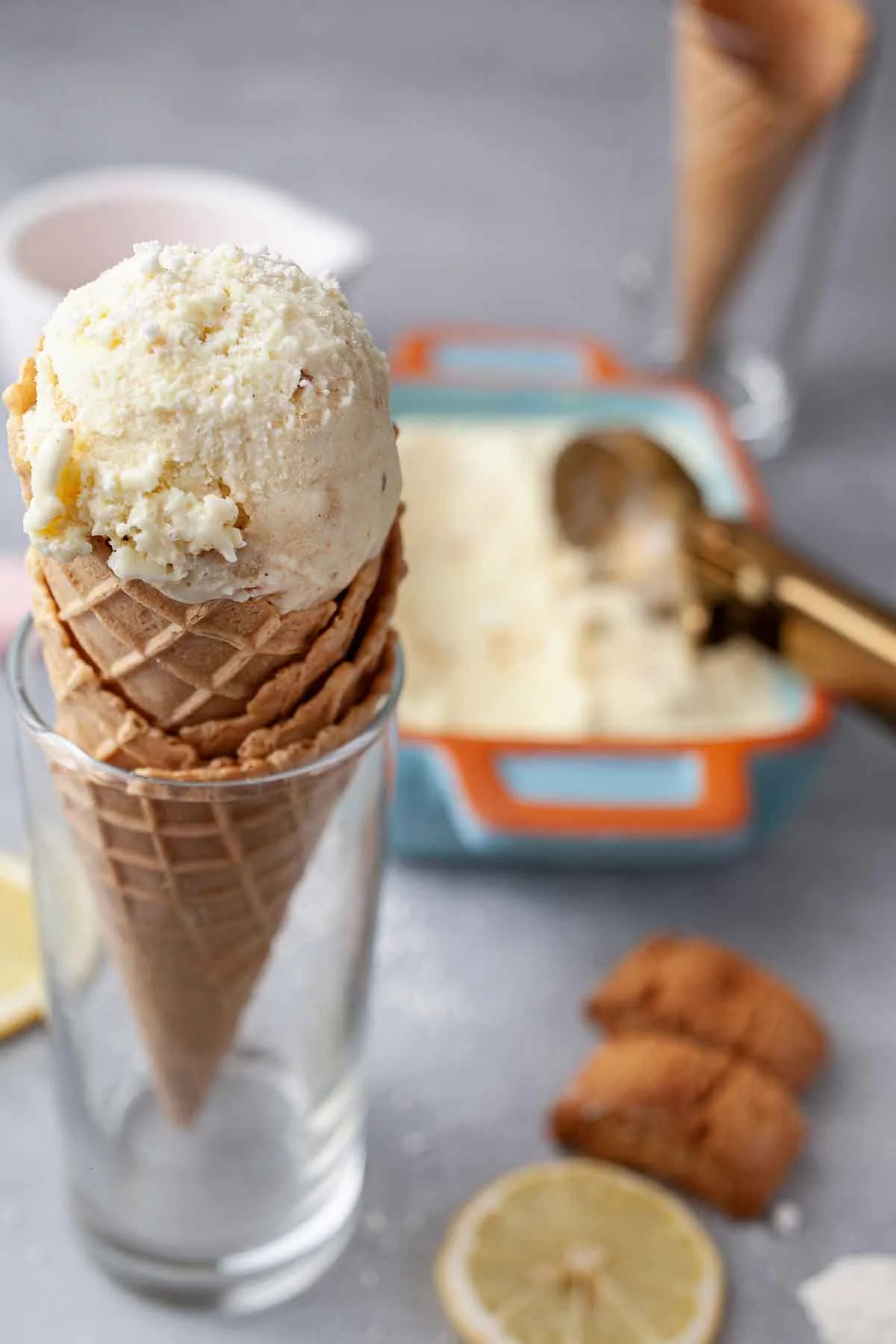 The origin and history of the classic lemon ice cream
Lemon ice cream is a refreshing and refreshing delicacy with a long history. The origin of this delicious ice cream can be traced to Italy, where it is known as "gelato al limone". It is said that the first written recipe for lemon ice cream dates back to the 17th century, and this refreshing dessert quickly spread among the Italian nobles.
Simple ingredients such as lemon, sugar and water were initially used to create a flavored paste that was frozen and served as a rudimentary ice cream. Over time, the recipe evolved, and lemon was combined with milk or cream to obtain a creamier and richer texture.
With the popularization of ice cream in Italy, this wonderful ice cream dessert found its way to the rest of Europe and other parts of the world, becoming a delicacy appreciated by everyone. Today, lemon ice cream remains a favorite choice in the warm season, bringing an explosion of freshness and citrus flavors to the plate.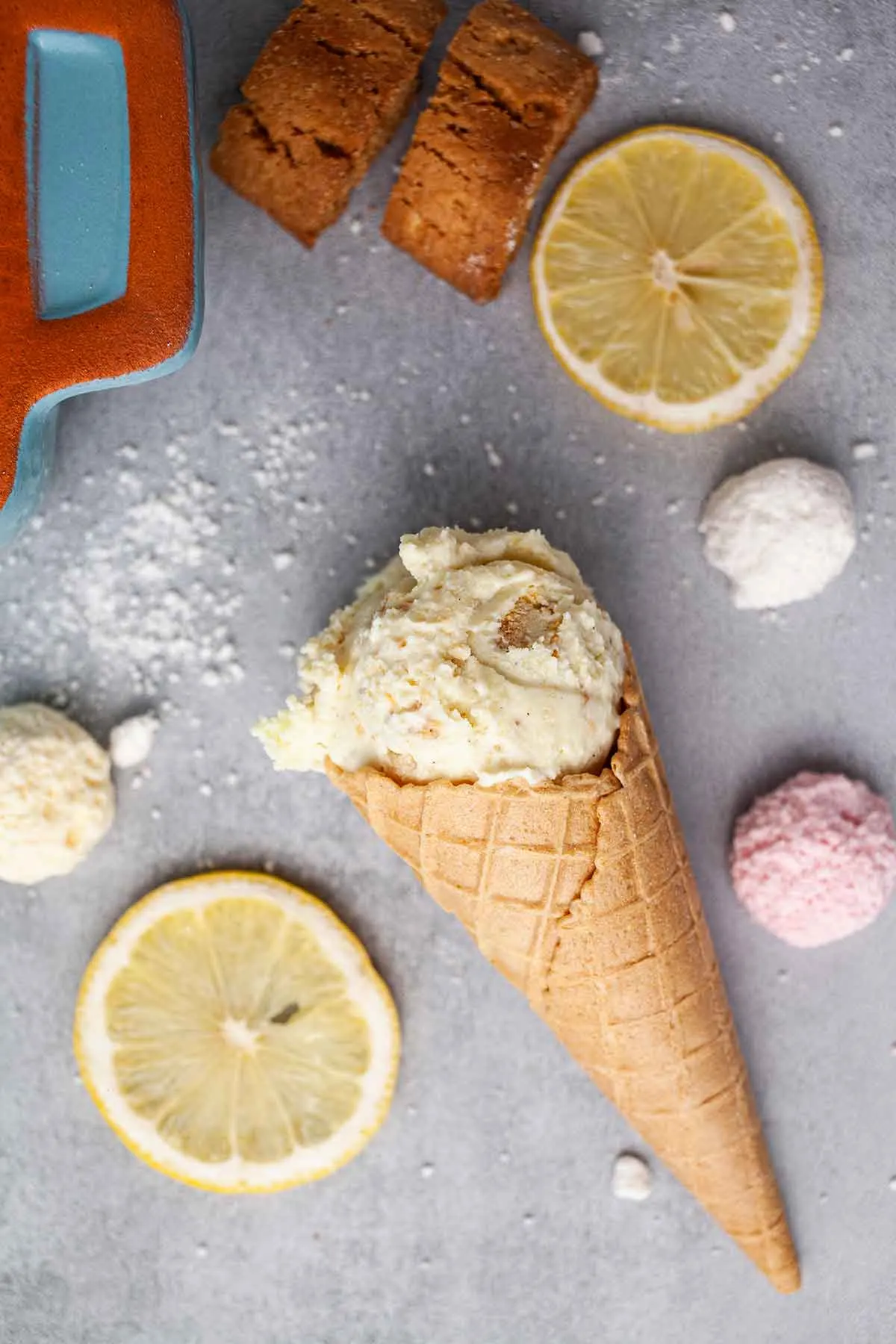 What culture is meringue from?
Meringue is made from beaten egg whites and sugar, forming a light and foamy mixture. This is a culinary specialty that does not have a specific origin from a specific country, but is found in different forms and culinary traditions from several regions of the world.
However, it is believed that the origins of the modern meringue can be attributed to the French and Swiss cuisine of the 17th and 18th centuries. The term "meringue" is also of French origin, derived from the name of an 18th century Swiss chef named Meiringen. This was one of the first places where the recipe was documented and developed in the form known today.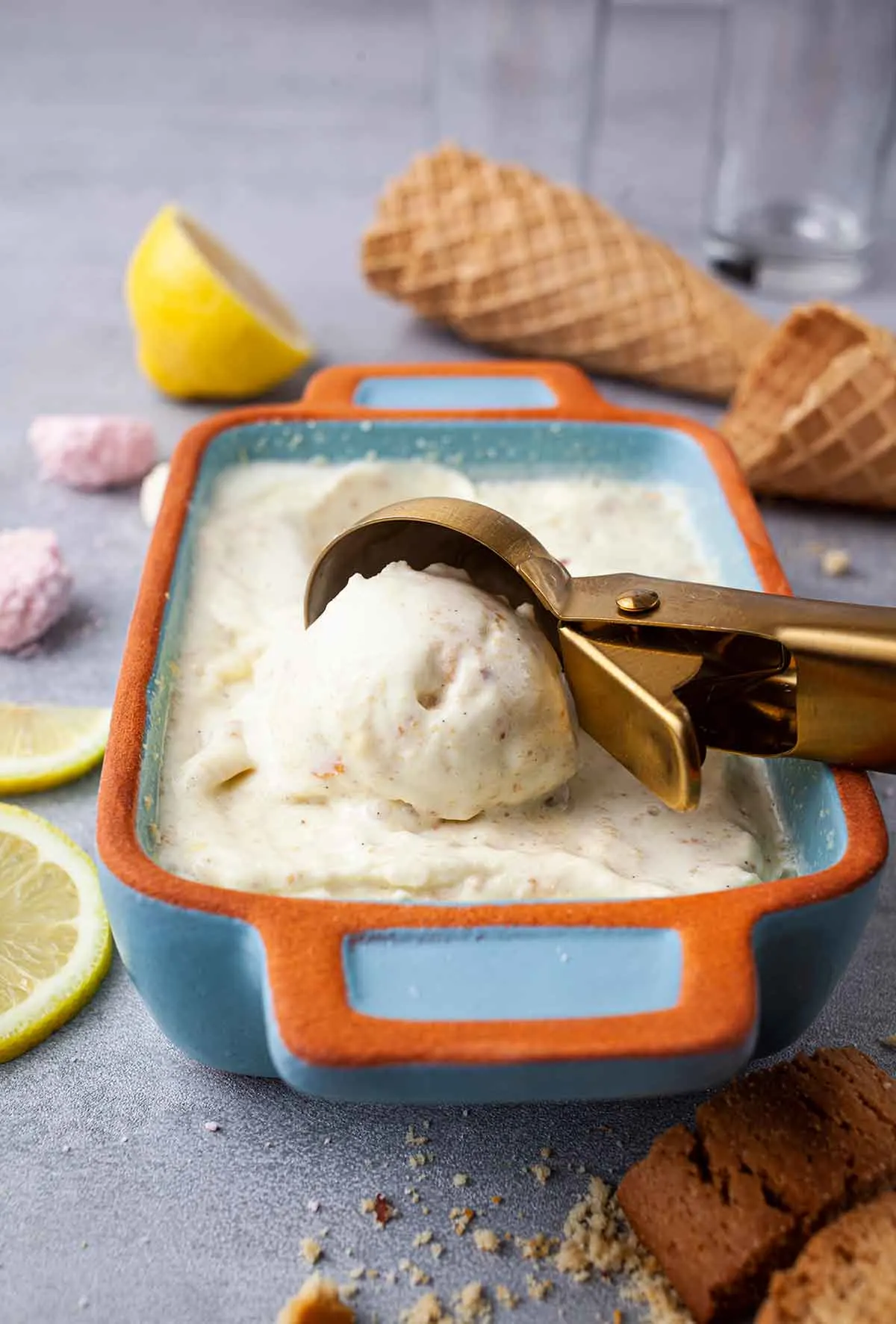 Suggestions for presentation
To accentuate its freshness and add a touch of elegance, lemon meringue ice cream can be presented in various creative ways. Here are some delicious suggestions for serving and accompanying:
Fresh fruit toppings: Add an explosion of colors and flavors by serving lemon ice cream with fresh fruit toppings. Thin slices of strawberries, kiwi, blackberries, or berries will perfectly complement the refreshing taste of lemon ice cream and offer an attractive presentation.
Citrus sauces: To intensify the lemon taste, you can add a citrus flavored sauce over the lemon ice cream. A sweet and sour lemon, orange or lime sauce will perfectly complement the flavor of the dessert and bring a refreshing note.
Caramelized lemon slices: A surprising and elegant way to present lemon ice cream is to add caramelized lemon slices. The delicate caramel will blend wonderfully with the citrus flavors, adding a sweet and sophisticated taste.
Lemon peel curls: Another original idea is to serve lemon ice cream in thin lemon peel curls or twists. These will offer a charming presentation and will turn the dessert into a true work of culinary art.
Add texture with crackers or nuts: To give it an interesting contrast of textures, you can sprinkle lemon ice cream with small pieces of digestive crackers or chopped nuts. These additions will create a richer experience and will perfectly complement the creamy taste of the ice cream.
Regardless of the option chosen, lemon meringue ice cream will remain a refreshing and sophisticated dessert, perfect to indulge yourself on hot summer days or to impress guests on special occasions. So, let your creativity fly and enjoy every spoonful of this delicious dessert with luscious lemon flavors.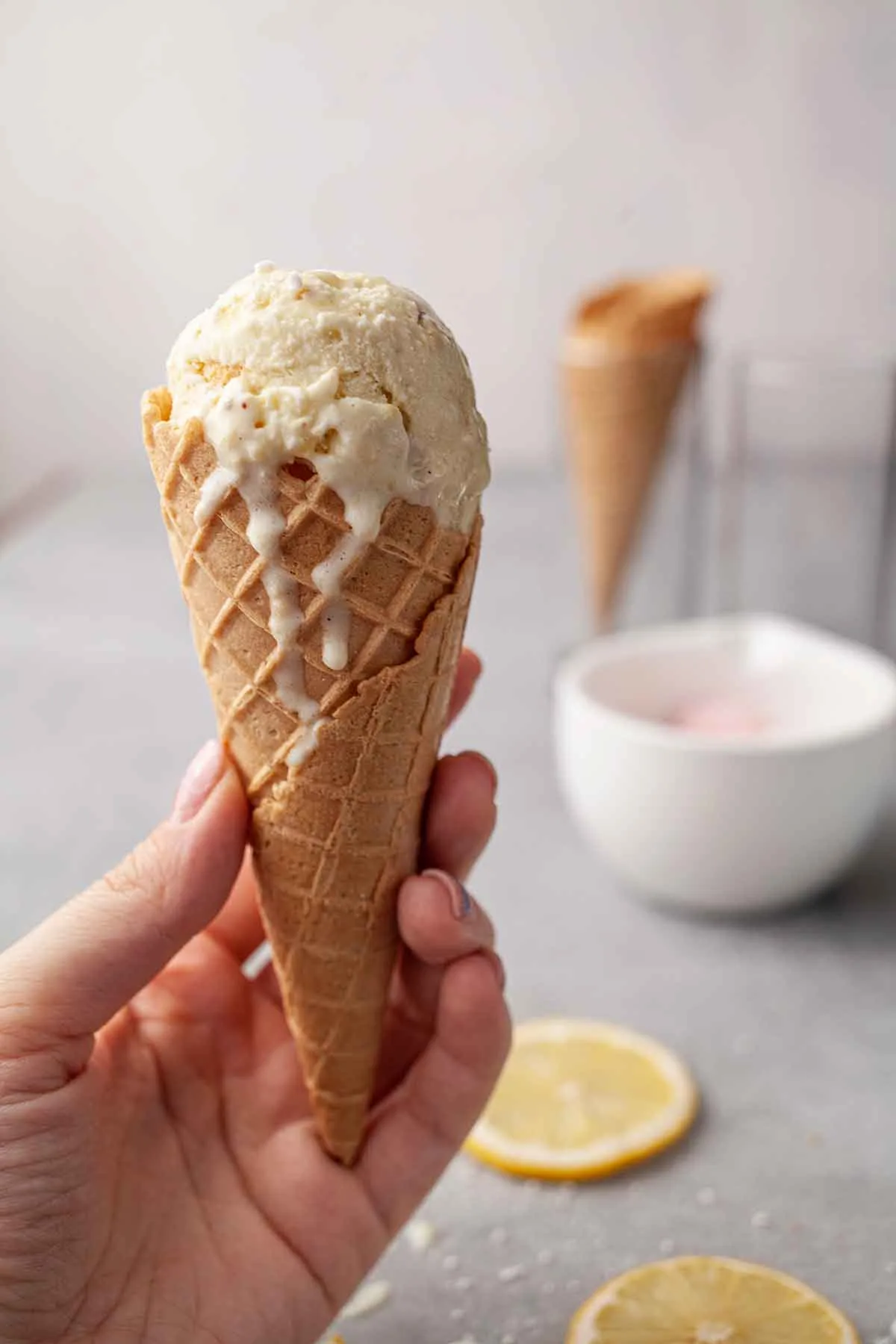 Why is lemon juice added to homemade ice cream?
Even if you don't prepare ice cream with lemon flavor, did you know that adding lemon juice to homemade ice cream has several purposes? Here they are below.
Flavor: Lemon juice adds a bright and refreshing citrus flavor to the ice cream, making it more vibrant and appealing to the taste buds.
Balance: The acidity of the lemon juice helps to balance the sweetness of the ice cream, preventing it from becoming excessively sugary.
Texture: The acidity in lemon juice can also help prevent ice cream from becoming too icy or hard by inhibiting the formation of large ice crystals.
Creaminess: Lemon juice can increase the creaminess and general smoothness of the ice cream, contributing to a more pleasant texture.
How to make homemade lemon meringue ice cream
Let's cheer up the hot summer days with a generous portion of lemon meringue ice cream – you will be enchanted instantly by the freshness and sweetness of this recipe! Leave me a comment and tell me how it turned out for you!
Yield: 8-10
Lemon Meringue Ice Cream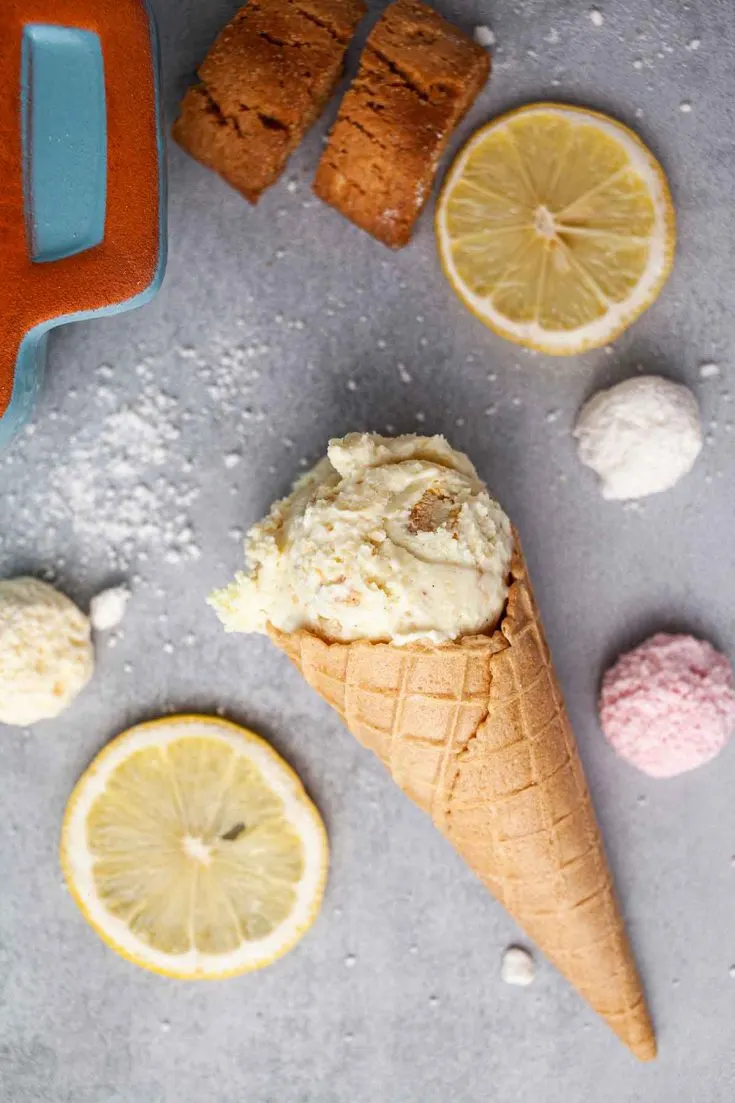 This lemon meringue ice cream recipe is truly an explosion for your senses! This refined delicacy combines the refreshing aroma of lemon with the fine and foamy texture of meringue, resulting in an absolutely delicious dessert.
Total Time
2 hours
20 minutes
Ingredients
1 cup sugar
1 tablespoon of vanilla extract
2 teaspoons lemon extract
½ cup lemon juice
3 cups of liquid cream
1 cup milk
pinch of salt
1 cup crushed meringue
1 cup Cantuccini biscuits, crushed
Instructions
Easy method - using an ice cream machine:
Put all the ingredients except for the meringue and Cantuccini in the ice cream machine.
Start the machine and leave it on the desired program. A few minutes before finishing the program, add the meringue and Cantuccini.
Transfer the mixture into appropriate containers and put in the freezer until it hardens.
Blender / Food processor & freezer method - without an ice cream machine:
Using the hand mixer, mix all the ingredients (except meringue and Cantuccini).
Place the ice cream mixture in the freezer in one or more trays covered with plastic wrap.
Leave it in the freezer until completely frozen.
Take it out and cut/break the sheets of ice cream into smaller pieces that you put in the food processor.
Process for 30s-1 minute until it turns into cream.
Add the meringue and Cantuccini and use the Pulse function a couple of times.
Enjoy it now or put it in the freezer.
Serve in waffle cones with slices of fresh lemon.
Nutrition Information
Yield
11
Serving Size
1
Amount Per Serving
Calories

441
Total Fat

27g
Saturated Fat

16g
Trans Fat

1g
Unsaturated Fat

9g
Cholesterol

76mg
Sodium

174mg
Carbohydrates

45g
Fiber

0g
Sugar

36g
Protein

5g
I strive to keep the information as accurate as possible but make no warranties regarding its accuracy. I encourage you to make your own calculations using your preferred nutrition calculator.