Craving some delicious comfort food? Here's how to make the BEST vegan Goulash soup, a traditional Hungarian recipe with a healthy twist. It's very healthy and delicious!
If you're from Europe, you might've heard about 'Goulash' before. If you're from Romania, as I mean, I'm sure you've tasted it a dozen times before. I'm pretty sure you've heard of it even if you're American! But what is a goulash, after all?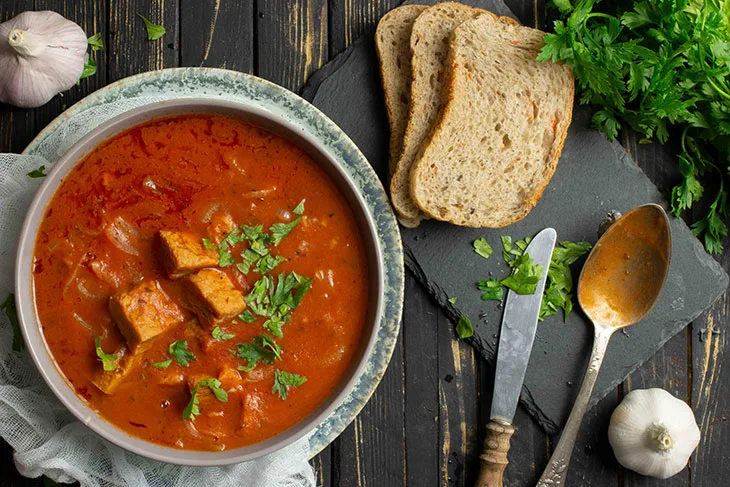 Let me elucidate this mystery for you. Goulash is a traditional Hungarian dish (Gulyas), something between a soup and a stew. The authentic recipe includes beef cubes, soup veggies such as carrots, red bell pepper, and potatoes, onion, paprika (the main spice!) and that's about it.
Sounds simple, right? It's because it is! The traditional goulash is an excellent example of how a handful of simple ingredients can create an intricate dish, bursting with flavors.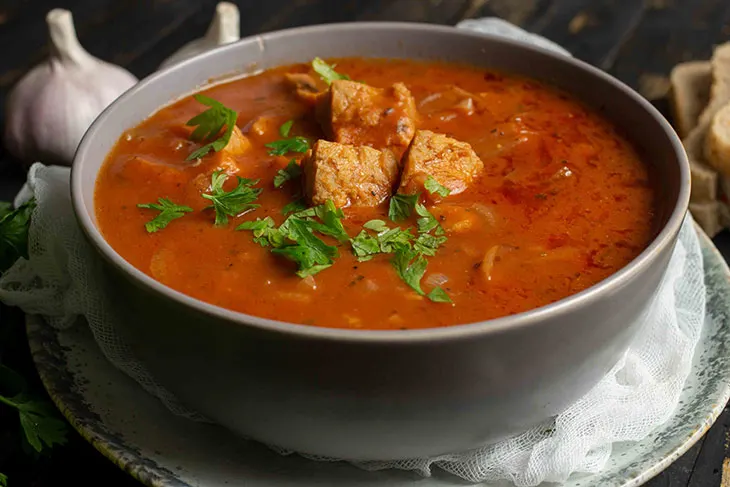 A bit of a disclaimer here. If you've tasted goulash in America… no offense, but chances are that your dish has little to do with the real deal. As with any other good recipe, the goulash has been transformed over time and, in the USA, people usually serve it as a stew, with lots of macaroni and beef inside, tons of tomatoes, and cheese on top. Blasphemy? Probably, but I'm not the one to judge. After all, people can enjoy food as they want, just know that the traditional goulash is… a bit different than that.
And because I love a good goulash, I've decided to transform the traditional recipe into a vegan one. After all, why not? I'm sure that all my recipes on the blog have convinced you that you can turn literally ANY dish into a vegan one, without missing on any authentic flavors or nutritional contents. The same goes with this vegan goulash soup!
Even though this vegan goulash soup has absolutely no trace of meat in it, I solemnly swear you won't miss it at all. I decided to replace the beef with textured soy protein cubes (TSP cubes) this time, as I truly believe it perfectly mimics the meat's texture. And I'm extremely happy with how everything turned out!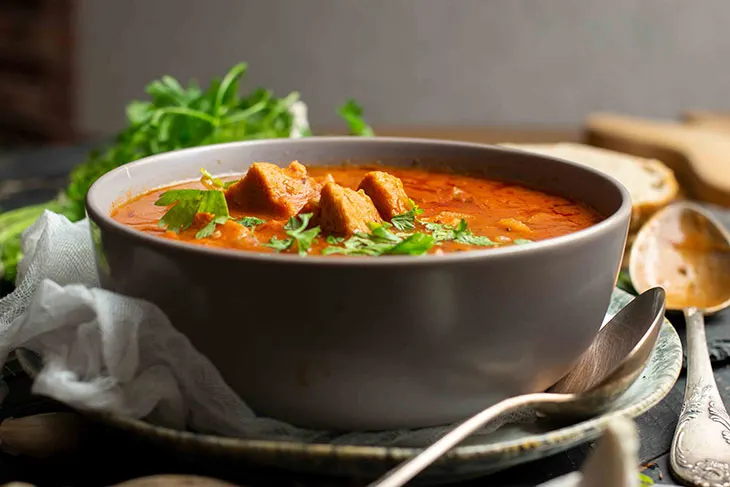 Now, when it comes to a good goulash (and I mean a finger-lickin' one), paprika is its essence. After you cook the onion and garlic in a pan until it gets translucent, you add the spices, paprika above all, in order to lock in the amazing flavors. And if you want to take everything to a whole new level, make sure to use smoked paprika instead of the classic one. It makes a world of a difference, mark my word! 😉
Traditional goulash is usually served on its own, maybe with a little bit of bread on the side. But my recipe today is actually a vegan goulash soup, so it's more liquid than a stew. Regardless of this, I prefer serving my vegan goulash soup on its own, without anything on the side – maybe just a fresh, green chili pepper, to keep it at least a bit traditional.
Healthy, hearty, and chunky. What more can you wish for? And the flavor is simply unbeatable. I think a big bowl of vegan goulash soup is the perfect solution for a gloomy day or evening. You can make yourself comfortable on the sofa while indulging in some comfort food. Self-care at its best!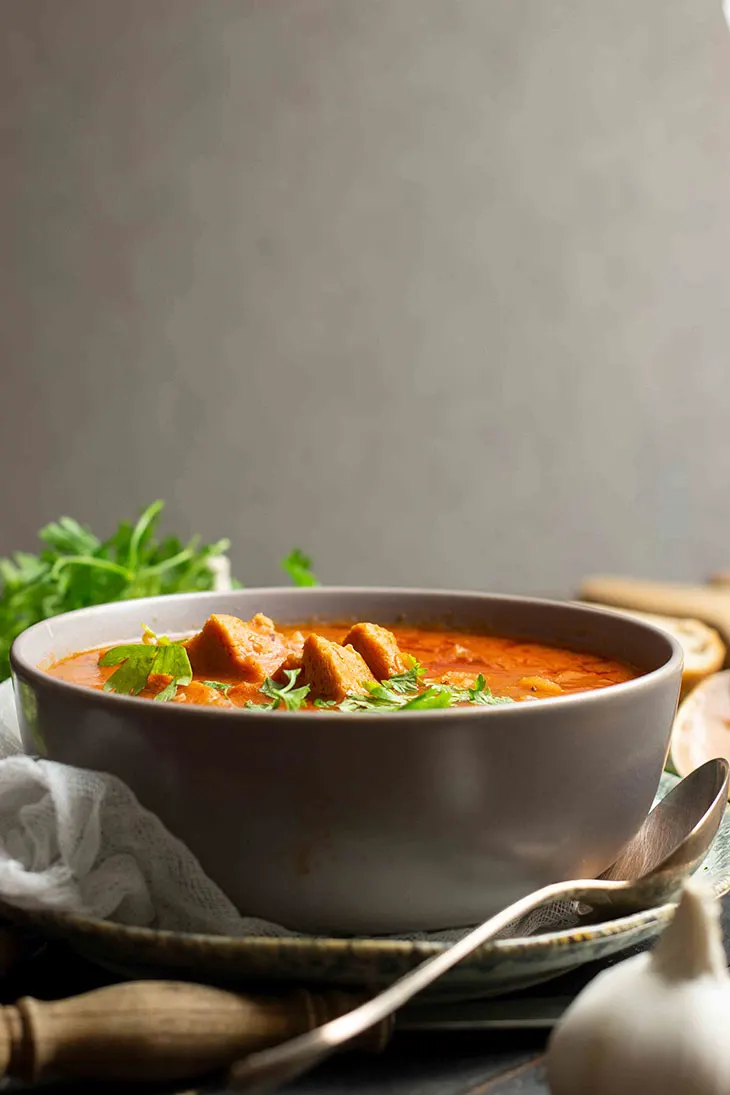 Regardless if you're from Central Europe or not, I recommend making an authentic goulash soup at least once in your lifetime. I promise you won't regret it! And it works wonderfully for family dinners as well, when all your loved ones are gathered around the table, waiting for something delicious to be served. When you'll reveal to them the goulash, I'm sure everyone will be impressed. And if you're feeling uninspired, you can even prepare some vegan goulash soup for the holidays. After all, December is the best month for hearty soups and stews!
Ah, and let's not forget about another important factor here: this vegan goulash soup is affordable, as it's made with cheap ingredients. Talkin' about a perfect dish! This is why I recommend it to students and families as well – and it can also work for meal prep.
If I think about it, I guess I can say that this vegan goulash soup is a bit similar to my beans soup or to this sauerkraut soup – it's just as filling and delicious, although the three of them have pretty different flavors.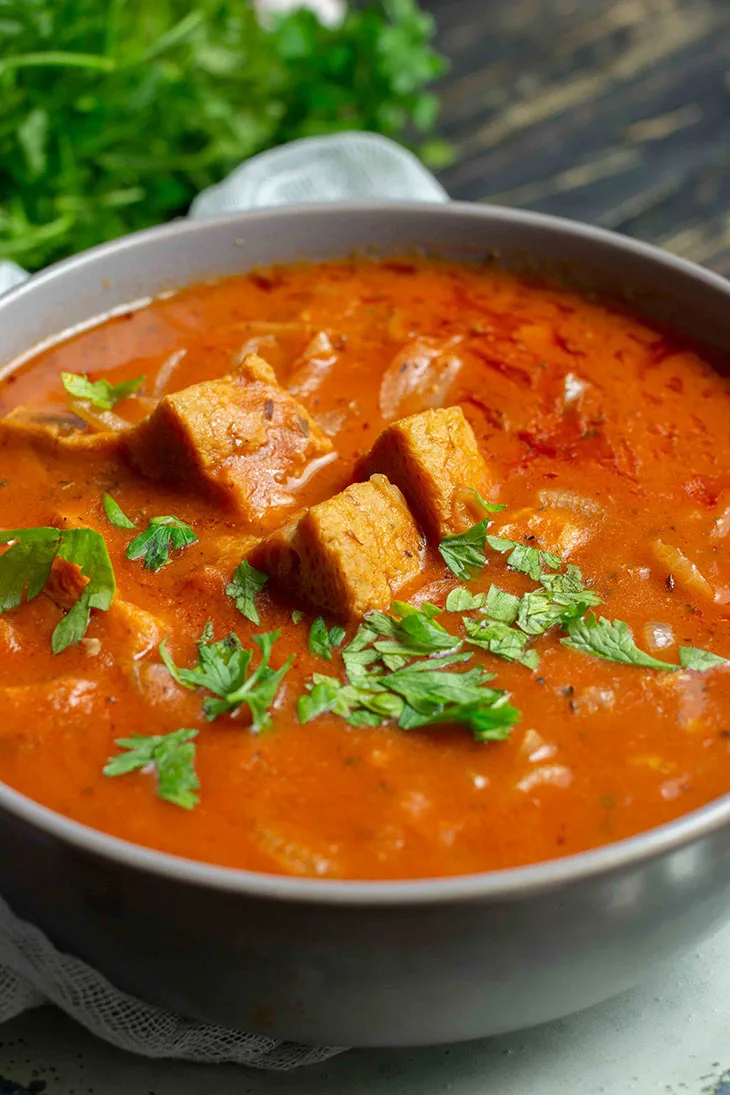 Okay, are you convinced? If the answer is yes and you're planning on doing this awesome vegan goulash soup soon, please don't forget to come back here and let me know how it went. I'm so curious! I hope you'll enjoy it. Happy cooking!
Yield: 2-4 servings
Vegan Goulash Soup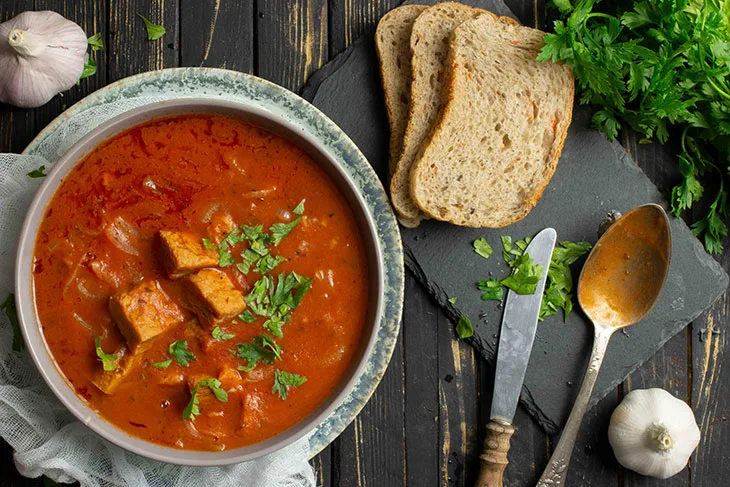 Craving some delicious comfort food? Here's how to make the BEST vegan Goulash soup, a traditional Hungarian recipe with a healthy twist. It's very healthy and delicious!
Total Time
1 hour
5 minutes
Ingredients
50g (½ cup) textured soy protein, cubes
2 medium onions, sliced
2 garlic cloves, minced
70g (5 Tbsp) tomato puree
1L (4 cups) veggie stock or water
2 Tbsp smoked paprika
1 tsp caraway seeds
2 Tbsp olive oil
Salt
Black pepper
Instructions
In a pot, bring some water to a boil, add the soy cubes and cook for 10-15 minutes. Drain well.
In a large pan, sautee the garlic and onion in olive oil until translucent.
Add the soy cubes. Season with salt, pepper, smoked paprika, caraway seeds, and cook for 1-2 minutes.
Add the tomato puree, stir and cook for 2-3 minutes.
Add the veggie stock, lower the heat and cook for 30-40 minutes, stirring occasionally.
Nutrition Information
Yield
3
Amount Per Serving
Calories

198
Total Fat

11g
Saturated Fat

2g
Trans Fat

0g
Unsaturated Fat

9g
Cholesterol

2mg
Sodium

419mg
Carbohydrates

15g
Fiber

3g
Sugar

6g
Protein

13g
I strive to keep the information as accurate as possible but make no warranties regarding its accuracy. I encourage you to make your own calculations using your preferred nutrition calculator.