Here's how you can make the world-renowned mac and cheese recipe – vegan! This vegan mac and cheese recipe tastes and looks just like the real deal and it's extra cheesy, without any dairy whatsoever! 
Mac and cheese – every American child's favorite recipe in the world! Mac and cheese is actually macaroni and cheese, a very simple, yet flavorful dish that's very known in the American cuisine. Over time, mac and cheese has become a staple food all around the United States, but also in England, where we can find its origins.
Macaroni and cheese are usually made with some tiny pasta (macaroni noodles or shells) with a cilinder or folded shape in order to retain all the saucy goodness, and the cheese is usually cheddar. You can even combine two or more types of cheese (such as gouda or parmesan) in order to create your customized mac and cheese recipe.
It is not unusual for other ingredients to be incorporated as well, such as pieces of meat or veggies, but the classic recipe is still the most popular one. Americans consider it to be one of the best comfort foods ever and that's why it's so popular among everyone, regardless of their age or preferences.
---
It's time to stop worrying about what you're going to eat! I created the meal planner app to help you! Get your personalized meal plan with delicious, healthy, and budget-friendly recipes! GET YOUR MEAL PLAN!
---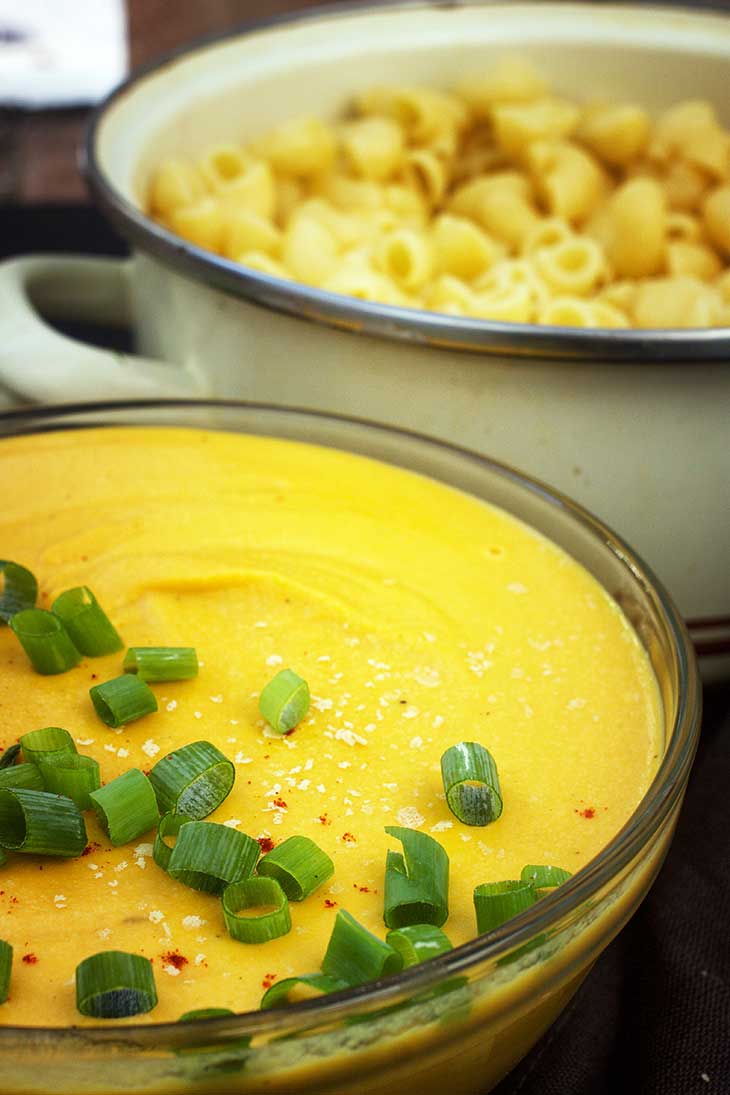 Mac and cheese is a delicious casserole dish made by combining the pasta with the cheese and some butter and putting everything in the oven.  You can even cover the casserole with breadcrumbs in order to achieve a crunchy crust that's incredibly delicious!
Even though the original mac and cheese recipe involves baking the dish, you can also make it in a pan by combining the ingredients or just boiling the pasta and then mix it with the amazing, cheesy sauce in a bowl.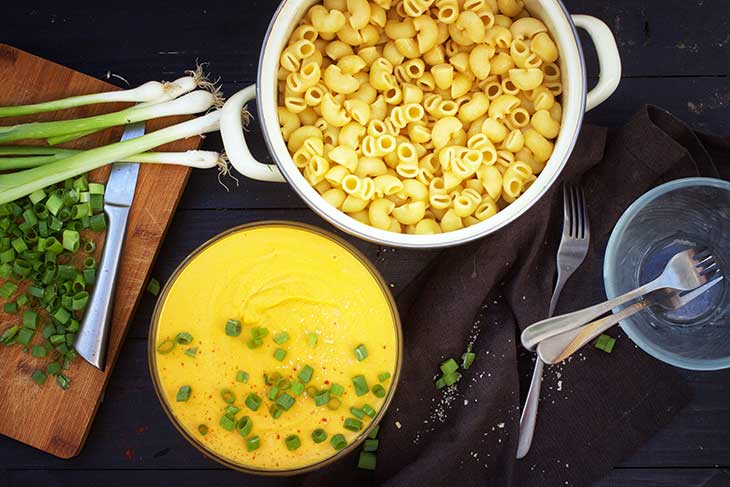 Macaroni and cheese are so popular in America that, naturally, you can even find packaged mixes for the cheese sauce, making the entire process faster and easier. But because I'm not a fan of processed foods, I wanted to transform this amazing recipe into a vegan one, using only healthy ingredients in order to create a very similar dish in taste and texture. And you know what? It's actually super delicious!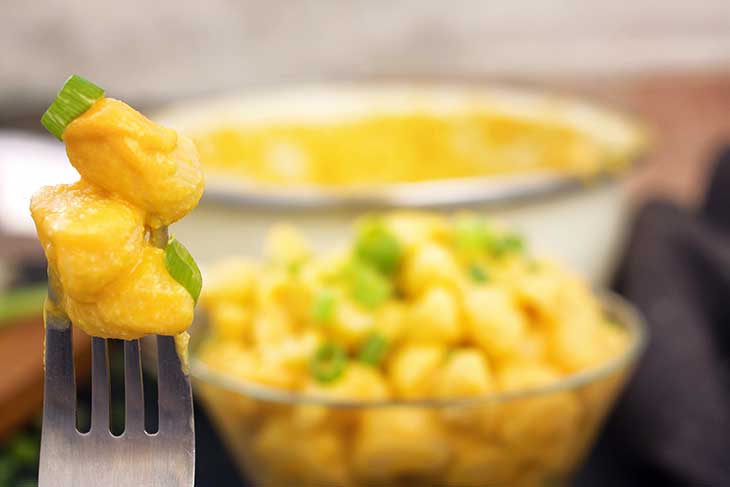 Of course, if you follow this vegan mac and cheese recipe you will also learn how to make a delicious vegan cheese sauce that can be used for many other recipes as well! The ingredients I used for this vegan mac and cheese are somehow similar to the ones used for my super-popular vegan nacho sauce. I did a couple of tweaks and added some new ingredients. For example, I used some cashews for a "milkier" flavor and added the full-fat coconut.
The result is a guilt-free, extremely comforting vegan mac and cheese recipe I'm sure you'll love! 🙂
P.S. Check out these vegan sauce recipes! 🙂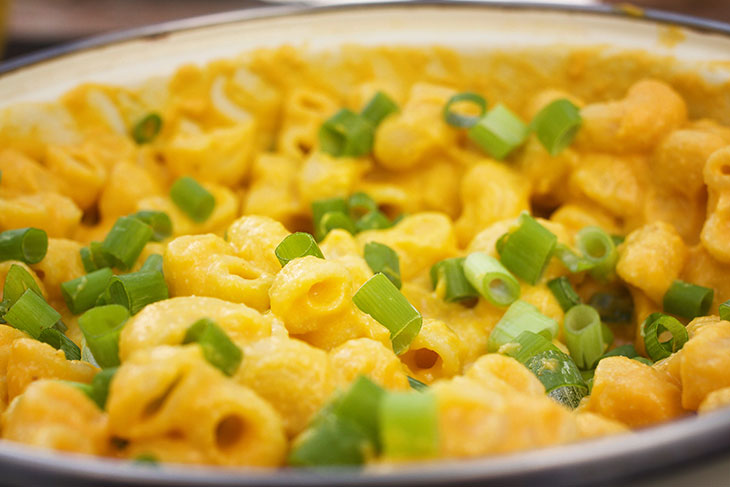 Vegan Mac and Cheese
Ingredients
½ cup raw cashews (soaked overnight)
1 large potato, peeled and cubed
1 large carrot, peeled and sliced
200ml full-fat coconut milk
1 large onion, peeled
⅓ cup nutritional yeast
2 tsp lemon juice
1 tsp allspice
2 tsp mustard
1 tsp salt
½ tsp white pepper
½ tsp cumin powder
¼ tsp smoked paprika
¼ tsp cayenne
½ tsp garlic powder
1 Tbsp olive oil
1 Tbsp tapioca flour
a pinch of nutmeg
500g macaroni pasta, cooked al dente (use GF if needed, save the water)
2 Tbsp spring onion, chopped
Instructions
In a bowl, add the potato, carrot, onion, a pinch of salt and pepper and allspice. Cover with water and set on high heat. Bring to boil. Change heat to low and simmer until the veggies are soft.
In a blender, add the soaked cashews, boiled veggies, coconut milk, nutritional yeast, lemon juice, mustard, salt, pepper, cumin powder, smoked paprika, cayenne, garlic powder, olive oil, tapioca, and nutmeg. Blend until smooth and silky. Transfer to a saucepan and cook on medium heat. Bring to boil, stirring continuously, add some pasta water if the sauce is too thick and set aside.
In a large pan, combine cooked pasta with the vegan cheese sauce; stir well and top with some green onions.