Here's how to make sweet potato fries by following this easy, step-by-step recipe! Also get some delicious dipping sauce ideas for these sweet potato fries. Check them out below.
I wasn't a huge fan of sweet potatoes but this changed once I discovered how to turn them into sweet potato fries and pair them with delicious sauces! I love that they're so versatile. You can use them in savory dishes, such as this recipe, soups, stews, burgers, and more, but also create awesome desserts with them!
Sweet potatoes taste a lot like pumpkin and they're also very good for your health! Did you know that sweet potatoes are a great source of vitamins and minerals? They have a high content of beta-carotene and vitamins like E, C, B6 as well as essential minerals such as iron, copper, manganese, magnesium, and potassium. This surprisingly nutritious vegetable is also fat-free, low in sodium and has fewer calories than white potatoes!
Sweet potatoes are mostly composed of carbs that come from starches and they make up about 53% of the carb content. An additional 32% of that carb content comes from simple sugars such as glucose, fructose, and maltose. Sweet potatoes have a glycemic index that varies between 44 and 96. Large amounts can be unbeneficial for diabetics, but boiling lowers the glycemic index values more than any other form of cooking.
When it comes to fiber, you'll find 15 to 23% of soluble fibers like pectin, and 77 to 85% of insoluble fibers like cellulose, lignin, and hemicellulose. Soluble fibers make you feel full for a lot longer and they prevent blood sugar spikes because they slow down the digestion of sugars and starches. Insoluble fibers, on the other hand, reduce the risk of diabetes and they improve the overall health of your digestive system.
As for protein, sweet potatoes have a relatively low presence, but what proteins they do have are very beneficial, such as sporamins, that make up for about 80% of the protein. Sweet potatoes are very rich in vitamins and minerals; they come packed with vitamin A, C, B6, B5 and E, potassium, and manganese.
So we've established that sweet potatoes are healthy, but do they taste good?! The answer is – yes! At first, I was a bit skeptical about them. I don't like savory recipes that have a sweet aftertaste, but with sweet potatoes, things are different. There are so many creative sweet potato recipes you can try, I mentioned a couple of them above (see links), but I'm also looking forward to trying sweet potato toast and sweet potato desserts!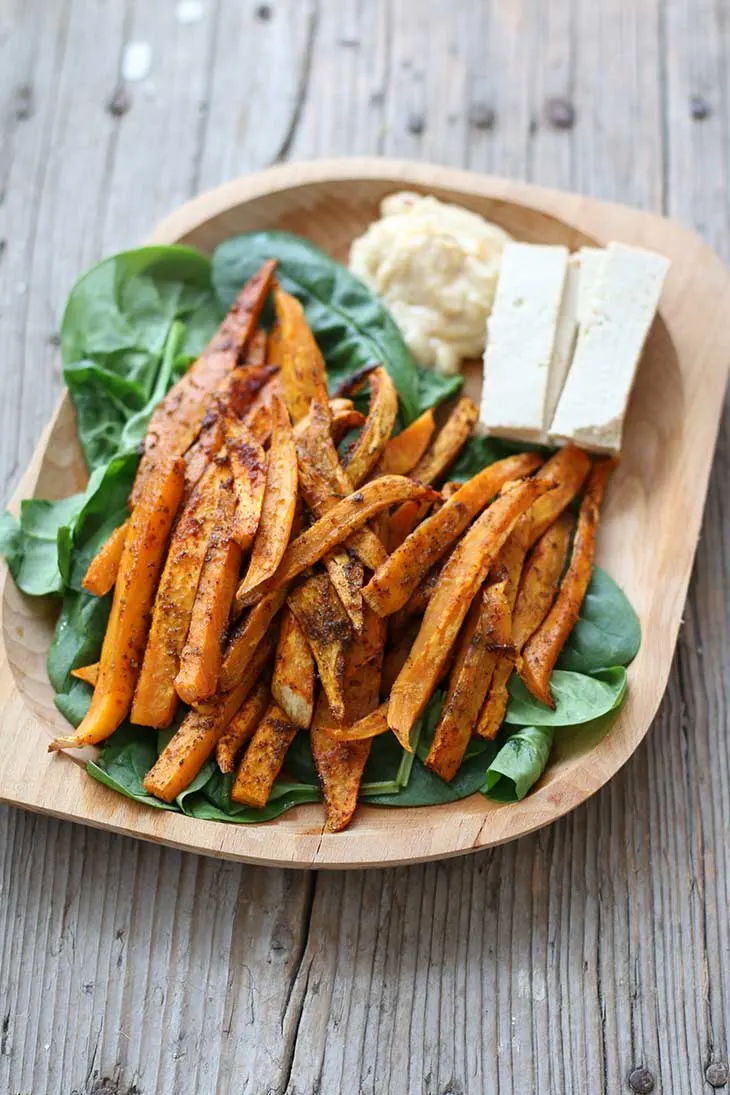 How to make sweet potato fries
It's easy! You make them just like regular baked potato fries! You don't even have to peel them, though in the recipe below I did, because my boyfriend prefers them this way. Thoroughly rinsing and scrubbing them is enough, plus the peel has a lot of nutrients you don't want to miss!
Then, just cut them lengthwise, just like you would cut regular potatoes. You can cut them in thin fries or wedges.
The trick is using a good spices combo! There are plenty of mixes you can try, but my favorite is garlic powder + smoked paprika + salt and pepper. This never fails! Be creative! Make your own spices combo and try these sweet potato fries with different flavors.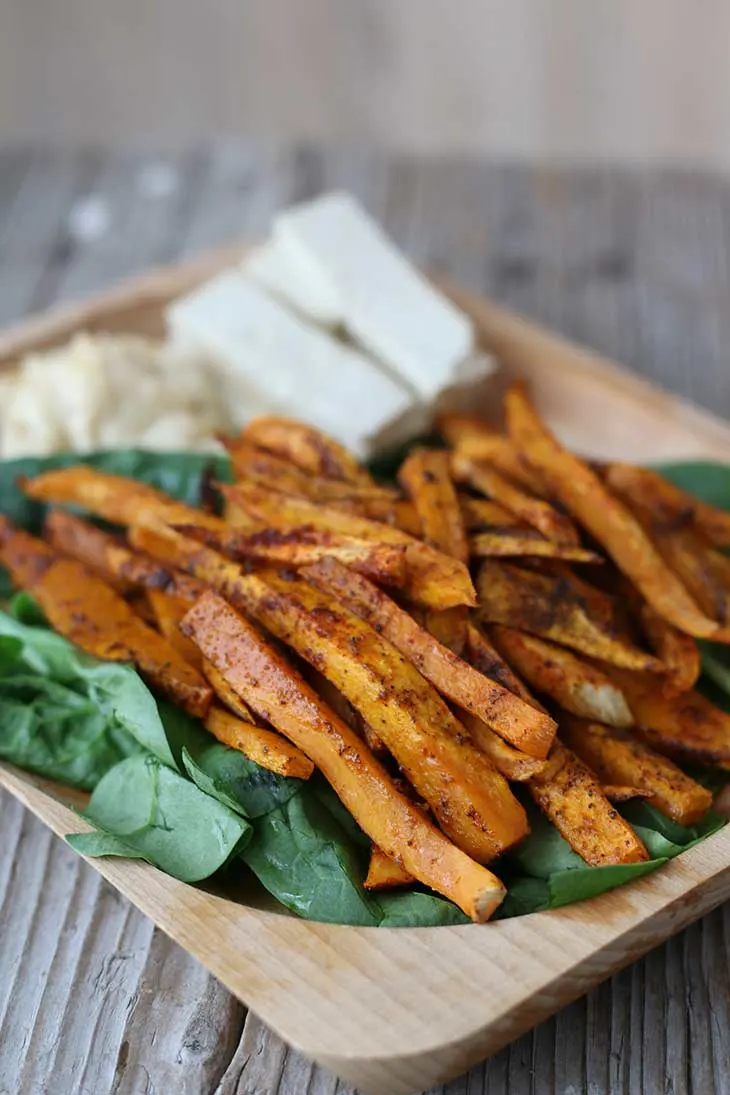 Drizzling them with olive oil and baking them in the oven makes them crispy on the outside and soft on the inside. Just perfect!
Serve them with the dipping sauce of choice. My top picks are vegan aioli sauce, tahini mixed with lemon juice and a crushed garlic clove, vegan mayo, garlic sauce made with minced garlic, water, a little bit of olive oil, salt and 1 tsp of tomato paste, and last but not least, guacamole! 🙂
Always sprinkle them with some nooch – nutritional yeast flakes – for a cheesy taste!
Hope you'll give this sweet potato fries recipe a try! It will become one of your favorites, I'm sure of it! 🙂 Enjoy!
Yield: 2
How to Make Sweet Potato Fries | Step-by-Step Recipe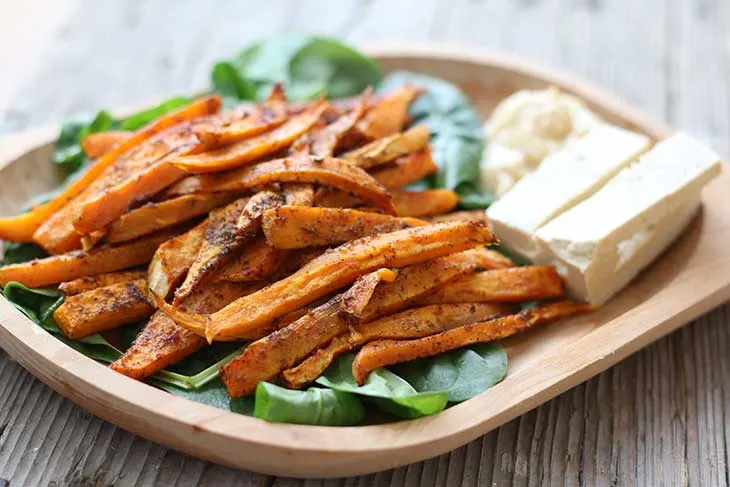 Here's how to make sweet potato fries by following this easy, step-by-step recipe!
Ingredients
2 sweet potatoes
1 Tbsp olive oil
1 tsp garlic powder
1 tsp smoked paprika
salt and ground pepper, to taste
Instructions
Preheat the oven to 200ºC/400ºF.
Wash 2 sweet potatoes and scrub them to get rid of the dirt. You don't have to peel them, but I prefer to do it.
Cut the sweet potato in half, lengthways, and then into wedges or fries.
Place them into a large bowl.
Sprinkle over some salt, ground black pepper, 1 teaspoon of smoked paprika and 1 teaspoon of garlic powder.
Drizzle with one tablespoon of olive oil and toss together.
Add the sweet potato fries/wedges into an oven tray and spread them evenly in one layer.
Bake for 30-40 minutes, until crispy.
Serve with a dipping sauce of choice.
Nutrition Information
Yield
2
Amount Per Serving
Calories

221
Total Fat

6.6g
Carbohydrates

37.8g
Protein

2.4g