This creamy sweet potato soup with ginger has a sweet and spicy taste, rich texture and lovely flavors. It was served with gluten-free crackers for some extra texture and crunchiness.
I wanted to make a cream of sweet potato soup for a very long time, ever since I saw Dana's Minimalist Baker blog where I found an awesome sweet potato soup recipe with coconut and curry flavor. I was inspired by it and decided to give it a try myself. Unfortunately, I didn't have any coconut milk, so I made a different, more simple version.
I'm not really used to cooking with sweet potatoes. I first gave them a try when I used them in my Potato and Cheese Tart recipe and I absolutely loved them! They taste pretty much like pumpkin and are great when used to add a little color and sweetness to a recipe.
This creamy sweet potato soup is pretty easy to make, as most creamy soup recipes are. It has a rich texture and it's abundant with spicy and sweet flavors. The color is vibrant orange and it goes great served with some gluten-free crackers or salty biscuits, for some extra crunchiness.
The recipe is vegan, healthy, low calorie, gluten-free and diet-friendly! If you want to know more about the benefits of sweet potatoes, I gathered some cool facts below. Enjoy! 🙂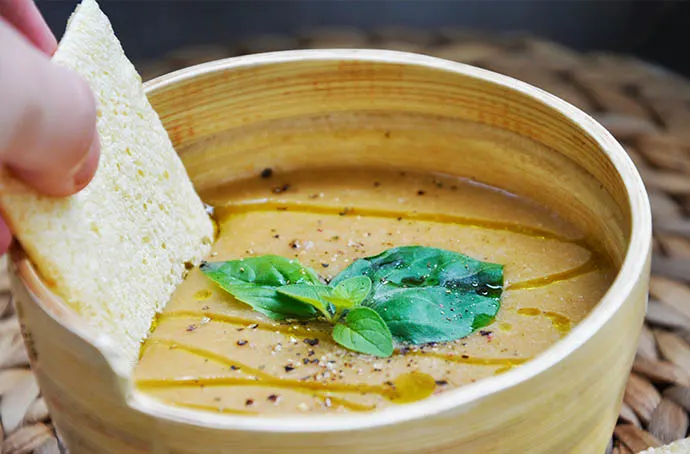 Let's talk about sweet potatoes; potato's distant and sweeter relative! Not only they're a healthier alternative to the aforementioned potato, they're also very common among healthy recipes and vegetarian/vegan diets. That's because its health benefits are amazing and its sweet flavor often makes for incredibly delicious combinations.
Origins of sweet potatoes
Sweet potatoes are thought to have come from Central America where they were domesticated 5000 years ago or South America where there are remnants dating back to 8000 BC. It has been said to have originated in the Yucatán Peninsula of Mexico and the mouth of the Orinoco River in Venezuela. Then it was spread to the Caribbean and South America.
In Peru, Ecuador a lower molecular diversity of the sweet potato has also been found. Prior to western exploration, the plant grew in Polynesia where it was brought around 700 AD by Polynesians who traveled to South America. From there, it spread to Hawaii and New Zealand.
They were later introduced in China in 1540 as a response to a major crop failure. Then they were introduced in Japan and subsequently in Korea by 1764. Sweet potato's reliability as a crop is one of the features that made it so popular in the islands of the Pacific Ocean. It has become part of the cuisine in Japan, Taiwan, the Philippines, and other island nations, also in Indonesia, Vietnam, India, and some other Asian countries, Tulu in South India, Uganda, Rwanda, and some other African countries, in Europe and also the United States.
Benefits of Sweet Potatoes
Sweet potatoes are a very rich source of an antioxidant called beta-carotene and its mains characteristic is that it raises blood levels of vitamin A. They're a very nutritious tuber, very high in fiber which makes it very filling. That's why it's a very popular ingredient in many diets. Sweet potatoes can be cooked in many ways, but they're most commonly boiled, baked, steamed or fried. They're also very versatile and they're used in both sweet and savory recipes.
In 100 grams of raw sweet potato you'll find: 86 calories, 77% of water, 1.6 gr of protein, 20.1 gr of carbs, 4.2 gr of sugar, 3 gr of fiber, 0.1 gr of fat, 0.02 gr of saturated fats, 0.01 gr of polyunsaturated fats and 0.01 gr of omega-6. You won't find monounsaturated or Trans fats.
General Facts
It's one of the important food crops, with about 260 billion pounds of sweet potatoes being produced every year all around the world.
Its sweetness is due to the presence of an enzyme that is able to convert starch into sugar as the vegetable matures. This means it gets sweeter in time, in harvest and also when it's cooked.
Sweet potatoes come in different colors: orange, white, yellow, red and purple.
They're not the same as yams!
Sweet potato produces bisexual, funnel-shaped flowers that can be whitish, lilac or pale purple.
Some sorts of sweet potato can be used to produce rubber, ink, and glue.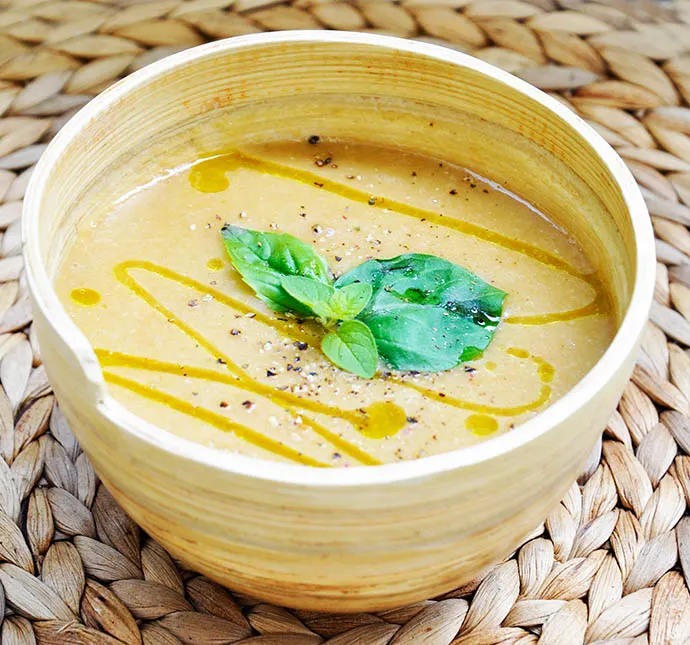 Yield: 8+ servings
Sweet Potato Soup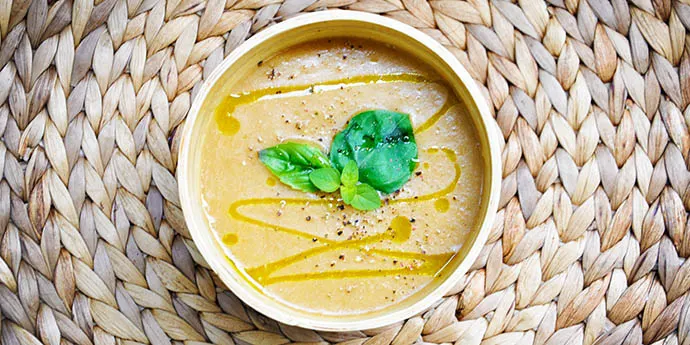 This creamy sweet potato soup with ginger has a sweet and spicy taste, rich texture and lovely flavors.
Ingredients
2 large sweet potatoes, cut in small cubes
1 onion, cut in four
3 carrots, cut in chunks
1 regular potato, cut in small cubes
a thumb-size piece of ginger grated
½ tsp ground cumin
¼ tsp crushed red pepper
salt and ground pepper, to taste
olive oil
water, just enough to cover the veggies
fresh chopped herbs, optional
Schar gluten-free crackers Fette Croccanti, optional
Instructions
Put all veggies in a large pot.
Add water just enough to cover them. Be careful not to add too much water. You'll be able to add more later and create the perfect consistency and texture for your creamy soup.
Bring to a boil and add salt and pepper.
Let them boil until tender - around 20-25 minutes.
Add spices and grated ginger.
Using a vertical blender, start blending the veggies.
Add more water if needed, to create the perfect creamy texture.
Serve with gluten-free crackers, drizzle with olive oil and add some fresh chopped herbs on top.
Nutrition Information
Yield
8
Amount Per Serving
Calories

122
Total Fat

4.7g
Carbohydrates

17.3g
Protein

2.6g