Discover how to turn classic French toast into a delicious and easy French Toast casserole – perfect for weekend brunches or for a special family breakfast. Follow step-by-step this simple recipe for baked French toast, ready to serve in just a few simple steps!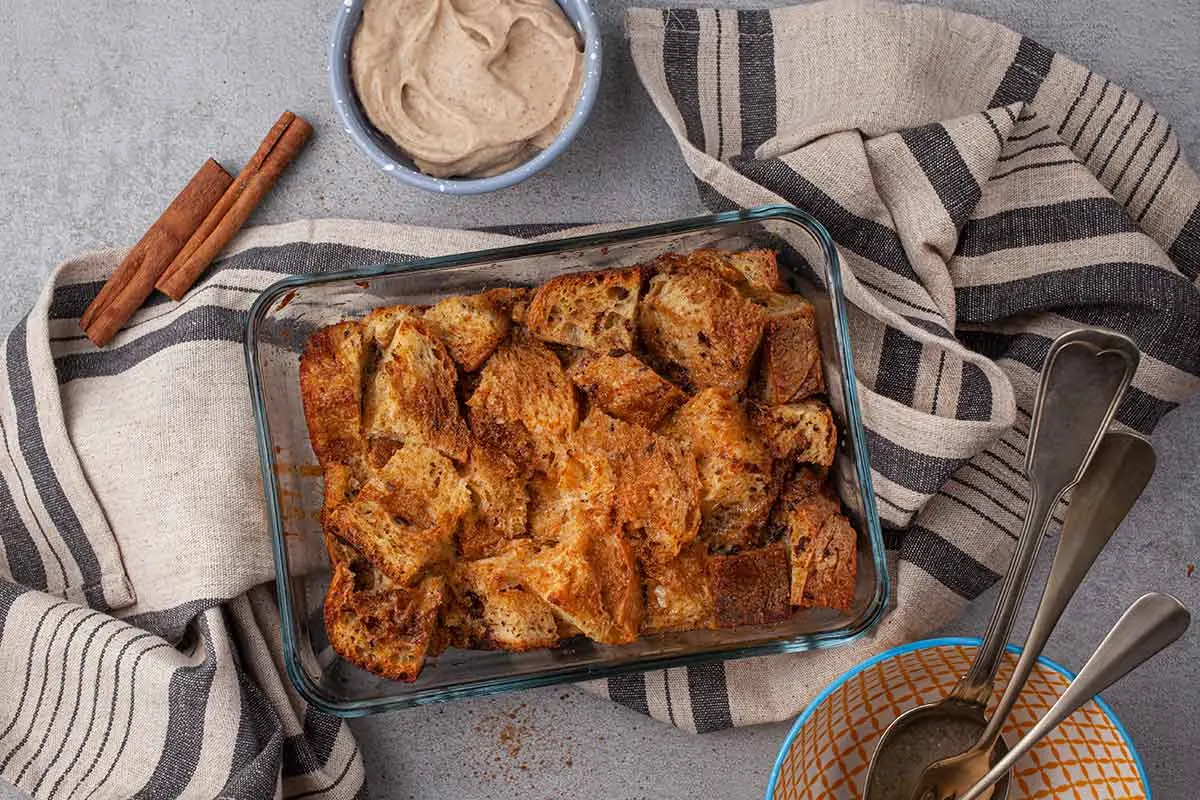 Today I chose to embrace simplicity and comfort by reinventing the classic French toast recipe in an oven-baked version, casserole-style, to add a touch of brunch relaxation to hectic mornings.
Every morning comes with its full schedule and sometimes the luxury of cooking an elaborate breakfast is beyond the possibilities of our limited time. This method not only simplifies the cooking process, allowing the ingredients to blend together harmoniously while the oven does its magic, but also provides the perfect French toast texture: slightly crispy exteriors with rich and fluffy interiors.
It is the ideal option to share the warmth of a meal made with love with the whole family or your friends. You can also make this an overnight French toast, by mixing all the ingredients the night before and baking it the next morning.
P.S. If you want a vegan version, take a look at my vegan French toast recipe.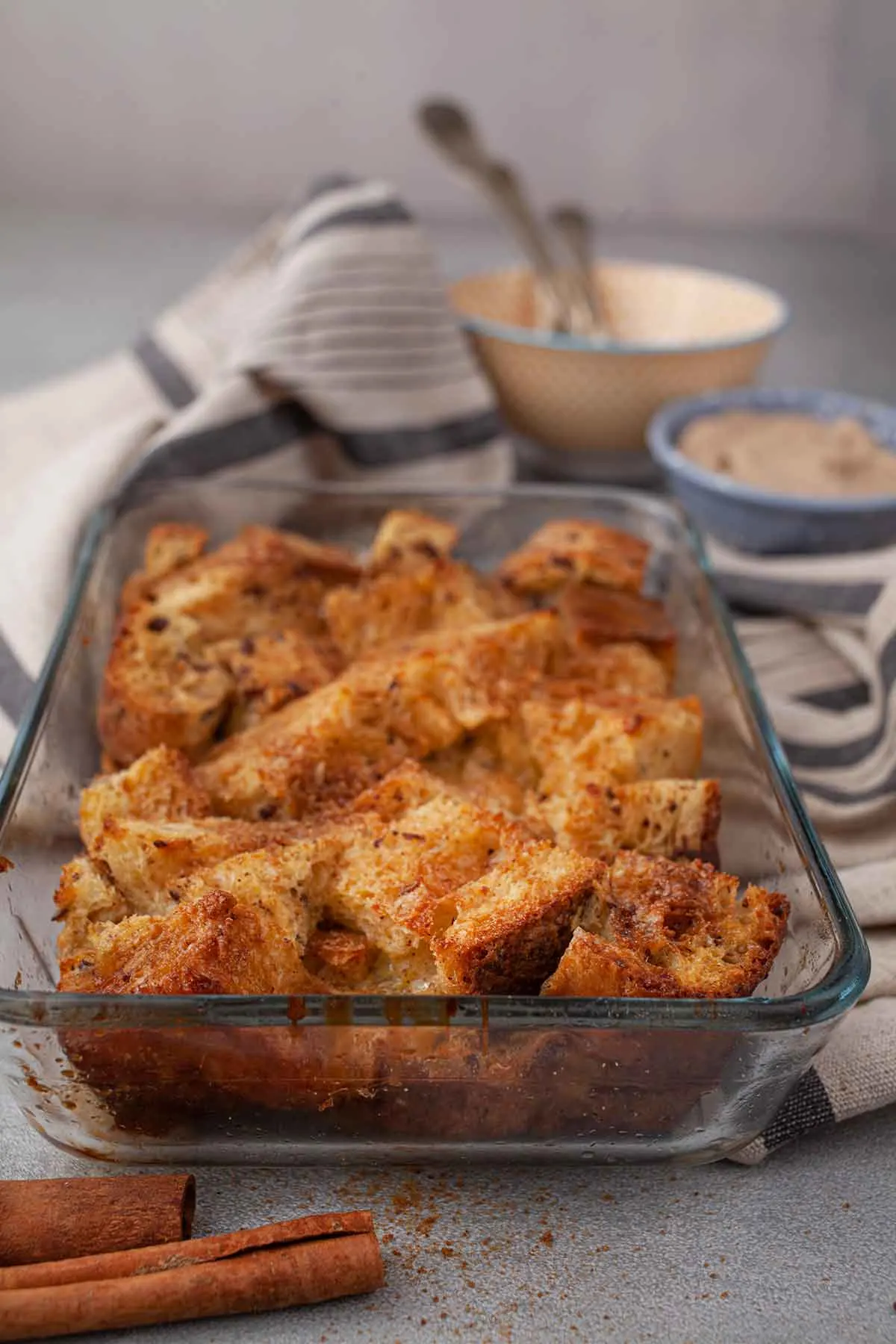 The history and origins of French toast
French toast is a popular breakfast dish that generally consists of slices of bread soaked in a mixture of beaten eggs, milk and spices, then fried in butter or oil until golden and crispy on the outside, while keeping a soft texture on the inside . This dish is often served with maple syrup, honey, fruit, butter or powdered sugar.
The origin of French toast is difficult to trace with precision, because variants of this dish can be found in many different cultures and have been adapted over the centuries. However, there are a few things we do know about the evolution of this food: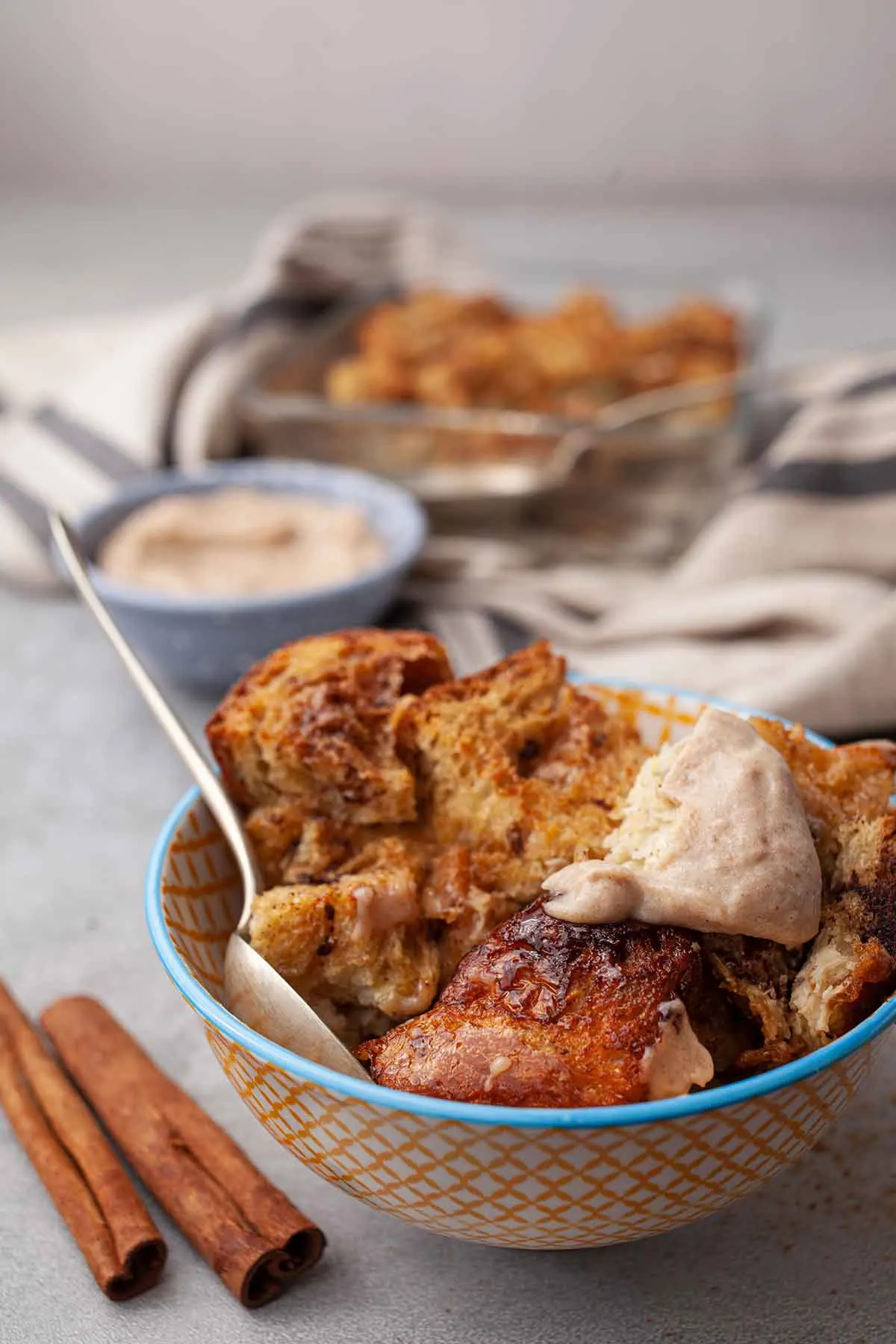 Ancient times: It is believed that French toast has a very ancient origin, dating at least from the time of the Roman Empire. One of the oldest references to a dish similar to this classic recipe can be found in the collection of recipes "De Re Coquinaria" by Apicius, a Roman who lived in the first century AD. The recipe, called "Aliter Dulcia" (another kind of dessert), describes bread soaked in milk and eggs, then fried and sprinkled with honey.
The name "French Toast": Although it is called "french", it is not clear if this dish earned its name because of their French origin. In France, the dish is known as "pain perdu" or "lost bread", referring to the practice of using leftover or stale bread, which would otherwise have been "lost", rehydrating it and giving it a new one life by soaking in the egg and milk mixture.
World-renowned recipe: Variants of French toast are found in many different cultures. For example, in Spain there are "torrijas", which are typical of the Easter period and are made with bread, wine and honey. In England, "eggy bread" is a savory version, often served with ketchup or brown sauce.
Evolution of the recipe: Although the basic concept of French toast has remained relatively constant – bread soaked in egg and milk, then fried – the ways of seasoning and serving have evolved. Today, French toast can be found in sweet and salty variations, with a multitude of toppings and fillings.
Obviously, this is a classic example of "comfort" food, appreciated for its ability to transform simple and readily available ingredients into something special and delicious. Over time, they have become a symbol of Western-style breakfast and continue to be a frequent presence both on restaurant menus and on home tables.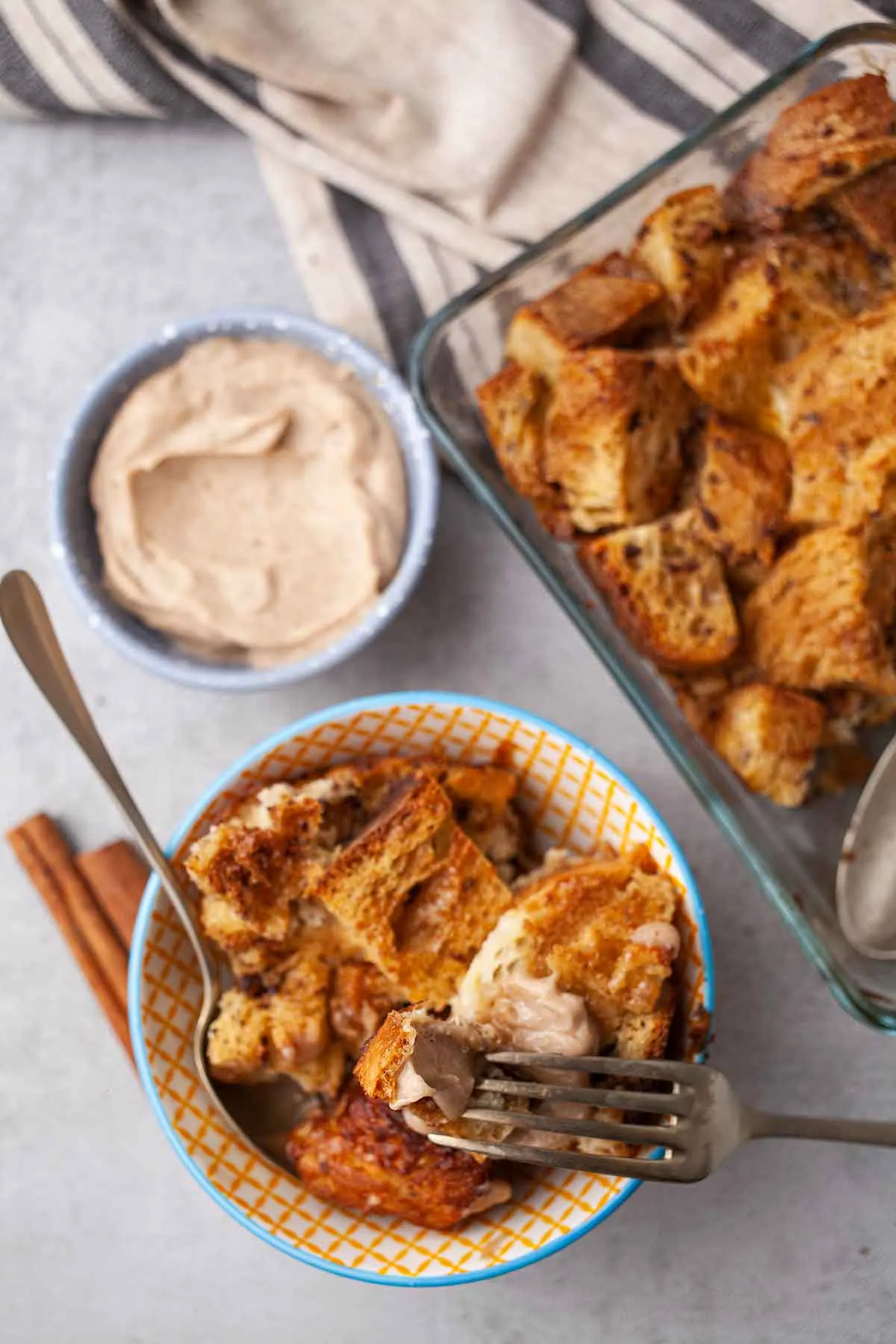 Cultural variants of French toast
Pain Perdu – France: In France, this recipe is known as "pain perdu", which translates as "lost bread", referring to the revitalization of old or stale bread. The classic French recipe involves soaking thick slices of bread in a mixture of beaten eggs, milk, sugar and sometimes vanilla or rum. The bread is then fried in butter until golden-caramelized and is often served with powdered sugar, syrup or fruit. The texture is soft inside with a slightly crispy crust.
Torrijas – Spain: The Spanish have their own version of French toast called "torrijas", which are traditionally associated with Holy Week, the period before Easter. The Spanish recipe for torrijas involves the use of special bread for torrijas or baguettes, which are soaked in milk or wine, then in eggs and fried in a generous amount of oil. These are often sweetened with honey and flavored with cinnamon. The texture of torrijas is usually dense and rich, with a distinct hint of wine or honey.
Shibuya Toast – Japan: Shibuya toast, sometimes called "honey toast", is an extravagant interpretation of French toast that became popular in cafes in Japan. It is often composed of a block of high-quality bread, sliced and toasted, filled and topped with a variety of toppings such as fresh fruit, ice cream, maple syrup or honey, and often whipped cream. It is distinguished by its dramatic presentation and combination of textures, from crunchy to creamy.
By comparing these variants, we can observe not only the differences in the ingredients and techniques used, but also the way in which each culture adapts its recipe to suit specific occasions, taste preferences and local aesthetics. These differences underline the cultural richness behind a seemingly simple dish like French toast.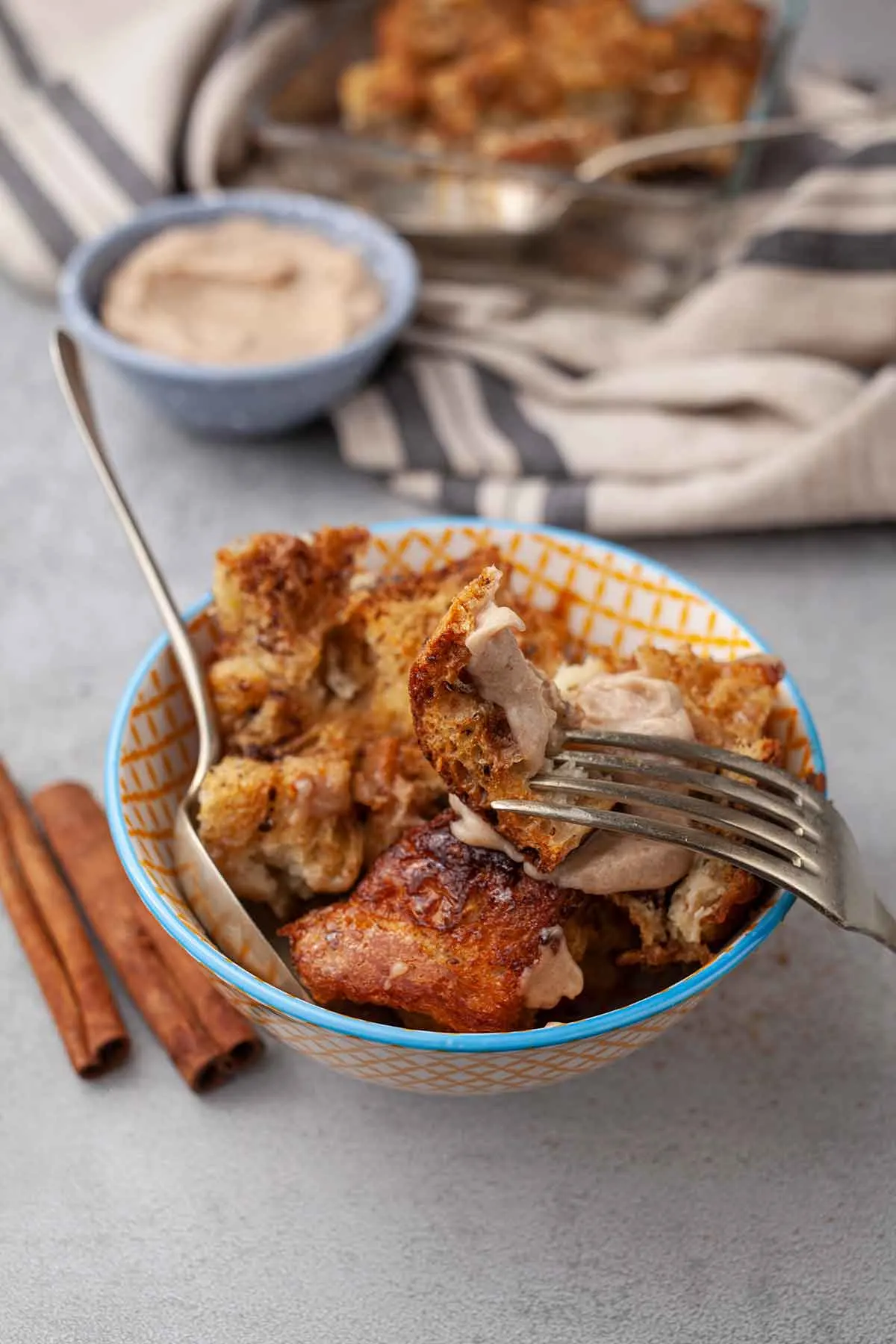 Ingredients
Sourdough bread: It is the foundation of this baked French toast recipe and has a major importance for the final texture. Sourdough bread, unlike regular white bread, adds a slightly sour taste and a dense texture that absorbs the egg and milk mixture well, without disintegrating. Once baked, it offers an interesting texture – the crust becomes slightly crunchy, and the inside remains soft. You can use some leftover sourdough bread for this recipe.
Butter: It is used both for greasing the dish in which the casserole is baked, to prevent sticking, and also added melted to the French toast mixture to add richness and aroma. The butter also creates a golden crust when baked and adds a lush note of creaminess to the final texture of the casserole.
Eggs: Eggs are essential for binding the ingredients and giving structure to the French toast casserole. They help to form a fluffy texture and to establish the casserole when it coagulates in the heat. Eggs are also a vehicle for flavors, distributing them evenly throughout the bread.
Full-fat milk: Full-fat milk contributes to the creaminess and richness of the casserole. The milk fat helps maintain a moist texture and adds flavor. Fat milk is also more effective in absorbing the aroma of vanilla and cinnamon, distributing them throughout the preparation.
Vanilla (bean): The vanilla bean is superior to the essence due to the complexity and depth of its natural flavor. The vanilla seeds scattered through the mixture not only add attractive visual points, but also a particularly rich and authentic aroma that cannot be replicated with artificial essences.
Cinnamon: This spice adds warmth and depth of taste, contributing to the comforting character of the casserole. Cinnamon is often associated with desserts and breakfast due to its sweet and woody aroma, which blends perfectly with vanilla and coconut sugar.
Coconut sugar: Coconut sugar is a natural sweetener that brings a more subtle sweetness with hints of caramel compared to refined white sugar. It contributes to the creation of a slightly crispy and golden crust on the surface of the casserole and can add a complexity of flavors that balance the rich tastes of butter and fat milk.
How to make an easy French toast casserole recipe
Yield: 4
French Toast Casserole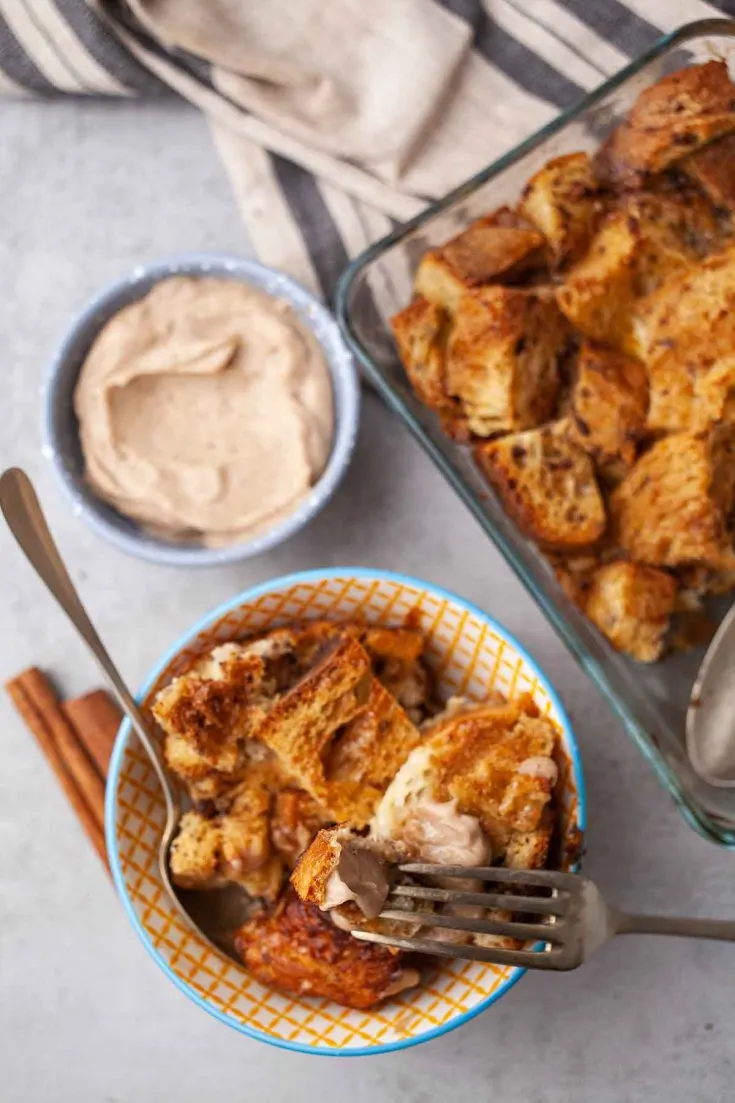 Discover how to turn classic French toast into a delicious and easy French Toast casserole - perfect for weekend brunches or for a special family breakfast.
Ingredients
1/4 whole sourdough bread, cut into cubes
¼ cup butter
½ cup coconut sugar + 1 Tbsp
3 eggs
1 cup full-fat milk
1 teaspoon vanilla bean or paste
1 teaspoon cinnamon
Instructions
Heat the oven to 200 C (392°F).
Grease the casserole dish with some butter and leave it aside.
In a small pot, melt the butter over low heat.
Add the sugar and mix until you get a creamy and uniform composition.
Pour the butter and sugar mixture into the saucepan, so that it covers the bottom of the casserole in an even layer.
Then, put the sliced bread cubes in one layer.
In a bowl, add eggs, milk, vanilla and cinnamon. Mix the composition well and pour over the layer of bread so that it covers and soaks the whole bread in the composition.
Sprinkle over a spoonful of coconut sugar.
Put the casserole in the oven and let it bake for 25-30 minutes, or until it browns on the edges.
Serve with cream cheese or ice cream.
Nutrition Information
Yield
4
Serving Size
1
Amount Per Serving
Calories

372
Total Fat

18g
Saturated Fat

10g
Trans Fat

1g
Unsaturated Fat

7g
Cholesterol

175mg
Sodium

550mg
Carbohydrates

39g
Fiber

2g
Sugar

9g
Protein

14g
I strive to keep the information as accurate as possible but make no warranties regarding its accuracy. I encourage you to make your own calculations using your preferred nutrition calculator.