This soup is literally an explosion of intense, exotic aromas! If you're craving something vegan, yummy, and easy to make, this Asian mushroom soup must be next on your menu >
Confession time! I decided to change things on the blog a little – I decided to start posting ALL those excellent recipes I'm making every day for lunch or dinner. These are yummy, easy recipes for everyday cooking that I made and loved, but for which I didn't have any time to take "professional" pictures with my camera because I was just TOO hungry. I have so many recipes like this that I didn't share with you guys because I felt the visuals are "not worthy". I had no props, no proper light, and no fancy plating. But I won't let that stop me ever again!
So for this recipe, I only have a couple of photos taken with my phone, but what's important here is the taste and the actual recipe. No perfect pictures ahead, just my real, non-polished food that I eat in my real life. 🙂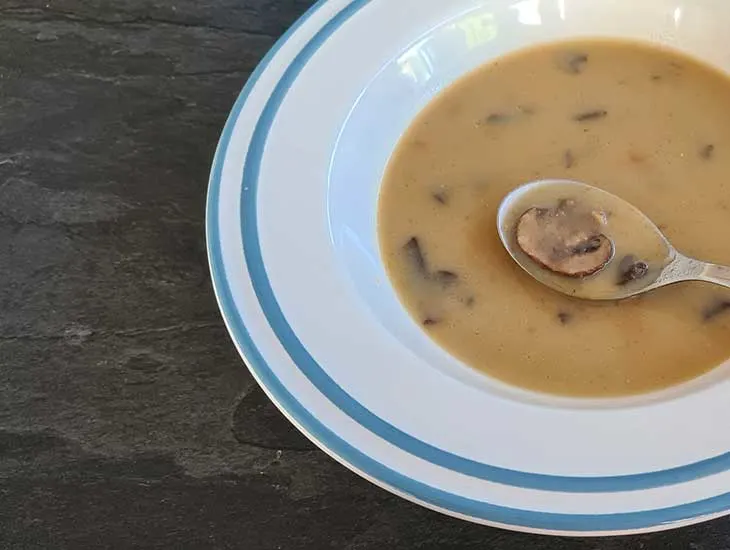 This recipe started like all good things in life: unplanned. Unexpected. I made this Asian mushroom soup because I had a casserole of brown mushrooms in my fridge and I had literally no idea what to do with them. Truth be told, cooking with mushrooms is kind of complicated in my home because I'm the only one here who likes them for real. So whenever I decide to use mushrooms as an ingredient in a recipe, I have to be very careful about my cooking methods, especially when it comes to texture. My mushrooms have to be really tasty in order to appeal to the pickiest of eaters. No pressure, haha!
Now what's surprising is that this Asian mushroom soup got right to my top list of recipes. The pickiest eater in our family mentioned that it's "really good", so that must mean something. I was really surprised!
I, on the other hand, like a classic cream of mushrooms as well or a thick, hearty soup with mixed wild mushrooms. I have no problem with these, I make them from time to time and I really enjoy their aromas. But this time I wanted to try something different. And it was a real success!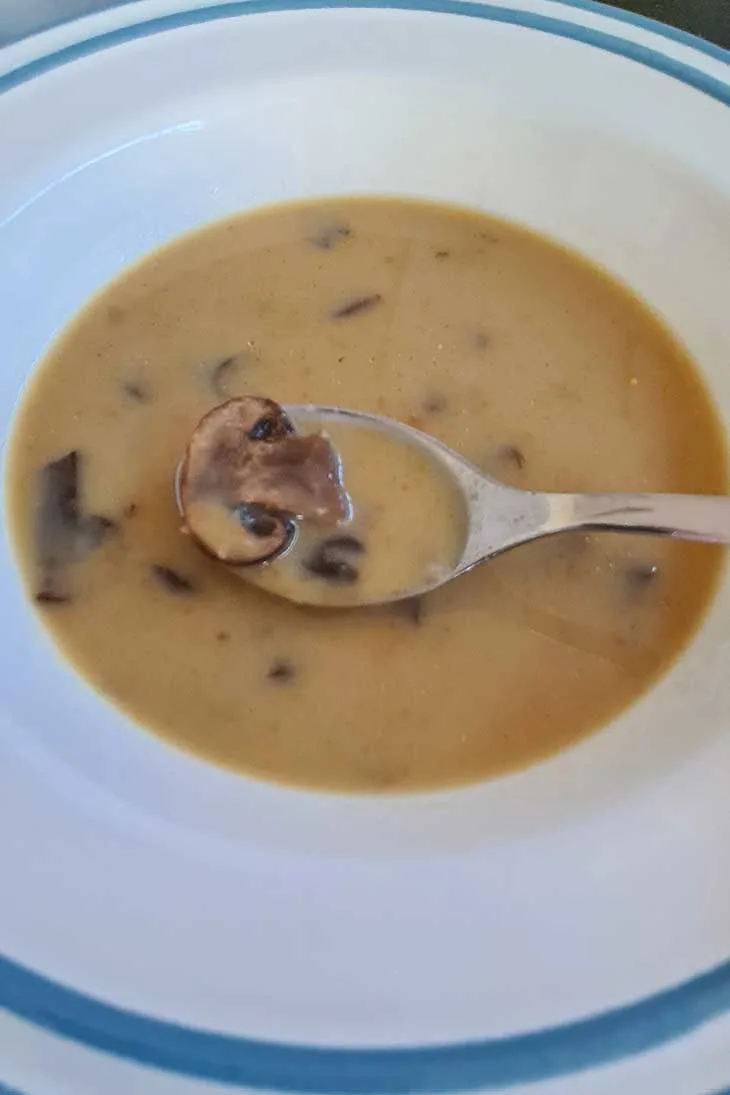 I only used 250g of mushrooms for this soup because I used the other half of my casserole as a topping over some white beans spread, but I recommend you use the entire 500g (aka a small casserole) in this Asian mushroom soup. Also, please note that it's super important to cook the onion separately and to only add them to the soup at the very end, otherwise the texture won't be that great.
By the way, I don't know if you know this, but I started using mushroom protein powder to thicken my soups and sauces. I discovered it during a campaign and I really recommend it – the powder is very versatile and super tasty and I really prefer using it instead of thickening with plain flour or starch.
Now, why am I saying that this soup has Asian flavors? After all, it's a mushroom soup! Well, I used one entire can of coconut milk, which made the soup super creamy. This was half of the trick. Then I also used some soy sauce which made everything ten times better! Plus some miso paste in the end and this soup got from a plain creamy mushroom soup to an explosion of Asian flavors and textures. No wonder everyone at the table loved it!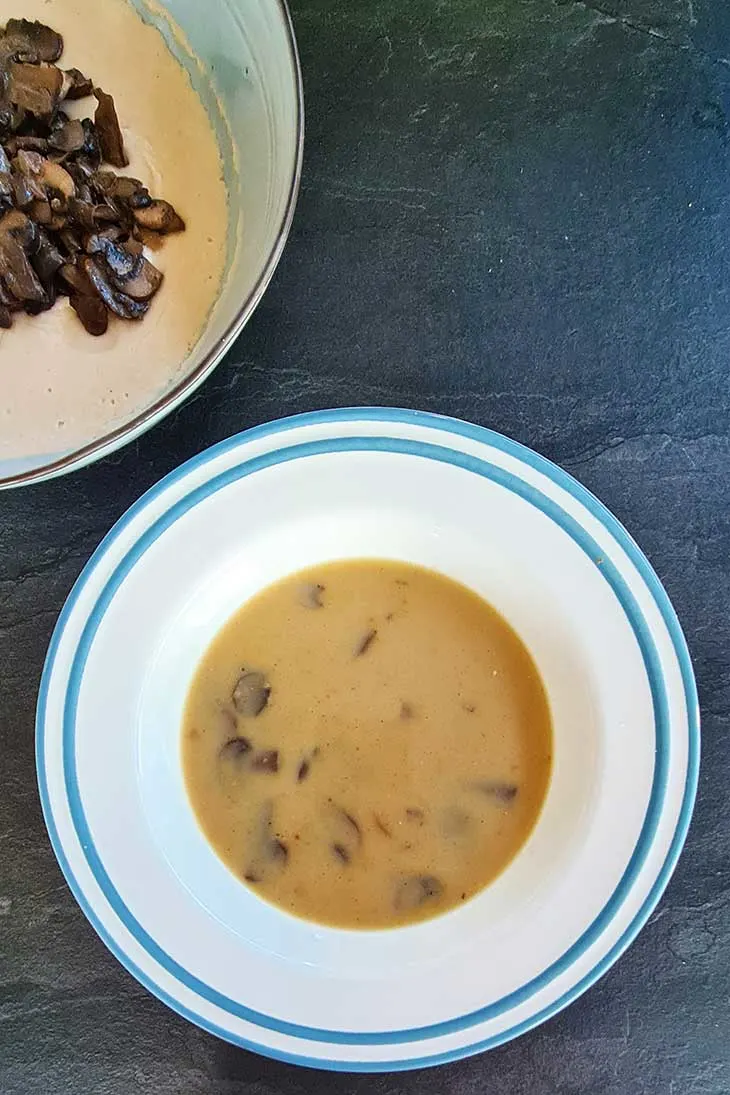 What I love most about this Asian mushroom soup is that it's really filling. Even though it's a rather simple, uncomplicated soup, it does the trick of keeping you full from lunch 'til dinner. And this is exactly what I look for in my soups! As much as I'd love clear soups, especially on cold days, I can't help but feel like this Asian mushroom soup is one of the best ones I ever made. I swear!
If you need more inspiration about how to cook mushrooms and how to use them in various recipes for the best texture and flavor, you'll be happy to know that I wrote a dedicated article. It's called How to cook mushrooms and it will really help you whenever you need a dose of inspiration, as it includes 10 yummy, vegan recipes as well.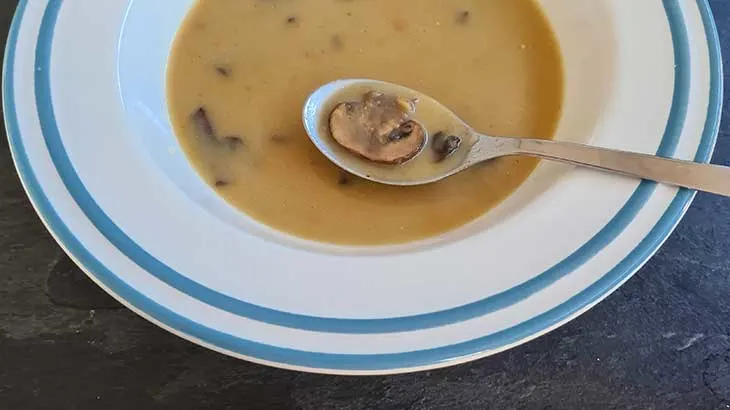 These being said, I'm pretty sure you're already eager to put YOUR casserole of brown mushrooms to good use and make this Asian mushroom soup as soon as possible! If you decide to do so, don't forget to let me know how it went and how much you liked it in the comments below. I love hearing from you!
Until then, happy cooking!
Yield: 8 servings
Asian Mushroom Soup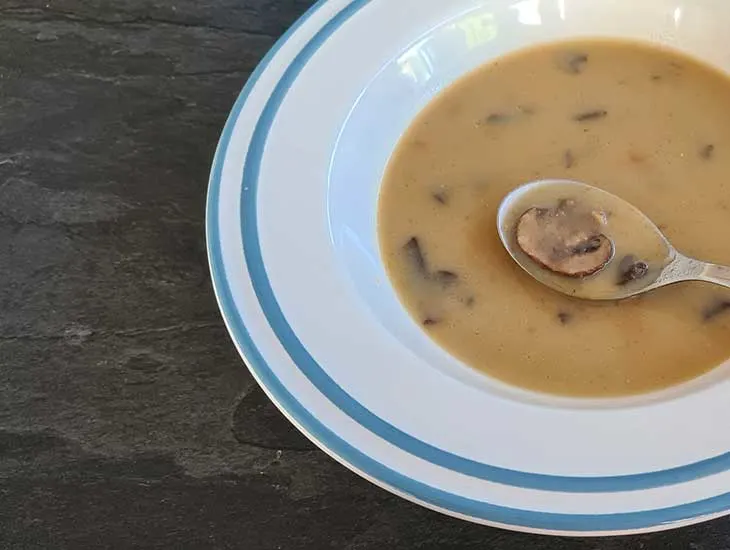 This soup is literally an explosion of intense, exotic aromas! If you're craving something vegan, yummy, and easy to make, this Asian mushroom soup must be next on your menu!
Ingredients
500g (2 cups) brown mushrooms
1 onion, chopped
2 garlic cloves, sliced
1 tsp thyme
2 Tbsp olive oil
4L (16 cups) water
2 medium potatoes
1 big carrot
1 can of coconut milk (400ml | 13.5 oz)
5 Tbsp soy sauce (or tamari for the gluten-free version)
1 Tbsp miso paste
4 Tbsp mushroom protein powder - optional, but recommended. I wrote here about how I discovered that Formula 1 Gourmet protein powder with mushrooms is ideal to thicken sauces and soups and to add extra flavor to your recipes. Since I tested it for this Protein Power Creamy Soup I started using it instead of flour or starch. In case you don't use this product, replace it with 4 tsp of corn starch
1 tsp sesame oil
Instructions
Set the water to boil in a pot.

Peel the potatoes and carrot and cut them into cubes. Add them to the pot. Let them boil until soft - 15 minutes.

Meanwhile, slice the mushrooms and add them to a pan with heated the olive oil. Add the onion, garlic and thyme. Cook over medium heat for 10-12 minutes.

Once the vegetables are cooked, turn off the heat. Remove them and put them in a blender with a little bit of the boiled water and the protein powder (if you do not use protein powder, add 4 teaspoons of cornstarch).

Process everything until a fine cream is formed. Pour the cream back into the pot and stir.

Add the coconut milk, sesame oil, miso paste and soy sauce. Mix.

If needed, add a little more soy sauce. I did not use salt for this recipe, as both the soy sauce and miso paste are very salty.

Add the cooked mushrooms and mix. Your soup is ready!
Nutrition Information
Yield
8
Amount Per Serving
Calories

221
Total Fat

15g
Saturated Fat

10g
Trans Fat

0g
Unsaturated Fat

4g
Cholesterol

1mg
Sodium

651mg
Carbohydrates

17g
Fiber

3g
Sugar

3g
Protein

8g
I strive to keep the information as accurate as possible but make no warranties regarding its accuracy. I encourage you to make your own calculations using your preferred nutrition calculator.