Champignons, Oyster mushrooms, chanterelles, Porcini… if you like mushrooms as much as I do, you'll surely love this mixed mushroom soup! Healthy and full of flavor!
Soup in a can? No, sir, not for me! I always prefer making my own soup, regardless if we're talking about cream soups, Asian soups, noodle soups, or anything else in-between.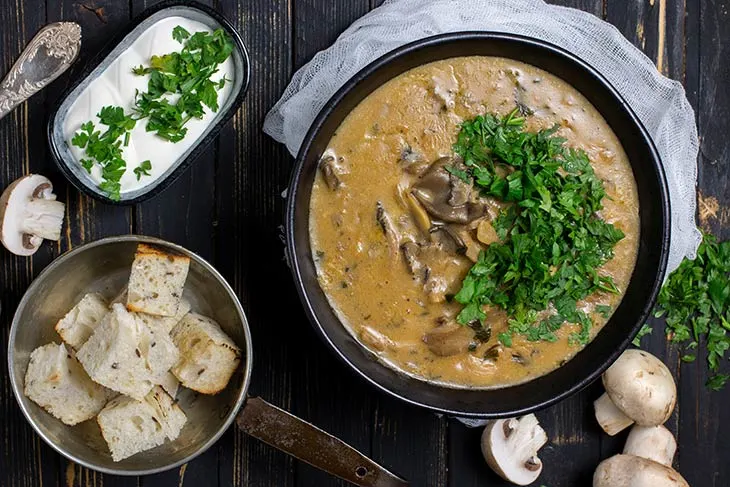 Out of all dishes out there, I truly believe that soups are some of the easiest and cheapest to make at home. After all, you only need a handful of ingredients, a big pot, and a little bit of patience while you boil everything. And in the end, you'll have lots of delicious goodness waiting to be served in a big bowl!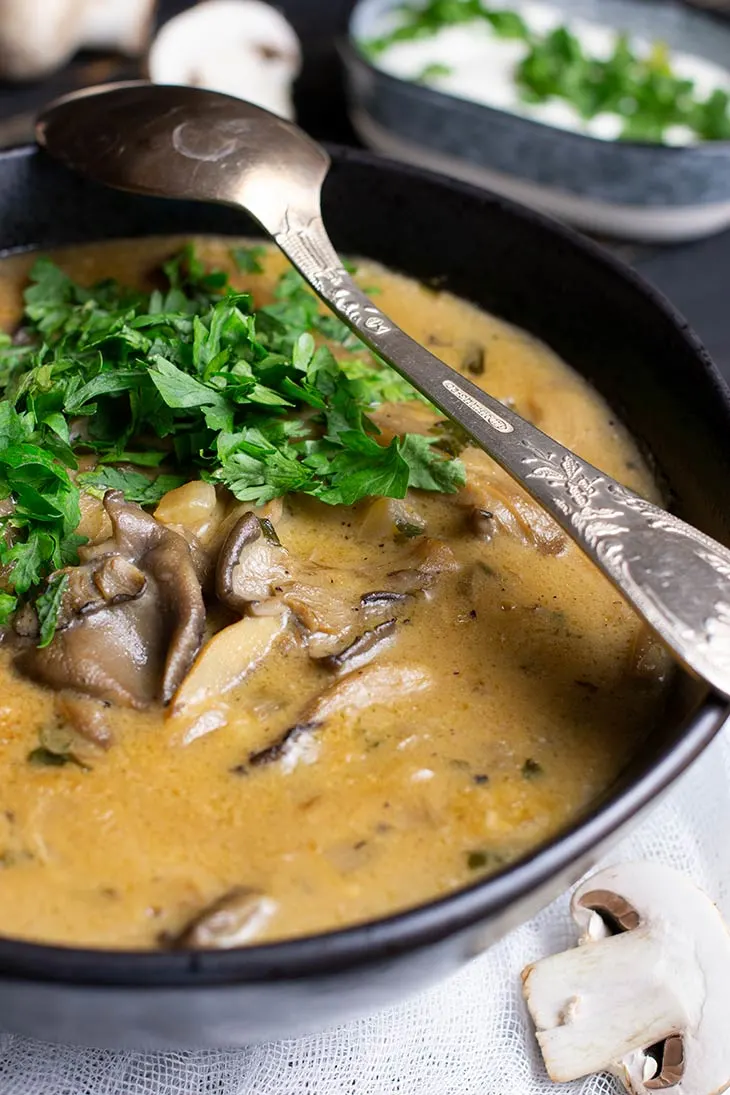 Out of all the soups I made recently, this vegan mixed mushroom soup HAS to be BEST one yet! 🙂 It's full of earthy flavors and it's extremely easy to make. And if you like mushrooms as much as I do (and I mean ALL types of mushrooms out there), then you'll surely want to make it again and again.
You may expect this mixed mushroom soup to be a plain cream soup like all the others you can find on the internet. Not this time, my friends! 😉
Sure, I could've made a simple cream soup and I'm sure it would've been pretty delicious, but this time I decided to take things to a whole new level. So I created this mushroom soup that I combined with some unique Asian ingredients.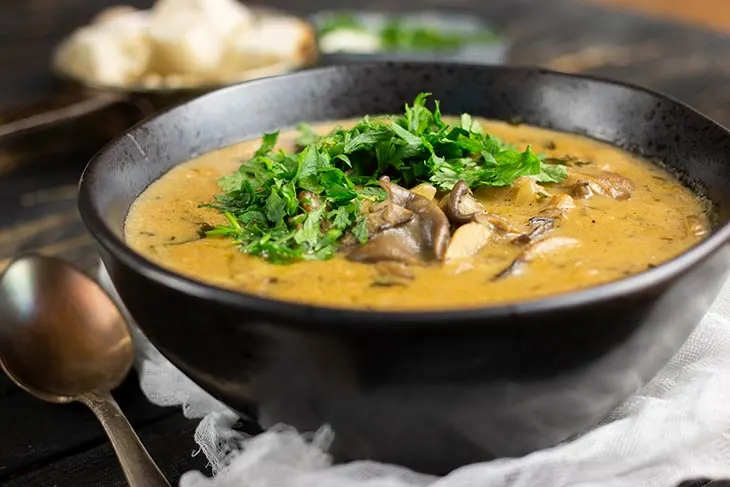 Picture this: 4 types of mushrooms, coconut cream, soy milk, cloves, nutmeg, soy sauce, parsley, and onion. What could be better than this? Trust me when I say that all these ingredients combined will create a superb, extremely flavorful mixed mushroom soup. A soup you don't forget very soon!
One of the best things about this soup is that, even if it requires some special ingredients, it will be ready in no time. And everyone will happily eat it, regardless if they care for a vegan diet or not. Nobody will feel that meat is missing from this combo, trust me!
This mixed mushroom soup combines everything that mushrooms have to offer. And the end result is filling and delicious, perfect for these cold days when all we want to do is lay in bed in a fluffy blanket.
The texture is incredible as well: delicious coconut-y sauce combined with pieces of sautéed mushrooms. This is no boring soup, my friends!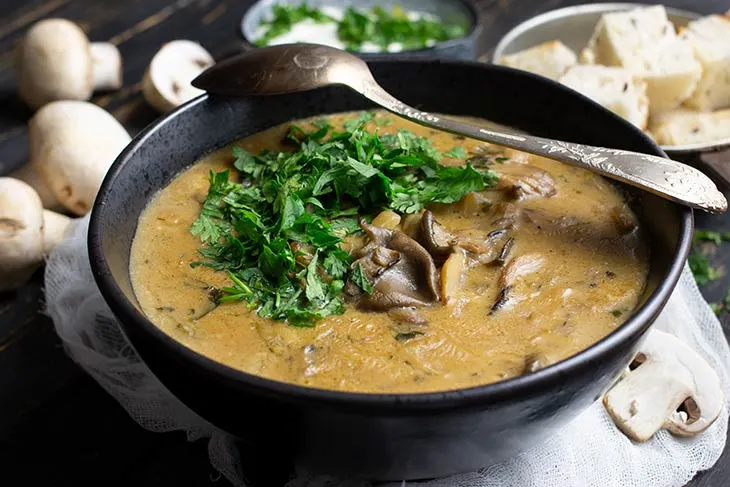 Now let's talk about mushrooms for a bit. After all, they're the main star of this recipe, right? I chose to combine four different types of mushrooms this time: champignons, oyster mushrooms, chanterelles, and porcini. I went for different flavors and, most of all, different textures in order to achieve the perfect soup. And I think this combo is pretty unbeatable!
As for herbs, I only chose to use fresh parsley. But the spice combo is pretty special again: cloves and nutmeg. These two are just perfect for autumn and winter and they work wonders when they're combined with mushrooms.
And because I wanted my soup to be creamy instead of plain liquid, I added some high-quality coconut cream and some soy milk as well, combined with flour. And I really think I achieved the best flavor and texture combo here!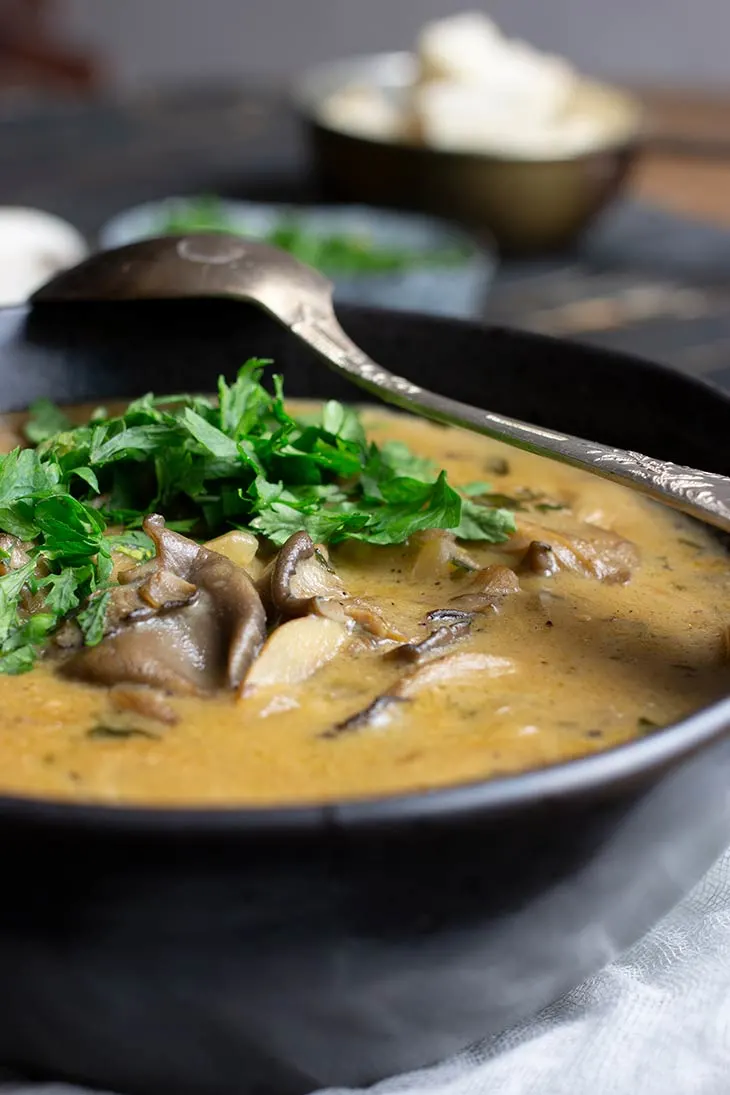 I may be praising this soup a little bit too much (or that's what the haters would say), but it is a really special recipe. Forget about the plain, boring mushroom soup you're used to and make this one instead. I'm sure you won't want to go back ever again!
If you love hearty soups as much as I do, then I'm sure you'll want to give it a try. You can make it during the weekend with your loved one or your kids – it would be a pleasant family activity and the end result will have everyone fall in love at the dinner table. Or, even better, you can make this soup the next time you have guests over. This will surely impress everybody present!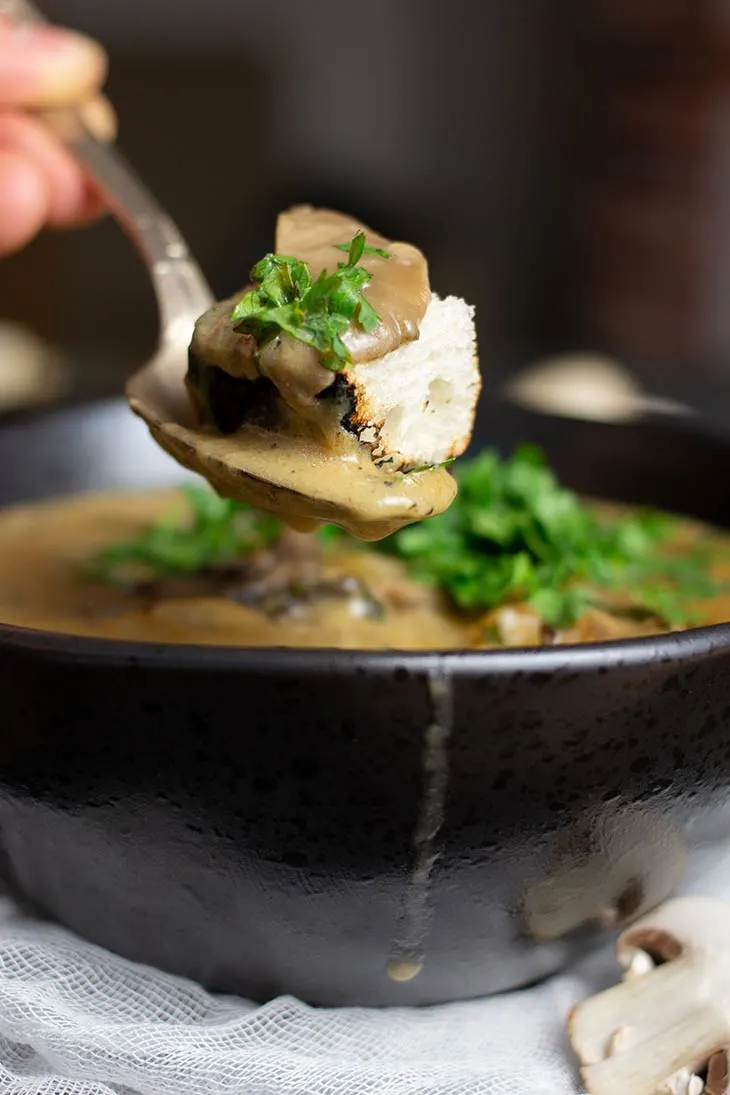 And that's about everything I wanted to add about this extraordinary mixed mushroom soup. I really hope you'll try it these days and, if you do, don't forget to come back here and tell me how it went. I'm curious to hear your opinions!
Yield: 4
Mixed Mushroom Soup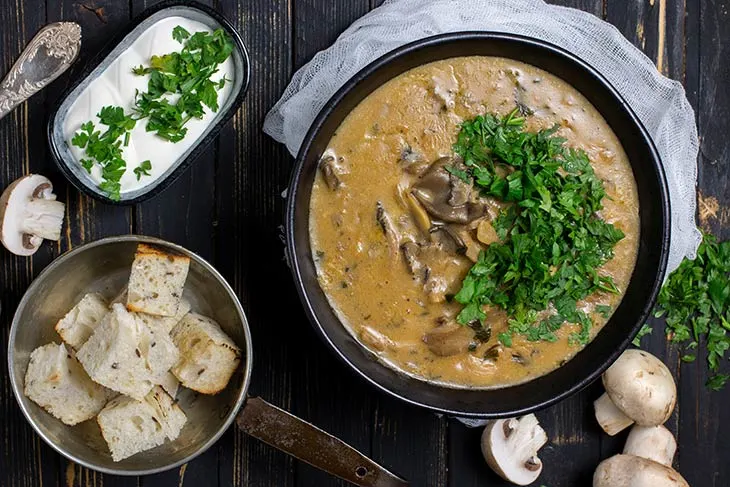 Champignons, Oyster mushrooms, chanterelles, Porcini… if you like mushrooms as much as I do, you'll surely love this mixed mushroom soup! Healthy and full of flavor!
Ingredients
300g (10 oz) mixed mushrooms, roughly chopped - I used a mix of champignons, oyster mushrooms, chanterelles and Porcini)
1 medium white onion, chopped
2 garlic cloves, minced
2 Tbsp parsley, chopped
2 Tbsp coconut oil
4 Tbsp soy milk
2 Tbsp flour
3 Tbsp coconut cream
¼ tsp nutmeg
1 Tbsp soy sauce
1L (4 cups) veggie stock or water
Salt
Pepper
Instructions
In a pan, roast the flour stirring constantly for 2-3 minutes or until it becomes golden.
Transfer the flour to a small bowl, add a few Tbsp of veggie stock and mix well until there are no lumps.
In the same pan, sautee the garlic, onion, and parsley in coconut oil over medium heat until translucent.
Add the mushrooms and nutmeg, cook for 3-5 minutes.
Add soy sauce, soy milk, and simmer for 30 seconds.
Add the veggie stock and coconut cream. Lower the heat and simmer for 10 minutes.
Add the flour mixture, mix well and simmer for another 5-7 minutes.
Add black pepper and salt, if needed.
Nutrition Information
Yield
4
Amount Per Serving
Calories

185
Total Fat

10g
Saturated Fat

8g
Trans Fat

0g
Unsaturated Fat

1g
Cholesterol

2mg
Sodium

475mg
Carbohydrates

19g
Fiber

2g
Sugar

10g
Protein

5g
I strive to keep the information as accurate as possible but make no warranties regarding its accuracy. I encourage you to make your own calculations using your preferred nutrition calculator.