Try this super-easy recipe for vegan meatballs served in a creamy, dairy-free, cheesy sauce and paired with a side of fluffy mashed potatoes. You'll love it!
This recipe is AAAAAAMAZING! I'm not modest at all. These vegan meatballs turned out excellent! The taste was just like regular meatballs and even the texture is on point thanks to TSP (textured soy protein) granules!
The whole preparation part for this recipe – making the vegan meatballs, sauce and mashed potatoes – will take about an hour, but it's so worth it! You can save some time and double or triple the quantities for the vegan meatballs, shape them and freeze them for later. This way, the next time you want to make this recipe, it will be done in half the time.
TSP is pretty amazing for vegans, but make sure you find a reliable source for non-GMO textured soy protein. Also, choose the unflavored kind to avoid any added salt or MSG. It's super high in proteins! 100 grams of TSP has over 50g of pure protein! How amazing is that?! Not to mention the texture, which resembles meat so well.
The white sauce is also super-easy to make. It has a cheesy/milky taste without having dairy at all! Nutritional yeast and raw cashews are perfect for adding that milky flavor to recipes. Unfortunately, you won't be able to make this in batches. The sauce is best eaten when it's hot. Once it starts to get cold, it also thickens.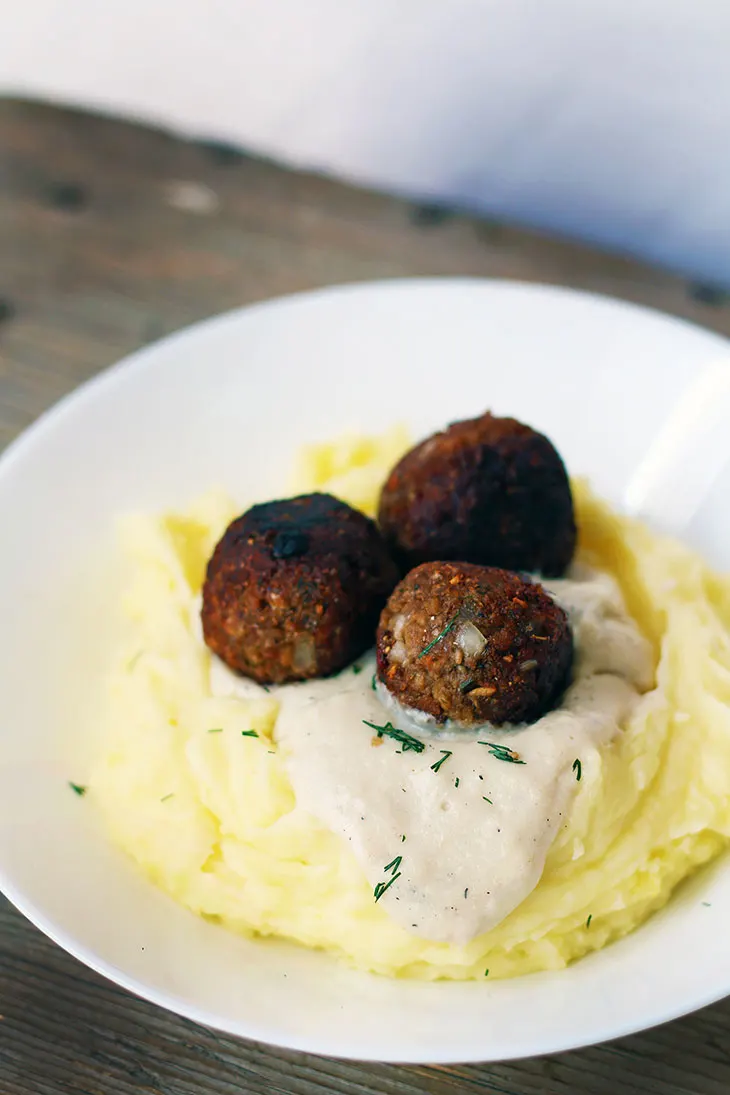 Now, about my vegan mashed potatoes recipe…I have a couple of tips and tricks for you! I recently gave up dairy completely, as I found out that it was causing me allergic reactions, so no more butter for me! I always added butter to mashed potatoes and felt like they taste bad without it. Fortunately, I had a brilliant idea of using vegan mayo instead! PROBLEM SOLVED! My mashed potato recipe not only turned out just as fluffy, but I think the taste is even better than it was when I used butter. 🙂
So, without further ado, head straight to the kitchen and make this simple and delicious vegan meatballs recipe. Then come back here and leave me a comment to tell me how it was. Enjoy!
P.S. I recently started posting on my YouTube channel. I post weekly, every Thursday. This recipe and others, which I will post soon on the blog, are part of my first What I Eat in a Week video. Don't forget to Subscribe and give it a Thumbs Up if you like it! 🙂

Vegan Meatballs in White Sauce – video recipe
Yield: 4 servings
Vegan Meatballs in White Sauce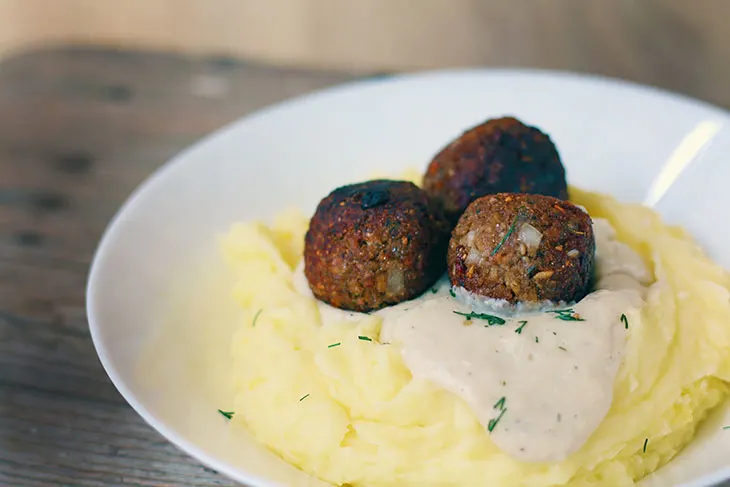 Try this super-easy recipe for vegan meatballs served in a creamy, dairy-free, cheesy sauce and paired with a side of fluffy mashed potatoes. You'll love it!
Ingredients
Vegan meatballs:
100g (1 cup) textured soy protein - granules
1 onion, diced
2 Tbsps chickpea flour
1 Tbsp psyllium husks
3-4 tsps meatball seasoning - mine contains cumin, black pepper, ground sweet pepper, coriander, onion powder, garlic powder
2 Tbsps dry veggie mix
1 tsp cocoa powder
½ tsp sea salt
oil, for frying
Cashew sauce:
a handful of raw cashews, soaked overnight or for at least 2 hours
480ml (2 cups) water
2 Tbsps nutritional yeast flakes
2 Tbsps flour
6-8 garlic cloves - I like it with a strong garlic flavor, but you can add less
½ tsp sea salt
½ tsp white pepper, ground
Vegan mashed potatoes:
6 potatoes, peeled
2 Tbsps vegan mayonnaise
salt, to taste
Instructions
Vegan meatballs:
Add the textured soy protein granules into a bowl and pour hot water on them. Let them soak. Until then, make the cashew sauce or mashed potatoes.
When they're soft, in about 10 minutes, drain them and add the rest of the ingredients for the vegan meatballs. Mix well together and let the composition sit for a while.
If the composition is too dry and it's not easy to shape the balls, just add 1-2 Tbsps of water.
Heat some oil in a non-stick pan. Make sure it covers the bottom of the pan. You don't have to deep fry these, just add enough oil to cover the bottom of the pan evenly.
Shape the vegan meat balls and fry them on all sides, until nice and crispy.
Place them on a paper towel, to remove all excess oil.
Cashew sauce:
Add all the ingredients into a blender and blend well until everything is super-smooth! Let it blend for a couple of minutes and check to see if it still has a grainy texture due to cashew or if it's smooth and ready to go. This will take about 5 minutes of continuous blending.
Pour the sauce composition into a pan and slowly cook over medium heat, while stirring continuously. You will notice that the sauce will start to thicken. Stop once it has the consistency of yogurt. It will also thicken while it's getting colder.
When the vegan meatballs are ready, just add them to the sauce pan.
Vegan mashed potatoes:
Peel the potatoes and cut them into cubes.
Boil them until tender. Check them with a fork after 20 minutes to see if they're soft.
Drain almost all the water, but save about a cup.
Using a hand mixer, start mixing the potatoes. Add a little bit of water to reach the desired consistency.
Add sea salt to taste and the trick...2 tablespoons of vegan mayo! I found that this is the best replacement for butter in vegan mashed potatoes. Mix well and serve.
Nutrition Information
Yield
4
Amount Per Serving
Calories

487
Total Fat

15g
Carbohydrates

61.4g
Protein

26.6g