Combine both convenience and deliciousness in a filling meal – vegan creamy corn chowder! Try this simple, delicious and healthy recipe today!
Three course meals are great but don't you wish sometimes to be able to eat a hearty meal in one course, and that meal to be filling enough so that you don't ask for seconds? I do feel like that sometimes. That's when I decided to try making some filling corn chowder, with the sole purpose of getting hunger out of the way.
Chowder is a wonderful meal. It's like a thick and creamy soup, but it has more solid ingredients in it, usually. I like to call it "the missing link" between soup and stew. It's not too dissimilar to other vegan cream soups we've been making, but the cooking process is a bit different.
Chowder is usually a very simple and hearty meal that will boost your spirits and cure your hunger. The chowder wasn't originally a vegan recipe, but we can make many vegan variants out of a great variety of ingredients! Just wait and see! 🙂
If you've been following my blog, you can probably tell that I love making small and quick recipes like this, which you can cook a bowl of and eat immediately. And the best part is that chowder isn't more complicated to make than a stew, or a soup or either. It takes a minimum of effort and brings maximum satisfaction – or, as I like to call it, it's a win-win recipe! 🙂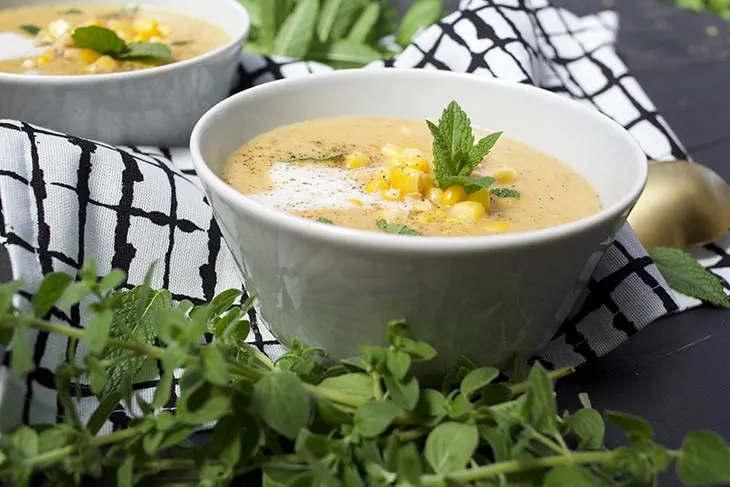 This is a recipe with a history as rich as its texture. Its name comes, allegedly, from the French word chaudron, which means cauldron, probably the receptacle of choice for cooking chowder back then.
It was first a very popular meal in The United Kingdom and the surrounding countries, especially in port towns that were open to the sea. Seafood trade was booming in those parts, and so it's not surprising that several varieties of fish-based chowder became popular around that time.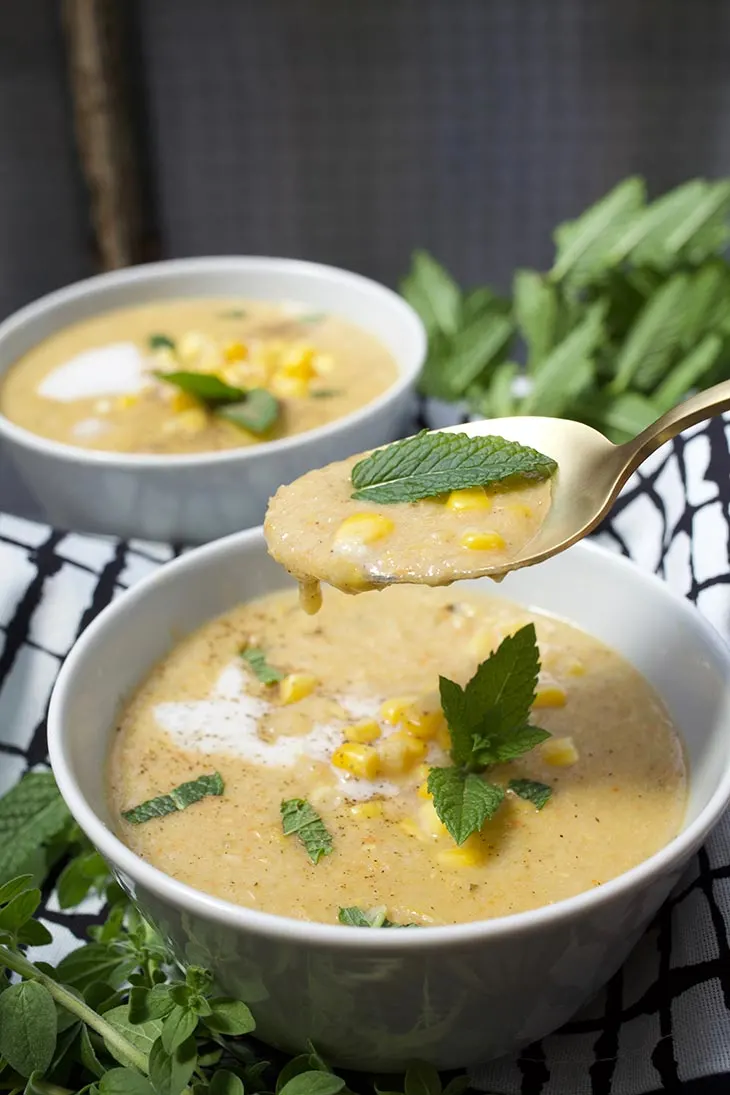 The clam chowder was one of the most widespread varieties because it was easy to make, and it was served in bars and restaurants near bustling ports. The captain would disembark, have a delicious bowl of clam chowder or corn chowder, and be on their way. It's a simple recipe, reminiscent of a simpler time!
This simple recipe for corn chowder can now be enjoyed by you at home, with minimum effort and fuss! 🙂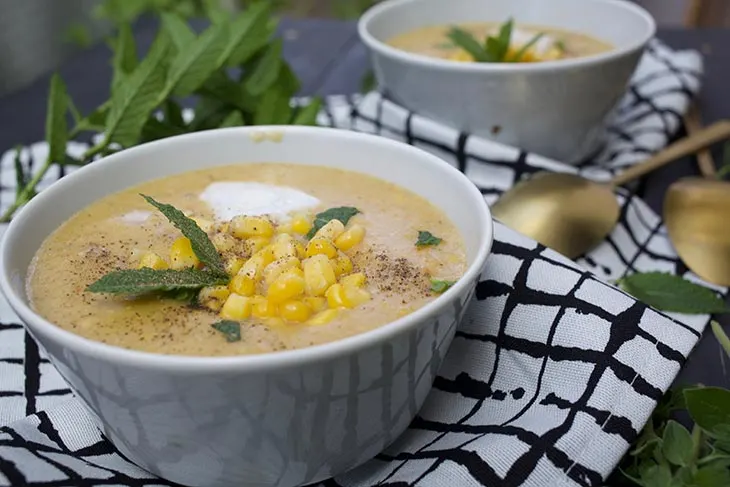 Do you ever get home from work, tired and hungry, and you're just about to press a button to order some food you don't need? Vegan creamy corn chowder is a good recipe to try out when you're down on time and ingredients and, most of all, energy! But that's not saying you can't enjoy a simple meal of creamy chowder on the weekends! It's a very versatile and filling dish that will leave you wanting for more.
Next time you have a special occasion incoming, try surprising your loved ones with some delicious vegan creamy corn chowder instead of boring old plain soup. Their faces will light up with delight!
If you want, you can improve this recipe by adding some vegan kind of cheese, and your favorite herbs and spices! Add salt and pepper accordingly, and then you can experiment with some spicier things, too, if you want. I like my creamed corn closer to plain usually, and this applies to creamy corn chowder as well, but don't hesitate to make this recipe your own!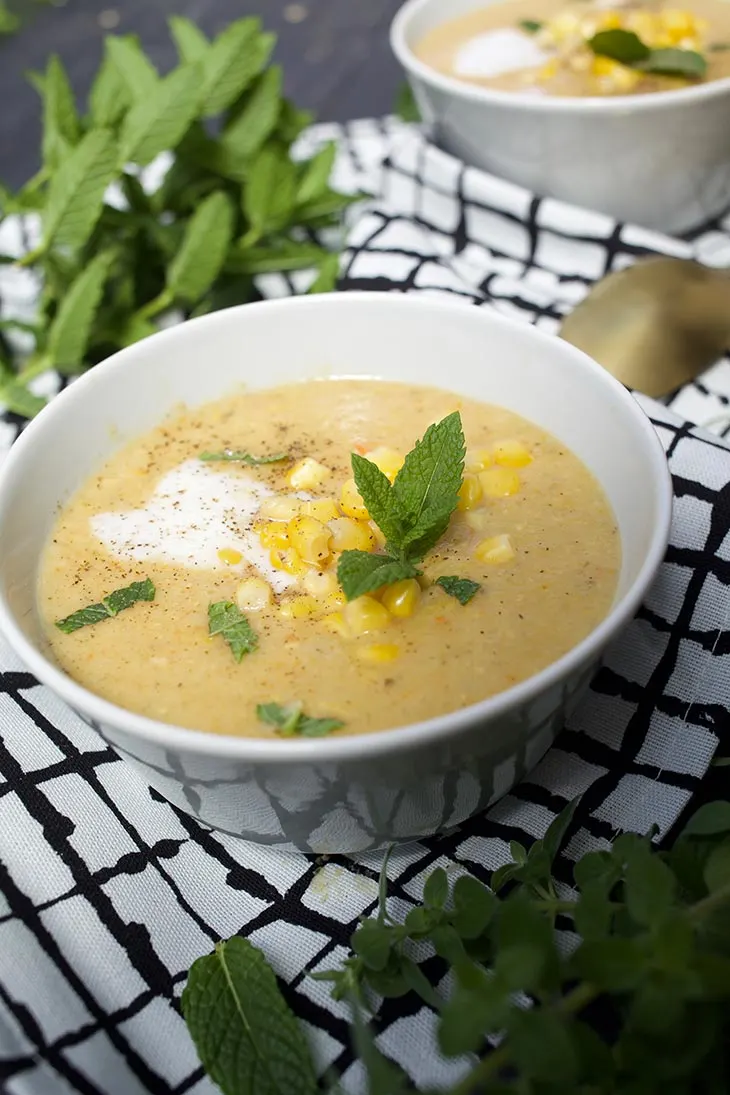 Sometimes I like serving chowder with some delicious crackers. This might seem redundant from afar, seeing how many recipes of chowder are thickened with broken cracker crumbs. Still, I've always loved the pairing of cream soups and crackers and I think they were made for each other!
Thinking outside the box, you could say that the chowder becomes sort of a dip for your crackers. But let's not get that much into the philosophy of cooking. I think it all comes down to the same conclusion – creamy corn chowder is delicious, and you need to make some right now!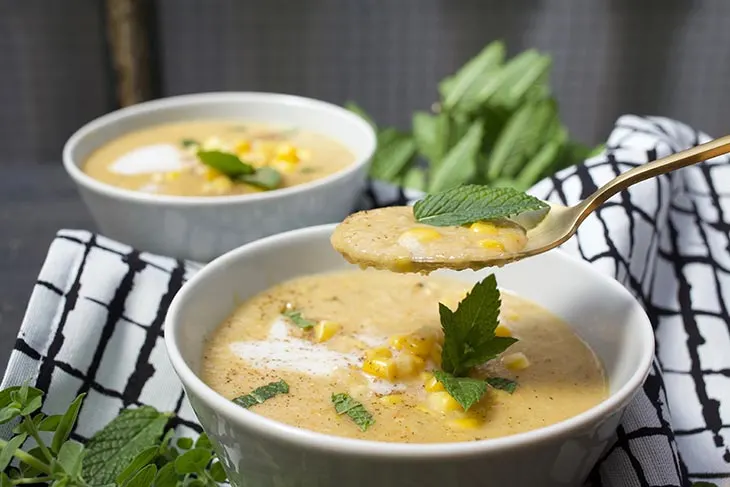 I hope you'll enjoy making this creamy corn chowder. I always choose to present to you the recipes that are closest to my heart and this one is a keeper! If you have any questions or comments, don't hold back and write to me because I love hearing from you! But that's it from me, I wish you the best of luck in the kitchen and enjoy!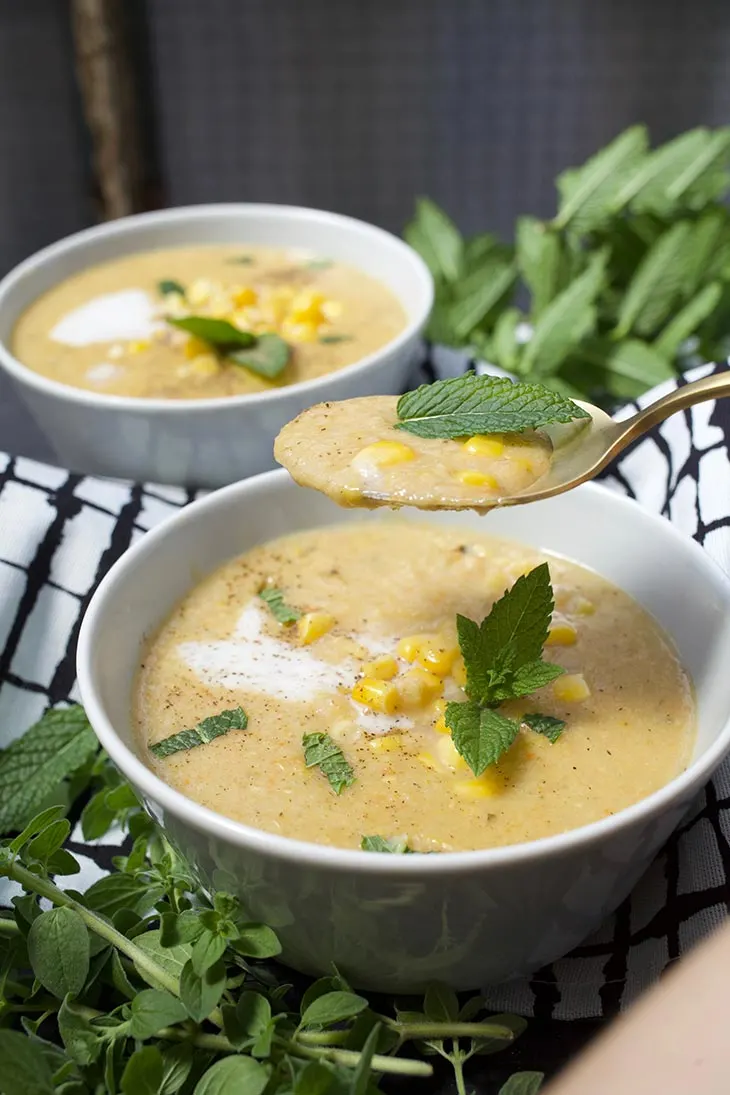 Yield: 4
Vegan Creamy Corn Chowder
Here's how you can combine both convenience and deliciousness in a filling meal - this vegan creamy corn chowder! It's quick and healthy as well!
Ingredients
1 Tbsp olive oil
2 cloves garlic, minced
1 onion, diced
1 bell pepper, diced
1 large carrot, peeled, cubed
3 stalks celery, chopped
330g (2 cups) corn
500ml (2 cups) water
750ml (3 cups) veggie broth
1 sprig fresh oregano
1 tsp smoked paprika
1 bay leaf
230g (1 cup) full-fat coconut milk
220g (1 cup) vegan cheese, shredded
1 Tbsp chopped greens
a handful of fresh mint
extra corn and coconut cream for serving
salt and pepper to taste
Instructions
Heat a large pot with olive oil on medium heat.
Add the garlic and onion and saute for about a minute until fragrant.
Add the red pepper, carrot, celery, and corn. Cook, stirring, for about 4 more minutes.
Add the broth, paprika, and water. Stir to incorporate.
Add the oregano sprig and the bay leaf and bring to a boil.
Turn heat to low, cover and let it cook for about 15 more minutes.
Remove the bay leaf and oregano sprig.
Transfer half of the mixture to a food processor. Add coconut milk and blend until smooth.
Transfer the blended mixture back to the pot. Add the cheese and stir to combine.
Sprinkle with extra corn.
Add the coconut cream, chopped mint and enjoy!
Nutrition Information
Yield
4
Amount Per Serving
Calories

407
Total Fat

26g
Carbohydrates

38g
Fiber

4g
Sugar

8g