Learn how to make the popular Japanese vegan miso soup recipe at home, step by step, in the recipe below.
This is the first time I ate miso soup and also the first time I made it at home. I must say I am quite impressed by its taste. I wasn't expecting much because it looks all brown and not that appetizing, but I was surprised. It has a unique flavor and it's light but filling at the same time.
In Japan, miso soup is always served when the steamed rice is served, not before the meals, like soup is served in most other countries. Just found out this after I made the recipe. I ate it by itself, before a salad. 🙂
What are the ingredients for miso soup?
Miso soup is made with dashi, miso paste and other ingredients which can vary (such as veggies, mushrooms, algae etc.).
What is Dashi?
Dashi is a Japanese stock and it's extremely important not to attempt to make miso soup without it. It can be vegan – Kombu Dashi, or made with fish – Awase Dashi (with tuna flakes and kombu) or Iriko Dashi (with anchovies).
I followed this recipe which shows you step by step how to make kombu dashi – the vegan dashi version. It's really easy to make. You'll need about 1 oz of kombu (dried kelp) and 4 cups of water. The clear instructions are in the link above.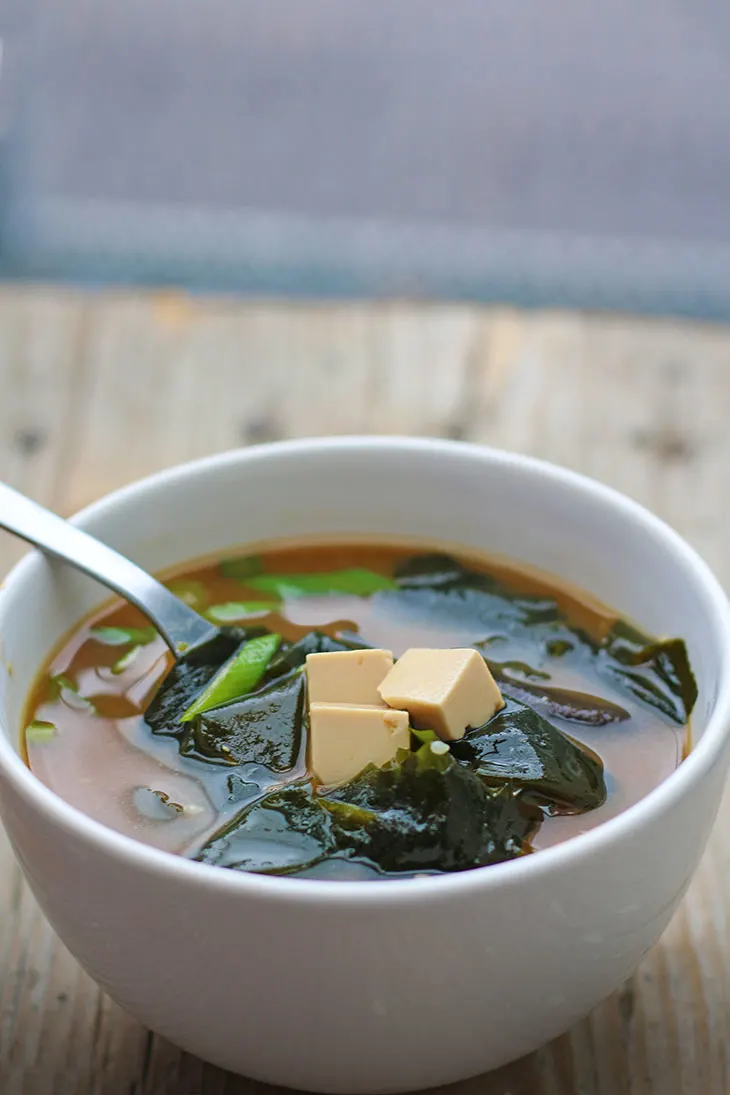 What is Miso paste?
Miso paste is a fermented soy product, a thick paste with an umami flavor. It may not sound delicious, but it has a unique taste and is widely used in the Japanese cuisine, including the popular miso soup recipe.
There are various types of miso. It can be white, yellow or brown/reddish in color and on its own it has a very salty taste. However this is not meant to be eaten on its own, instead, it is combined with different meals to give them a special flavor.
Miso paste can be used in many types of dishes, from the classic miso soup to marinades and glazes, salad dressings, sauces, stir-frys and lots of macrobiotic recipes.
Speaking of macrobiotic, miso paste is a MUST if you follow a macrobiotic diet, alongside other fermented ingredients. Fermented foods contain probiotics which are highly recommended for our gut's well-being.
Miso soup ingredients
Besides dashi and miso paste, there are several other ingredients which can be added to miso soup. Just remember to cook root veggies before adding them to the soup, as they need to be boiled until tender.
You can add daikon, onions, potatoes, turnips, carrots to miso soups, but these are added before boiling dashi. Also, you can add cabbage, spinach, bean sprouts, eggplants, different kinds of mushrooms, tofu (silken), seaweed, scallions and leeks. These can be added after boiling dashi.
Hope you'll like this homemade vegan miso soup recipe! Don't forget, if you give my recipes a try, take a photo and tag me on Instagram @gourmandelleblog and use the hashtag #gourmandellerecipe. I will feature you on my Facebook page and/or Instagram Stories! 🙂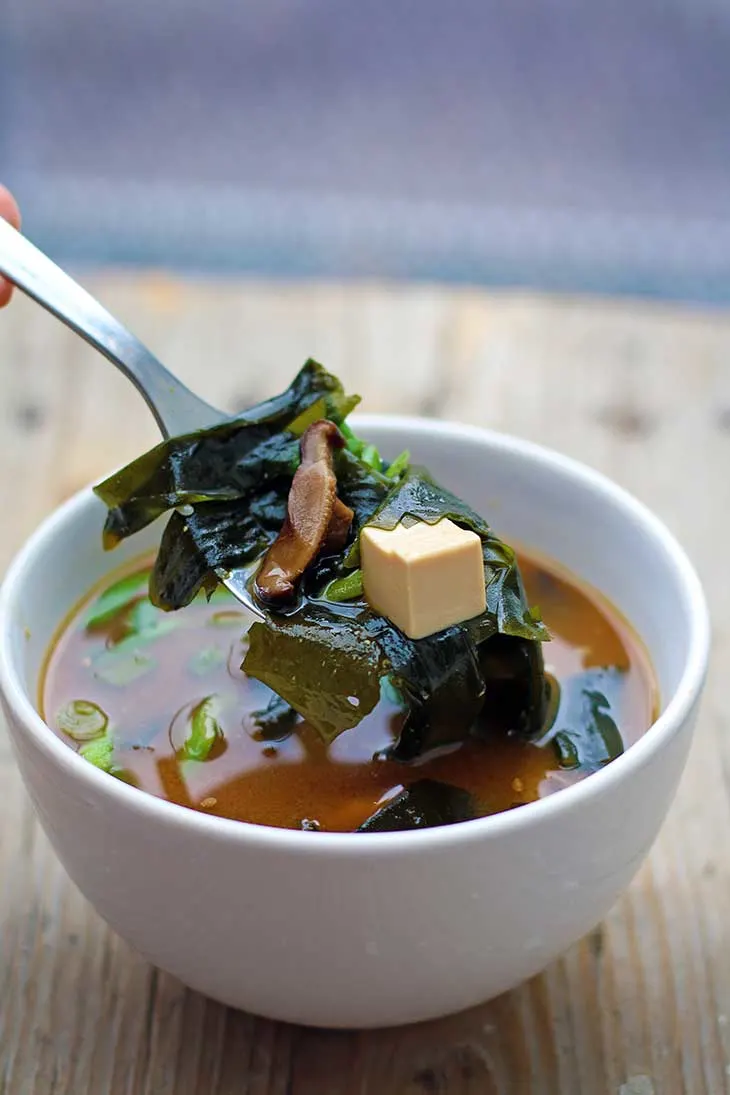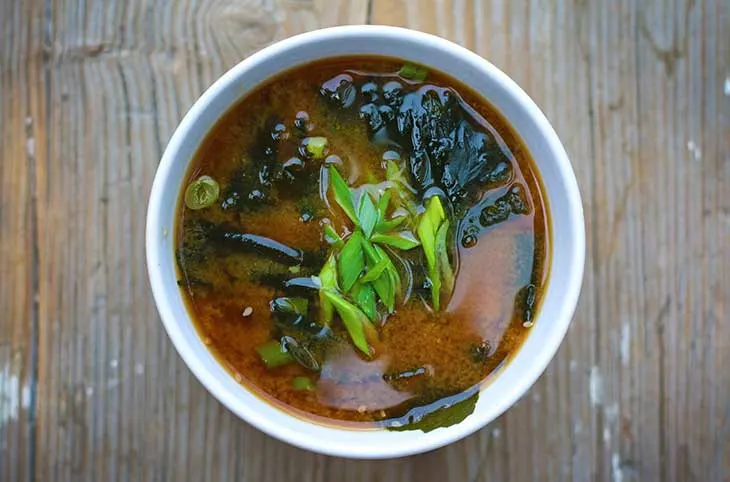 Learn how to make the popular Japanese vegan miso soup recipe at home, step by step, in the recipe below.
Ingredients
Dashi:
30g (1 oz) kombu, dried kelp
950ml (4 cups) water
Miso Soup:
all dashi
15g (½ cup) fresh spinach
60g (¼ cup) tofu, silken, cubed
4 dried shiitake mushrooms, rehydrated
1 Tbsp dried wakame
3 Tbsp dark miso paste
1 scallion, chopped
1 tsp sesame oil
Instructions
Make a couple of slits on the kombu.
Add the water in a pot, put in kombu and slowly bring it to a boil, on medium-low heat.
Skim the surface to clean dashi.
Just right before it starts boiling, remove kombu.
Strain dashi and then put it back in a clean pot, on low heat.
Add spinach and mushrooms.
Add miso paste, one tablespoon at a time.
After the miso paste is dissolved, add tofu.
Remove from heat and add rehydrated wakame (put them into a bowl with water before adding them to the soup), chopped scallions, sesame oil and some sesame seeds.
Notes
For making dashi I followed Namiko Chen's recipe.
Nutrition Information
Yield
4
Amount Per Serving
Calories

82
Total Fat

2.8g
Carbohydrates

9.6g
Protein

4.6g