Try this is delicious vegetarian root vegetable tart with mushrooms, which was inspired by one of Jamie Oliver's meatless recipes!
Patience is not something that characterizes me. I almost always cook recipes that are ready fast and without too much hassle. On weekends, though, you may find me standing in the kitchen longer, cooking whole menus for family and friends. Cooking relaxes me and makes me happy….except during the week when I have like 1001 things to do in just one day :).
You know that I'm not a big fan of baking, so you're probably wondering what's up with this recipe? Well, savory tarts are definitely an exception and they're the perfect vegetarian comfort food for me! Here's the story of how this tart recipe was "born" :D.
A few weeks ago, my dad watched one of Jamie Oliver's episodes and he was really inspired by one of the recipes presented there. Jamie was teaching how to make the easiest, perfect, fluffy and crunchy pizza crust. After the show was over, he made an awesome vegetarian pizza with an incredible veggie topping! I
I usually prefer thin, crunchy pizza crusts, but I was so amazed by how good this crust was, that I asked him for the secret. I used the same pizza crust recipe for this tart. It's fluffy on the inside, crunchy on the outside…just perfect! The filling is pretty basic, but there are some ingredients that make this tart special. Find out what they are in the recipe below 😉
Hope you'll like this vegetarian root vegetable tart as much as I did!!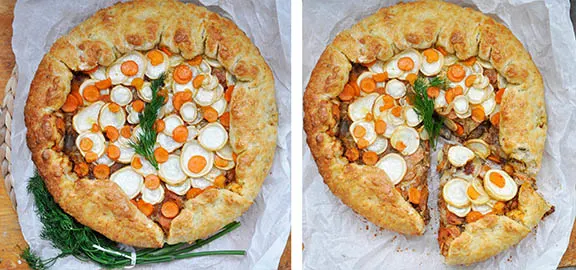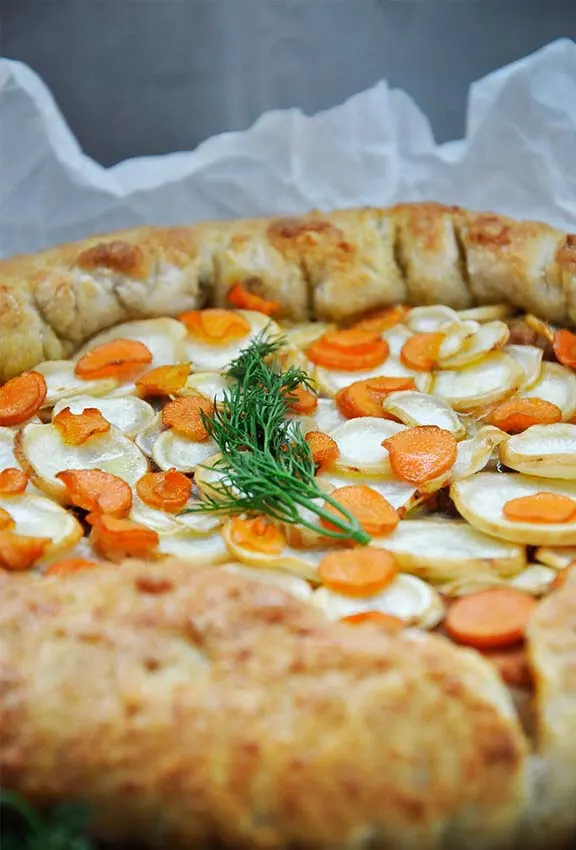 Yield: 6 servings
Root Vegetable Tart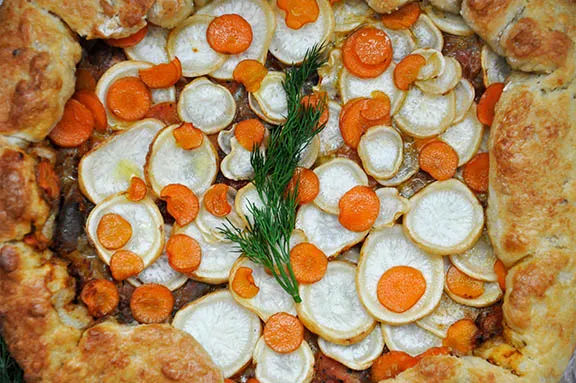 Try this is delicious vegetarian root vegetable tart with mushrooms, which was inspired by one of Jamie Oliver's meatless recipes!
Ingredients
Crust:
500g (17.5oz) wheat flour
250ml (1 cup) warm water
1 tsp dry yeast
½ tsp sea salt
bread crumbs the secret ingredient for a perfect, crunchy crust!
Filling:
250g (2 ½ cups) button mushrooms, sliced
3 carrots, sliced
2 parsnips, sliced
2 onions, julienne cut
1 egg, beaten
2 Tbsps mustard
1 tsp dry oregano
½-1 tsp dry ginger powder
salt and pepper, to taste
oil
Instructions
Crust:
Add flour, salt and dry yeast in the food processor. Set it on the lowest speed and slowly pour in warm water. It doesn't have to be mixed very well.
Take the dough out of the food processor and give it a ball shape.
Put it in a bowl and cover with a clean towel. Leave it at room temperature for 45-60 minutes, until it doubles its volume.
Sprinkle some flour onto your kitchen table. Spread the dough and give it a round shape. It has to be about 1cm thick.
Grease the pan with some oil. Sprinkle it with breadcrumbs. Put the dough in the pan. Add the filling. Pull the margins of the dough over the filling.
Cover the tart with the remaining carrot and parsnip slices.
Let it cook for 20 minutes at 200C.
Filling:
Heat some oil in a large pan. Saute chopped onion. Add sliced carrots and parsnips (save some slices to top the tart with). When nearly done, add sliced mushrooms, mustard, and spices.
Remove from heat.
Add beaten egg and mix well.
Add filling over the dough in the tart form, and proceed as mentioned above.
Nutrition Information
Yield
6
Amount Per Serving
Calories

644
Total Fat

17.7g
Carbohydrates

103.3g
Protein

17.7g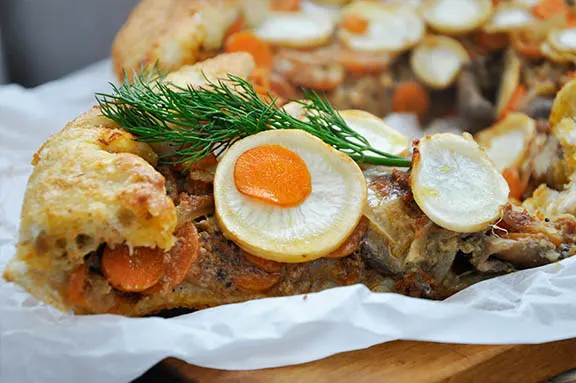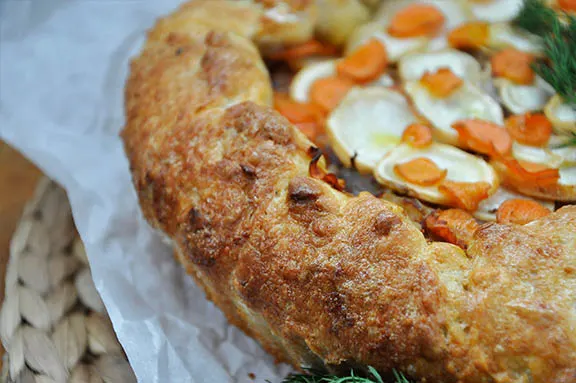 Look at this crust….amazing!
Want more vegetarian tart recipes? Check out these: