This vegan tofu bacon recipe is perfect for BLT sandwiches! Smoky, crispy and even looks like the real deal, you should give this quick recipe a try!
Vegan replacements to meat-based products are nothing new. They've been around for ages, only growing in number and complexity as time goes on. People have woken up to cruelty-free ways, and they're more and more interested in finding out how to cook delicious meals with vegan ingredients.
Which makes me more than happy! And do you know why? 🙂 Because that means that any meat product will likely have a vegan replacement that tries to offer the same vibe. And we're usually talking about big dishes, like steak, or burgers. But what about the little stuff?
This brings us to bacon. Bacon is one of the most popular snacks of all time. It has a specific flavor which has been dominating American breakfasts for the past decades. Bacon is a true staple of American cuisine, and it has been traveling the world as a breakfast favorite. It has many more uses than just that, though.
Bacon gets added to virtually anything these days, from pizza to burgers, salads and even…chocolate? Don't believe me? Just Google it! Point is, bacon is loved by everybody. Now how do we make that vegan? 🙂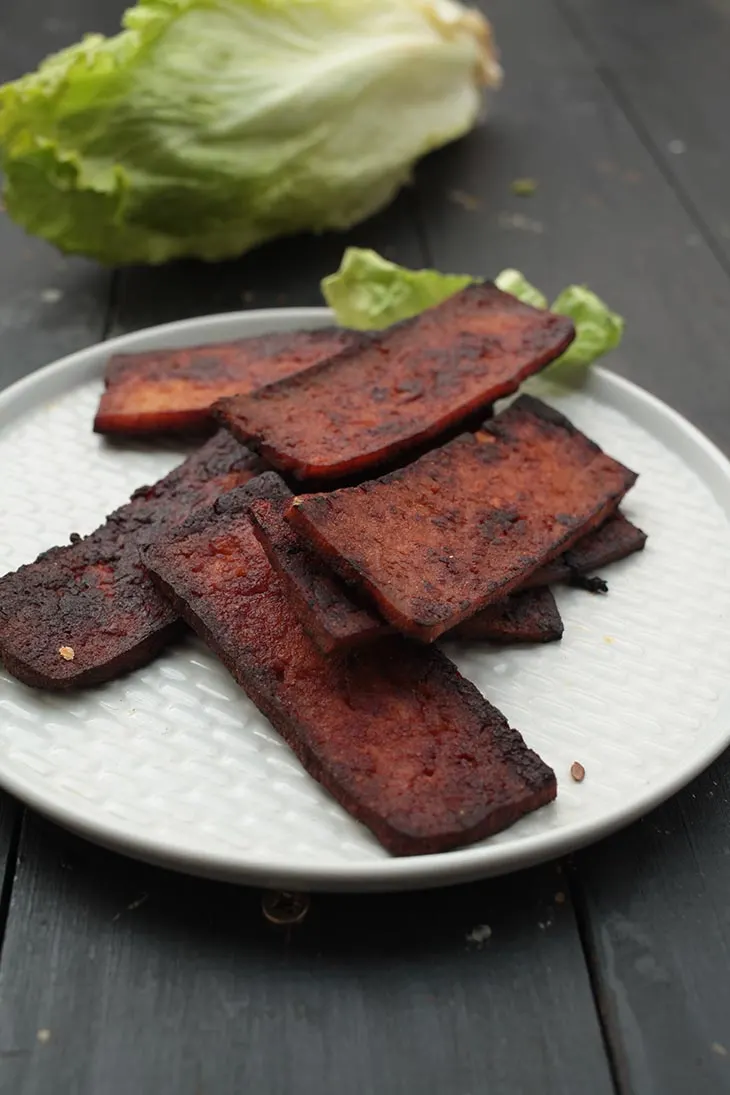 You might say, well, that defeats the purpose, right? Not really. There's no good reason why you should quit eating bacon after you've become vegan, especially with all the viable alternatives you have to this originally pork-based snack.
Bacon in itself is supposed to be a very salty, crunchy snack. So how do you do that with vegan ingredients that are based on plants and nuts? Well, there are a couple of different ways you could do it, but today we're only talking about one of them. Today we'll be talking about vegan bacon made out of smoked tofu.
It's no secret that in the world of veganism, tofu is king. It's used everywhere, anywhere and everybody seems to love it. This delicious ingredient hails from ancient East Asia and has been prevalent in Western cuisine for a while now.
Its wide range of uses seems to keep getting wider, from salads and sandwiches to casseroles, soups, and pasta. Tofu is loved by the vegetarian and vegan communities for its ability to provide texture, flavor and consistency to any meal. It's also one of the best-known replacements for cheese. So how are we going to make bacon out of tofu?
The fun part of this recipe is that it's one of the easiest to make. It's also one of the most convincing recipes of vegan bacon out there, capturing the texture and taste of real bacon almost entirely. Not to mention that tofu is an extremely easy ingredient to work with, and you will be done with your realistic looking bacon in no time!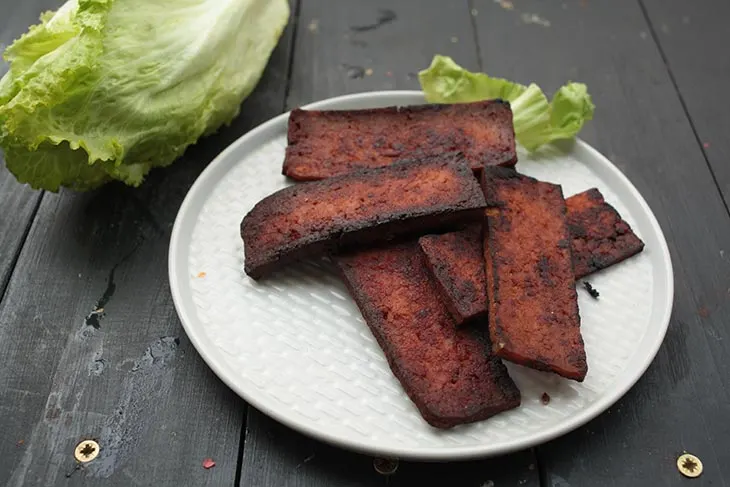 You start by taking the tofu and pressing it, releasing all the moisture – this is where you will need some patience because tofu is generally very moist. You will be using thin slices of tofu in this recipe, so make sure to have a good knife! This recipe is made with a marinade comprised of several flavorful ingredients, like nutritional yeast, tomato sauce, smoked paprika, coconut sugar and more!
Smoked tofu bacon will resemble a more chewy variant of your traditional bacon, so if that used to be your favorite, then you might really enjoy this recipe! 🙂
The preparation itself isn't difficult, in fact, you might even find it fun to make. This is a good recipe if you want to teach your children about cooking vegan. Tofu bacon is also safer to give to your children to have for breakfast or lunch, as opposed to traditional bacon which should be altogether avoided by children who are in a developmental stage.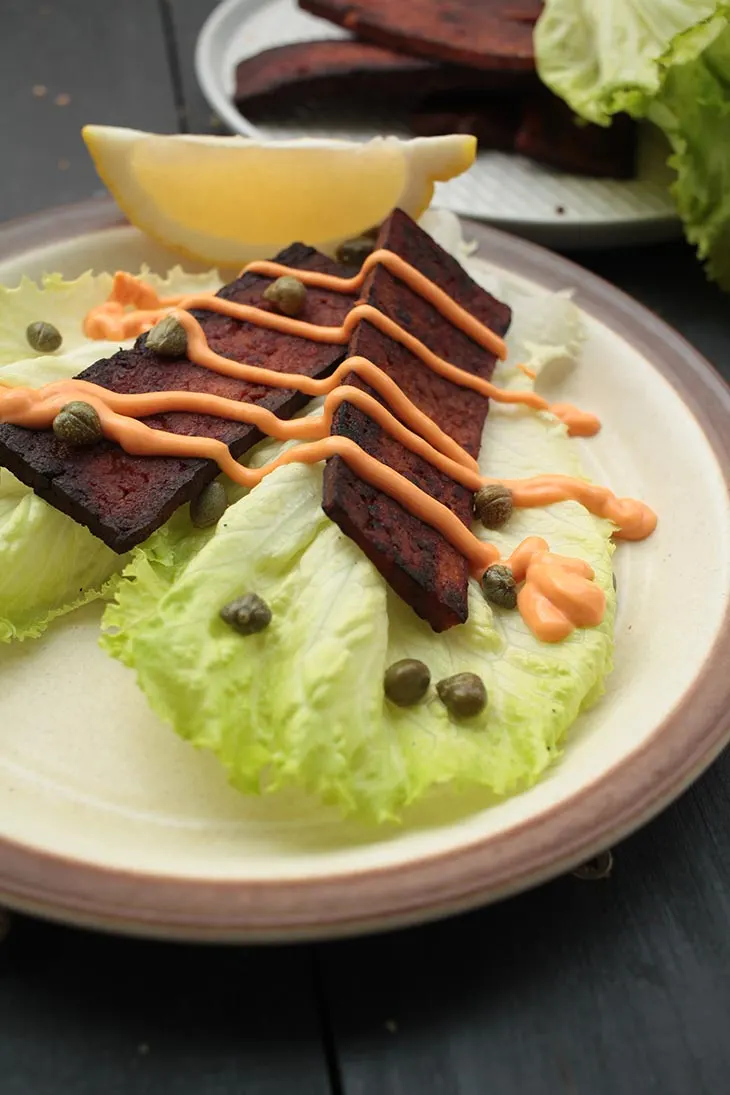 Smoked tofu bacon is the best friend of vegan sandwiches, vegan savory cakes, and vegan burgers. Not to mention, it's the best thing to serve around your vegan-based snack party! Your friends are going to love this type of vegan bacon, and you can even try to convince your meat eater friends to try it. They might not even notice a difference!
The best thing about this dish is that it's simple and fast to make, and depending on the piece of tofu you have available, you can make as many strips of bacon as you want. Whenever your bacon cravings kick in, smoked tofu bacon has your back! Try this recipe and tell me how it went. Be sure to share with family and friends! 😉
Yield: 2
Vegan Tofu Bacon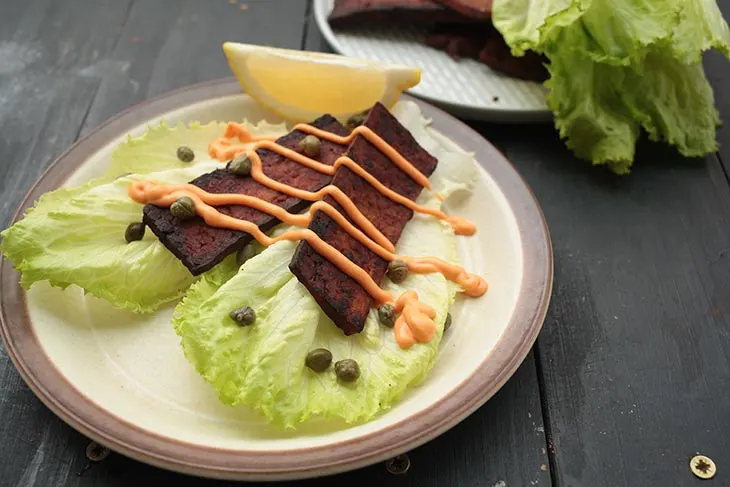 This vegan tofu bacon recipe is perfect for BLT sandwiches! Smoky, crispy and even looks like the real deal, you should give this quick recipe a try!
Ingredients
1 block smoked firm tofu, sliced
2 Tbsp olive oil, for frying
For the marinade:
120ml (½ cup) hot water
2 Tbsp coconut aminos or soy sauce
2 tsp coconut sugar
1 Tbsp nutritional yeast
1 tsp smoked paprika
1 tsp tomato paste
Instructions
Discard the excess liquid from the tofu block. Cut it in thin slices.
Lay the slices evenly on a kitchen towel and press gently to pat the tofu dry.
In a small container (that fits the tofu's shape) add all marinade ingredients and mix well.
Add the tofu to the marinade and let it sit for about 20 minutes.
Heat a skillet on medium heat.
Add olive oil. When hot, lay the tofu on the bottom of the skillet in a single layer.
Fry for about 4 minutes per side or until golden-brown and crispy.
Remove to a kitchen paper towel to absorb the oil excess.
Serve and enjoy!
Nutrition Information
Yield
2
Amount Per Serving
Calories

283
Total Fat

12.9g
Carbohydrates

37.5g
Protein

4g