If you crave a delicious, healthy, no-gluten vegan steak, this is the recipe you'll want to make! It has a great texture and delicious barbecue steak taste! 
I first heard of seitan, and how awesome it is, about a year ago. Just around that time I also found out that gluten is not my friend…those were really sad news. I almost gave up, thinking I'll never be able to eat fake meats again, and that my veggie burgers (which are pretty awesome!) will have to be enough. Everything changed a couple of weeks ago when I had this awesome idea of making vegan steaks, gluten-free style!
In order to make a good vegan steak, you'll have to think about three things: SHAPE, TEXTURE, and TASTE.
Giving it the shape was easy. The idea came when I saw how gluten-free pasta becomes all sticky and gluey if you leave it too much in the water, and especially if you leave it in the fridge as well. I thought this would be a perfect substitute for gluten and that I can transform it into a gluten-free seitan! 🙂

But, how do I get that fibrous, chewy texture real steak has? That was the real problem. I didn't want to turn this into a mushy patty, so what better substitute for meat, than oyster mushrooms?! They have the perfect texture! Marinated oyster mushrooms are incredibly good and gave this vegan steak both texture and taste.
Making it taste like meat does was even easier. Meat has taste because we use plants to make it good. Raw or unspiced meat is just plain horrible. I made an awesome steak mix with lots of great spices and gave this vegan taste the absolute, perfect, BBQ meat taste! 🙂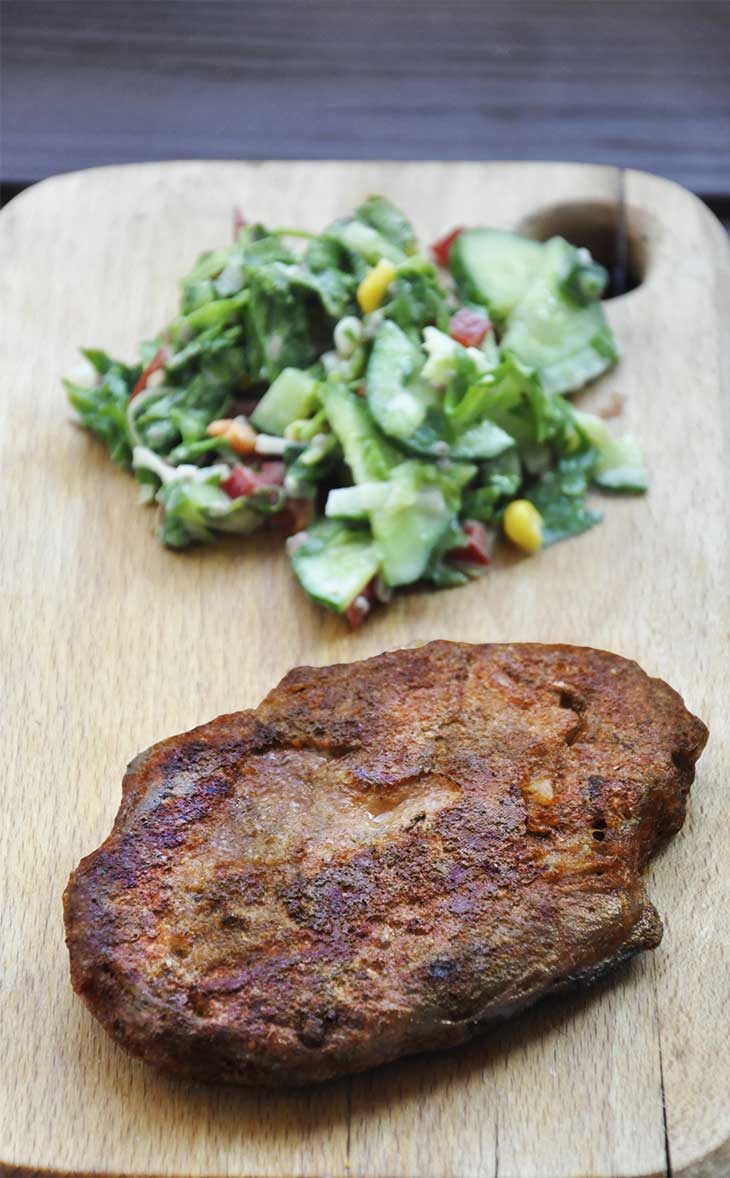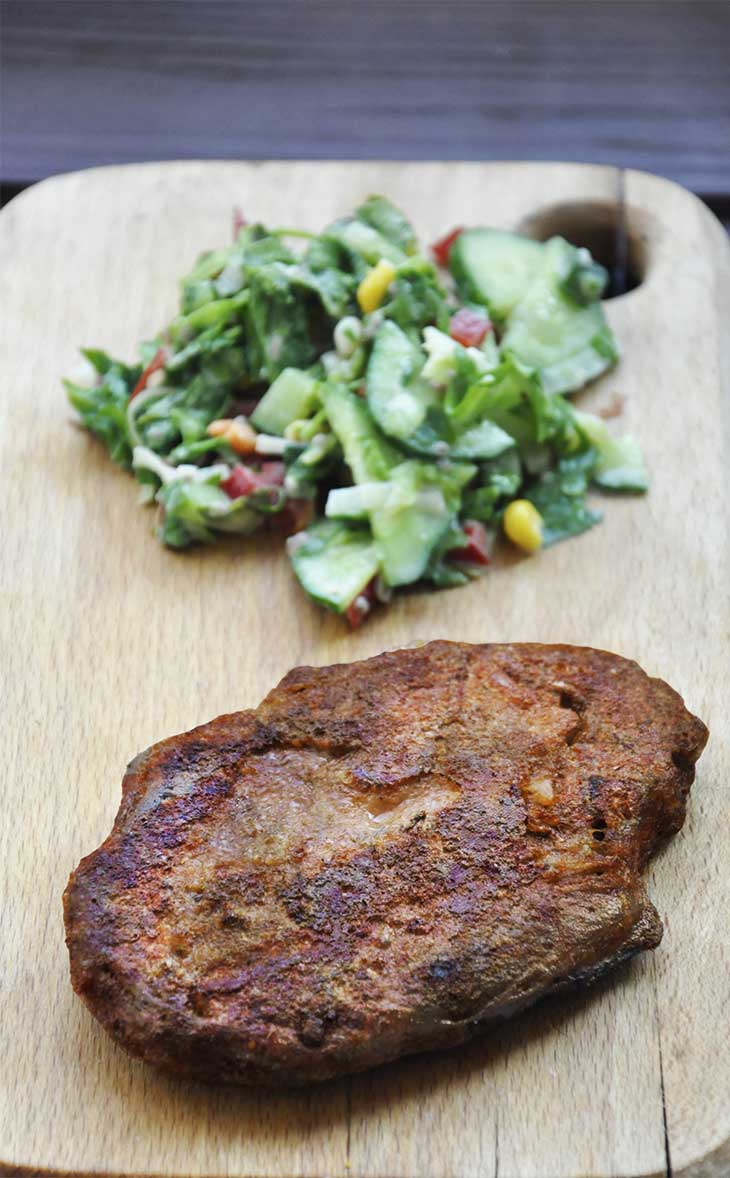 Yes, this recipe will keep you in the kitchen for at least an hour, but it's totally worth it! I usually make a whole batch of vegan steaks, place them in separate Ziploc bags and store them in the freezer. When I feel like eating a 'steak', I just take one out and cook it! 🙂
I really hope you'll try this recipe, even though it may seem complicated at first, but trust me, it's not! …and it's definitely worth it! 🙂
I'm looking forward to hearing how this turned out for you! 🙂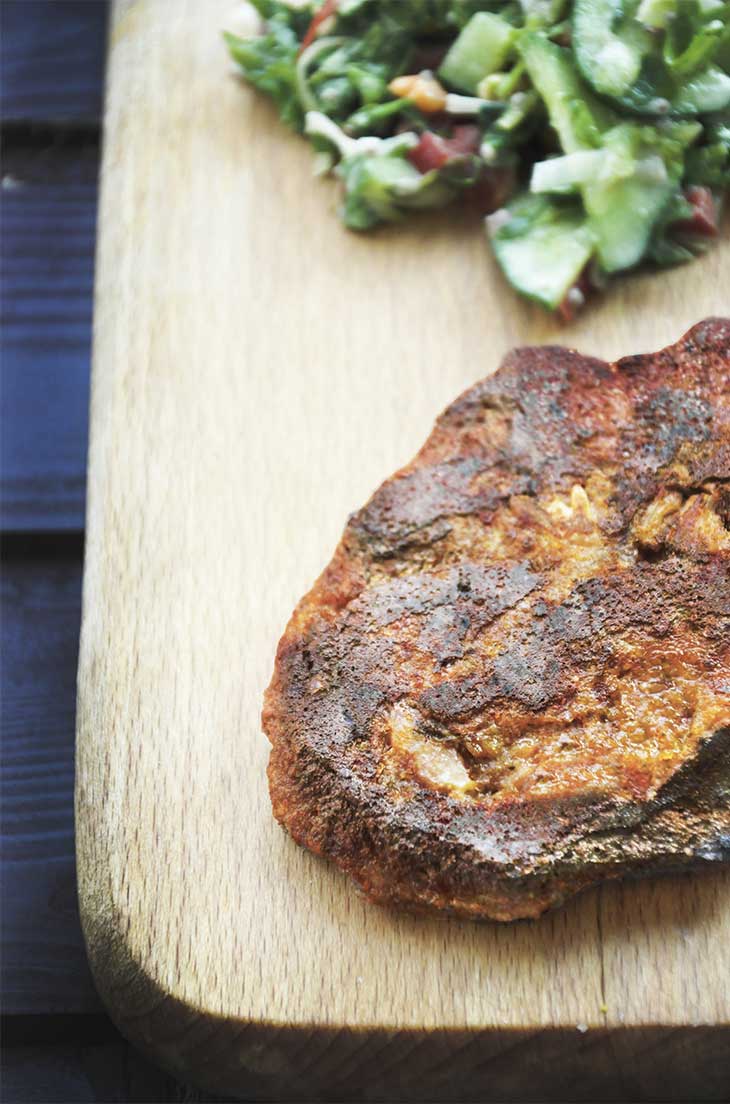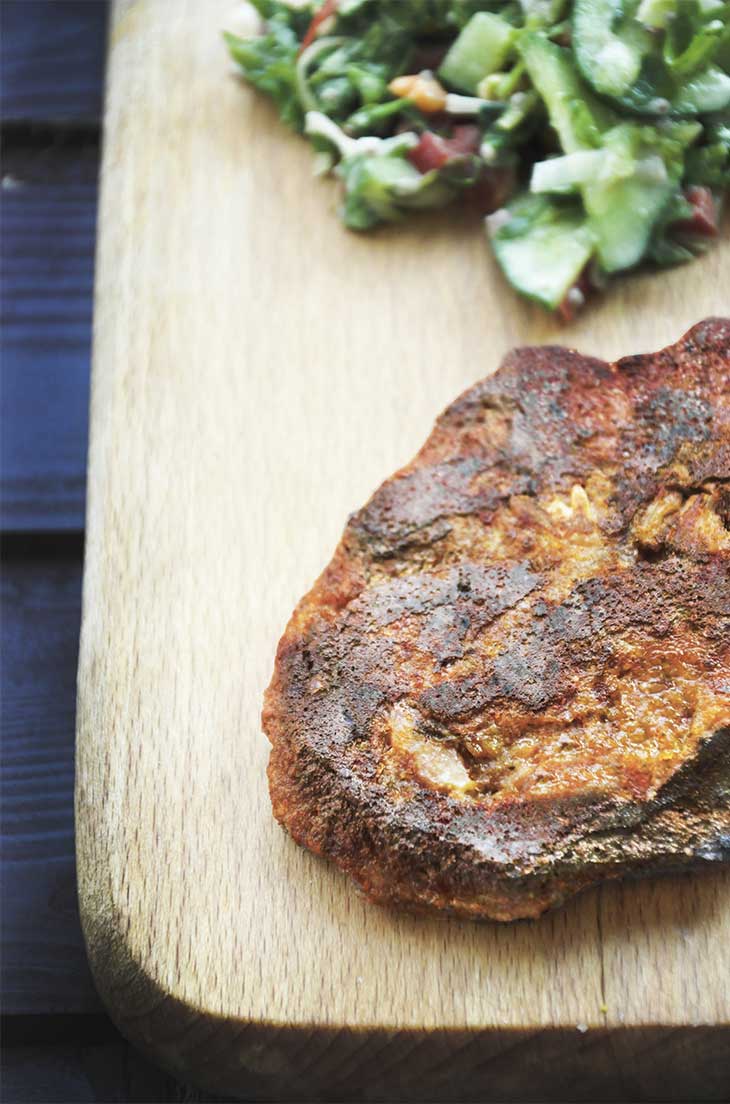 Vegan Steak | No Seitan + Perfect Texture!
If you crave a delicious, healthy, no-gluten vegan steak, this is the recipe you'll want to make! It has a great texture and delicious barbecue steak taste!
Ingredients
150g gluten-free, corn-based pasta (I used GF penne by Schar )
500g large oyster mushrooms (Pleurotus) (See here how they should look like)
2 garlic cloves, minced
1 tsp brown sugar
2 Tbsps carob powder
1 Tbsp barbecue sauce
4 Tbsps sunflower oil
3 Tbsps vinegar
sea salt, to taste
Steak spice mix
⅓ tsp allspice
½ tsp thyme
⅓ tsp coriander, ground
⅓ tsp pepper, ground
1 tsp sweet paprika
½ tsp smoked paprika (optional, but recommended)
½ tsp mustard seeds, ground
1 tsp garlic powder
1 tsp onion powder
1 bay leaf, ground
½ tsp caraway seeds, ground
Instructions
Put pasta in a medium pot and boil it for 15 minutes, until it's really soft. Remove from heat, drain it and leave it in the pot. Iti will get sticky. This is normal.
Rinse the oyster mushrooms very well. Remove the stems from the caps. Choose the larger caps, and set aside. Slice the stems/hard parts. Leave the caps whole.
Prepare your steak spice mix by mixing all the spices mentioned above, together. If you have whole ingredients, it is best to just put them all, just as they are, in a grinder or blender, and grind them all at once. Divide the spice mix into two.
Place the mushrooms in a large bowl. Add one-half of the spices, 2 Tbsps oil and season with salt. Add ½ cup of water, minced garlic cloves, brown sugar and 3 Tbsps of vinegar.Mix well. Ideally, you should let them marinate overnight, but you can cook them right away too.
Meanwhile, place the pasta in a food processor. You'll see that the pasta is all sticky and gluey. This is just perfect! Add the other half of the spices mix over the pasta paste, carob powder, and season with some salt. Process until a sticky, dough-like consistency is achieved. Store it in the fridge for 30 minutes, so it will cool and harden a bit.
Heat 2 Tbsps of oil in a large pan. Place the mushrooms in the pan. Cook the mushrooms on medium-low heat for 30 minutes, while being covered with a lid. Add barbecue sauce, remove the lid and cook them while stirring for another 5 minutes.
Now, the assembly part. Separate the cooked sliced mushroom stems from the whole mushroom caps. Mix the mushroom stems with the pasta dough.
Take ~2-3 Tbsps of pasta dough and cover a whole mushroom cap with it. The mushroom cap should be like a "filling" and the pasta dough is the "crust". Do this for all vegan steaks.
You can then grill these or lightly fry them, for a crunchier texture. I chose to fry them.
Grease a non-stick pan with some oil and fry each vegan steak for 3 minutes on each side.
Serve with mustard or any other sauce you like! 🙂
Notes
I usually make a whole batch of these and then store them in the freezer, packed separately. When I want a vegan steak, I just take one out and cook it! 🙂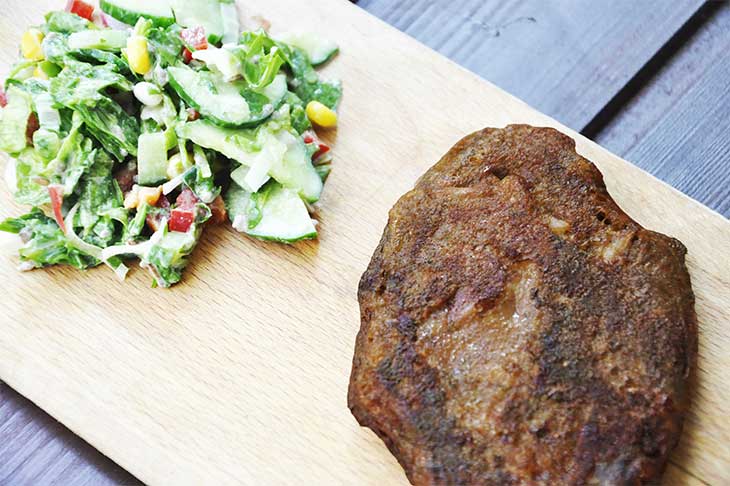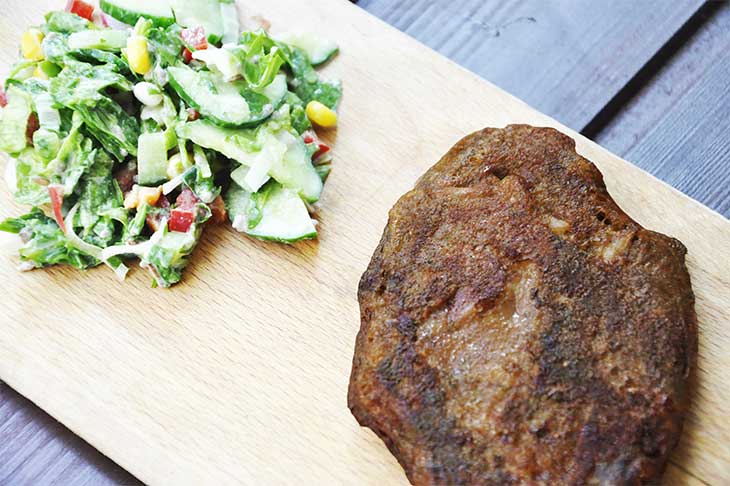 Vegan Steak | No Seitan + Perfect Texture!
was last modified:
January 28th, 2017
by