Mushroom polenta represents a rustic symphony of flavors, a kind of comfort food that combines the humble but nutritious cornmeal with the rich flavors of the forest, offering an authentic and comforting culinary experience.
With its creamy texture and the wild mushrooms soaked in the aromas of garlic and herbs, this creamy polenta recipe awakens your senses and brings to your table the warmth and tradition of home cooking, inviting you to discover why this simple dish has conquered the hearts of gourmets everywhere.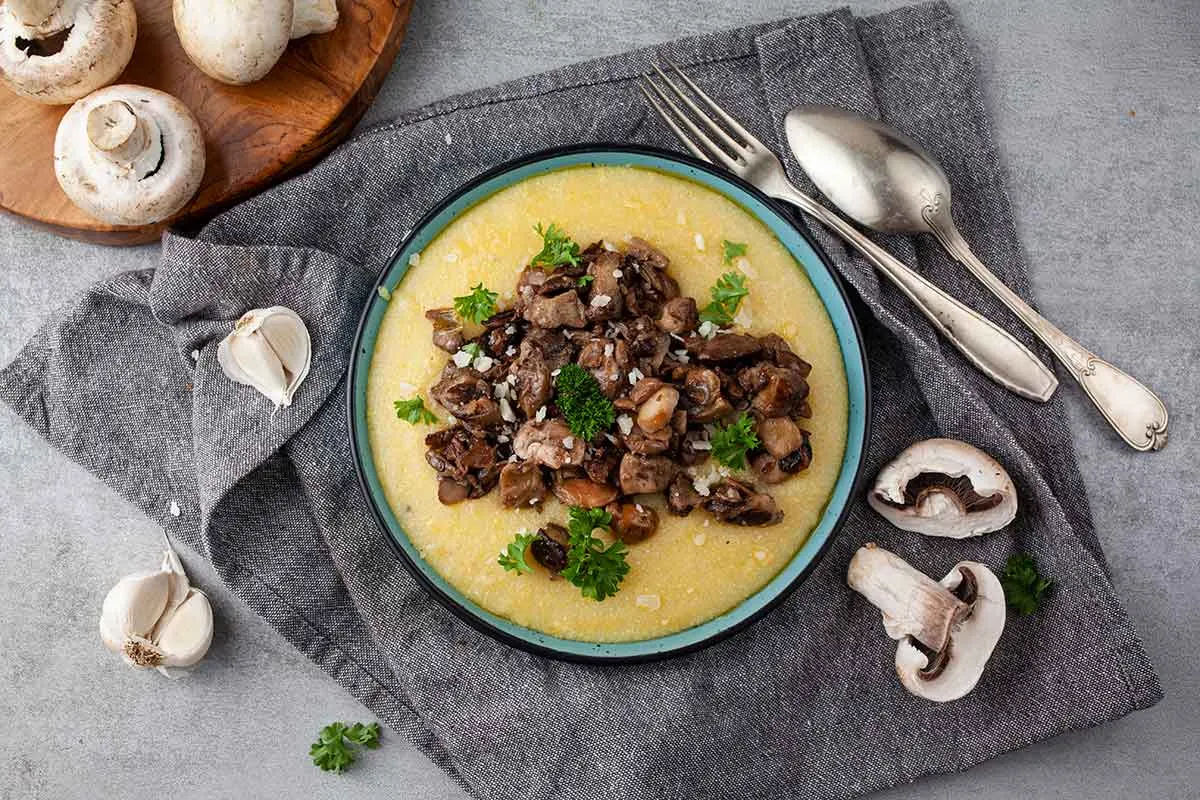 Varieties of mushroom
Champignon (Agaricus bisporus): These mushrooms are the most widespread and accessible, with a firm texture and a mild taste, which easily absorbs the surrounding aromas. They are perfect for those who want a subtle note of mushrooms without dominating the whole dish.
Shiitake (Lentinula edodes): Native to East Asia, shiitake mushrooms bring a deep, slightly woody flavor and are often used to add a layer of complexity to recipes. Their texture is meatier and they are ideal to give an Asian touch to the mamaliga.
Porcini (Boletus edulis): These wild mushrooms, also known as mushrooms, are prized for their intense aroma, with notes of nuts and earth. They are harder to find fresh outside of their season, but they can be used dried and rehydrated.
Forest mushrooms (various species): A mix of wild mushrooms can include varieties such as chanterelles, morels, and others. They vary in flavor, from sweet and creamy to spicy and smoky. The use of a mixture of forest mushrooms can turn the champignon into a special kind of food, adding a mosaic of tastes and textures.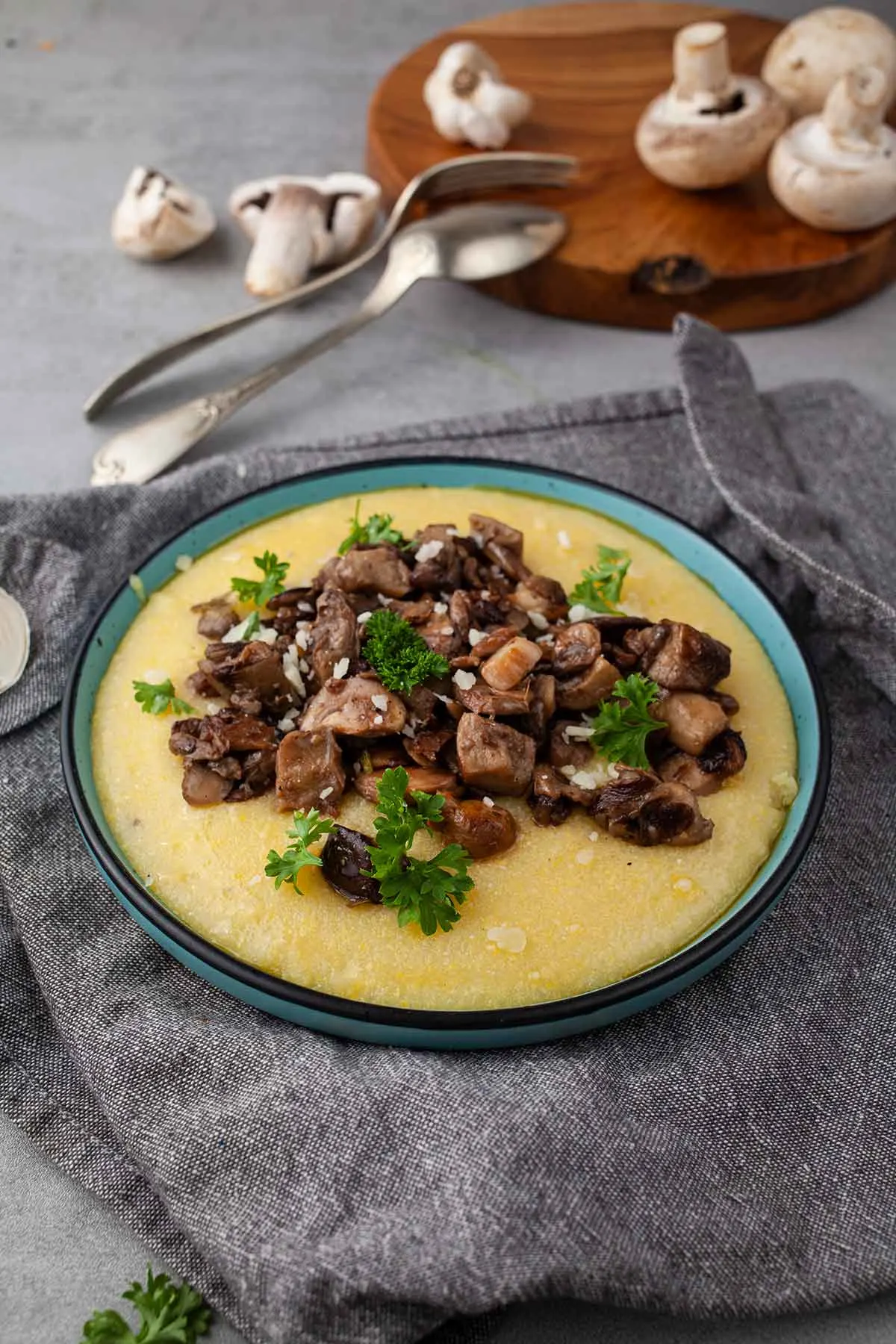 Champignon mushrooms are ideal for quick cooking, maintaining their shape and texture even after boiling or frying.
Shiitake should have the stems removed before cooking, as they can be quite fibrous.
Dried porcini need to be soaked in hot water for about 20 minutes before use, and the water can then be used as a soup base to add flavor.
Wild mushrooms should be carefully cleaned and cooked until well done, to remove any traces of dirt.
For this creamy mushroom polenta, I recommend a mix of mushrooms for a more complex taste. It is important to mention that fresh mushrooms will always give the best results in terms of flavor and texture, compared to canned or processed ones.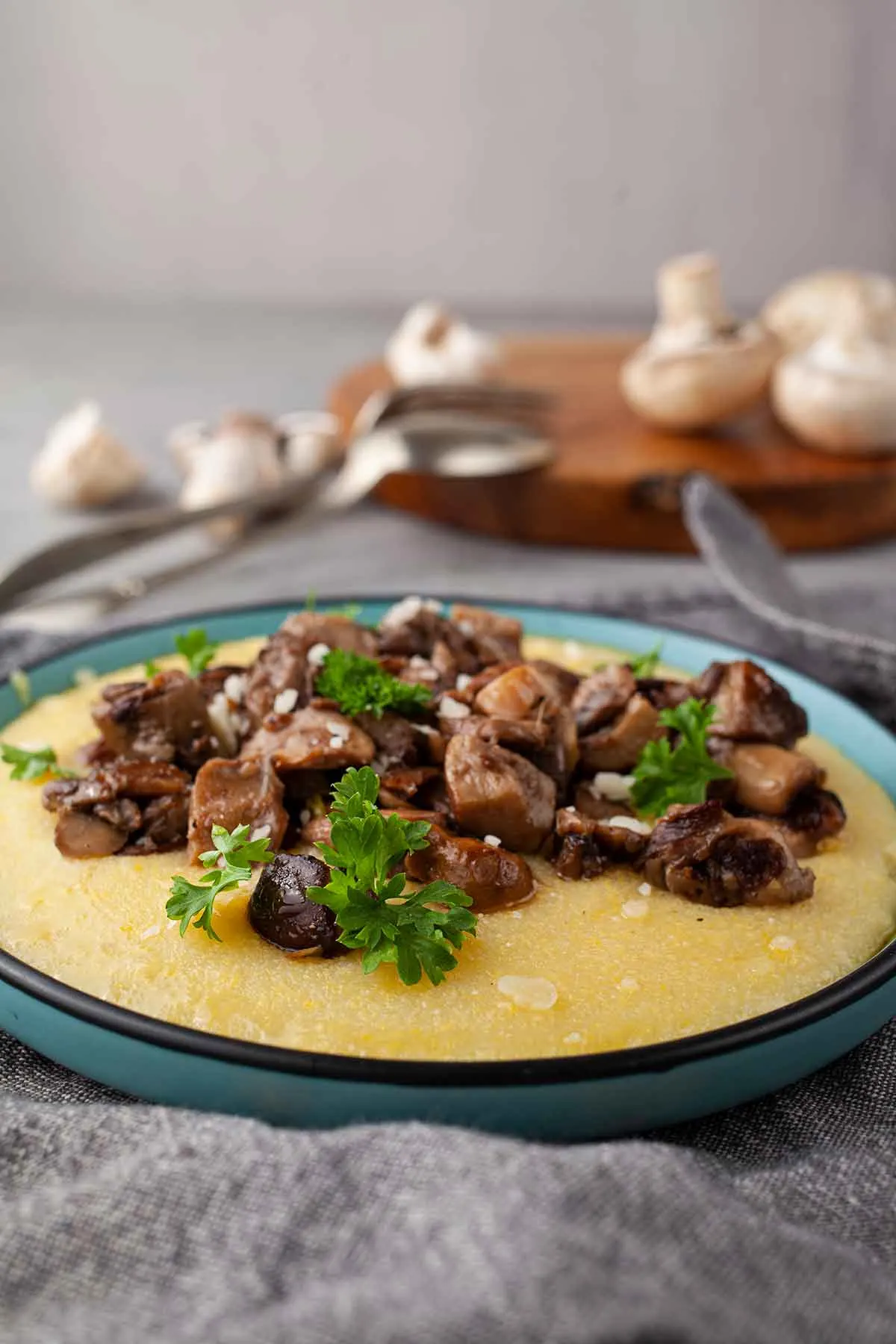 The history of polenta
Mamaliga, a staple food in Romanian cuisine, has deep roots in the history and culture of the Romanian people. This simple but nutritious dish is made from malai – ground corn flour – and has been the staple food of Romanian peasants for centuries, serving as a substitute for bread in most meals. It is said that its popularity increased during times of crisis or poverty due to the low cost and wide accessibility of corn.
Traditionally, mamaliga was served hot and was often accompanied by cheese, cream, butter or different types of stews or grills.
Although mamaliga is deeply rooted in Romanian tradition, the concept of food prepared from corn flour is universal.
Polenta, closely related to mamaliga, is a pillar of Italian cuisine, especially in the regions of Lombardy and Piedmont. Polenta can be found in soft or firm versions, served with sauces, cheeses and meat.
In Africa, a similar food is "ugali" in East Africa or "sadza" in Zimbabwe, which is also made from maize flour and serves as the main element of meals, often accompanied by vegetables or meat.
In the Americas, cornmeal is used in various ways, from "grits" in the southern United States to "arepas" in Colombia and Venezuela.
Each culture has adapted this type of food to local ingredients and gastronomic preferences, but the essence remains the same: a satisfying and versatile type of food that nourishes and delights in equal measure.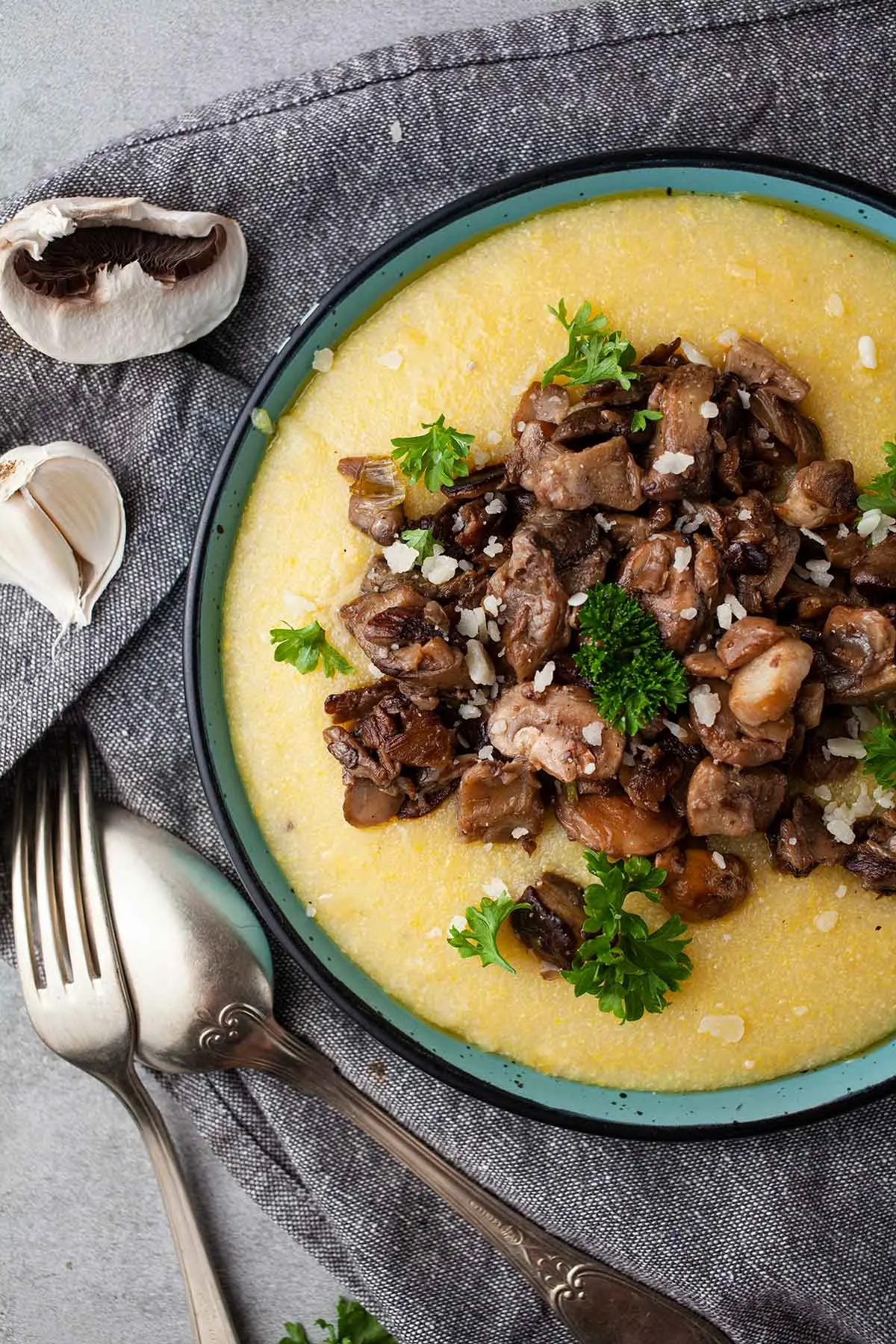 Cooking techniques for creamy polenta
In order to obtain a perfectly creamy and not hard sauce, there are some essential steps and tips to follow:
Choosing the cornmeal type:
Opt for a quality cornmeal preferably coarsely ground. The coarser texture will help you achieve an ideal consistency, offering a final product with more substance.
The water-to-cornmeal ratio:
The classic ratio is 4:1, i.e. four parts of water to one of cornmeal. This ensures that the polenta will be moist enough to become creamy. However, this ratio can vary depending on the type of cornmeal used, so always check the instructions on the package.
Salting the water:
It is essential to salt the water before adding the cornmeal. The salt helps to bring out the flavor of the corn and ensures that the dish will not be bland.
Slowly adding the cornmeal:
Slowly pour the cornmeal into the hot water, stirring constantly with a whisk or wooden spoon to prevent lumps from forming.
Boiling time and mixing:
Once the cornmeal has been completely incorporated, reduce the heat to minimum and cook slowly. Stir frequently to ensure that the polenta does not stick to the bottom of the pan and to maintain the creamy texture. Slow cooking is the key to avoid the formation of gummy lumps and to obtain a perfectly homogeneous polenta.
Long cooking time:
Polenta needs time to cook completely. This process can take between 30 and 45 minutes, depending on the type of cornmeal used. The long cooking allows the cornmeal to hydrate completely and develop a velvety texture.
Adding fats:
After the polenta has reached the desired consistency, you can add ingredients such as butter, cheese (for example, parmesan or a type of matured cheese), or even cream for an even creamier consistency and extra flavor.
Rest:
Before serving, it is good to let the polenta sit for a few minutes. This will harden it a little bit more and will be easier to serve.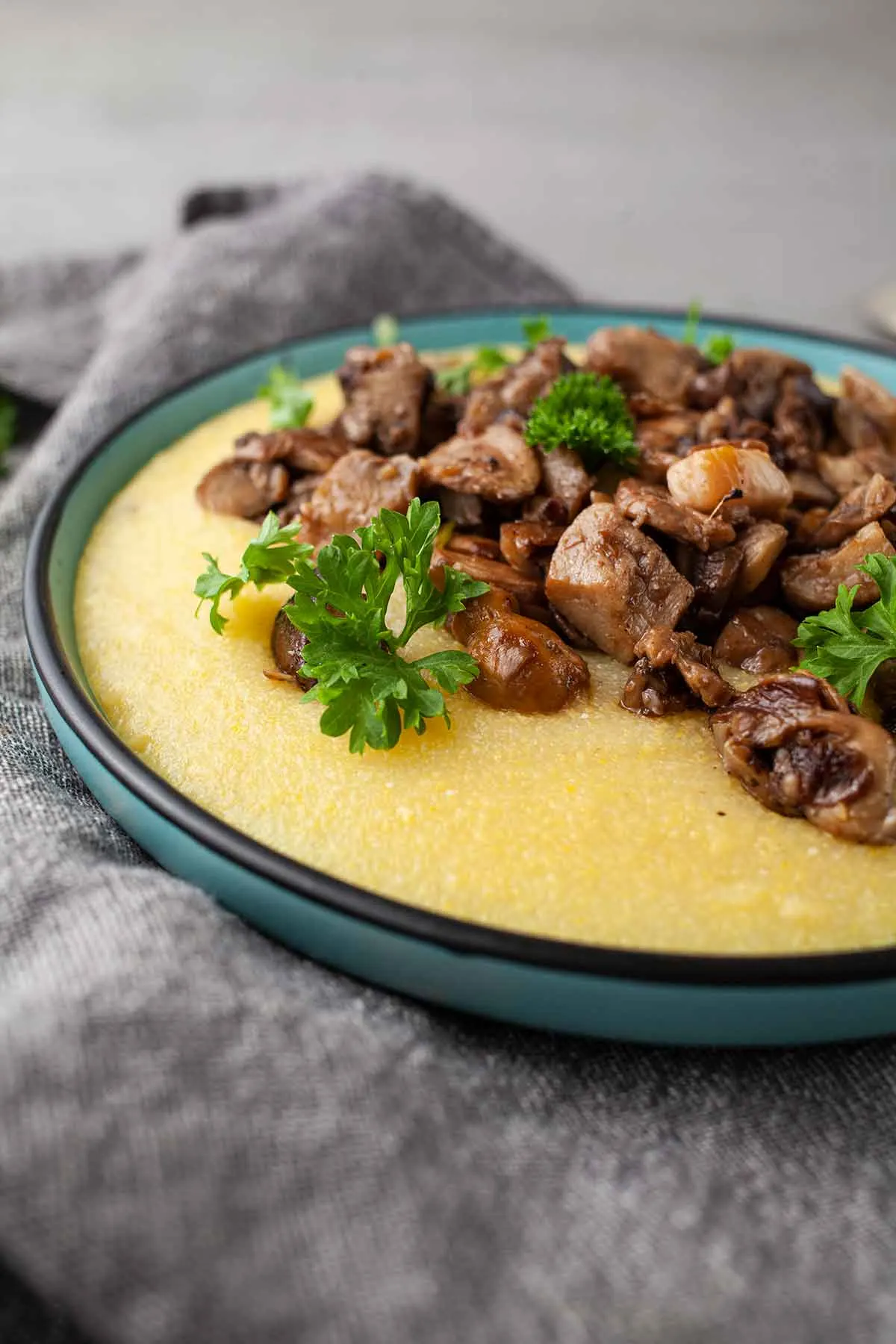 Polenta flavorings
Polenta is an ideal culinary base for experimenting with different flavors. Here are some suggestions to vary and enrich its taste:
Herbs:

Add rosemary, thyme or oregano for a Mediterranean flavor.
For a more subtle note, incorporate sage or bay leaves while boiling the polenta.
Lavender adds a special floral aroma and goes well with the sweet polenta.

Cheeses:

Grated Parmesan or Pecorino Romano enriches the polenta with a salty and complex taste.
Sheep cheese or crushed Feta adds an interesting texture and extra flavor.
Gorgonzola or other blue cheeses can add a surprising flavor to polenta.

Spices:

A ground nutmeg and a pinch of cinnamon add a warm note, ideal for polenta served with sauces based on cream or cheese.
Garlic powder or smoked paprika can add a spicy and colorful note.
Himalayan salt or black salt bring extra minerals and an interesting visual note.

Exotic Flavors:
Aromatic fats:

Clarified butter (ghee) or extra virgin olive oil added at the end can provide an unctuous and full of taste.
Butter infused with herbs or oils flavored with chili or garlic can be used to cook polenta, changing its flavor profile.
In conclusion, customize this creamy mushroom polenta according to your preferences and be inspired by traditional combinations or innovate with unexpected ingredients to create a unique culinary experience.
Recipe for mushroom polenta
Yield: 4-6
Mushroom Polenta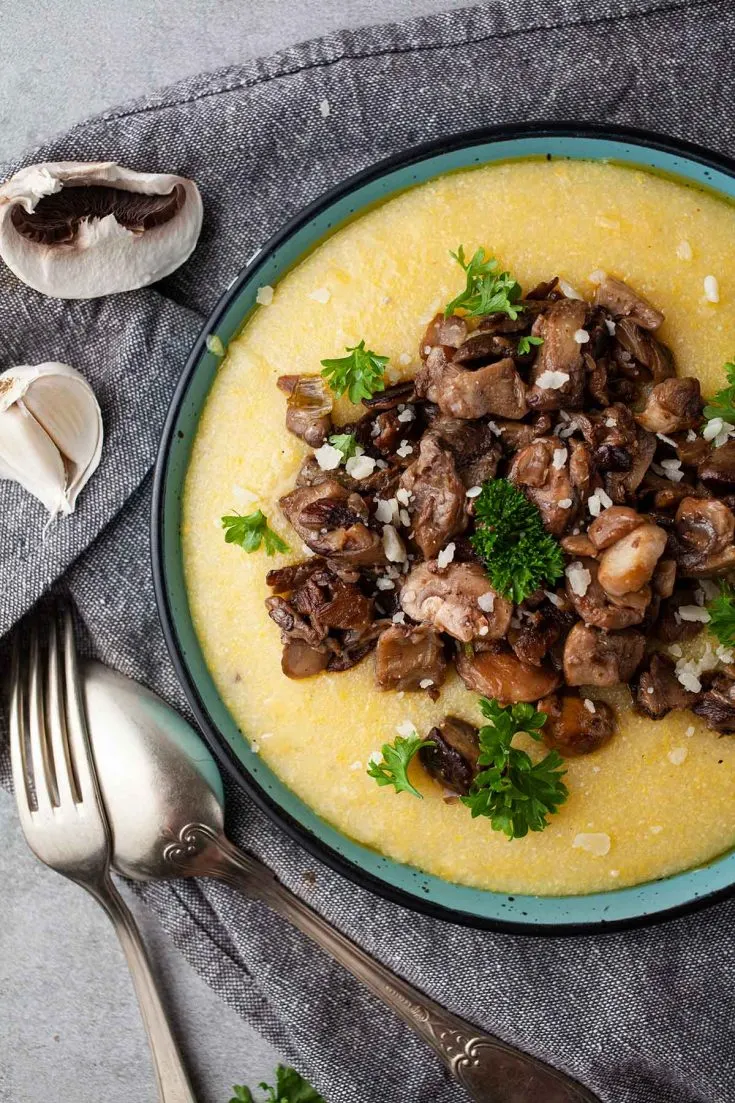 Mushroom polenta represents a rustic symphony of flavors, a kind of comfort food that combines the humble but nutritious cornmeal with the rich flavors of the forest, offering an authentic and comforting culinary experience.
Ingredients
For the polenta:
2 cups whole milk
1 teaspoon salt
1¾ cups cornmeal
4 tablespoons butter
1 tablespoon Parmesan, grated
For the mushroom stew:
1/3 cup dried forest mushrooms
5 tablespoons butter
3 cups mix of fresh mushrooms, sliced
4 garlic cloves, crushed
1 tablespoon soy sauce or tamari
1 tablespoon liquid cream
1 tablespoon olive oil
½ teaspoon black pepper
Instructions
For the mushrooms:
In a small bowl, put the dried mushrooms and pour ½ cup of boiling water over them.
Let the mushrooms soak for about 20 minutes. Remove the soaked mushrooms and chop them. Save the water for later.
In a pan on medium heat, add 2 tablespoons of butter. When the butter melts, add the garlic and saute for half a minute.
Add the fresh and soaked mushrooms. Saute the mushrooms for around 4 minutes, then add the saved water from the dried mushrooms.
Continue cooking until about half of the liquid evaporates.
Add the remaining butter, cream, soy sauce and olive oil. Cook until the mixture becomes thick and the liquids are absorbed by the mushrooms. Add the black pepper.
For the polenta:
In a large pot, add 4 cups of water and 2 cups of milk. Put the pot on medium heat and bring to a boil.
When it boils, lower the heat and start adding the cornmeal slowly. Sprinkle the cornmeal slowly, mixing with a whisk, to prevent the formation of lumps.
Continue mixing for 3-5 minutes until it starts to thicken.
Leave the heat on low and cook for another 30 minutes, stirring from time to time using a wooden spoon.
Add the butter and Parmesan and mix to incorporate.
Serve the hot polenta with the mushrooms on top.
Sprinkle with parsley leaves and extra parmesan.
Nutrition Information
Yield
6
Serving Size
1
Amount Per Serving
Calories

386
Total Fat

25g
Saturated Fat

14g
Trans Fat

1g
Unsaturated Fat

9g
Cholesterol

58mg
Sodium

870mg
Carbohydrates

36g
Fiber

4g
Sugar

6g
Protein

8g
I strive to keep the information as accurate as possible but make no warranties regarding its accuracy. I encourage you to make your own calculations using your preferred nutrition calculator.