Discover this easy recipe for pumpkin waffles, perfect for autumn! Enjoy these aromatic and fluffy pumpkin spice waffles ideal for a seasonal breakfast or a Fall brunch.
If you are looking for other easy waffle recipes, I recommend you try my: waffles with almond flour, waffles with coffee and waffles with leftover rice.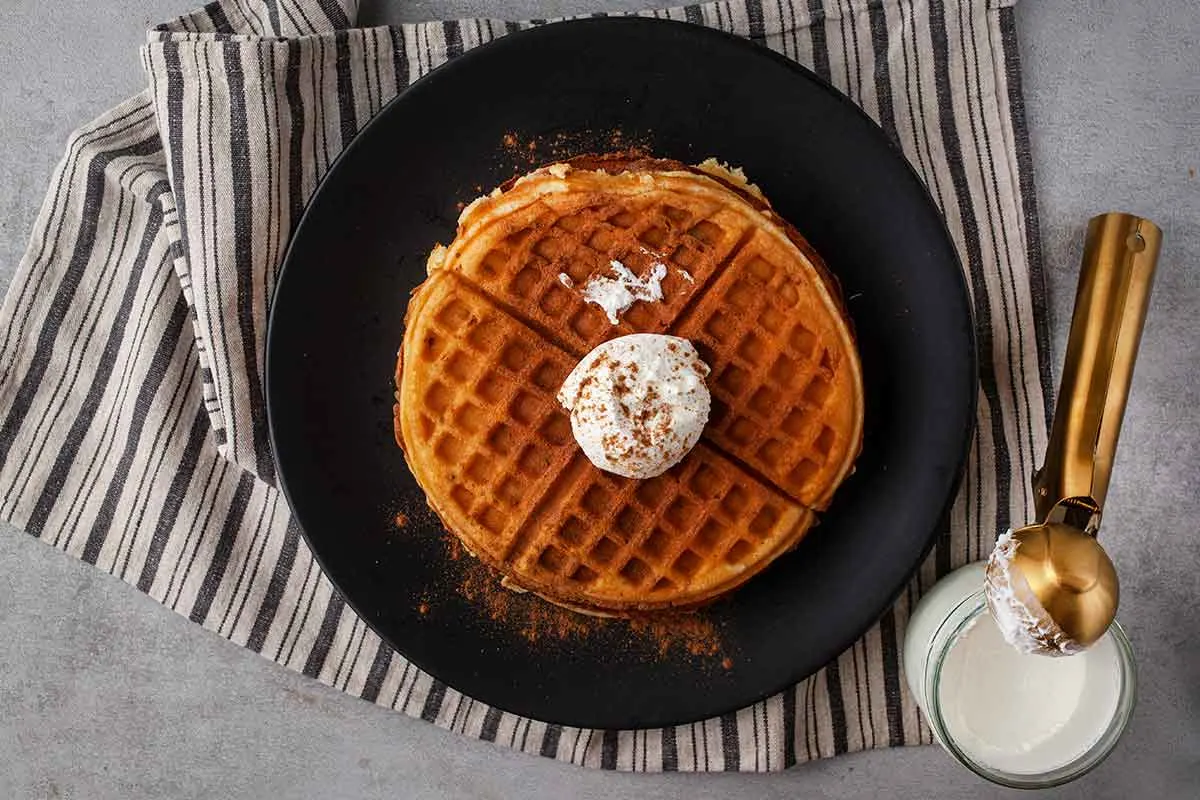 Choosing the best pumpkin for Fall waffles
When it comes to adding pumpkin to simple pumpkin waffles, the right choice can make the difference between a good result and an exceptional one. Here are some details about the different pumpkin options you can use:
Pie Pumpkin or Butternut Squash:
Pie pumpkin or butternut squash are excellent choices for waffles due to their dense consistency and lower water content. This type of pumpkin has a finer texture and a more concentrated flavor, which makes it ideal for baking and then pureeing.
For waffles, the pumpkin can be baked, blended and then strained to remove excess water, ensuring that the waffles will be crispy on the outside and fluffy on the inside.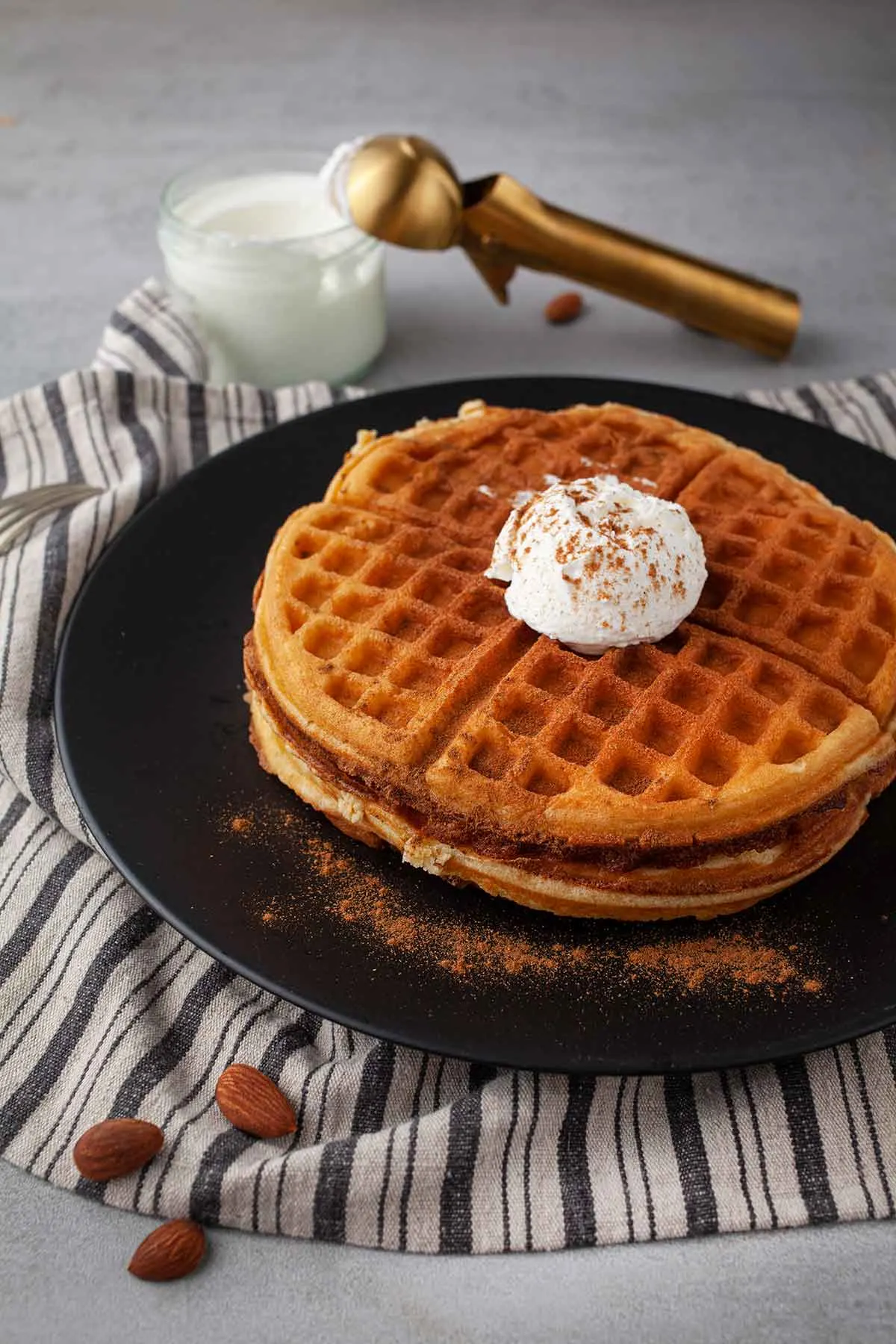 Canned pumpkin puree:
Canned pumpkin puree is a convenient option, perfect for those who want to save time. It is important to choose pure pumpkin cans, not pumpkin pie mix, which comes pre-seasoned and often with added sugar.
The canned version has the advantage of having a uniform consistency and is already ready to use, which makes it easy to integrate into the waffle dough.
Regardless of the type of pumpkin you use, it is important to adjust the amount of liquid in the waffle recipe to compensate for the moisture added by the pumpkin. Before adding the pumpkin puree to the batter, it can be mixed with the spices to evenly distribute the flavors.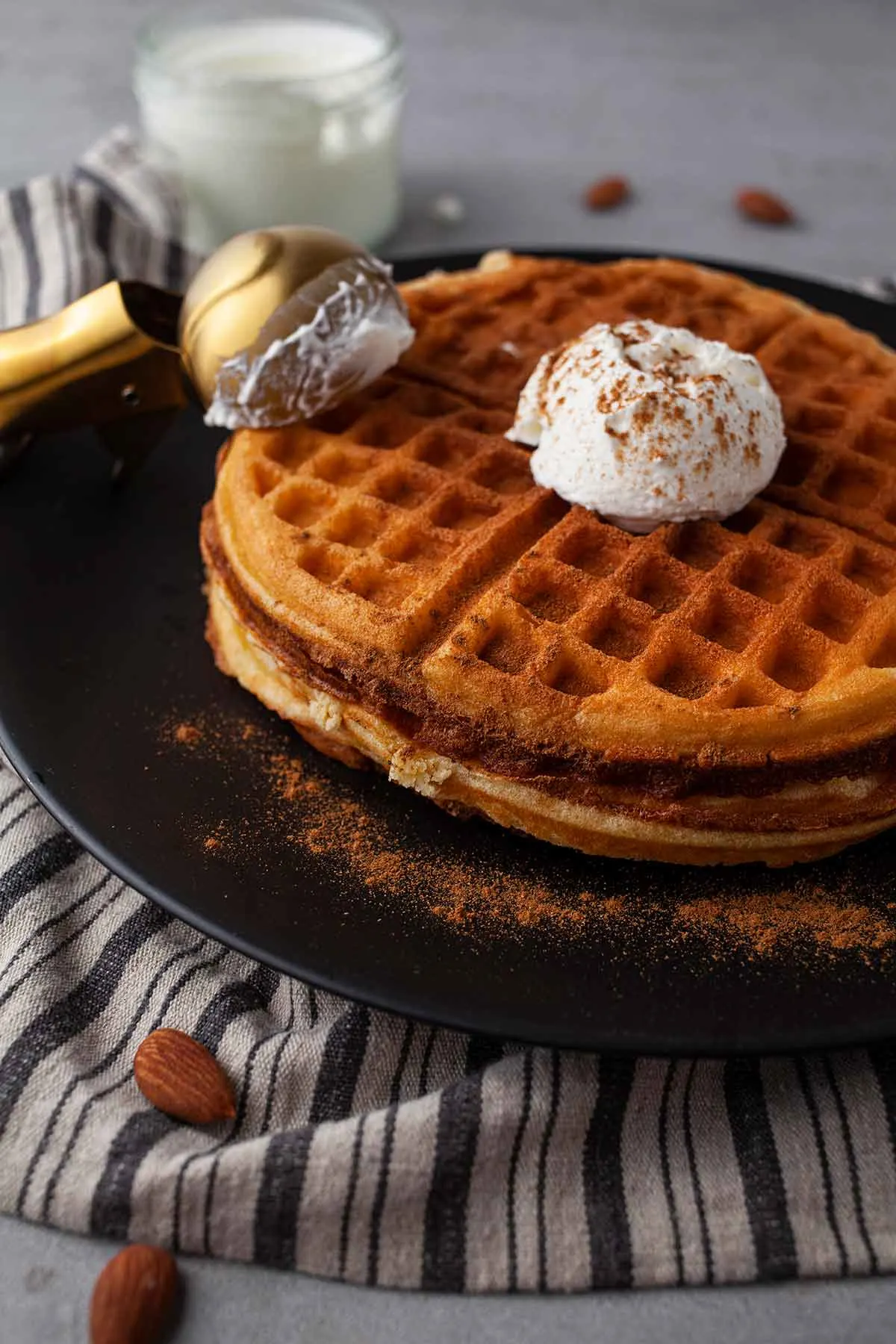 Topping suggestions for pumpkin waffles
Pumpkin waffles are versatile enough to allow for a wide variety of toppings, whether you want something traditional or more unusual. Here are some delicious ideas to further enrich the taste experience of the best pumpkin waffles:
Maple Syrup: A timeless classic, pure maple syrup adds a rich sweetness and a licorice note that perfectly complements the pumpkin flavor.
Roasted Nuts: Roasted and chopped pecans, hazelnuts or macadamia nuts provide a crunchy contrast and a nutty taste that perfectly matches the texture of the waffles.
Whipped cream: A spoonful of whipped cream can add an element of luxury and richness, while its light texture balances the consistency of the waffles.
Seasonal Fruits: Autumn fruits such as slices of caramelized apples or pears, figs, or a compote of red fruits can bring a dose of freshness and a balance between sweet and sour.
Greek yogurt: For a healthier option, Greek yogurt offers a creamy texture and a slightly sour taste that contrasts nicely with the sweetness of the waffles and the sweet toppings.
Peanut or Peanut Butter: Provides a touch of protein and a creamy texture, while the salty-nutritious taste is a surprising counterweight to the sweetness of the pumpkin.
Honey and Cinnamon: For a simpler variation, natural honey together with a pinch of cinnamon can emphasize the pumpkin flavors and autumn spices.
Caramel or Chocolate Sauce: A thin layer of caramel or chocolate sauce can quickly transform waffles into a decadent dessert.
Fruit Jam or Marmalade: Choosing a jam or marmalade with a balanced acidity can enhance the natural sweetness of the waffles without being overwhelming.
Crunchy Granola: Adds texture and substance, turning these pumpkin pie spice waffles into a complete and satisfying breakfast.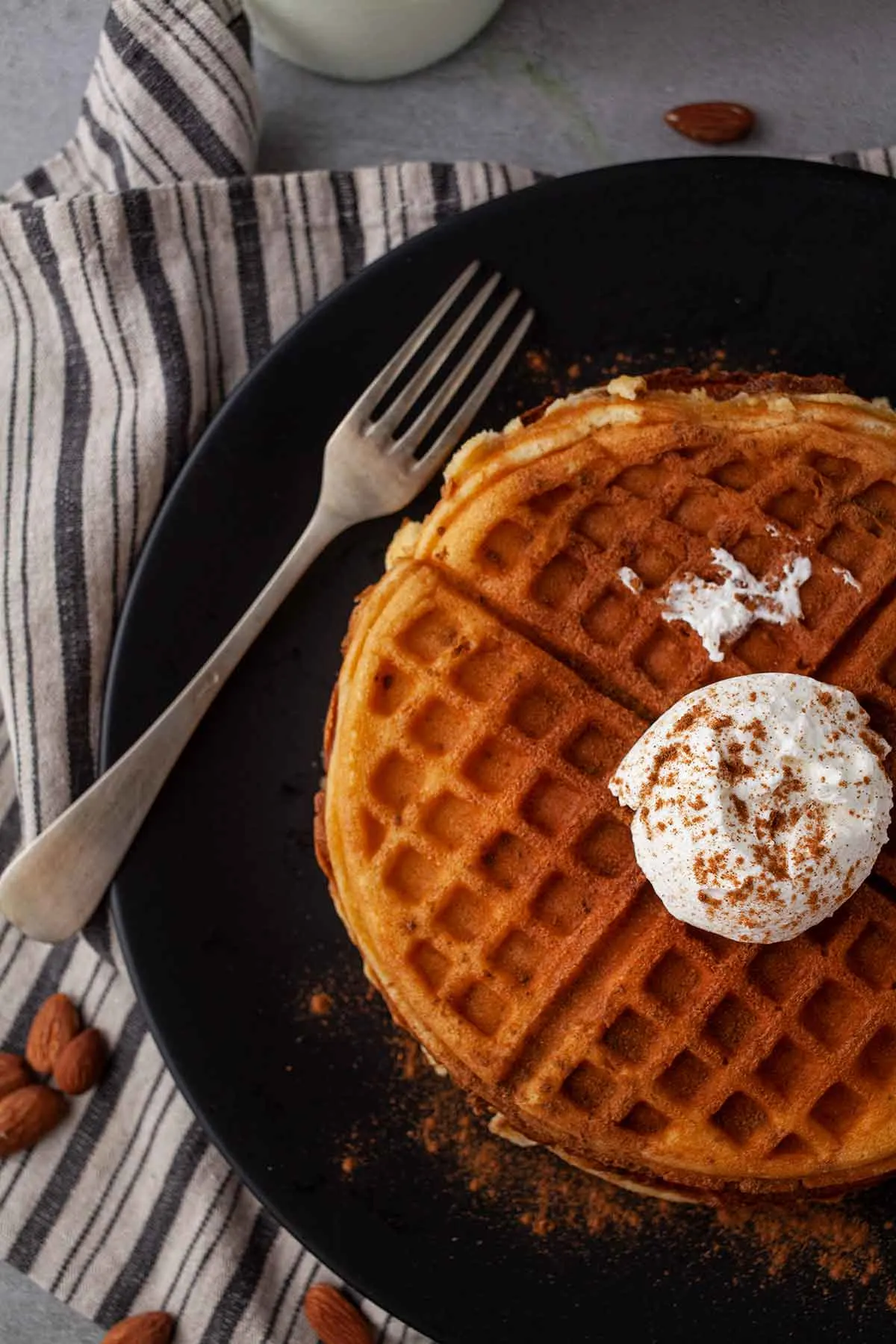 Alternative seasonings for pumpkin waffles
Spices add a level of depth and warmth to this pumpkin spice waffle recipe, and each can be adjusted to create a unique flavor profile. While cinnamon, nutmeg and ginger are classics in fall recipes, there are many other spices that can be used to customize the taste:
Cardamom: With a complex aromatic profile, cardamom adds notes of pine and citrus, bringing unexpected freshness and a distinctive aroma.
Allspice: This spice has notes of ginger, nutmeg and cloves, offering a rich blend of flavors that can further enhance the taste of the pumpkin.
Star anise: With a liquorice taste, star anise can add an intriguing and complex note to these easy pumpkin waffles, especially when combined with cinnamon and nutmeg.
Ground cloves: Adds a deep and penetrating note, perfect for intensifying the flavors of autumn.
Turmeric: Although it is not traditional in desserts, turmeric can bring a vibrant color and an earthy, subtle taste that contrasts nicely with the natural sweetness of the pumpkin.
Chili or cayenne flakes: For those who dare, a pinch of chili can add a spicy kick, balancing the sweetness and heat of traditional spices.
Almond extract: A drop of almond extract can bring a subtle sweetness and a complex aroma that blends beautifully with stronger spices
Ground fennel seeds: With hints of sweet anise, fennel seeds can add an unexpected Mediterranean touch.
Pumpkin Pie Spice Mix: For those who prefer a quick fix, a ready-made pumpkin pie spice mix can be used to achieve the perfect balance of flavors effortlessly.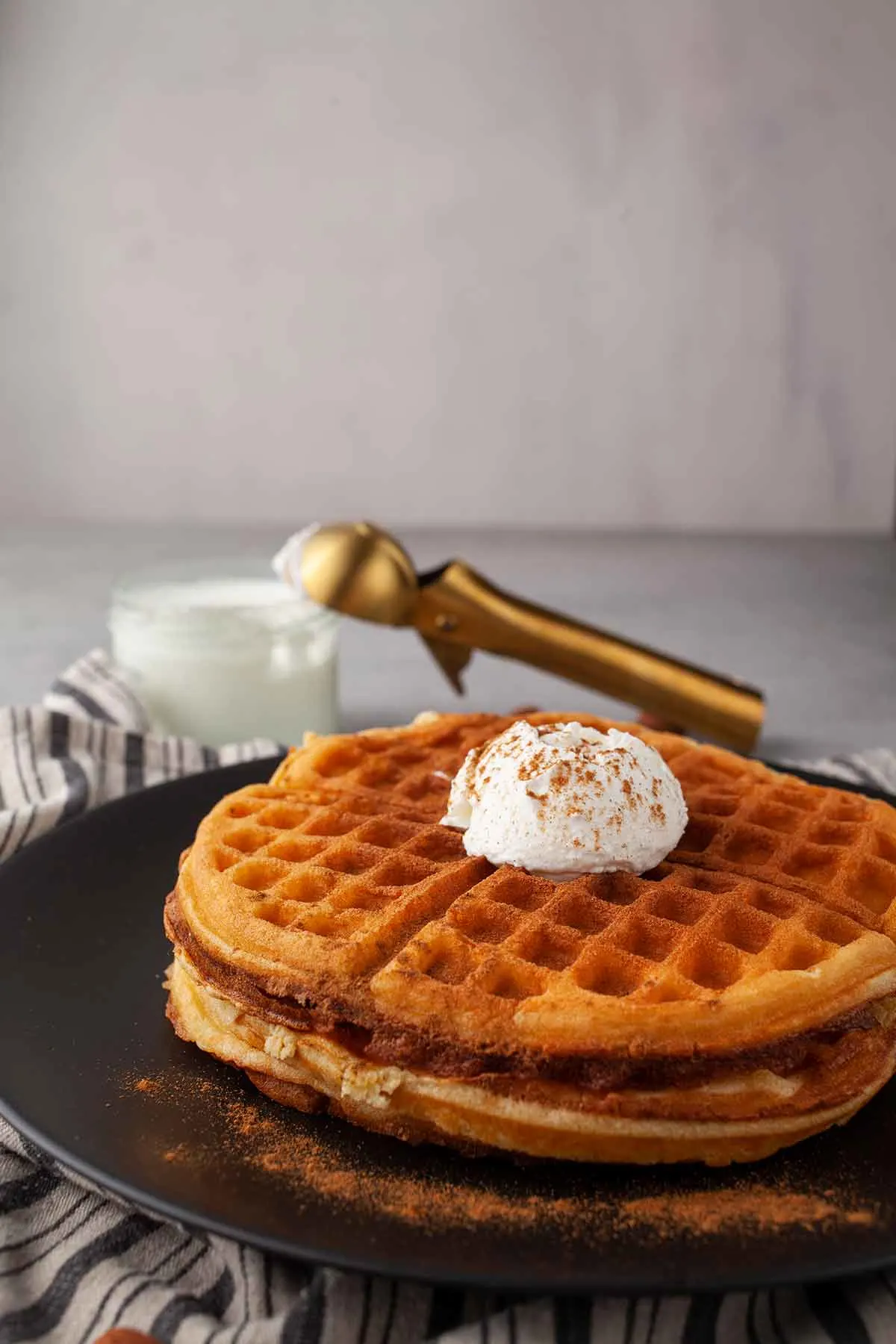 Dietary adaptations for pumpkin waffles
Adapting recipes to meet specific dietary needs can be simple, with a multitude of substitutes available on the market. Here are some tips to make pumpkin waffles accessible to many diets:
Gluten-free pumpkin waffles: Replace regular flour with gluten-free flour. There are many mixes available that can replace wheat flour. However, it is important to check if the gluten-free flour mixture contains xanthan or guar gum, which helps to bind the ingredients, like the gluten in wheat flour.
Lactose-free: Use lactose-free milk or milk substitutes such as almond, soy or oat milk to replace fat milk. In addition, lactose-free butter variants are available.
Vegan pumpkin waffles: To make vegan waffles, replace eggs with substitutes such as ground flaxseed mix with water, mashed bananas, or commercial egg replacers. Animal milk can be replaced with vegetable milk, and butter with coconut oil or vegan butter.
Egg-free waffles: In addition to the vegan substitutes mentioned above, other options can be used, such as the composition of baking powder mixed with vinegar or mineral water to add volume to the waffles.
Sugar-free waffles: Replace the sugar in the recipe with alternative sweeteners such as stevia, erythritol or natural syrups with a low glycemic index. You can also reduce the amount of sweetener and increase the flavor of the spices to compensate.
Paleo waffles: Use almond or coconut flour instead of wheat flour and natural sweeteners such as honey or maple syrup.
Keto pumpkin waffles: Choose flour with low carbohydrate content, such as almond or coconut flour, and artificial or natural sweeteners compatible with the ketogenic diet.
Recipe for pumpkin waffles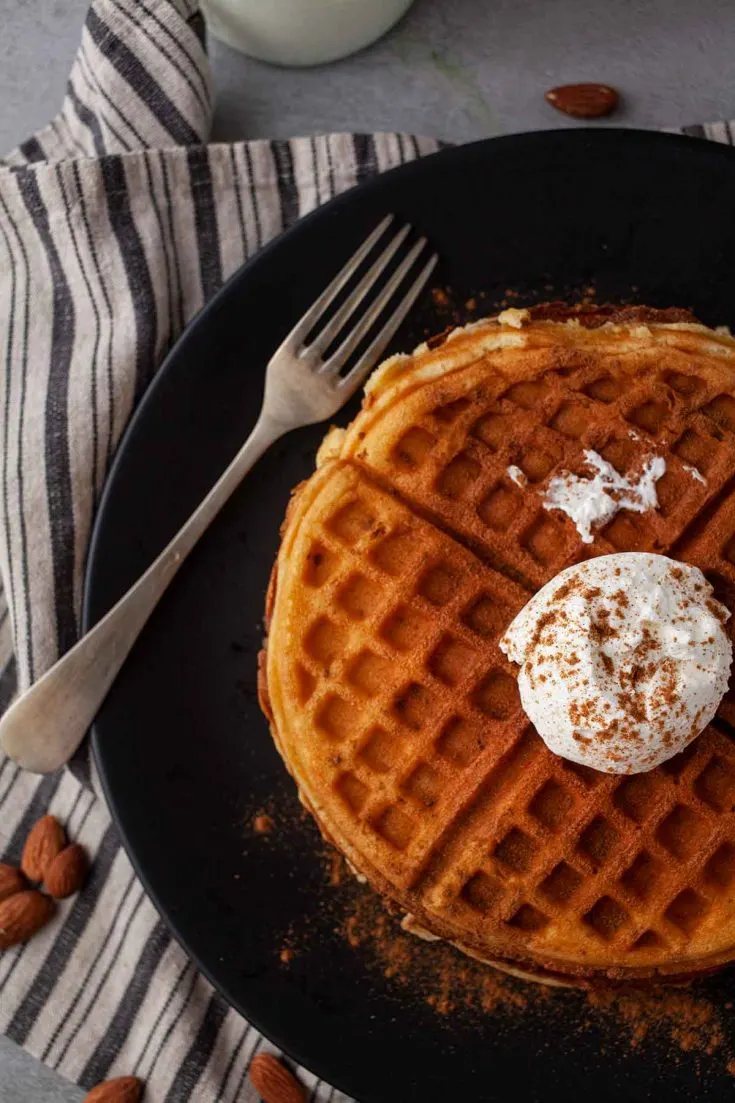 Discover this easy recipe for pumpkin waffles, perfect for autumn! Enjoy these aromatic and fluffy pumpkin spice waffles ideal for a seasonal breakfast or a Fall brunch.
Ingredients
2 large eggs
¾ cup whole milk
¼ cup butter, melted
1 teaspoon vanilla extract
½ cup pumpkin puree
1 cup all-purpose flour
2 teaspoons baking powder
½ teaspoon salt
For the homemade pumpkin spice mix:
1 teaspoon cinnamon, powder
½ teaspoon nutmeg, powder
¼ teaspoon cardamom, powder
¼ teaspoon ginger, powder
¼ teaspoon cloves, powder
Instructions
In a bowl, whisk the eggs, then add the milk, melted butter, pumpkin puree and vanilla.
Mix the ingredients until you get a homogeneous composition.
Add flour, baking powder, sugar, salt and spices.
Gently mix the batter until the ingredients are incorporated.
Heat up the waffle maker and when it's hot enough, pour enough batter for one waffle into it.
Cook the waffles until they are lightly browned.
Serve with maple syrup, pecans or any other topping you want.
Nutrition Information
Yield
5
Serving Size
1
Amount Per Serving
Calories

238
Total Fat

13g
Saturated Fat

7g
Trans Fat

0g
Unsaturated Fat

4g
Cholesterol

102mg
Sodium

526mg
Carbohydrates

24g
Fiber

2g
Sugar

3g
Protein

7g
I strive to keep the information as accurate as possible but make no warranties regarding its accuracy. I encourage you to make your own calculations using your preferred nutrition calculator.