Discover the flavor of a relaxed morning with this breakfast strata (egg strata) recipe! Perfect for using up leftover bread, this savory bread pudding recipe is a melange of aromatic bread cubes soaked in a creamy mixture of eggs and milk, enriched with melted cheese and fresh vegetables. Slow cooking allows the flavors to blend perfectly, transforming the simple ingredients into an unforgettable meal that will energize your mornings.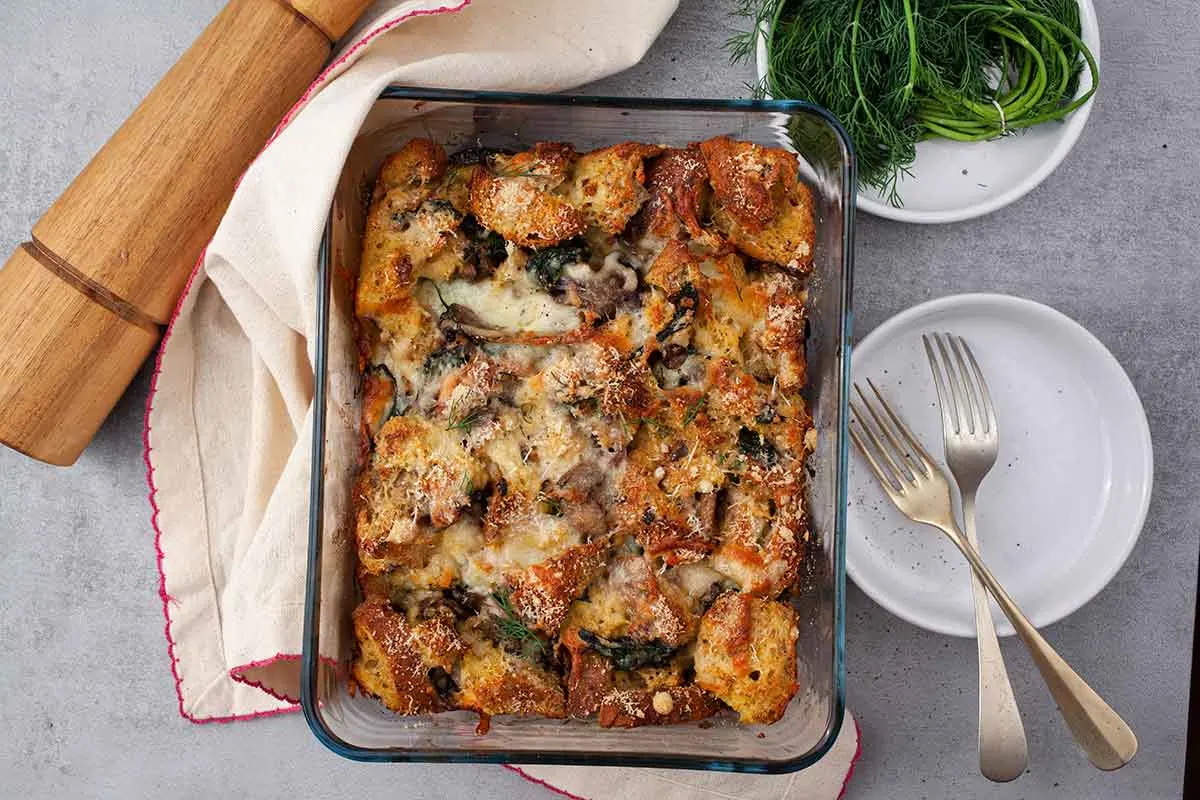 What is "strata"?
"Strata" in the culinary sense usually refers to a breakfast or brunch casserole that is layered, similar to a bread pudding. Although the term "strata" is Latin for "layers", the modern strata recipe, as it is known today in America, became popular in the 1980s.
Historically, the concept of soaking bread in a mixture of eggs and milk to bake it has been around for a long time, having roots in many cultures. For example, in France there is "pain perdu", also known as French toast in the Anglo-Saxon world, and in Italy, there are variations of "frittata di pane". The idea of adding layers of cheese, vegetables or meat probably evolved from the need to use food scraps efficiently.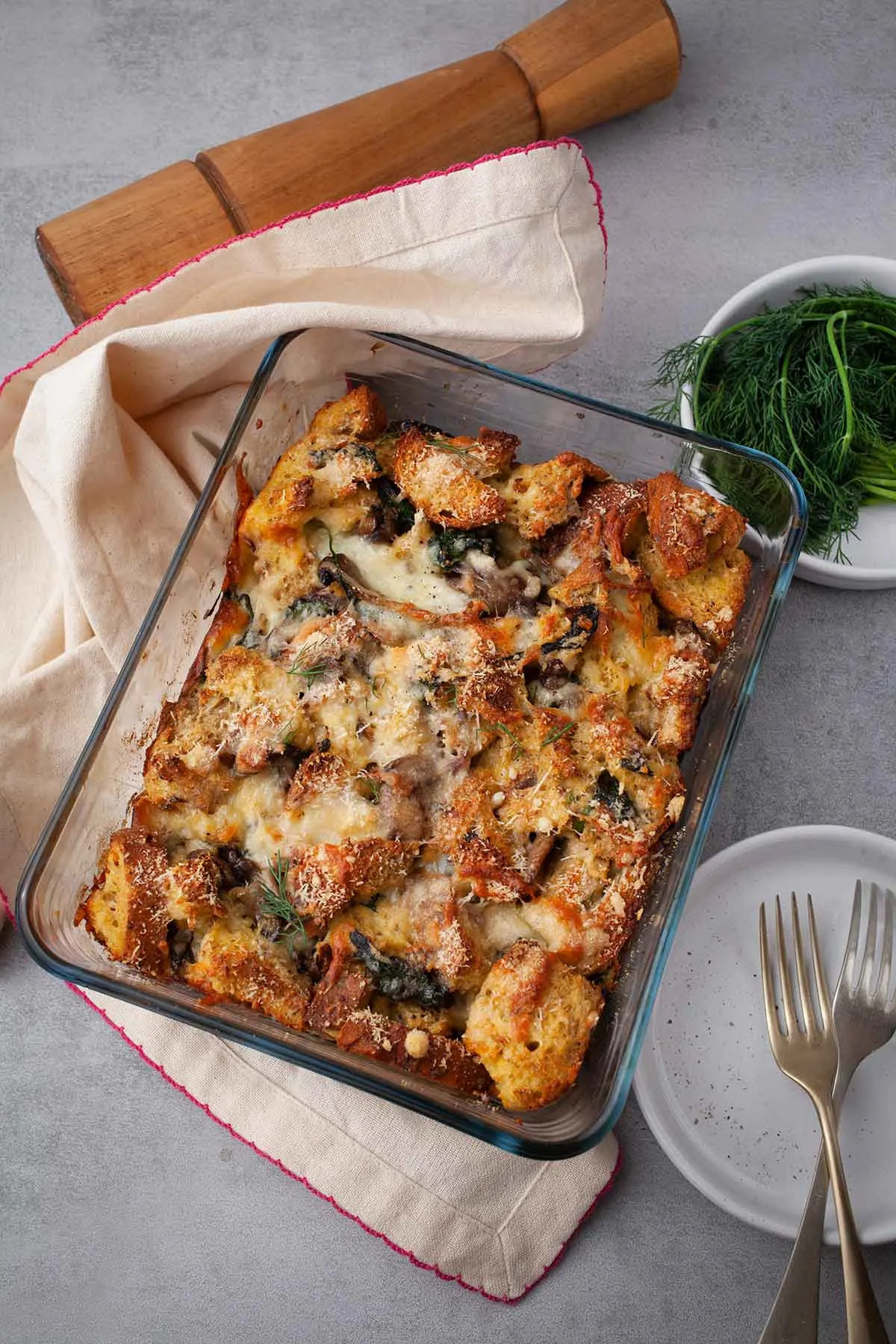 Regional variations of savory bread pudding – strata recipe
In Europe:
In the European tradition, bread pudding variants have long been a means of using old or leftover bread.
In Italy, for example, we find "strata" in sweet versions, with fruits and nuts, or salty, with vegetables and cheeses, often under the name "frittata di pane" (bread frittata). Variations can include different types of local cheeses, such as mozzarella or ricotta, and spices specific to the region.
Strata – Italian bread pudding: May include ingredients such as goat cheese, sun-dried tomatoes, basil and other Italian herbs.
Strata – French bread pudding: In France, a variant of the strata can incorporate cheeses like Gruyère or Brie and ingredients like leeks or seafood.
In the United States:
On American soil, the strata has evolved to incorporate a variety of ingredients specific to local tastes, from different types of meat (such as bacon, sausage, or ham) to a diverse mix of vegetables and spices. It is popular as a brunch option and is appreciated for its versatility and convenience. The American version is usually richer, with more eggs and milk, to create a soufflé-like texture, and is often cooked in a single dish and served directly from it.
Egg Strata – the classic American savory bread pudding often includes ingredients such as peppers, onions, meat and a mixture of cheeses such as cheddar or Monterey Jack.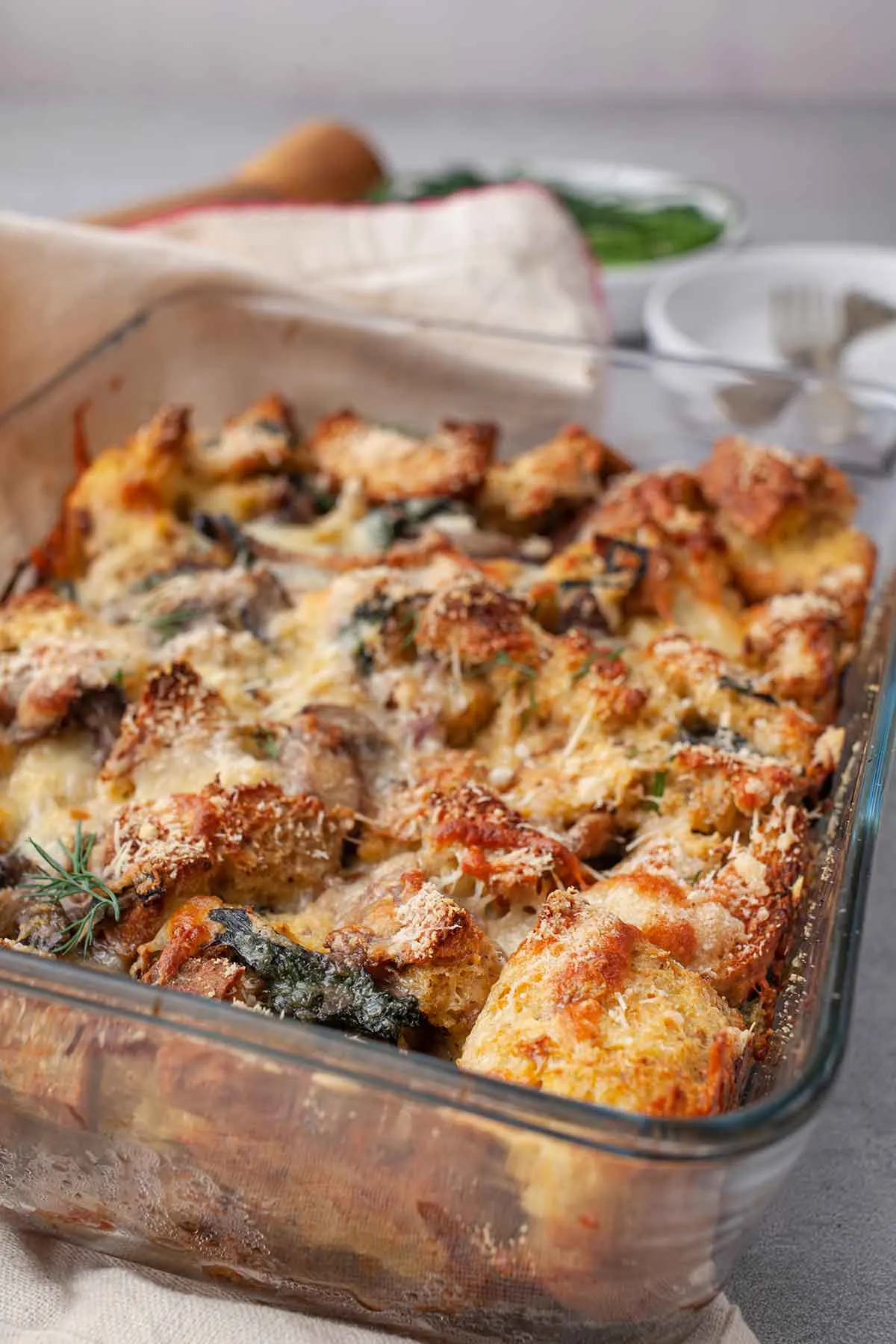 Ingredients for breakfast strata
Sourdough bread: The base for the layer, sourdough bread, provides structure and texture. It is chosen for its rich and complex aroma, and for its ability to absorb the egg and milk mixture without softening too much.
Olive oil: Used to saute onions and mushrooms, it adds a subtle flavor and helps soften the vegetables, making them easier to digest.
Red onion: Brings a sweet taste and a light crunchy texture. Onions are also a good source of fiber and nutrients.
Mushrooms: Add moisture and an earthy taste, intensifying the flavor profile of the layer.
Baby spinach: It introduces color, texture and nutritional value, adding a slightly bitter note that balances the richness of the other ingredients.
Eggs: Whisked together with milk, eggs are the connecting element of the layer, helping to establish the structure and adding proteins.
Whole milk: Creates a creamy and rich texture for the mixture in which the bread is soaked.
Dijon Mustard: A hot spice that brings a touch of complexity, helping to accentuate the flavors of the other ingredients.
Dried thyme: An aromatic herb with notes of lemon and pepper, thyme adds a layer of taste and smell without dominating the dish.
Salt and pepper: Essential seasoning elements, they improve and accentuate the natural flavors of the other ingredients.
Nutmeg: A warm and aromatic spice that pairs wonderfully with dairy products, nutmeg adds a distinct yet subtle note.
Gruyère Cheese: A Swiss cheese with a creamy texture and a rich and slightly sweet taste, which melts beautifully, binding the ingredients together.
Parmesan: Brings a salty, unami flavor to the crust, providing a nice, golden crust when sprinkled on top before baking.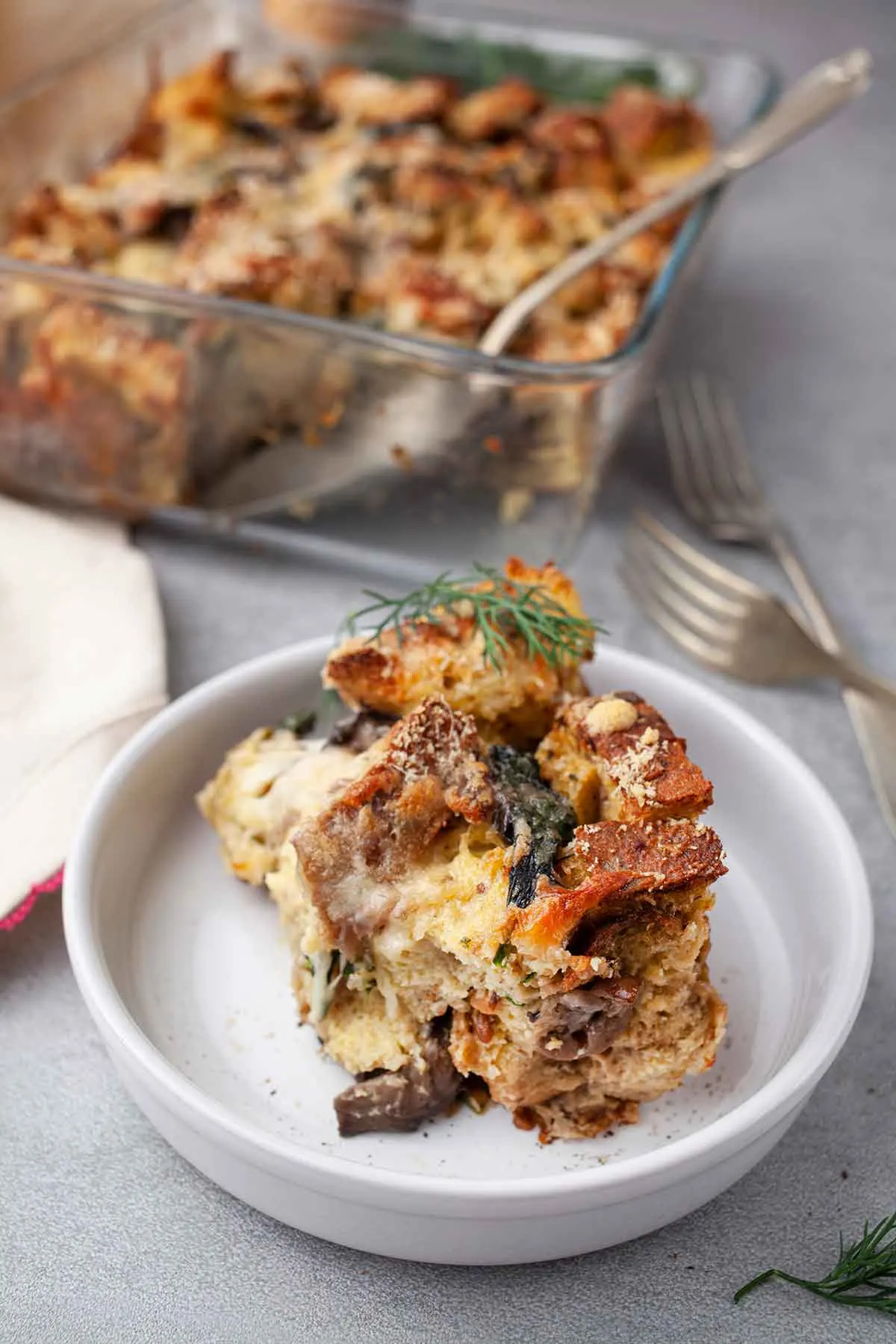 Preparation tips for the best egg strata
To prepare a perfect bread pudding egg strata recipe, which is aromatic, rich and with the ideal texture, the following tips and techniques are essential:
Choosing the bread:
o Opt for bread with a firm structure, such as bread with mayo or baguette, which will not soften too quickly when combined with the egg and milk mixture.
Cutting the bread:
o Cut the bread into cubes of equal size to ensure uniform absorption of the liquid and ensure that each piece is properly soaked.
Soaking the bread:
o Let the bread dry a little before use, to improve the absorption capacity.
o For optimal results, combine the bread with the egg and milk mixture and leave in the refrigerator overnight. This will allow the bread to completely absorb the liquid and will lead to a more consistent texture after baking.
The egg and milk mixture:
o Use fresh eggs and whole milk for a creamy and rich layer.
o Beat the eggs well with the milk to ensure that the mixture is homogeneous, which will contribute to a uniform coagulation and a finer texture of the layer.
Seasoning:
o Do not forget to season the appropriate mixture of egg and milk with salt, pepper and other herbs or spices to enrich the general flavor of the dish.
Layers of ingredients:
o The layers of bread should be well separated from the layers of cheese and other fillings to ensure an equal distribution of flavors and textures.
o Place the layers evenly, pressing gently to eliminate air pockets.
Baking:
o Preheat the oven to the appropriate temperature before inserting the layer.
o Cover the dish with baking foil or a lid during the first minutes of baking to prevent the surface from burning, then remove the foil to allow the layer to brown nicely.
Baking check:
o The pudding is ready when the center is set and no longer liquid, and the top is golden and crispy.
o Use a knife or a toothpick to check if the center is cooked.
Rest:
o Let the layer rest for a few minutes after baking before serving. This allows the liquids to stabilize and makes the layer easier to cut and serve.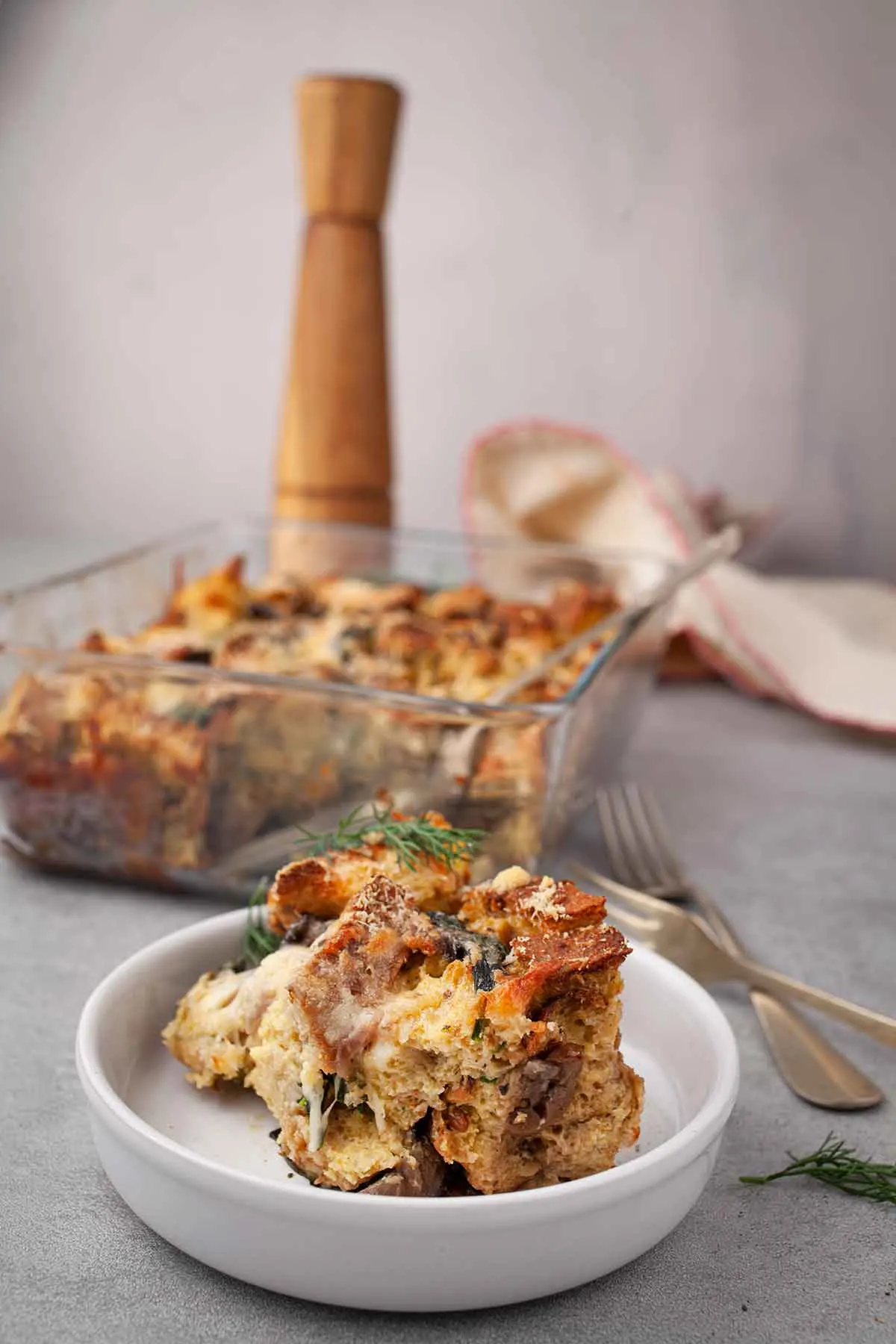 By following these tips, you will ensure that your breakfast strata will be a satisfying and comforting treat for all who taste it.
Vegetarian strata recipe for breakfast
Yield: 6-8
Breakfast Strata (Egg Strata)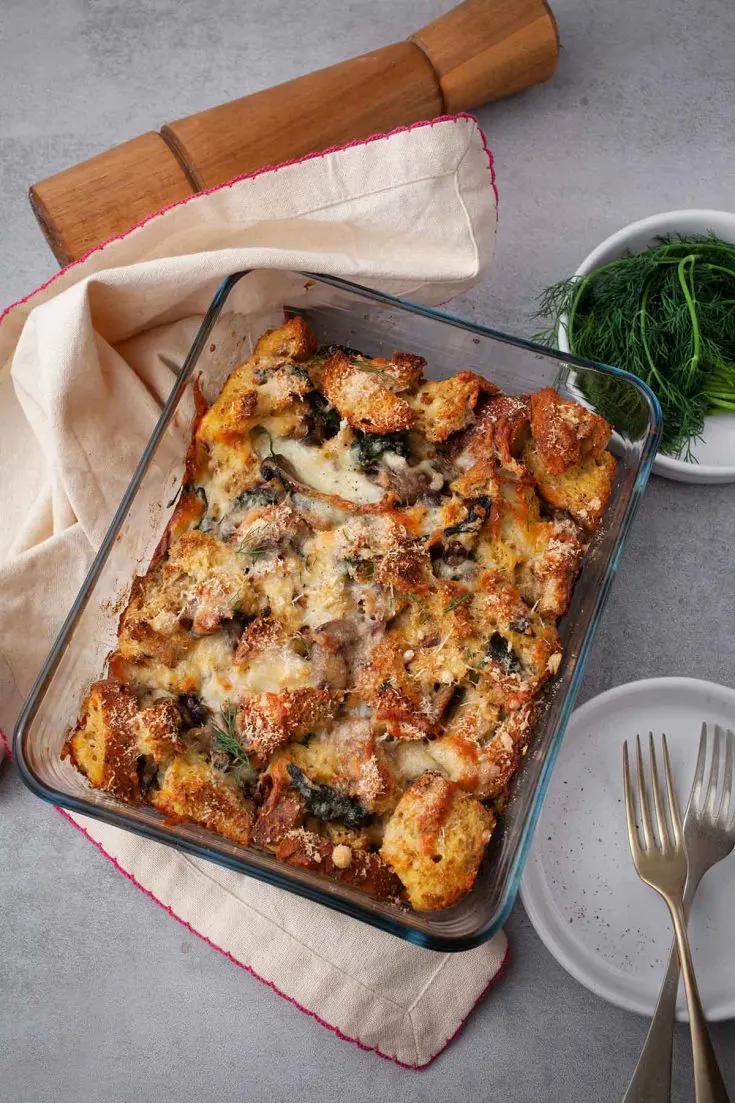 Discover the flavor of a relaxed morning with this breakfast strata (egg strata) recipe! Perfect for using up leftover bread.
Additional Time
30 minutes
Total Time
1 hour
45 minutes
Ingredients
500g sourdough bread, cubed
1 tablespoon olive oil
1 large red onion, sliced
2 cups mushrooms, sliced
2 cups fresh baby spinach
8 eggs
2 cups whole milk
2 tablespoons Dijon mustard
1 teaspoon dry thyme
1 teaspoon salt
1 teaspoon black pepper, ground
¼ teaspoon nutmeg, ground
1 cup Gruyere cheese, grated
½ cup Parmesan cheese, grated
Instructions
Grease the baking tray with butter or oil.
In a frying pan, on medium heat, add a spoonful of olive oil, when it gets hot, add the sliced red onion and the mushrooms.
Cook, stirring, until the mushrooms and onions brown and become soft.
Add the spinach leaves and continue cooking for another minute.
Turn off the heat and cover with a lid, let the mixture cool.
In a large bowl, mix eggs, milk, mustard, thyme, salt, pepper and nutmeg.
After the egg mixture is homogeneous, add the cubed bread, the grated Gruyere and the mushroom mixture.
Mix the ingredients together and pour the mixture into the baking tray.
Sprinkle with grated Parmesan.
Cover the tray and put it in the fridge for at least 30 minutes or overnight.
Bake in the hot oven (180C/375F) for 45 minutes or until browned on the edges.
Serve warm with fresh chopped herbs.
Nutrition Information
Yield
6
Serving Size
1
Amount Per Serving
Calories

540
Total Fat

23g
Saturated Fat

9g
Trans Fat

0g
Unsaturated Fat

11g
Cholesterol

285mg
Sodium

1422mg
Carbohydrates

55g
Fiber

4g
Sugar

11g
Protein

30g
I strive to keep the information as accurate as possible but make no warranties regarding its accuracy. I encourage you to make your own calculations using your preferred nutrition calculator.