Kirschenmichel or bread pudding is a very popular German warm dessert. Here's how to make a vegan bread pudding full of amazing flavors, at home!
Kirschenmichel (roughly translating into Cherry Michael) is a kind of bread pudding originating from the German Cuisine. It goes by a lot of names, some of them including Kirschenplotzer, Kerschemischel, Kirschpfanne, Kirschenmannla, Ofenschlupfer, Semmelauflauf, and the list can go on forever. These are all various forms of bread puddings, and they are all best when served warm, straight out of the oven. This dessert is especially popular in regions such as Palatinate, Baden-Württemberg, South Bavaria, Franconia and the southern part of Hesse.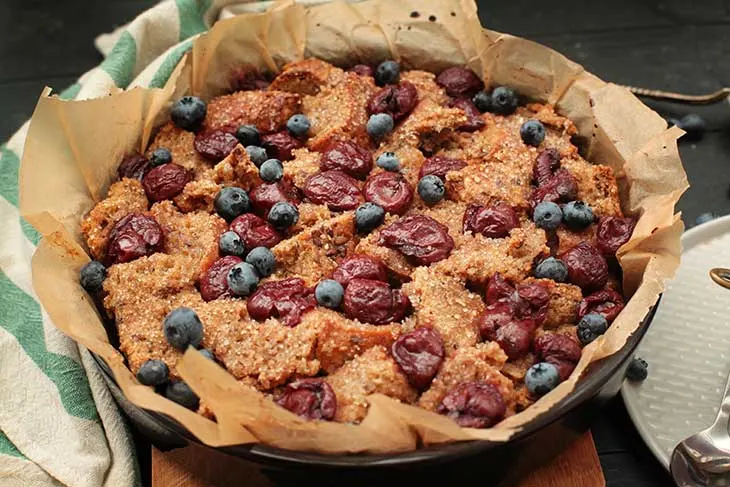 Kirschenmichel is based on a very simple recipe which calls for basic ingredients and minimum effort. Things like eggs, sugar, and milk are mixed together with stale bread to create a souffle-like texture when put into the oven. The traditional recipe consists of soaked stale bread mixed with cherries, chocolate, cinnamon, and almonds.
However, as with most recipes, we have quite a lot of variations. These include cocoa powder, chocolate, vanilla icing, lemon or orange zest and so on. You may be surprised to find out, but there are savory alternatives to bread pudding as well. These include ham and sausage, kale and garlic, spinach and feta and many other variations, and are usually served as a main dish. Sweet bread puddings, on the other hand, are usually served as dessert at the end of a larger meal.
Ofenschlupfer (roughly translating into Slide into the oven) is a similar dessert, more popular in Southern Germany. For this one, you'd use layers of apple slices instead of cherries, soaked in a mixture of butter, egg, and sugar. The apples are then alternated with layers of bread and baked into the oven.
Another German state called Mecklenburg-Vorpommern uses black bread for this recipe, which results in Schwarzbrotpudding (black bread pudding).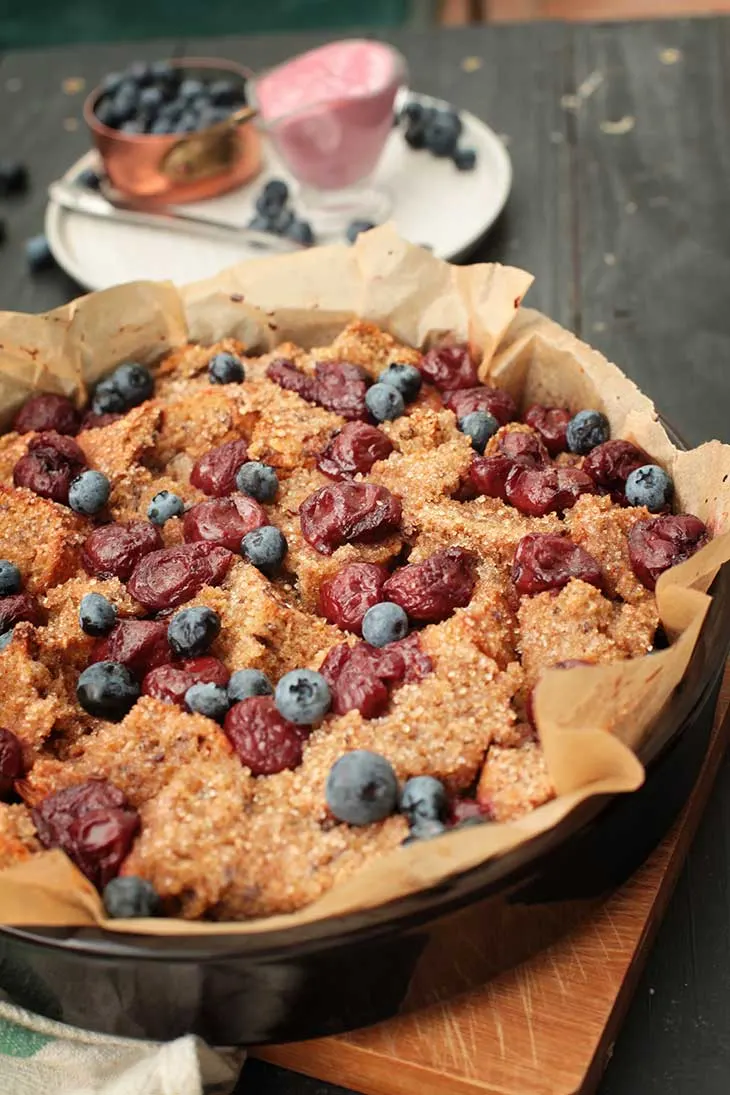 Though originating in Germany, bread pudding can be found in a lot of countries' cuisines. In the Philippines you'll find the famous banana bread pudding; the Mexicans bake their capirotada (a type of bread pudding eaten during Lent); you'll even find a sort of bread pudding in the United Kingdom – a moist version of Nelson Cake going by the nickname Wet Nelly. In Brussels, this dessert calls for brown sugar, cinnamon and raisins/apples. Given the fact that bread pudding is so easy to make, there's no wonder so many countries have their own version of it.
The composition is more or less the same everywhere, with varieties of fruits and toppings. Most of the bread puddings may use some sort of sweetener in the form of honey, syrup, or sugar. The Canadian version, for instance, calls for maple syrup. Nuts, cinnamon, vanilla, cloves, and other spices are used a lot as well. The dough is always made by soaking the bread in some liquid mixture, usually containing milk, eggs, sugar and some sort of fat in the form of butter, oil or suet.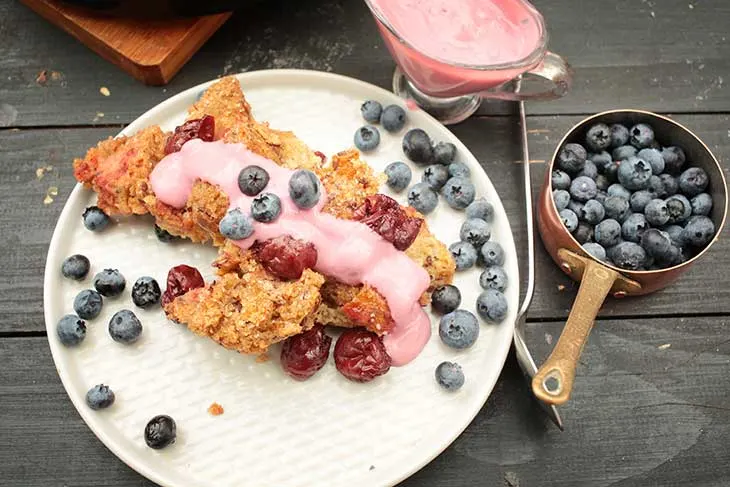 So how can you make this yourself?
When making the authentic bread pudding – Kirschenmichel, the first step is preparing the bread. A loaf of bread that is a few days old should be perfect. However, if you want to make this immediately and only have fresh bread, a good alternative is drying it out in an oven beforehand. The dryness of the bread is very important, as the moisture of unprepared fresh bread would ruin the consistency of your dessert.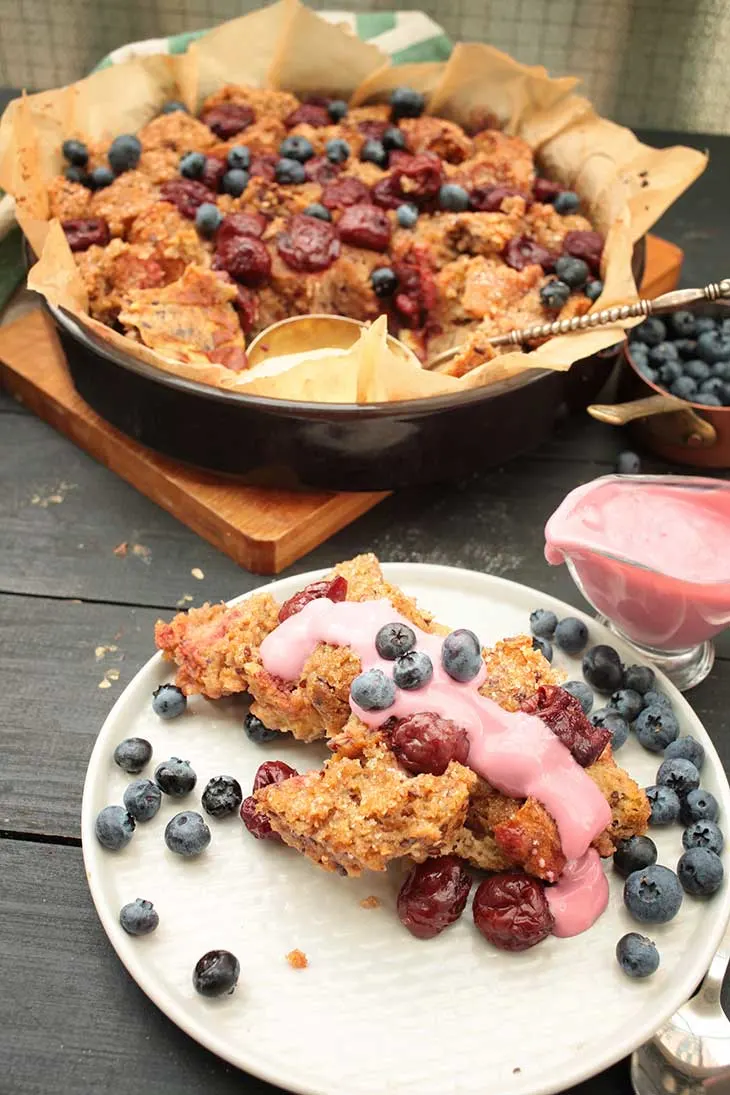 You then need to separate the eggs and mix the yolks with more eggs, butter and sugar, until smooth. At this point, you'll need to add your spices, then the cherries (or whatever fruit you'd like to use). Stir everything until very well combined and let the mixture sit for some time so the bread can absorb some liquid. The next step is beating the egg whites until they form peaks, then fold this mixture into your batter. The entire mixture is placed in a casserole dish and baked until golden brown.
I decided to make it vegan, and the result is just as good as the original recipe.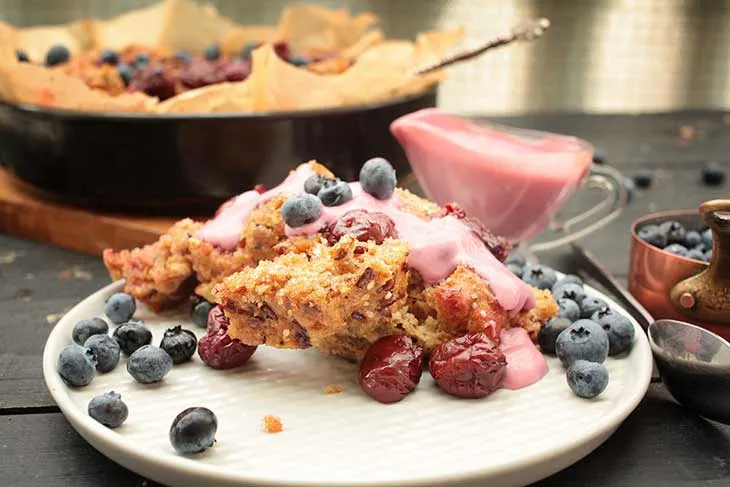 Before serving, the vegan bread pudding is topped with vanilla sauce, whipped cream or a good helping of ice cream – whatever you prefer. And if you want to take the most out of Kirschenmichel, you'd better serve it warm.
Yield: 6
Vegan Bread Pudding / Kirschenmichel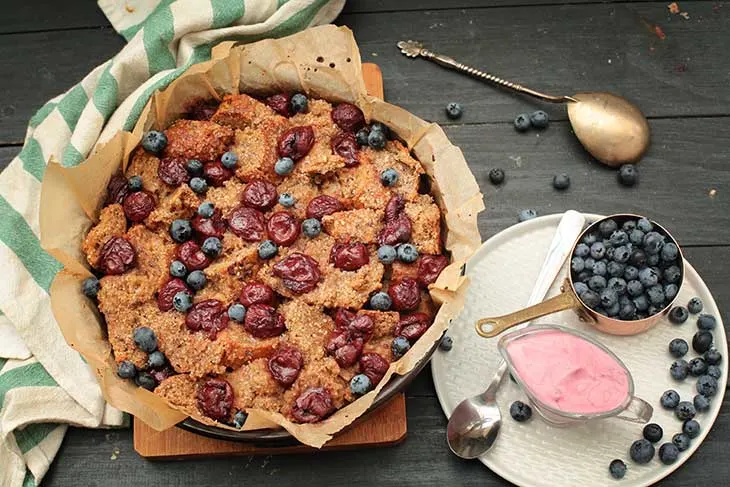 Kirschenmichel or bread pudding is a very popular German warm dessert. Let's learn how to make a vegan bread pudding at home - easy and full of amazing flavors!
Ingredients
12 whole grain bread slices with seeds, cubed (you can also use gluten-free bread)
300ml (1 ¼ cups) plain non-dairy milk
75g (⅓ cup) coconut sugar or brown sugar
30g (¼ cup) ground chia seeds, white
½ tsp cinnamon
½ tsp nutmeg
1 tsp vanilla extract
¼ tsp sea salt
50g (1 cup) canned sour cherries, drained
50g (⅓ cup) fresh blueberries
1 Tbsp brown sugar
Instructions
Preheat oven to 200C.
In a large bowl add and whisk together: milk, coconut sugar, chia, cinnamon, nutmeg, vanilla, and salt. Let sit for about 5 minutes. Add the bread and toss through.
Add the sour cherries.
Transfer to a lightly greased baking dish.
Sprinkle with brown sugar and press lightly into the pudding.
Bake for 25-30 minutes or until golden and the bread pudding is set.
Remove from the oven, add the blueberries and let it slightly cool.
Serve with a vanilla-berry sauce.
Nutrition Information
Yield
6
Amount Per Serving
Calories

712
Total Fat

4g
Carbohydrates

150g
Protein

19.5g