Green bean casserole is a very popular side dish created in America. Learn how to create the most delicious vegan green bean casserole with the flavor of the authentic recipe.
The green bean casserole is a popular side dish created in 1955 by the Campbell Soup Company. The recipe was created by a team led by Dorcas Reilly. According to her, the motivation was "to create a quick and easy recipe around two things most Americans always had on hand in the 1950s: green beans and Campbell's Cream of Mushroom Soup." Although not received well from the very beginning, it quickly gained its reputation as the ultimate comfort food, and you'll shortly understand why.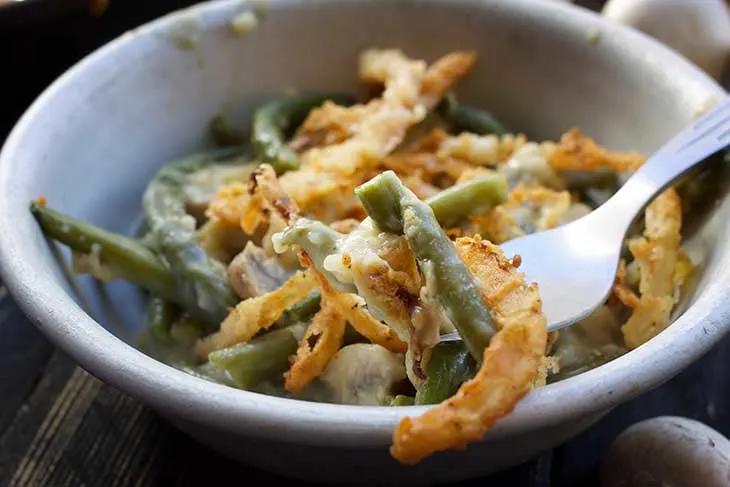 Green bean casserole consists of green beans surrounded by creamy mushroom sauce (traditionally Campbell's Creamy Mushroom Soup) and topped with French crispy fried onions. Though usually made during the holidays, this dish is extremely easy to put together, so you can prep it up every day after work if you feel like it. The traditional recipe consists of only six ingredients and a total of 10 minutes' prepping time. There are a lot of swap options to the recipe, but let's talk a bit about the basic, original version.
You should definitely use only the freshest ingredients if you want this dish to reach its maximum potential. That means fresh green beans, no excuses. While canned beans are always an easy option, fresh or even frozen are better, and you'll be able to taste the difference, hand on heart. The only downside to using fresh beans instead of canned ones is that you have to trim them before cooking. However, this really isn't that complicated; you only need to trim off the end with the stem, and once you're done with this step, the green beans are ready to be cooked properly.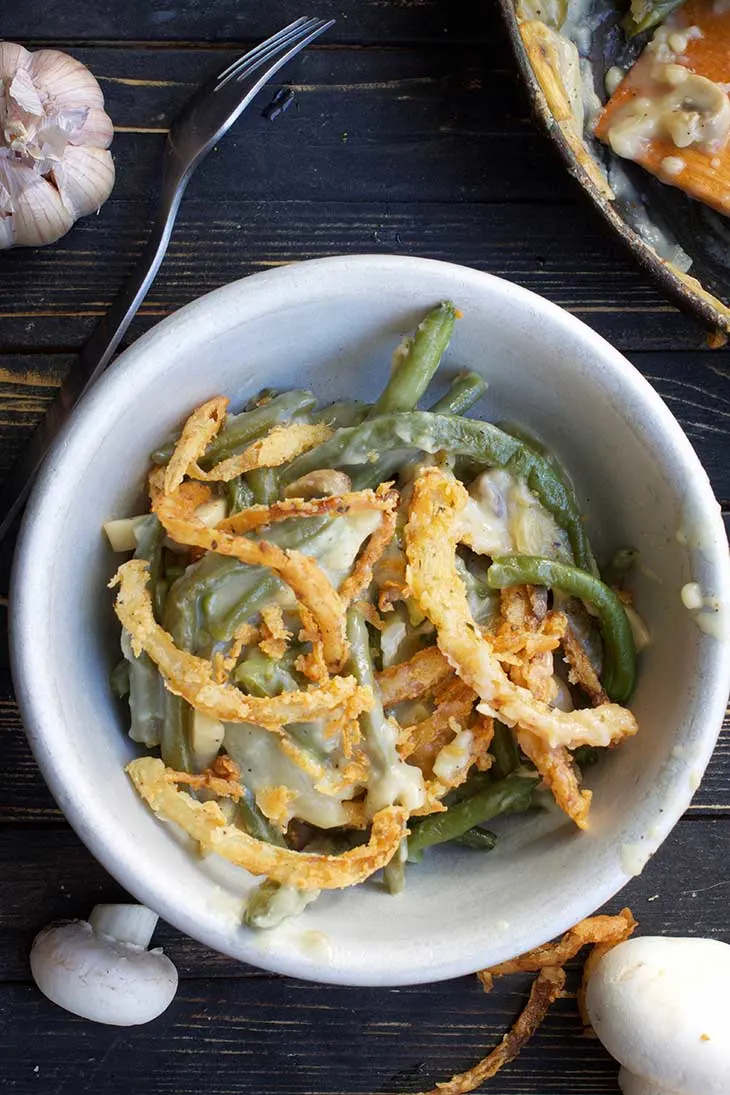 The original recipe involves Campbell's Cream of Mushroom Soup, but you could certainly make the soup from scratch or use another flavor. Using Campbell's is a matter of nostalgia for those who grew up with this recipe. The Cream of Mushroom flavored soup variety was created around 1934 and it was used more like a casserole filler and a sauce than as a common soup, being often referred to as "Lutheran binder." Dorcas Reilly's recipe basically revolutionized this beloved soup – nobody else had thought of adding green beans to a mushroom soup before – so it is now believed that 40% of the Cream of Mushroom soup sold in the United States is used into green bean casseroles! Pretty impressive, right?
Although not classic, some recipes involve shredded cheddar, and it's pretty good. The cheddar will melt over the green beans, adding texture and flavor, so if you're a cheese lover, you might wanna consider this option too. But don't overdo it! You'll want to use only a cup.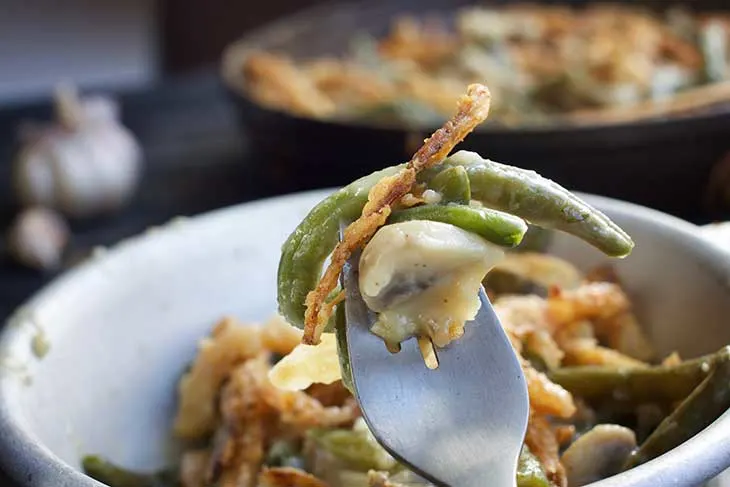 However, one ingredient that you absolutely should not omit is French's fried onions, as they taste amazing and add that amazing crunch which gives a twist to this dish.
Green bean casserole is the epitome of Thanksgiving, and we can see why. Learn how to create a healthy vegan green bean casserole using easy ingredients. The results are extremely similar to the original recipe regarding the taste and texture. The green bean casserole is warm, comforting, and binds people together. But this would be amazing during Christmas dinner as well, or really any family gathering, so use this holiday season as an excuse to try this!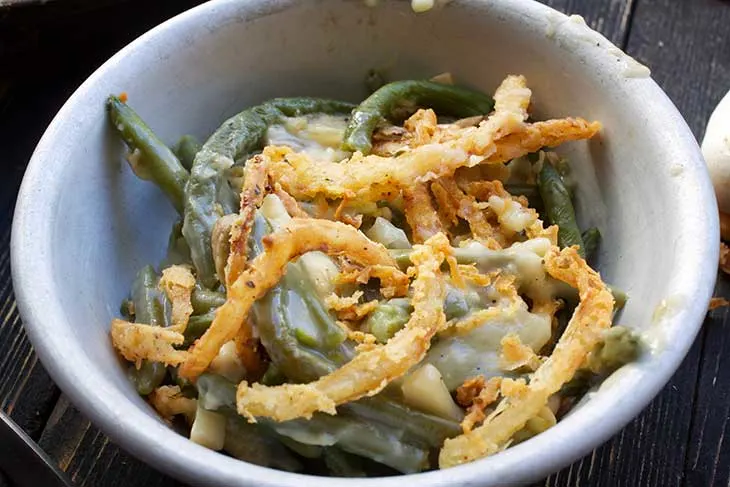 Yield: 4-6
Vegan Green Bean Casserole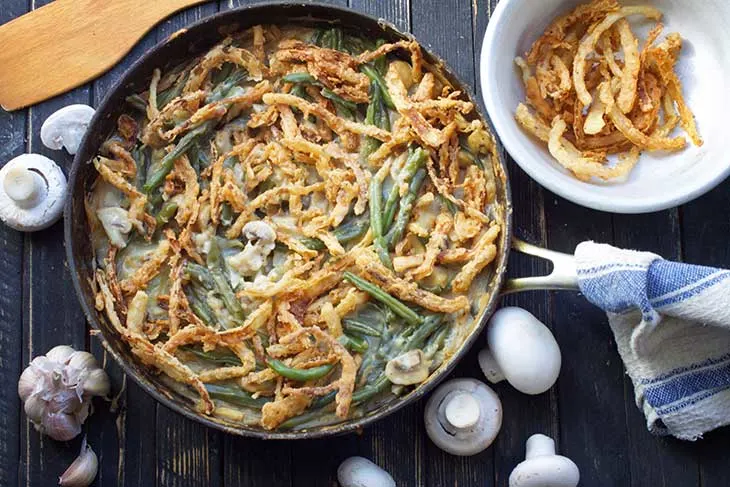 Green bean casserole is a very popular side dish created in America. Learn how to create the most delicious vegan green bean casserole with the flavor of the authentic recipe.
Ingredients
500g (3 cups) green beans, rinsed and trimmed
2 Tbsp vegan butter or olive oil
1 medium onion, julienned
2 cloves garlic, minced
250g (2 ½ cups) mushrooms, sliced
2 Tbsp flour - use GF if needed
180ml (¾ cup) vegetable broth
240ml (1 cup) almond milk
180g (1 cup) French fried onions, homemade
salt and pepper to taste
Instructions
Preheat the oven to 200C.
In a large skillet over medium heat, add the vegan butter or olive oil, onion and garlic, and cook stirring for about 4 minutes. Add salt and pepper.
Add the flour and whisk to stir and coat the veggies. Cook for 1 minute.
Add the vegetable broth, whisking to incorporate.
Add the almond milk, continue whisking.
Cook for about 5 more minutes or until thick.
Add green beans and sliced mushrooms and give it a stir. Remove from heat.
Move everything into a casserole and cook in the oven for 20 minutes, until the beans are tender.
Serve with French fried onions on top - see the link in the ingredients list for the recipe.
Nutrition Information
Yield
6
Amount Per Serving
Calories

100
Total Fat

2.8g
Carbohydrates

15.5g
Protein

3.2g