Make this amazingly delicious Christmas punch for the holidays and enjoy a festive drink together with your friends and family. Even better, you can have a toast for this special occasion and celebrate!
As the holiday season is rapidly approaching, everybody must be in a constant rush to buy presents, decorations, and food. It is the time of the year people usually need to have a sense of fulfillment, in many different parts of their lives. And during Christmas time, fulfillment usually comes from gathering your friends and family around the table and sharing good times with each other. And on that table should be a lot of tasty, hearty food.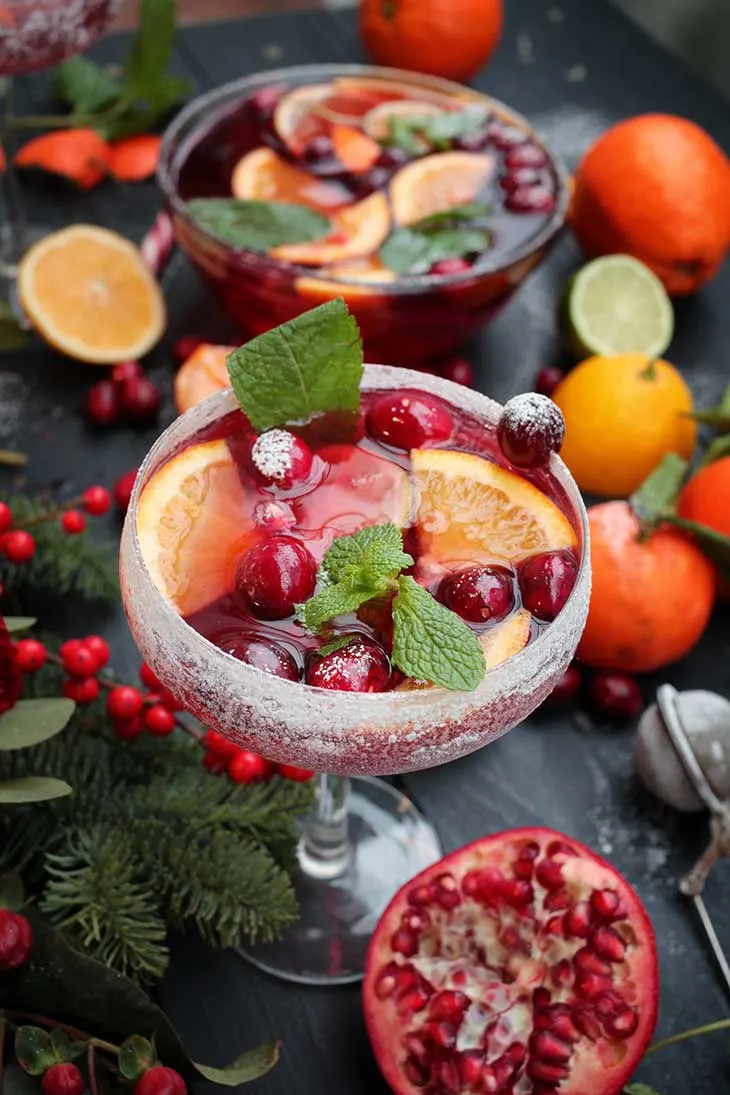 And what better way to wash that delicious Christmas food down than a tasty bowl of Christmas punch, placed right in the middle of the table? Punch is a great way to start the party, if there is one, or to simply appetize the Christmas spirit in everyone. Punch is a fantastic appetizer and it's not even hard to make, trust me! 🙂
The punch is an all-around popular drink in the Western hemisphere of the world, being present at most festive occasions and parties. However, its origins are in the Eastern hemisphere, namely in India.
The word punch comes from the Sanskrit pañca, meaning five – whence the five different ingredients in the original recipe. The Indian version of pañca was made with alcohol, sugar, water, lemon and tea, and sometimes spices.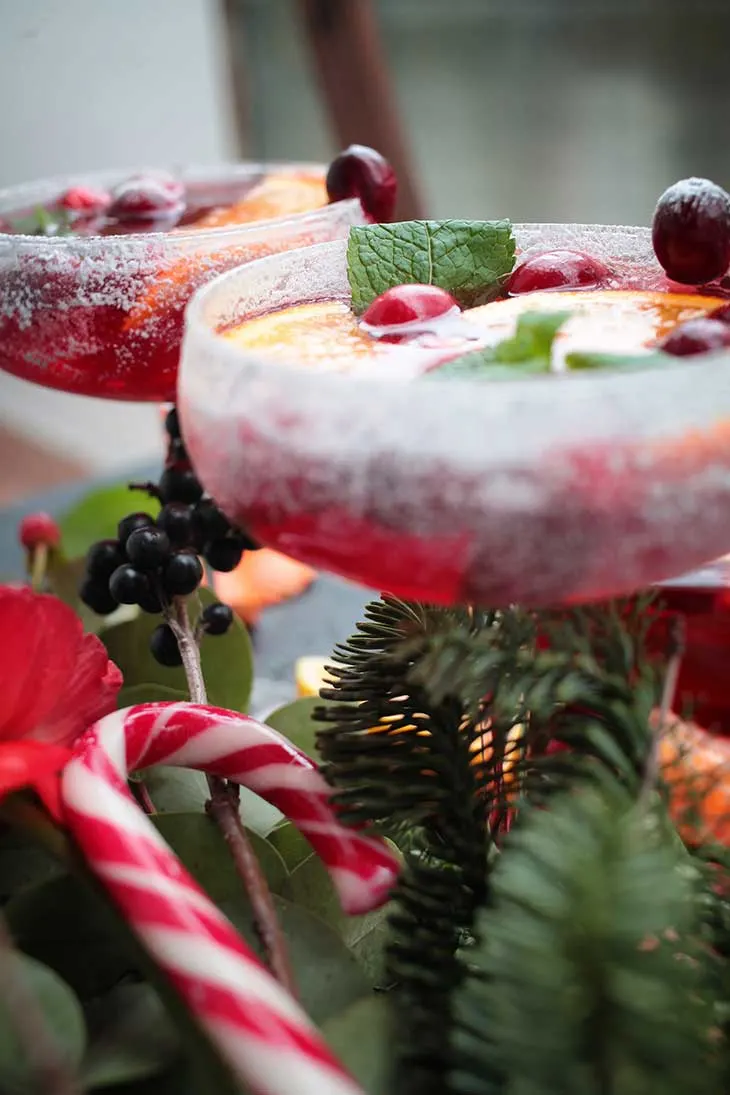 After pañca was imported to England, the recipe changed around slightly, in that different alcoholic bases were being used for the drink, such as wines or brandy.
The modern punch is usually made with rum, but there are a lot of variations depending on the part of the world we're talking about.
In South America, the punch is a mix of white wine and diced fruit. In Mexico, the punch is served warm, differing from most other parts of the world, where the punch is traditionally served cold, or at room temperature.
In the Southern states of America, a special type of punch is popular – Southern Bourbon Punch is made with sweet tea, citrus flavor, and bourbon whiskey. It is closely linked to Kentucky and the surrounding areas, and has a white-ish color, as opposed to all the other punch varieties, which usually center around a beautiful red color.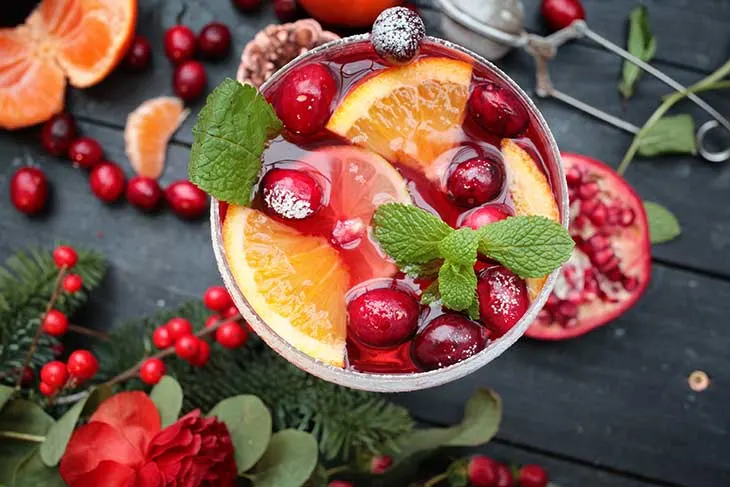 Of course, there's a non-alcoholic punch version as well – to be served at every party where children are present or by people who dislike alcohol, of course.
It is usually considered that punch should be lower in alcohol volume, seeing how it is served in a communal bowl. This also allows it to serve as an appetizer for the drinks to come.
Of course, there are some varieties of punch which are supposed to be the main attraction of the night – college parties employ a type of punch made out of high-proof grain, cheap types of alcohol, and simpler, less healthy ingredients – carbonated drinks, kool-aid, and generally whatever else is on hand.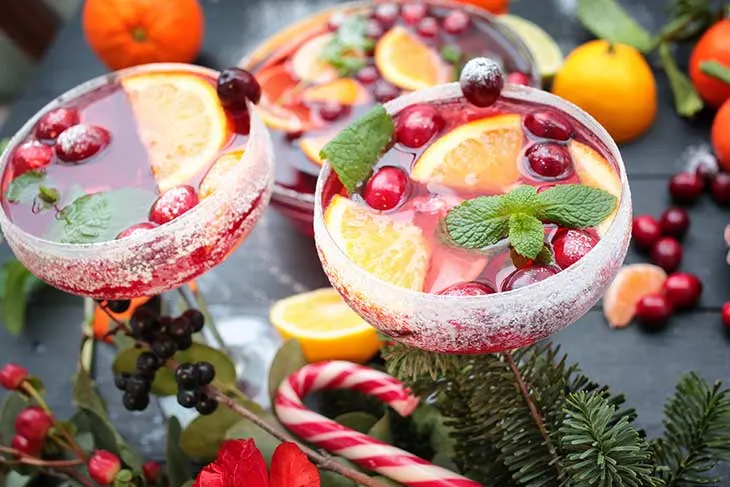 Punch is greatly prevalent in Western pop culture. It will be shown or mentioned in any movie about Christmas or parties. And since we're on to Christmas ourselves, why don't we learn how to make a delicious Christmas punch with the best combination of ingredients?
If you want to make your own Christmas punch, you'll have to get creative and excessive. The secret to it is to add as many festive-type ingredients as you can think of while preserving a special flavor and not turning it too alcoholic. After all, there are going to be people of all kinds around the Christmas table.
Let's try to keep it perfect for any taste. A good Christmas punch will do to your Christmas party what a high-quality water cooler will do to a big office party. The guests will keep coming back to refill their cups, and it will help everybody get warmed up! 🙂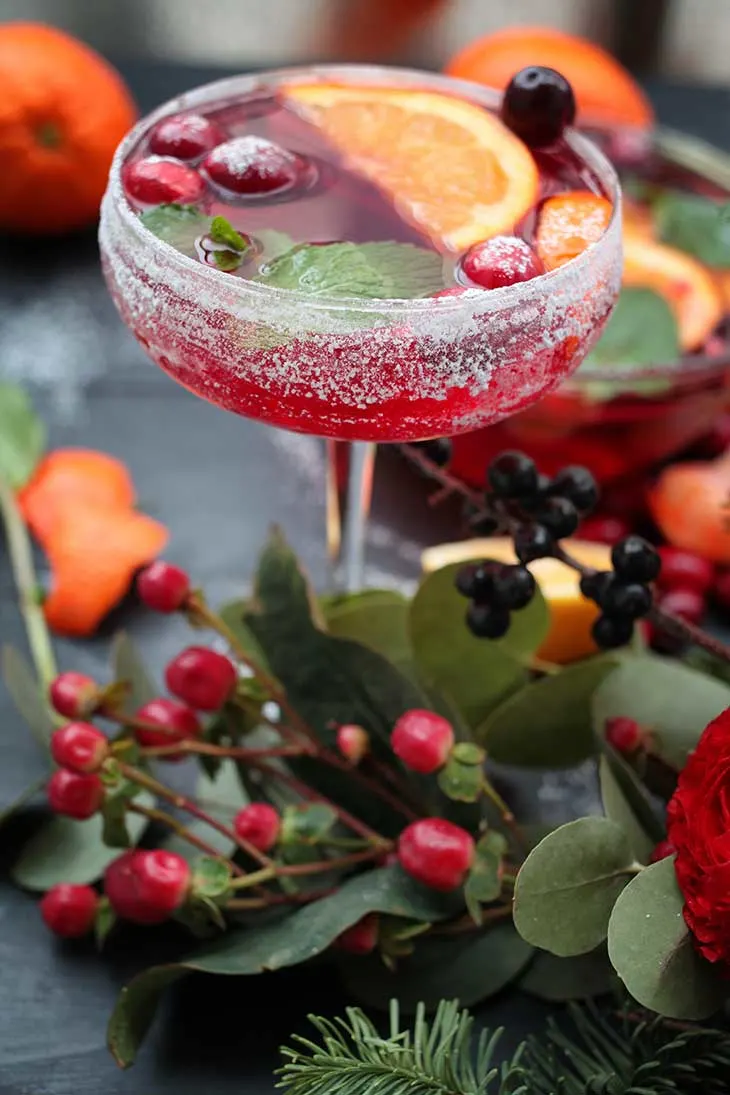 Punch is supposed to be highly fruity, most recipes indicating that some fruit slices should be left floating in the bowl, to preserve the taste. Different types of citrus are often used in punch.
In the case of Christmas punch, orange slices are mandatory, along with lime. Of course, it is better if you also use the juice of the citrus separately. Other fruits that will be used here will be pomegranate and cranberries – entirely merry and Christmassy, don't you think?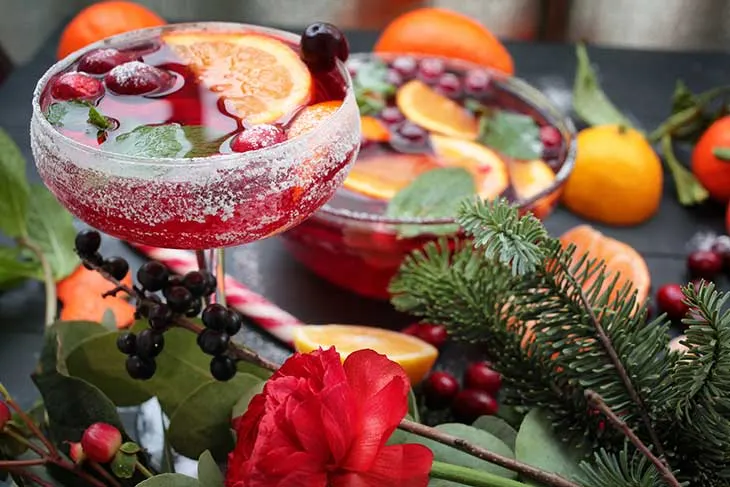 You can definitely experiment with your Christmas punch recipe, and try to make it your own. If you have made punch before, and have an ingredient in mind that you simply know will go well, or must try, by all means, do so!
But remember one thing – the punch is no better than the sum of its parts and as bad as its weakest ingredient. You will have to be careful to add the ingredients in moderate amounts – it shouldn't be too sweet. And the most important part? Don't forget to have fun while making it, of course! 🙂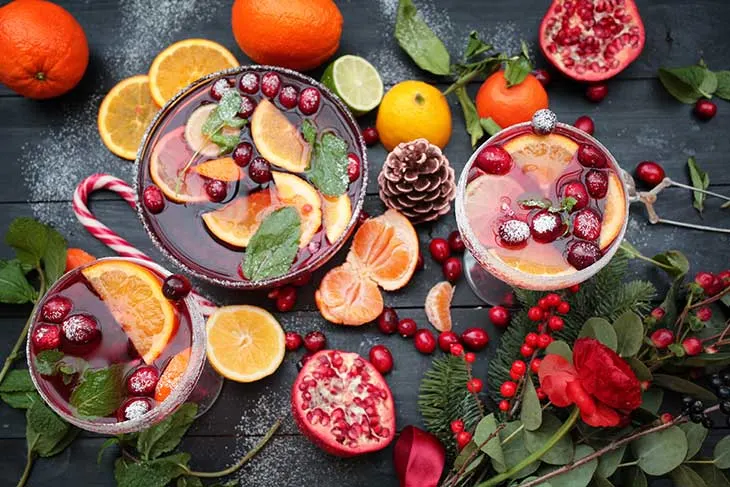 Make this amazingly delicious Christmas punch for the holidays and enjoy a festive drink together with your friends and family. Even better, you can have a toast for this special occasion and celebrate!
Total Time
3 hours
10 minutes
Ingredients
1.25L (5 cups) cranberry juice
1.25L (5 cups) Prosecco
500ml (2 cups) orange juice
120ml (½ cup) lime juice
500ml (2 cups) Aperol
500ml (2 cups) club soda
1 orange, sliced
1 lime, sliced
150g (1 cup) cranberries
1 pomegranate, seeds of
5 sprigs mint
1 vanilla stick
To decorate the glasses:
lime wedges
3 Tbsp vanilla powdered sugar
Instructions
In a large bowl, add all the ingredients except for the soda, Prosecco and mint. Cover with a wrap.
Place the bowl in the refrigerator for about 3 hours or overnight. Before serving, add the soda, Prosecco and mint.
Prepare the glasses:
Cut a notch in a lime wedge. Put it on the glass edge and run it around, to leave the glass wet all around the edges. Take the glass and keep it horizontal. Put vanilla powdered sugar on it all around. When done, shake it a bit to get rid of the extra sugar.
Pour the punch and enjoy!
Nutrition Information
Yield
5
Amount Per Serving
Calories

474
Total Fat

1g
Carbohydrates

114.5g
Protein

1.6g